Week 5 of the football season had a little bit of everything: shootouts, defensive struggles, comeback wins, you name it.
Rock Falls beat Rockford Christian 21-16 at Hinders Field in its homecoming game for its first win in two years, Amboy held off Ridgewood for a 48-42 win to stay undefeated, and Bureau Valley streamrolled Mendota 35-14 behind a massive game from junior running back Elijah Endress.
Here are the takeaways from Week 5:
Rock Falls wins first game since Week 1 2021
The Rockets defeated Rockford Christian 21-16 Friday night, bringing a two-year, 21-game losing streak to an end. Their last win before that came against the Royal Lions (50-0) in Week 1 of the 2021 season.
Down 14-7 at halftime in their homecoming game at Hinders Field, the Rockets refused to let adversity sink them again.
Rock Falls took a 15-14 lead midway through the third quarter. Senior running back Michael Flowers got loose for a 50-yard touchdown run to draw within one point, then the Rockets recovered a fumble in the end zone on the 2-point conversion to take a one-point lead.
Rock Falls stretched its lead to 21-14 four minutes later. A sack by senior Devin Tanton-DeJesus forced a Rockford Christian punt, and junior quarterback Easton Canales capped the ensuing Rockets' drive with a 7-yard touchdown run with 3:19 left in the third quarter.
The Rock Falls defense came up with some huge stops in the last 15 minutes to secure the win. Tanton-DeJesus and sophomore defensive back Owen Mandrell had key sacks on the Royal Lions' final series. Tanton-DeJesus finished with four sacks and two tackles for loss, Mandrell had a clutch interception in the final minutes, and senior defensive back Richard Nichols had an interception that set up an 8-yard Korbin Oligney touchdown run with 10:06 to play in the second quarter.
The offensive line paved the way for a potent rushing attack. Flowers rushed for 81 yards and a touchdown on five carries, Tanton-DeJesus rushed for 66 yards on nine carries, Oligney rushed for 58 yards and a touchdown on 11 carries, and Canales chipped in 32 yards and a touchdown on eight carries.
Amboy fends off Ridgewood, stays undefeated
The Amboy-LaMoille-Ohio football team continued to showed why its the Illinois 8-Man Football Association state championship favorite with a 48-42 win against Ridgewood.
The Clippers fought off a tough Spartans' team at Woodhull to improve to 5-0, led by 148 rushing yards and three touchdowns from senior running back Landon Whelchel.
Junior fullback Quinn Leffelman made a big impact as well, rushing for 102 yards and two touchdowns and catching two passes for 56 yards. Junior quarterback Eddie Jones had a nice game through air, going 7 for 12 for 116 yards with a touchdown pass to senior tight end Brennan Blaine.
The Clippers have another big test in Week 6 as they travel to face undefeated Milledgeville.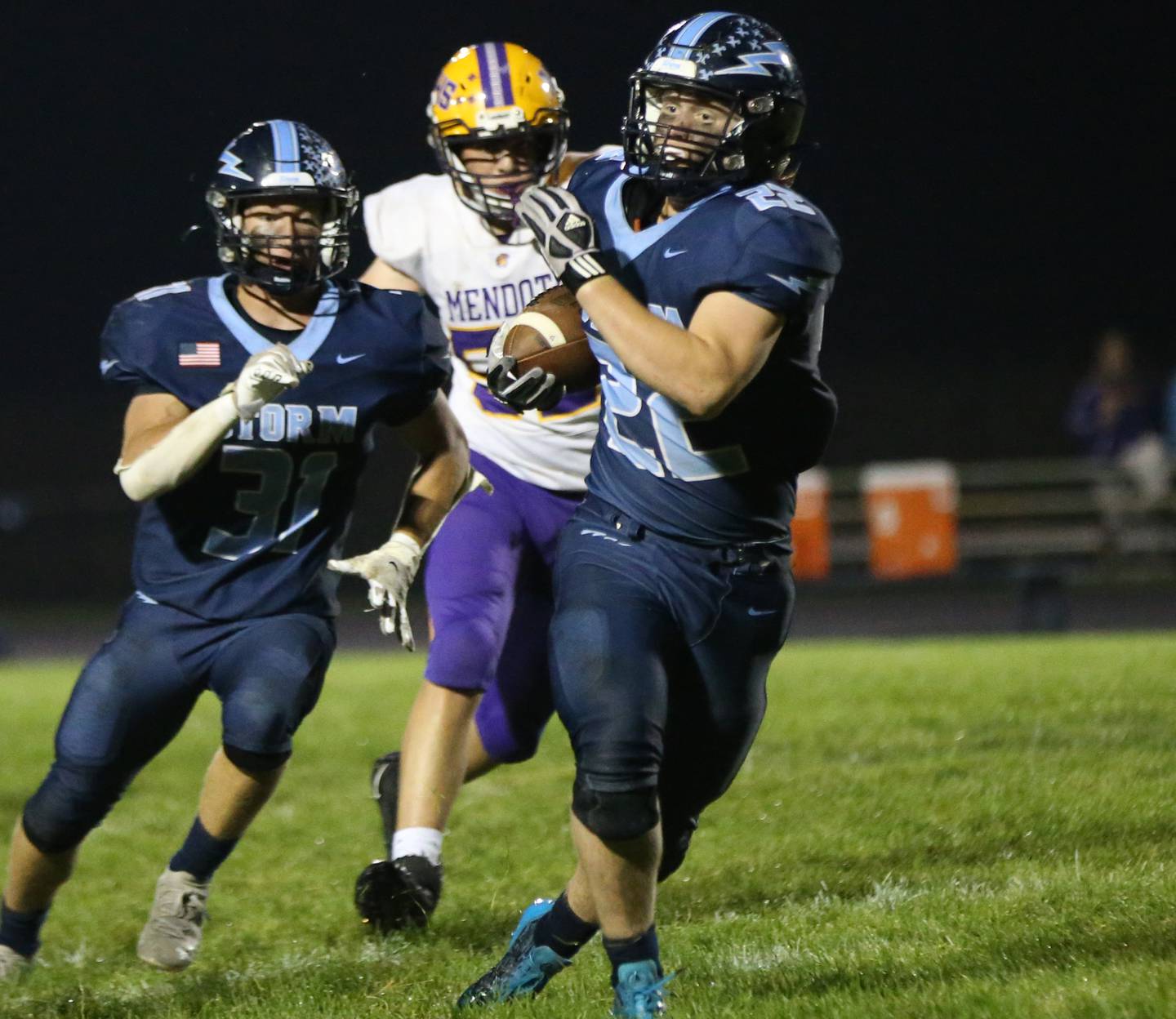 Monster game from Endress fuels Bureau Valley
The Bureau Valley Storm didn't attempt a single pass in a 35-14 win over Mendota. With the way running backs Elijah Endress, Cameron Lemons and Brady Hartz were running, there was no need.
Endress carried the ball 21 times for 249 yards and five touchdowns, logging a 40 yard run and a long touchdown run of 21 yards. Lemmons had 102 rushing yards on 11 carries, and Hartz added 63 yards on seven carries for the Storm.
Bureau Valley scored 14 points in both the second and third quarters to pull away for the win. The Storm (3-2) look greatly improved from last year's 1-8 team.