MANLIUS - Bureau Valley coach Mat Pistole said the Storm came into Friday's game against Mendota wanting to pass the ball.
But as it turned out, there was no need.
And that was just fine for Pistole.
The Storm ran for 434 yards and did not attempt a pass in a 35-14 win over the Trojans in a Three Rivers Conference Mississippi Division game.
"It was not by design," Pistole said of not trying a pass. "To be honest, we just felt really good about us running the ball and didn't go away from it. I'm a run-the-ball type of guy, so if we can do that, we're going to do it."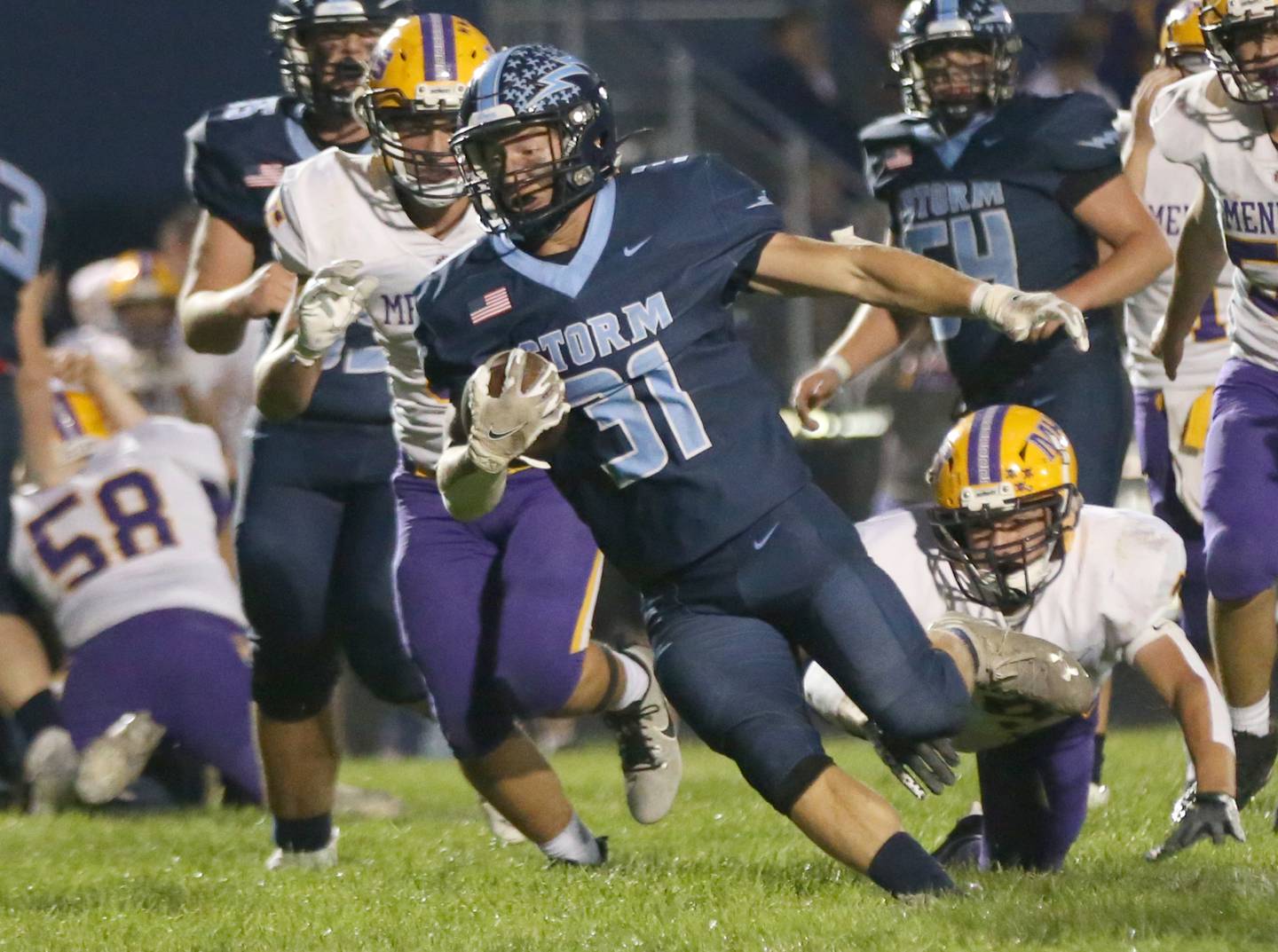 Senior Elijah Endress led the dominant rushing attack as he ran for 249 yards and all five of the Storm's touchdowns on 22 carries.
Cameron Lemons ran for 102 yards on 11 carries, Brady Hartz had 63 yards on seven attempts, and quarterback Bryce Helms ran for 20 yards on four carries as the Storm averaged 10.1 yards per carry and had 17 plays of 10 yards or more, including eight that went for 20 yards or more.
"We took it to them," Endress said. "Our offensive linemen and Cam Lemons blocked really well and opened holes perfectly for me. I couldn't get that many yards without them.
"Running is our first option. I think our mentality [makes us successful]. Last year we were kind of scared. Guys were bigger than us, stronger than us, and we kind of bowed down to them. This year, we got a chip on our shoulder. We're going to push them around. We're not going to be pushed around. In the offseason, we spent a lot of time in the weight room and got bigger, stronger and faster."
The Storm (3-2, 2-1 TRC Mississippi) started strong as Hartz broke off a 24-yard run on their first offensive play and Bureau Valley drove deep into Mendota territory, but the initial drive ended on a lost fumble.
Bureau Valley kept the ground game going and finished its next two drives with TD runs of 1 and 2 yards by Endress to help the Storm take a 14-7 halftime lead.
After Endress' second TD with 2:36 left in the second quarter, BV's Blake Helms suffered an injury and was taken from the field by ambulance.
Endress said that motivated the Storm for the second half as they built a 28-7 lead by the end of the third quarter on runs of 22 and 7 yards by Endress.
"I think No. 9 getting injured really motivated us," Endress said. "He has the most heart on the whole team. He doesn't play that much, but he's our most valuable player. Him getting hurt motivated us to pull ahead."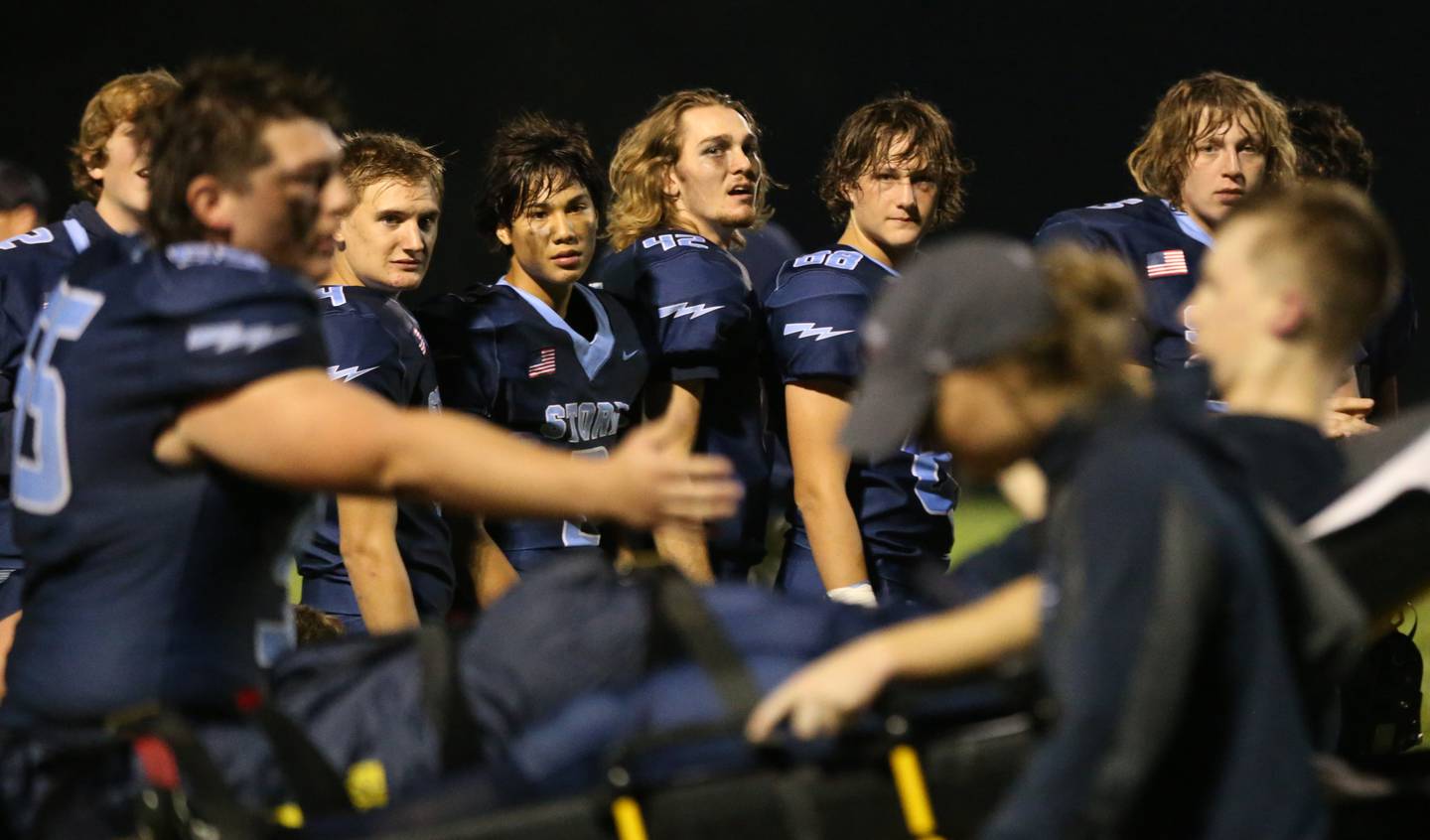 Pistole said Blake Helms, who is a captain who Pistole called a vocal leader, suffered a broken leg that will require surgery.
"He's doing fine and expected to make a good recovery," Pistole said. "Blake's the heart and soul of our football team. He has the biggest heart. He's the toughest kid we have. That really affected our kids. Everybody on our team really respects him and loves him. I think it's something we can really rally around and know we take a lot for granted out here and every play you have to play it like it's your last because you never know."
Following Endress' fourth TD, Mendota (0-5, 0-3) put together a 17-play, 81-yard scoring drive capped with an 11-yard touchdown pass from Justin Randolph to Aden Tillman with 6:24 left.
Randolph finished 22 of 42 for 223 yards and a touchdown and also had 31 of the team's 36 rushing yards.
Randolph scored the Trojans' first touchdown on a 4-yard run with 5:33 left in the second quarter to tie the game at 7-7.
"It was our best effort yet," Mendota coach Keegan Hill said. "Throwing the ball. Protecting the quarterback. Getting them into third and fourth down on defense. Forcing turnovers. We had all the highs and lows of a back and forth football game, and we haven't had that yet this season so it was significant growth by our boys. I'm proud of their effort."
Endress tacked on one more TD with 1:08 left to cap his career night.