ERIE – The Newman Comets defeated the Erie-Prophetstown Panthers 20-7 Friday night in a homecoming game at Erie.
Here are the top takeaways from the Week 5 game:
[ Purchase photos from the Newman vs. Erie-Prophetstown football game ]
Defenses take center stage in first half
The Comets and Panthers engaged in a defensive struggle throughout the first half. Defensive back Mac Hanrahan intercepted a pass at the Newman 25 on the opening Erie-Prophetstown drive to stop a possession that began at its own 48. Panthers quarterback Jeremiah Kochevar faded away on the throw and tried to thread it into tight coverage. Hanrahan made a leaping grab to flip the field.
Midway through the second quarter, Erie-Prophetstown threatened to score on a third-and-8 from the Newman 8. Fortunately for the Comets, a Kochevar pass to the end zone was tipped by linebacker Daniel Kelly, then caught near the goal line by linebacker Austin Van Landuit and returned to the Newman 6.
"That was huge. They had all the momentum going in and we did what we've been doing best, which is getting turnovers on defense," Kelly said. "That just happened to be one of those plays that we were in the right spot at the right time. I tipped it, and it went right into Austin's hands, and we just went on from there. That was a huge momentum change going into the half."
The Comets' first four drives resulted in a punt. Quarterback Evan Bushman went 4-for-8 passing for 51 yards to lead the first-half attack for Newman. The Comets managed only 27 rushing yards on 13 carries in the first half.
The Panthers' first four drives resulted in an interception, a punt, an interception and no score as the first half expired. Erie-Prophetstown was limited to 12 passing yards and 65 rushing yards before the break.
"It's as much our defense as it is our offense, I mean, we're a team, but our defense tonight was really great," Kelly said. "We started off slow, so did our offense, but still another three-takeaway game. We talked about that the other day, how many turnovers we get. That's awesome. Just keep doing what we're doing, making big plays and just doing our jobs on defense."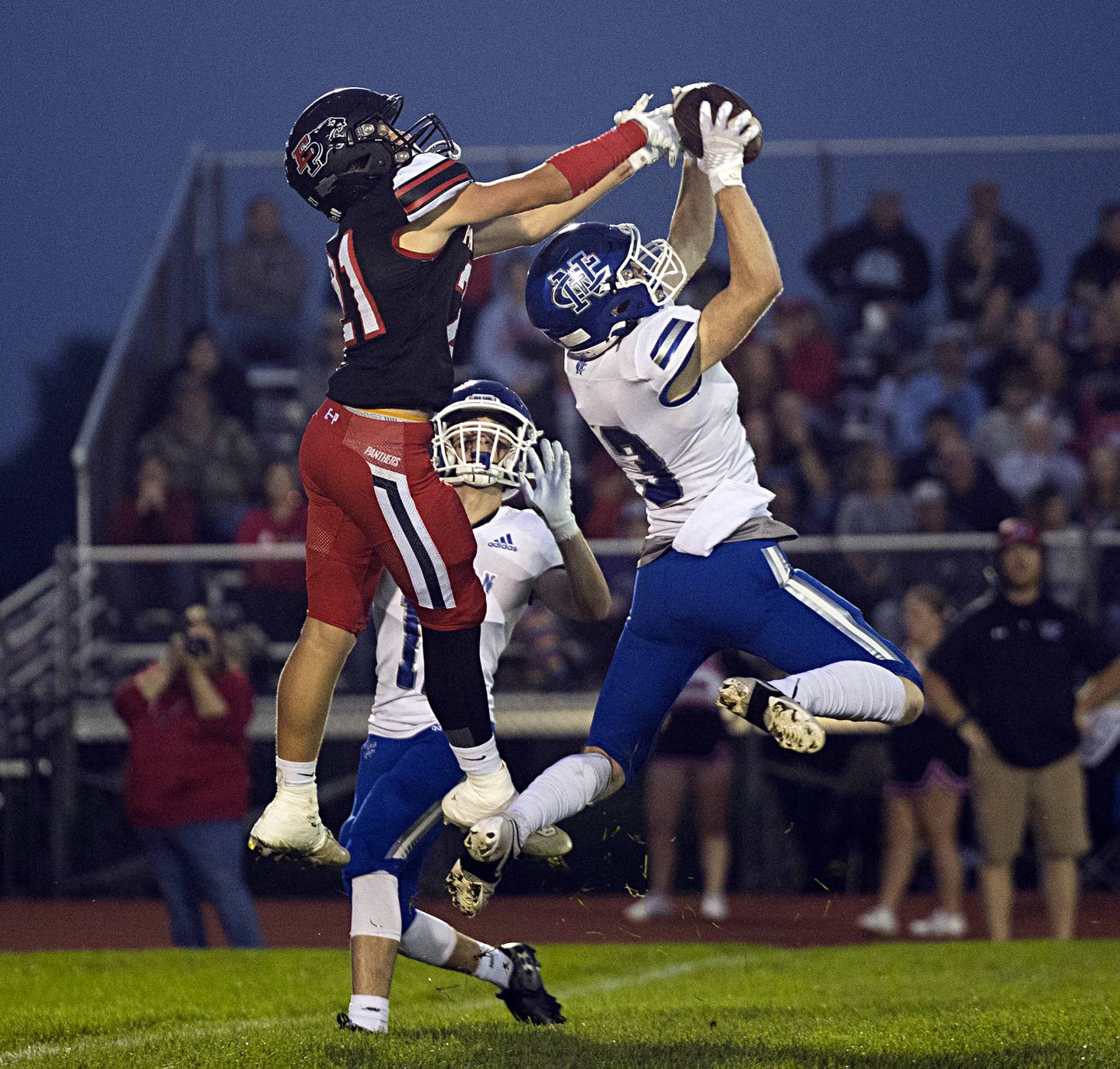 Offenses awaken in second half
Midway through the third quarter, on a drive that appeared headed for another three-and-out, Newman's offense finally broke through. After a high snap and a fumbled snap put Newman in a third-and-26 from its own 33, Bushman made up for his fumbled snap with a deep dime on the seam to running back Carter Rude for a 36-yard gain. The first-down play set up the Comets' first scoring drive. Running back Brady Grennan powered through the Erie-Prophetstown defense for a 20-yard gain to reach the Panthers' 11, then pounded it up the middle for an 8-yard gain on the next play. After that, Bushman threw a beautiful ball to wide receiver Isaiah Williams for a 3-yard touchdown pass in the left corner of the end zone with 4:57 to play in the third quarter. Newman took an 8-0 lead after the two-point conversion.
"That play really helped. Third-and-26, you gotta just throw up a deep ball. You gotta hope for the best, and we did," Bushman said. "Our route worked. It was supposed to go to Daniel, but Daniel slipped and Carter just found the seam, and I hit him.
"Once we got that first touchdown, I think that's when our spark started. We were a little dry coming into the game, but once we get that first touchdown, that's when we start locking in and we start playing better."
The Comets recovered a sky kick on the ensuing kickoff, then scored in one play: a 29-yard, tip-drill touchdown pass from Bushman to Kelly. The pass by Bushman was a little underthrown, and two defenders converged on it. One of them tipped the ball back behind his head into the waiting arms of Kelly, who ran in for the score from about five yards out. Newman extended its lead to 14-0 with 3:56 to play after a failed two-point conversion run.
"As soon as I threw it, I was like, 'Oh shoot.' I mean, wet ball, didn't think it was going to be a touchdown, thought it was going to be an interception, but the ball just slipped through his hands and Daniel caught it and scored. Nothing but happiness after that play."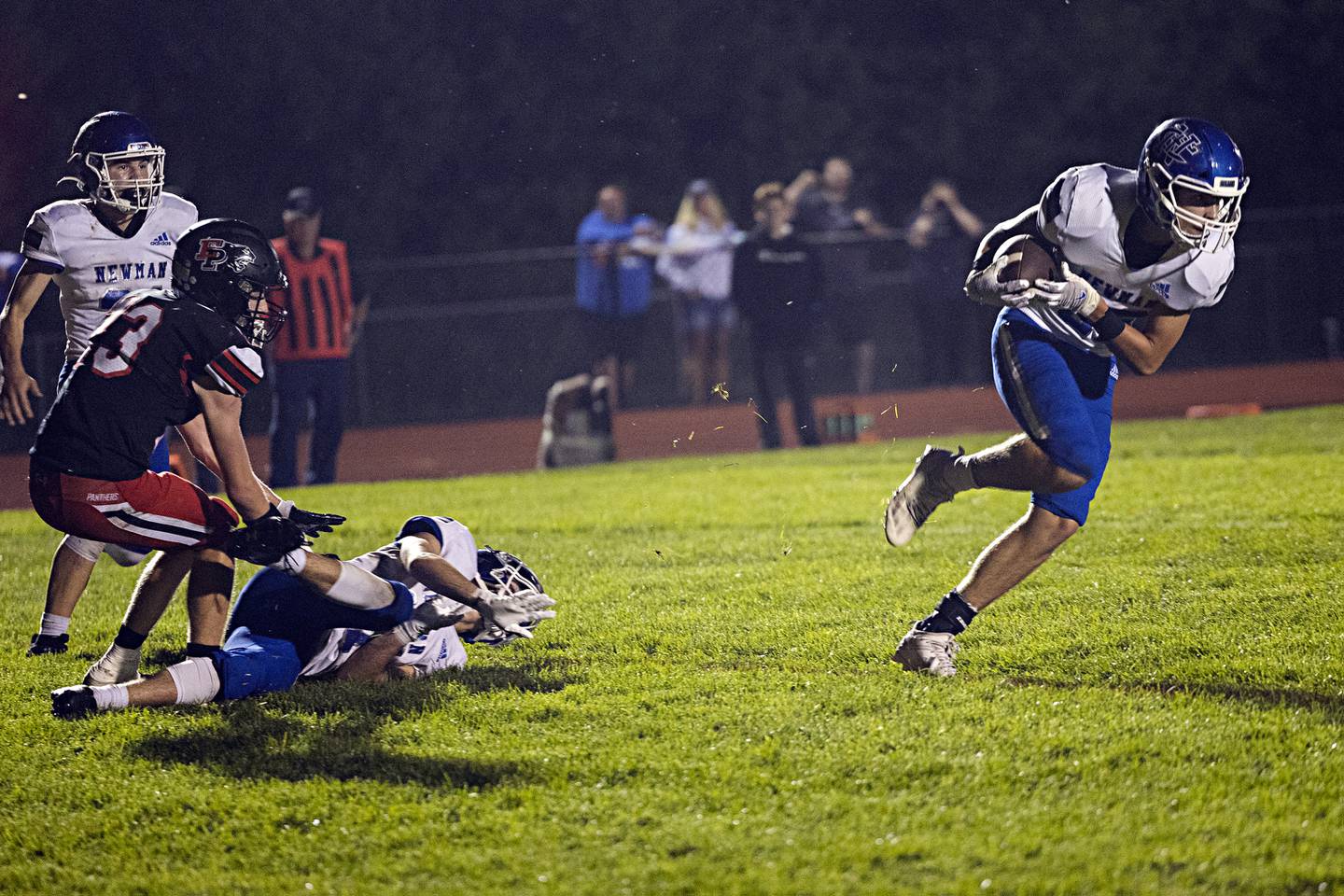 The tip-drill touchdown play was actually a new installation, as Kelly explained.
"It was a new play that we put in this week, and that was our first time running it," he said. "I looked over and I was past two guys, and I didn't really see our quarterback. I saw the ball come and I saw it get tipped, and it went right into my hands. So, I mean, a little bit of luck, but that's all right."
The Panthers heated up offensively on their next possession. After a Bushman interception on what appeared to be a miscommunication, Erie-Prophetstown took over at its own 39 with 39.4 seconds left in the third quarter. The first play of the ensuing drive was a 51-yard pass from Kochevar to running back Demetree Larson. The pretty pass dropped in over a defender to Larson around the Newman 40-yard line, and Larson raced down the left sideline for about 30 yards after the catch. On a subsequent fourth-and-4 from the Newman 4, Kochevar rolled right and hit Larson short in the right corner of the end zone. The play brought the Panthers within 14-7 as 10:34 remained in the fourth quarter.
Newman scored the final touchdown with 9:41 to play. After a nice Rude kickoff return and unsportsmanlike conduct penalty against the Panthers set up Newman at the Erie-Prophetstown 30, Newman quickly scored. Grennan moved a pile at least 10 yards for a 21-yard gain on the first play of the drive, then Rude rushed in off the left tackle for a 9-yard touchdown.
"First half, we played great. I was very proud of us in the first half. I think we showed we're not a true 0-4 team. I think we've played much better than that," Larson said. "Third quarter, just mental errors. I think it was after they scored their first touchdown, I'm back in kick return, and I just don't grab the ball. That's a mental mistake on me. I take full responsibility for that. And after that, we had no momentum. We tried to rally back. I don't think we ever gave up, but we just couldn't get it done in the end."
Bushman finished 7-for-11 passing for 119 yards with two touchdowns and one interception. Grennan rushed for 60 yards on 10 carries and had a reception of 23 yards. Williams caught three passes for 23 yards and a touchdown.
Kochevar finished with over 100 passing yards and a passing touchdown and rushed for 32 yards. Larson caught five passes for 77 yards and a touchdown and rushed for 29 yards.