STERLING – Seven interceptions and six fumble recoveries. Also, 14.3 points, 70 rushing yards and 87 passing yards allowed per game. That's what the Newman defense has accomplished in four games this season.
To junior linebacker Daniel Kelly, it's a testament to the Comets' hard work.
"We practice defense a lot in practice, and coming off of last year, I think our defense was still pretty good. But adding on to it this year, understanding it and turning over the ball a lot, that's huge," Kelly said. "13 turnovers in four games is wild. That's like three turnovers per game, plus one game that had four. That's insane. We do turnover circuits. We just try to do the best we can in practice to get us ready and do whatever we can."
The Comets opened their 2023 campaign with a 12-7 win over Rockridge on Aug. 25, avenging 33-8 and 42-12 losses from 2022. It was a strong opening statement for their defense, which, in addition to allowing a single touchdown, snagged two interceptions – most notably a pick-six by senior cornerback Isaiah Williams.
Sherrard was up next. The Comets picked off three more passes in a 16-10 win over the Tigers.
In a 20-0 Week 3 loss to Princeton, the defense stepped up again. The Comets forced four fumbles (with three recoveries) and allowed just 14 points until the last two minutes. The 20 points were a season-low for the Tigers through four games and almost 11 points below their season average. Newman limited Princeton sophomore running back Casey Etheridge better than most teams this season, holding him to 170 yards and two touchdowns on 15 carries. Etheridge rushed for 291 yards and five touchdowns in a Week 4 win over Orion and 234 yards and four touchdowns in a Week 1 win over Monmouth-Roseville. Most of his production against Newman came on two big runs: a 41-yard touchdown and a 60-yard breakaway, both in the first quarter.
Of course, the Comets would have liked to eliminate the big plays and hold the Tigers under 20. Still, they were mostly impressed with what they did against Princeton, the top-ranked team in Class 3A by the Associated Press prior to a Week 2 loss to Morrison.
"I think it said a lot [about our defense]. That was the game I think we let up the most points, so even though we did let up the most points, that's pretty impressive," Kelly said. "Princeton's got a pretty good offense. Keeping them to 20 points is awesome. I think it should've been lower, but oh well. I think it's great for our confidence to keep playing these bigger teams and holding them to low scores."
Newman held Class 6A Rock Island to 20 points last week.
Linebackers coach Andrew Papoccia and defensive backs coach Luke LeMay sense a much higher comfort level in their defensive players this season. They both saw room for improvement against Princeton, but overall, they've been impressed with how their defense has performed.
"We know [Princeton] fairly well. We see them every year. We know what they like to do," Papoccia said. "In all honesty, we were pretty disappointed with the 20 points. We felt like it could've been better. Each week is a new opponent, and the thing that our kids are starting to understand with the defense we have in is it's very adaptable to who we're playing. Last year, I feel like we were kind of stuck in certain things because the kids just weren't as comfortable in the first year, but now, in the second year, they can get lined up a lot faster. And we can adapt to what the other team is trying to do."
LeMay said keeping things simple and getting lined up quicker have helped the defense operate at a high level this season. By limiting the pre-snap thought process, players are able to play fast and not overthink their assignments.
"I think the difference between last year and this year is the ability to just get lined up quicker. We're keeping it in a place where it's pretty simple for our guys, so we're able to line up quickly, play fast, get to the ball, not have a lot of questions pre-snap," LeMay said. "Guys know what they're supposed to do, they line up and do it. And I feel like that's a big reason why we're getting a lot of turnovers this year. That's why I feel like we've got a lot of hats at the ball every single possession. And I think that's another big reason why we've been able to eliminate a lot of touchdowns for our opponents."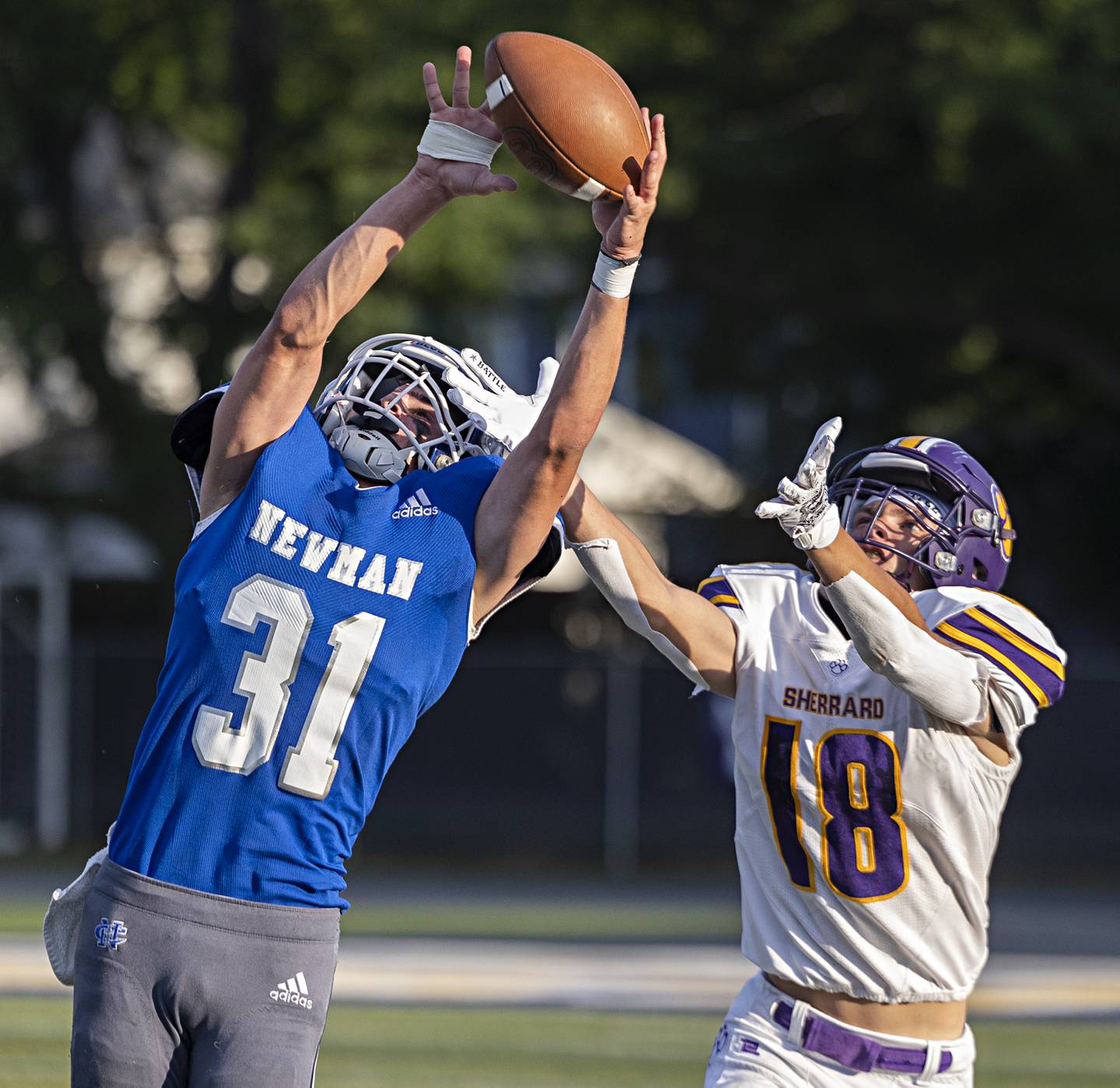 The Comets have developed good chemistry at all three levels of the defense. The backfield, led by sophomore Cody McBride and Williams at cornerback, and seniors Carter Rude and Brady Grennan at safety, has been limiting explosive plays in the passing game.
The defensive line, anchored by senior Caleb Donna, has been limiting opposing rushers and getting after the quarterback.
The linebackers, led by Kelly, are pursuing sideline-to-sideline, scraping and filling, and making plays in the passing game.
Defensive line coach Nate Ackert considers Kelly to be almost a coach on the field, manning the middle linebacker spot. He's also been impressed with Donna and McBride's improvement this season.
"Daniel has been awesome for us. It's kind of like having one of us out there," Ackert said. "He can get people lined up, make sure people know what they're doing. I'm impressed with Caleb Donna. He's kind of taken a step forward this year. He's playing more disciplined, but he's still playing fast. And Cody McBride, too."
LeMay has been impressed with the growth of Rude.
"Carter Rude has grown into a really good leader for this team, a very vocal leader," LeMay said. "And much so a leader on our back end for the DBs to make sure that all four of those guys know what they're doing every single play. And his footwork has improved exceptionally well over the two years that we've been working with him."
As a smaller school and a smaller team, Newman is at a clear size disadvantage in some of the games they play. That was especially apparent against Princeton and Rock Island. Fortunately, they're able to make up for their lack of size in other ways.
"We've got a couple big kids in the backfield that can hit hard and follow the ball, and we've got kids on the front line that are pretty fast," Donna said. "And then our DBs are really good at locking on the wide receivers."
Kelly said speed and tenacity are key factors in overcoming size disadvantages.
"We have a lot of speed on our team, so I think we use that as an advantage. On our line there's not many big guys, but our linemen are probably some of the fastest linemen in the state. I'll take that up against anyone," Kelly said. "I think really getting down the line, staying on our guys, and it's not like you have to drive them to the ground every play, just sticking on them and driving them down [is important for us]."