A great way to start your day is with a visit to Eggville Café in Cary for a hearty breakfast.
It was clear when we visited that the cafe is already a popular spot for local residents, even on a weekday morning. The place was busy, but our food came out quickly. A glance around the restaurant indicated everyone there was enjoying the start to their day with good food and conversation with friends.
Looking at the menu, it took us a while to decide what exactly we wanted to eat. There were so many options to try and all sounded appealing.
My friend selected the banana chocolate chip pancakes ($11). They turned out to be a great choice. It came with four pancakes topped with chocolate chips, which slowly melted throughout the meal atop the warm pancakes. It also was garnished with a full banana, its slices placed on and around the pancakes. Finally, it was sprinkled with powdered sugar.
My friend said they were some of the best pancakes she had ever had, and ended up bringing half of them home to eat the next day. She also liked their presentation with all the toppings.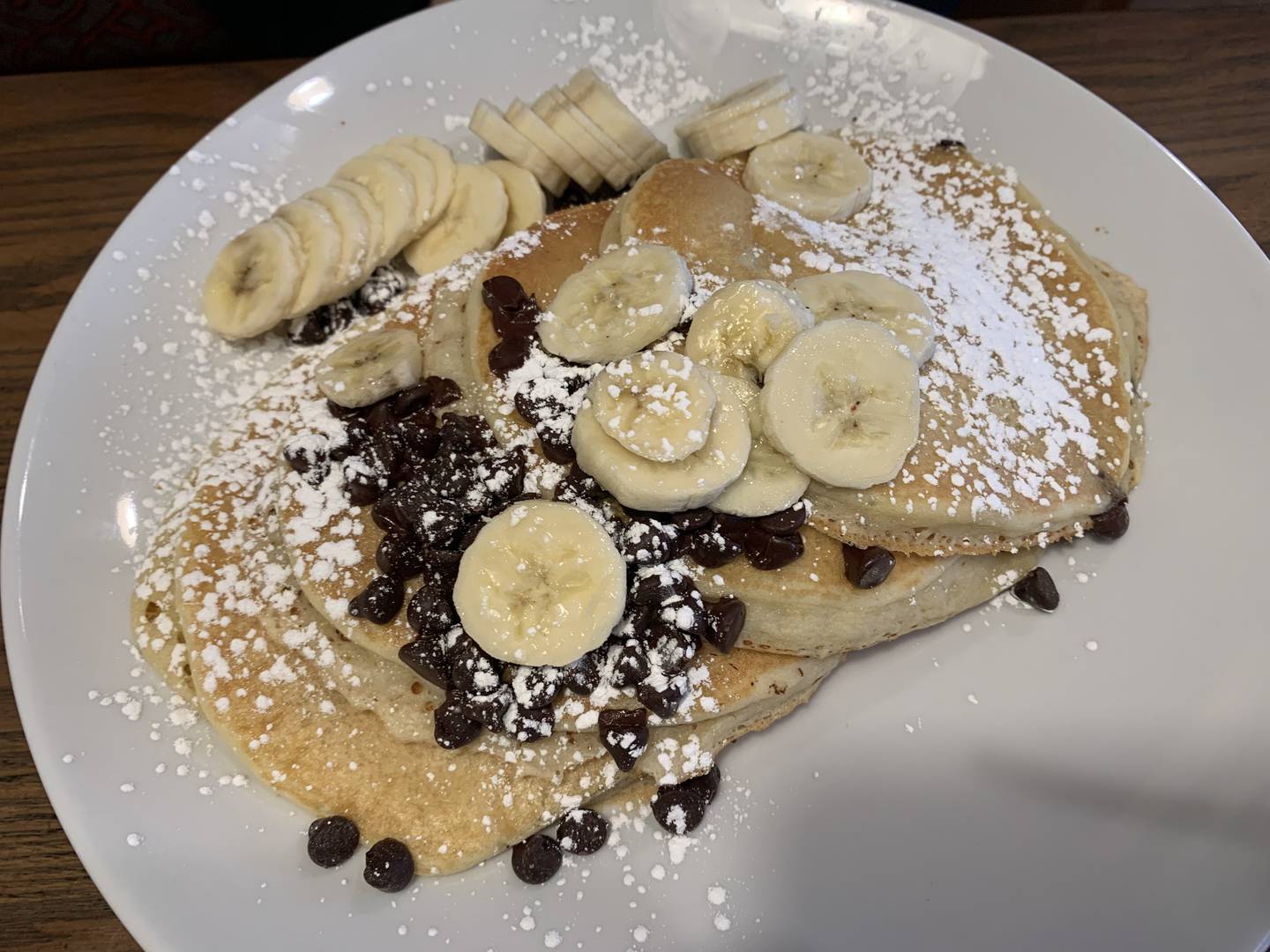 For myself, I ordered The Meat Lovers Skillet ($12.50).
This also proved to be a very tasty choice and a good amount of food to begin the day. The skillet had a base layer of hash browns, then was filled with a mixture of bacon, ham and sausage, and topped with cheddar cheese. Scrambled eggs crowned the whole skillet. Each diner picks their style of eggs. The meats were nicely balanced in this dish for a perfect combination. And the serving size meant welcome leftovers.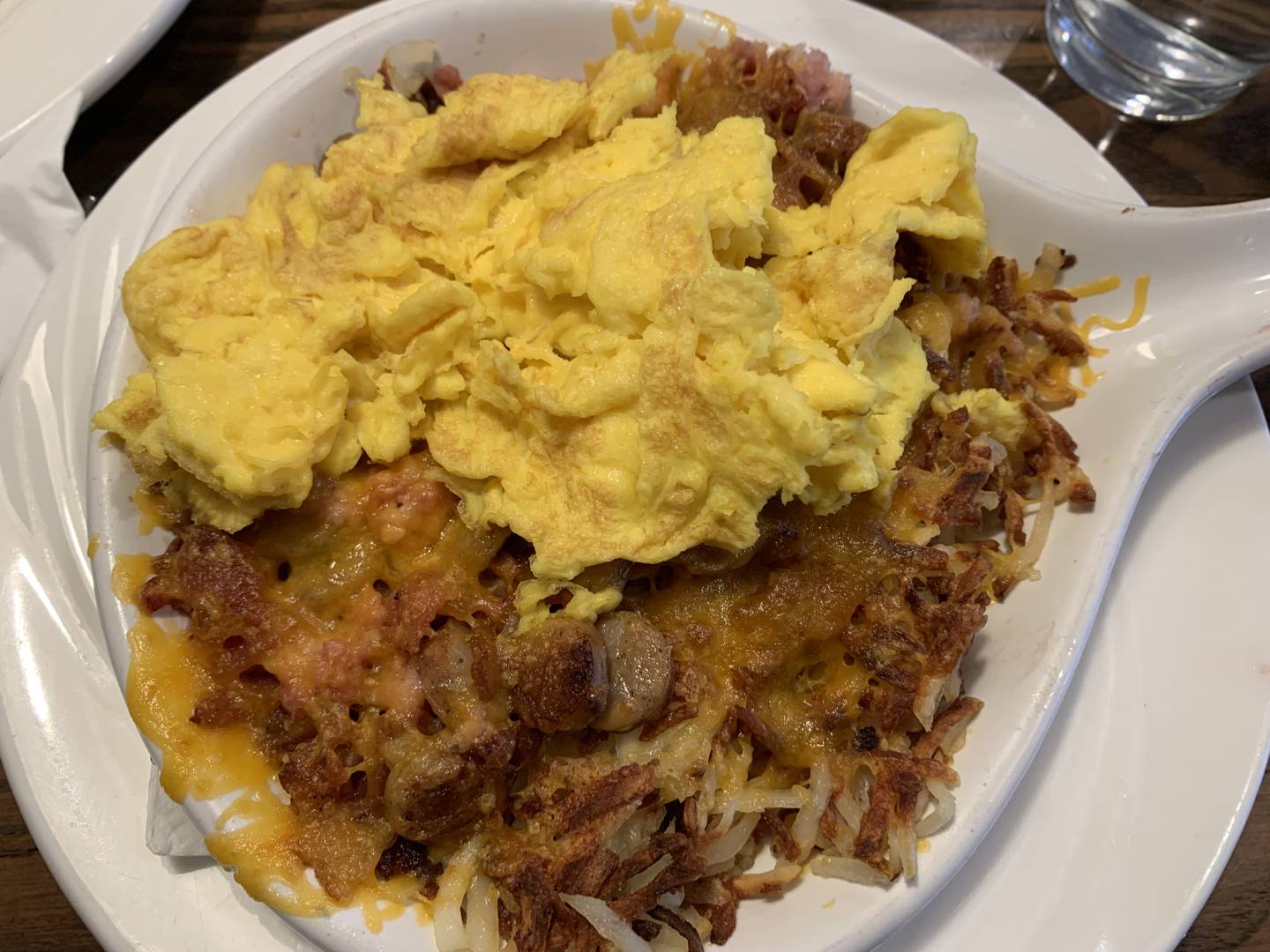 For a taste of something else on the menu, we ordered a side of three sausage links for $4. They were the largest sausage links I have ever had at a breakfast place, which made me glad to see how much the restaurant wants to provide a full meal for hungry customers. They also tasted great.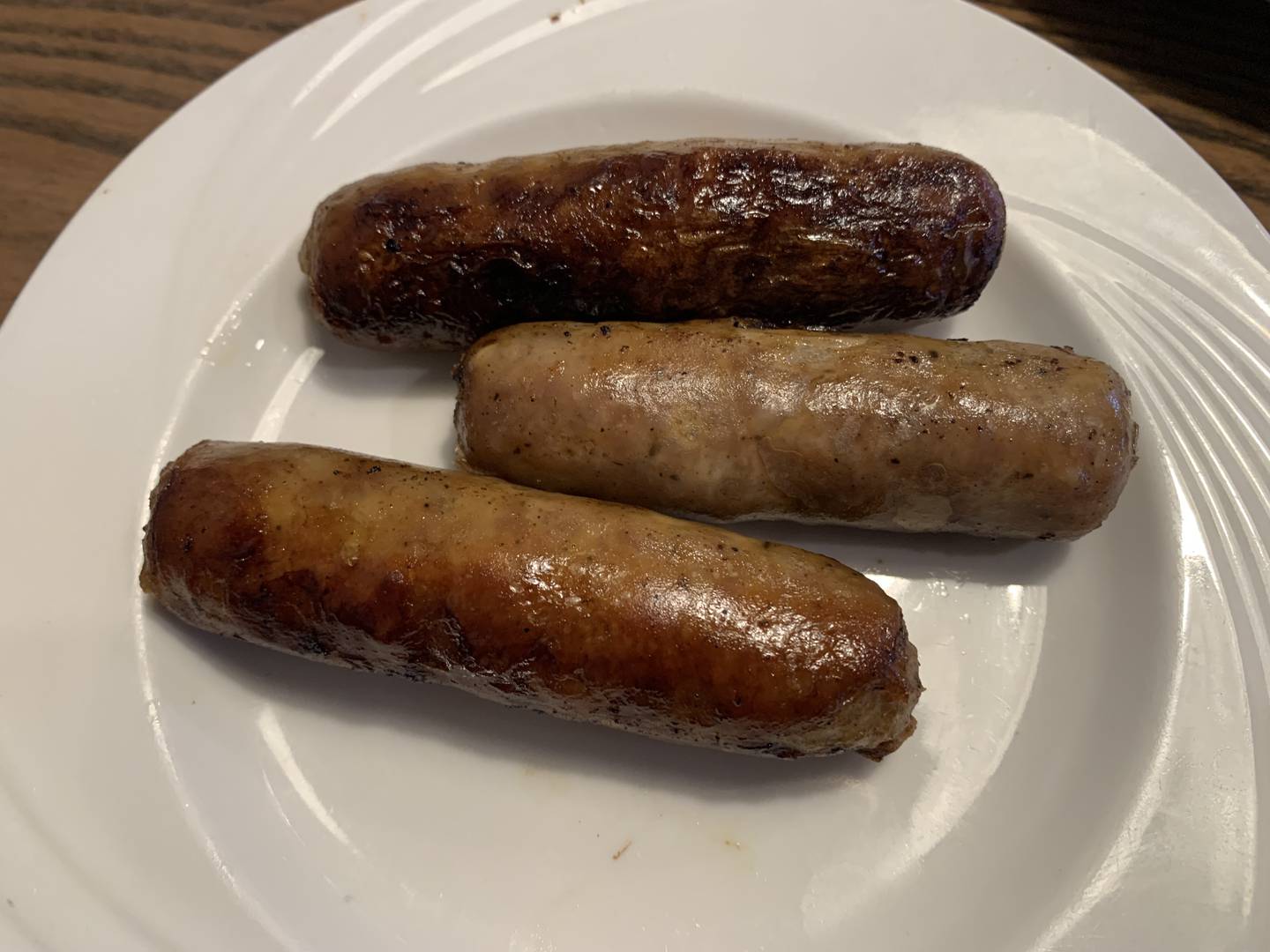 For any diner who would like to be more adventurous on their breakfast choices, there are more fun items on the menu.
In the skillet category, diners can order almost any flavor they want, including a Mexican skillet and options for vegetarians. For pancakes, patrons can pick any version from a potato pancake to s'mores, Oreo or Nutella creations.
The menu also had plenty of other appetizing breakfast selections, including eggs, toast and French toast. It certainly had something for everyone.
For diners who want to be extra cautious during the pandemic, Eggville Café showed they value safety. All staff wore masks, tables were spaced well even though the restaurant was busy, and clear acrylic sheets continue to divide booths that can't be moved.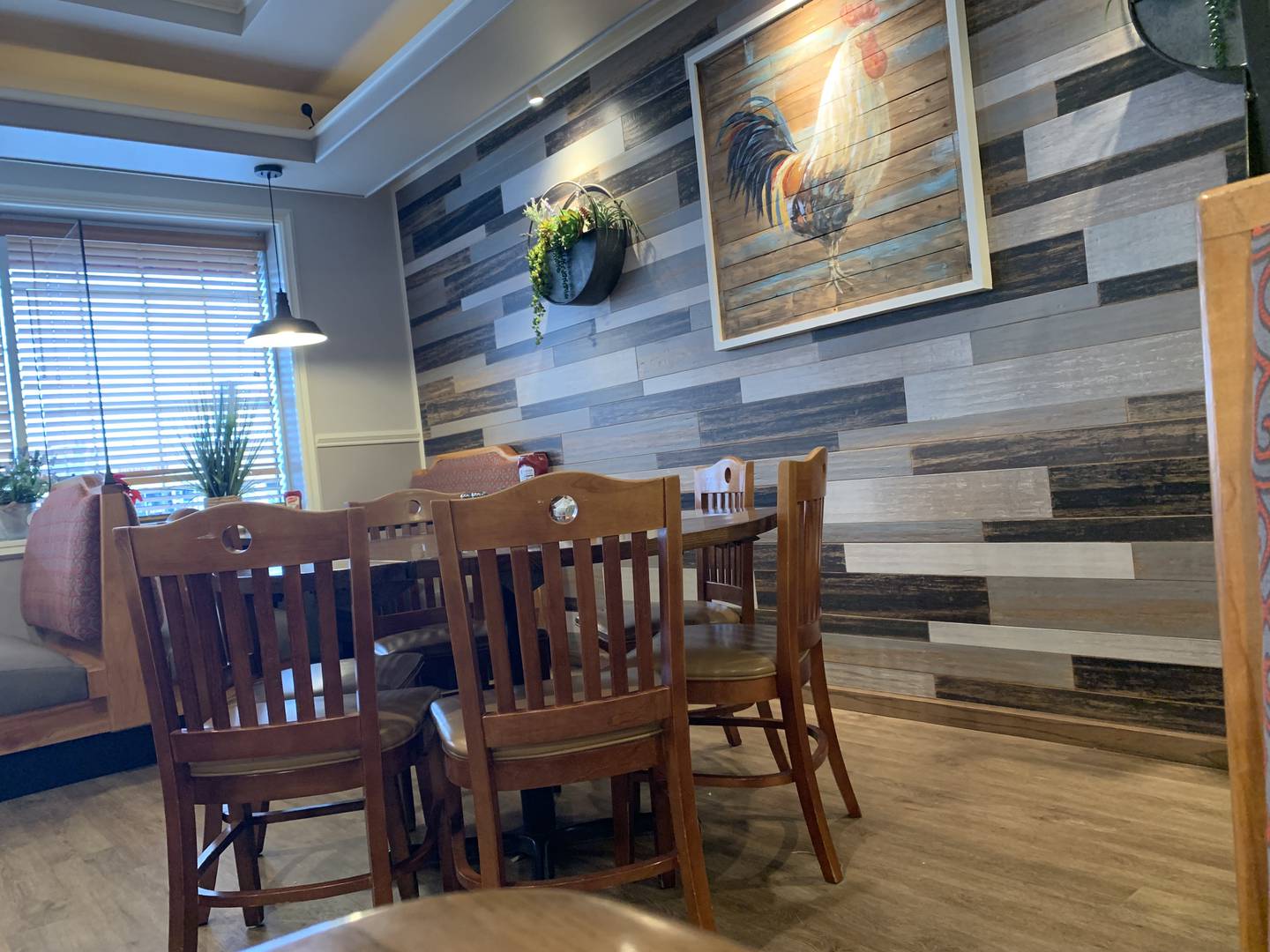 Overall, Eggville Café is a fun place to visit that makes great food. Even the building has a lot of character, with a large chicken out front, and handsome barn wood-style touches inside the dining room.
• The Mystery Diner is an employee at the Northwest Herald. The diner's identity is not revealed to the restaurant staff before or during the meal. If the Mystery Diner cannot recommend the establishment, we will not publish a story.
IF YOU GO
WHAT: Eggville Café
WHERE: 350 Northwest Highway, Cary
PHONE: 847-516-4300
INFORMATION: eggvillecafe.com