When you have a hankering for barbecue, expectations can be high. The meat needs to be tender and succulent. The sauce should come in a variety, from sweet and tangy to bold and spicy. And don't forget about the sides – from mac and cheese to baked beans – they need to finish out the barbecue experience.
To satisfy our latest hankering, we chose BBQ King Smokehouse in Huntley, which we learned has quite a reputation and dozens of awards to its credit, including first-place wins for a variety of food offerings at Ribfest Chicago, Lake in the Hills Rotary Rockin' RibFest, New England Ribfest (Bangor, Maine), West of the Fox: Best Ribs, Capital City Ribfest (Lincoln, Nebraska), Elkhorn Ribfest in Wisconsin, a Critics' Choice event in Davenport, Iowa, and McHenry County Living, Judge and People's choice.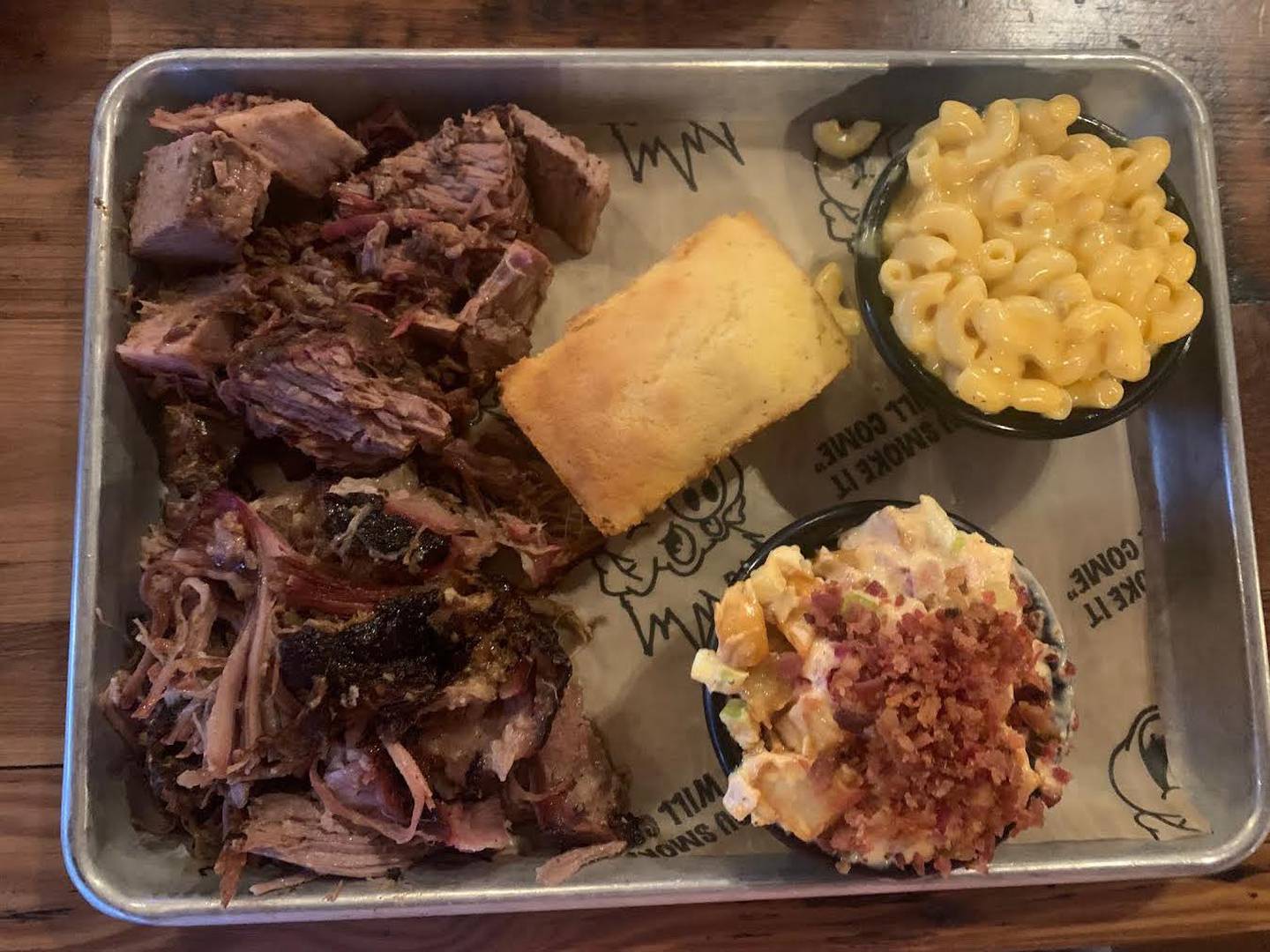 BBQ King slow smokes its meats from four to 16 hours daily. Its menu features everything a carnivore would expect to find, and we wanted to try a few meats. We started with the Two By Two ($22), offering a choice of two items from a list of pulled pork, pulled chicken, chopped brisket and smoked sausage. We chose the pork and brisket, with sides of fried potato salad and mac and cheese.
Our second item was the St. Louis Ribs ($19 for a half slab, and $28 for a full slab). We normally choose Baby Back Ribs, but those were not available, as baby back ribs and chicken wings, along with some other items, have been harder to find in these times of supply-chain disruptions. Our sides on the St. Louis Ribs were baked beans and coleslaw. Both meals came with a piece of cornbread, which was sweet and solid (you have to be appreciative when your cornbread doesn't fall apart when you butter it).
The pulled pork and brisket meats were just as we'd hoped: tender and juicy with just a flavoring of sauce, allowing us to add the right amount of the three varieties of sauces available at the table.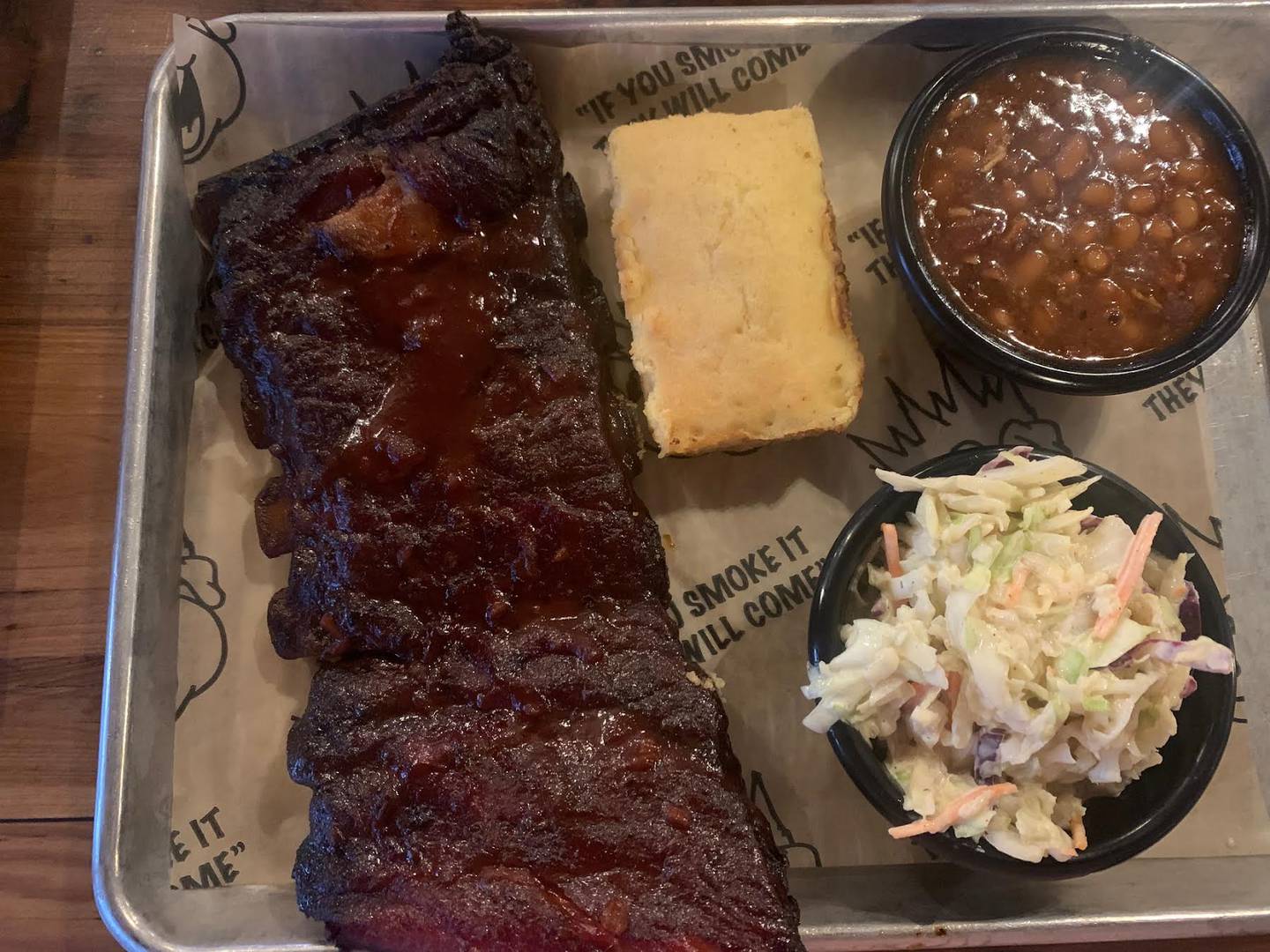 And the St. Louis Ribs? These were some of the best we'd ever tasted. The meat, which arrived with a wonderful coating, pulled off the bone with ease, and was moist and succulent.
The sides were also tasty and unique.
Overall, BBQ King Smokehouse was a good experience, and the food was outstanding.
• The Mystery Diner is an employee at the Northwest Herald. The diner's identity is not revealed to the restaurant staff before or during the meal. The Mystery Diner visits a different restaurant and then reports on the experience. If the Mystery Diner cannot recommend the establishment, we will not publish a story.
IF YOU GO
WHAT: BBQ King Smokehouse
WHERE: 11706 Coral St., Huntley
PHONE: 224-654-6201
INFORMATION: bbqkingsmokehouse.com