Emmy Award-winning writer/director/producer Ken Levine will visit the Riverfront Playhouse in Aurora to attend a production of his play "Upfronts and Personal," and participate in post-performance talk-backs April 1 and 2.
The talk-backs will be moderated by Debbie Trueblood.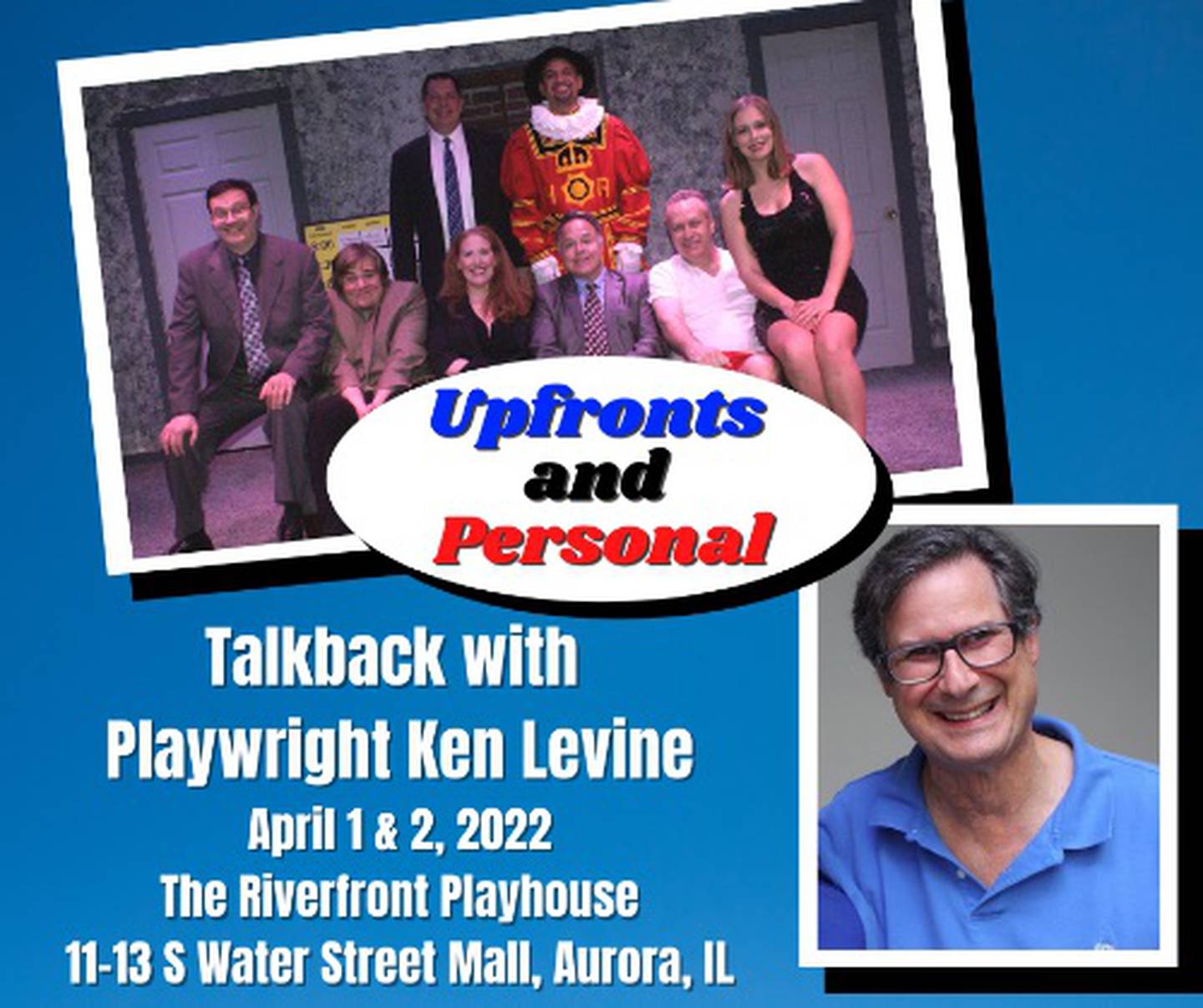 Levine's television credits include "M*A*S*H," "Cheers," "Frasier," "The Simpsons," "Wings," "Becker" and many others. He is also a veteran baseball announcer and contributing cartoonist to The New Yorker magazine. With his partner, David Issacs, Levine wrote all of the "Cheers Bar Wars" episodes, as well as "Point of View," the Emmy-nominated "M*A*S*H" episode of a stay at the 4077th seen through the eyes of a wounded soldier.
The cast of "Upfronts and Personal" includes Jay Battles (Chicago Ridge), L.D. Graham (Plano), Jill Jackson (Westmont), Peter Lemongelli (Cicero), Dan Muir (Naperville), Heather Pauliks (Claudia), Jaime Sandoval (Oak Park) and Nate Soesbe (Naperville).
"Upfronts and Personal" is directed by Craig Gustafson, longtime Chicago area director and winner of the Broadway World – Chicago 2019 award for Best Direction of a Play (Resident Non-Equity) for "August: Osage County" at Stage Coach Players. For the Riverfront Playhouse, Gustafson has directed "Fasting Cougars" and "Crumbs in Bed." His short plays have been published in three anthologies, and in April, his full- length farce, "The Angle of Mercy" will premiere at GreenMan Theatre in Elmhurst.
"Upfronts and Personal" follows a night of skullduggery, sex, double-dealing, back-stabbing, death, a little more sex and reasonably true love. It contains adult language and situations.
In 2010, New York City, there is a convergence of television network executives, sponsors and producers. The occasion is the Upfronts – the annual presentation to the sponsors of the coming television season. Donald Foster runs the television division of a major studio, and has his hands full trying to juggle the egos of his producer/writers, the dogmatic and usually cruel edicts of his boss, and Claudia, the thousand-dollar-a-night hooker in the company hotel suite.
Beth Heller and Gary Nogle have been writing together for 15 years, and have been producing their latest show. They're trying to get their series renewed while placating their star, who (A) is involved with Beth and (B) not testing well with the focus groups. Matthew Reid is a fledgling writer who is thrown into the deep end of the network shark tank, wondering if the better choice of sink or swim is to get out of the water.
Performances begin at 8 p.m. Fridays and Saturdays through April 23. Tickets cost $17 for adults, $15 for students and seniors. Reservations can be made at www.riverfrontplayhouse.com.