STERLING – Princeton's dominating defense was the story of Friday night's game against Newman at Roscoe Eades Stadium, as it forced three takeaways and allowed two first-down conversions in a 36-0 win.
The Tigers scored on their second drive of the game, capitalizing on short field after a long punt return.
[ Photos from Newman vs. Princeton football ]
Starting at the Newman 21, Princeton needed only a few plays to score. With 2:44 remaining in the first quarter, running back Augie Christiansen barreled his way up the middle for a 6-yard touchdown, taking a 7-0 lead.
"We got off to a fast start because our linemen were playing good," Davis said. "Tough, physical game, and I just gotta give it to everybody – they played hard and we started off real quick."
Starting the next drive on its own 4-yard line, Newman's offense quickly turned the ball over. A Teegan Davis interception near the right sideline gave the Tigers short field again – this time from the Comets' 13.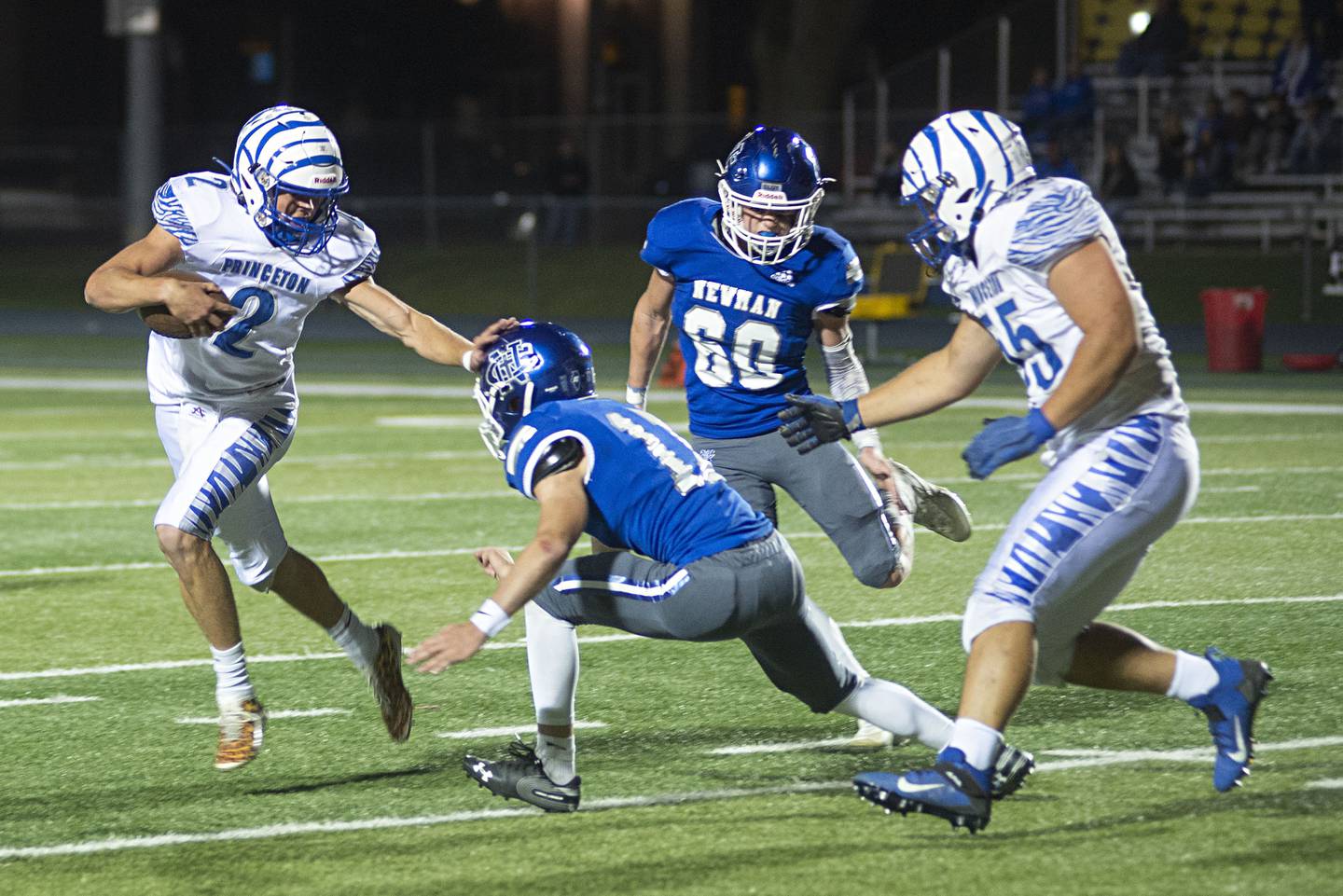 Seven seconds into the second quarter, Princeton went ahead 15-0. Taking a flip pass off a run-action fake, Brady Byers ran nine yards untouched into the left corner of the end zone. A Christiansen run up the middle converted the two-point play.
A 23-yard Christiansen reception sparked another Princeton scoring drive; the Tigers capitalized again on short field after a turnover on downs. Davis capped the scoring drive with a 1-yard quarterback sneak touchdown, and Princeton went up 22-0 with 4:38 left in the half.
Noah LaPorte nabbed the second interception of the game for the Tigers on the next Newman drive, giving his offense the ball at the Comets' 41.
"We always watch film in the morning, we're always studying the offense," Davis said, pointing out the key to the strong defensive showing. "And we all came out firing and tried to get the ball back so our offense could go score."
From there, the offense capitalized again. Davis hit a wide-open Christiansen off play-action for a 19-yard touchdown, and Princeton took a commanding 29-0 lead with 1:05 left in the half.
That was the score at halftime. Newman was limited to 34 yards of offense before the break.
"I thought we had good field position most of the game," Princeton coach Ryan Pearson said. "Our offense is certainly, I think, capable of being able to score on short fields pretty consistently. Defense certainly helped the offense tonight by giving us those short fields."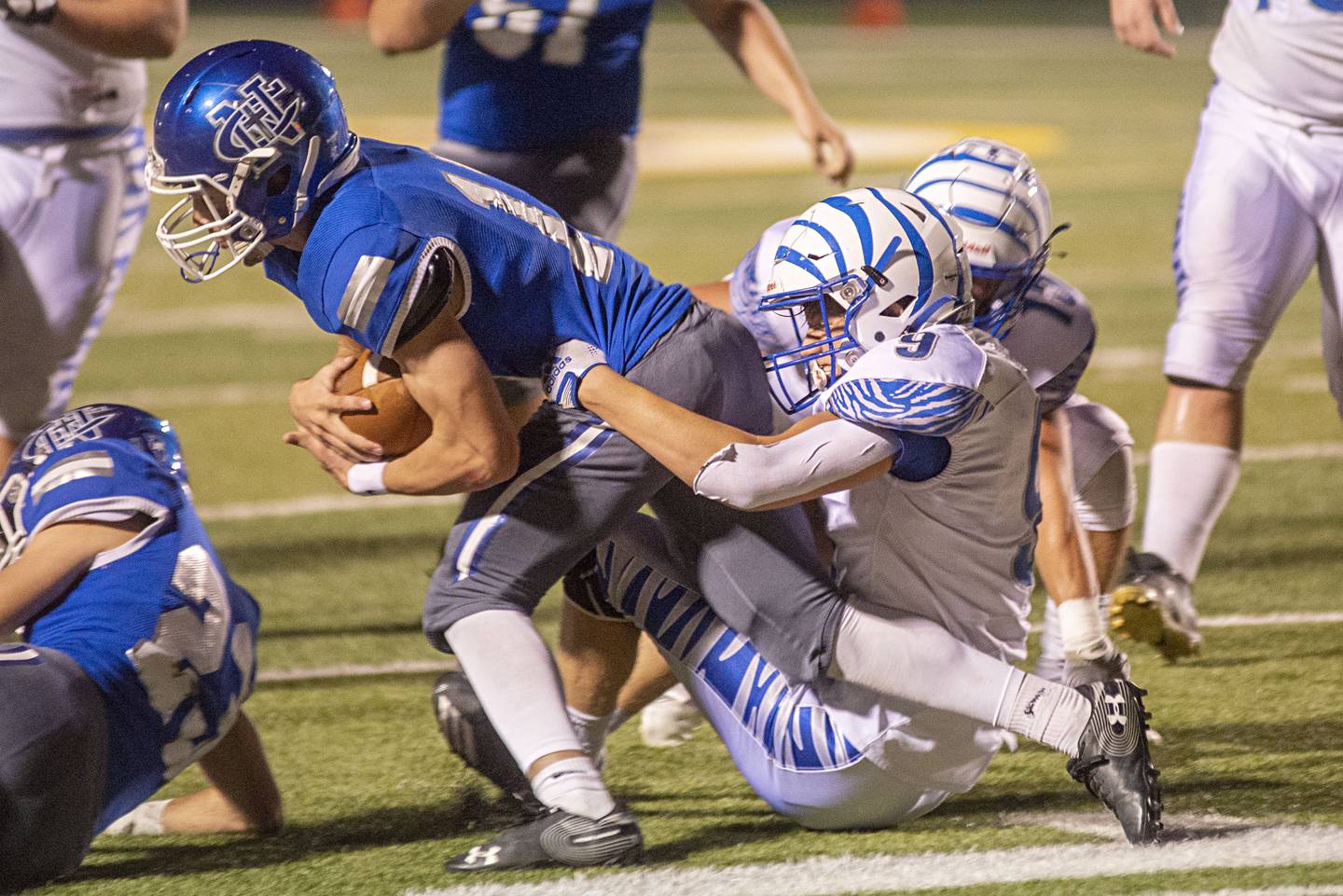 The Comets' defense started to find its footing in the second half, forcing three straight three-and-outs to open the second half.
Newman had a promising drive going early in the fourth quarter, led by quarterback JJ Castle, but Princeton's defense stiffened again, forcing a turnover on downs at its own 6-yard line.
A 2-yard CJ Hickey touchdown run off a pitch left was the final scoring play of the game, coming with 2:08 left to play.
"They're definitely talented. First half, on defense, we had one misalignment and that's something we know as a defensive staff is you gotta play 11 guys, locked in, and know where you're at," Newman coach Mike LeMay said. "You get misaligned against a good team like that they can expose you. I know from my standpoint, we took some chances and kind of put our defense in some tough positions. We weren't able to really flip field position, and offensively, we struggled. And they're a really good defense.
"It's stuff that we're going to have to work on. We kind of have an idea of what it needs to be, and we're gonna go back to the drawing board and make sure we get that right."
Carter Rude was the leading Newman rusher, tallying 29 yards on the ground with a long run of 21 yards.