The local 2021 football season left some indelible memories, beginning with Cary-Grove's thrilling Class 6A state championship victory over East St. Louis, along with Richmond-Burton's state-best 32-game winning streak coming to an end in the Class 4A semifinals.
Offenses were practically unstoppable, with many Fox Valley Conference games requiring at least 40 points to win. And several times, that was not even enough.
Four FVC teams – C-G, Crystal Lake Central, Jacobs and Prairie Ridge – advanced to the playoff quarterfinals in their respective classes.
Fall practices start on Monday, and the local conference previews will run later in the week. In the meantime, here are some storylines to watch this season.
What does Cary-Grove do for an encore?
The Trojans started last season at No. 1 in The Associated Press Class 6A poll, but dropped to No. 2 when East St. Louis, which would have been in 5A, was declared 6A. The Southwestern Conference, of which East St. Louis is a member, would not let the Flyers play in 7A.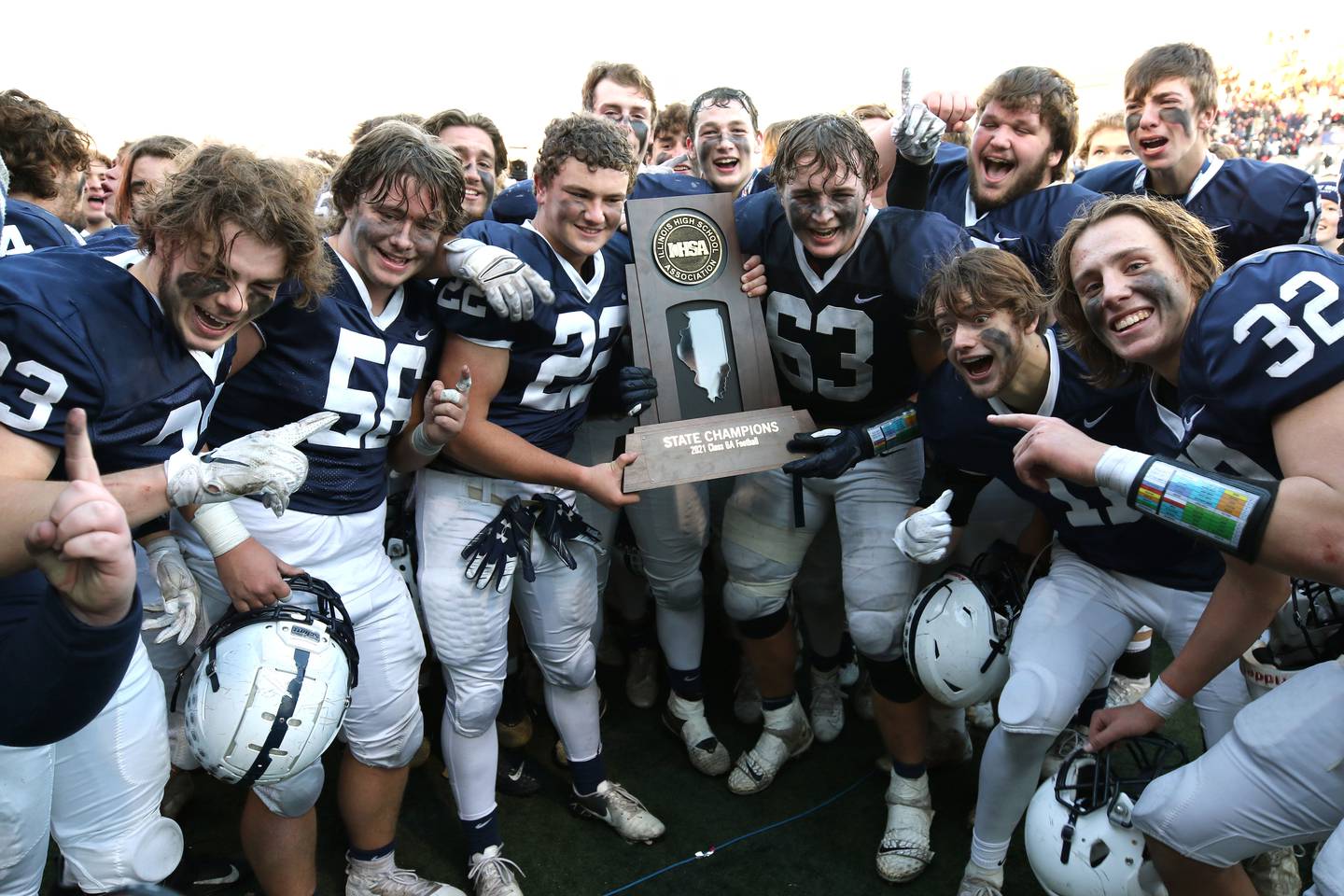 C-G dominated through the season and proved to be a great match for East St. Louis, winning the title, 37-36, in one of the greatest games in state history.
C-G graduated most of its starters from that team. Only Colin Desmet, Connor Anderson and Lucas Burton, all on defense, return as starters.
But the Trojans are such a strong program, they likely will still find a way into contention in the FVC and stretch their consecutive playoff string to 18 years.
Is it Jacobs' turn to shine?
With 16 starters coming back from a Class 7A playoff quarterfinal team, Jacobs looks like the team to beat in the FVC.
The Golden Eagles return several linemen, two tall tight ends (6-foot-6 Grant Stec and 6-5 Nick True), and have most of their defense coming back, as well.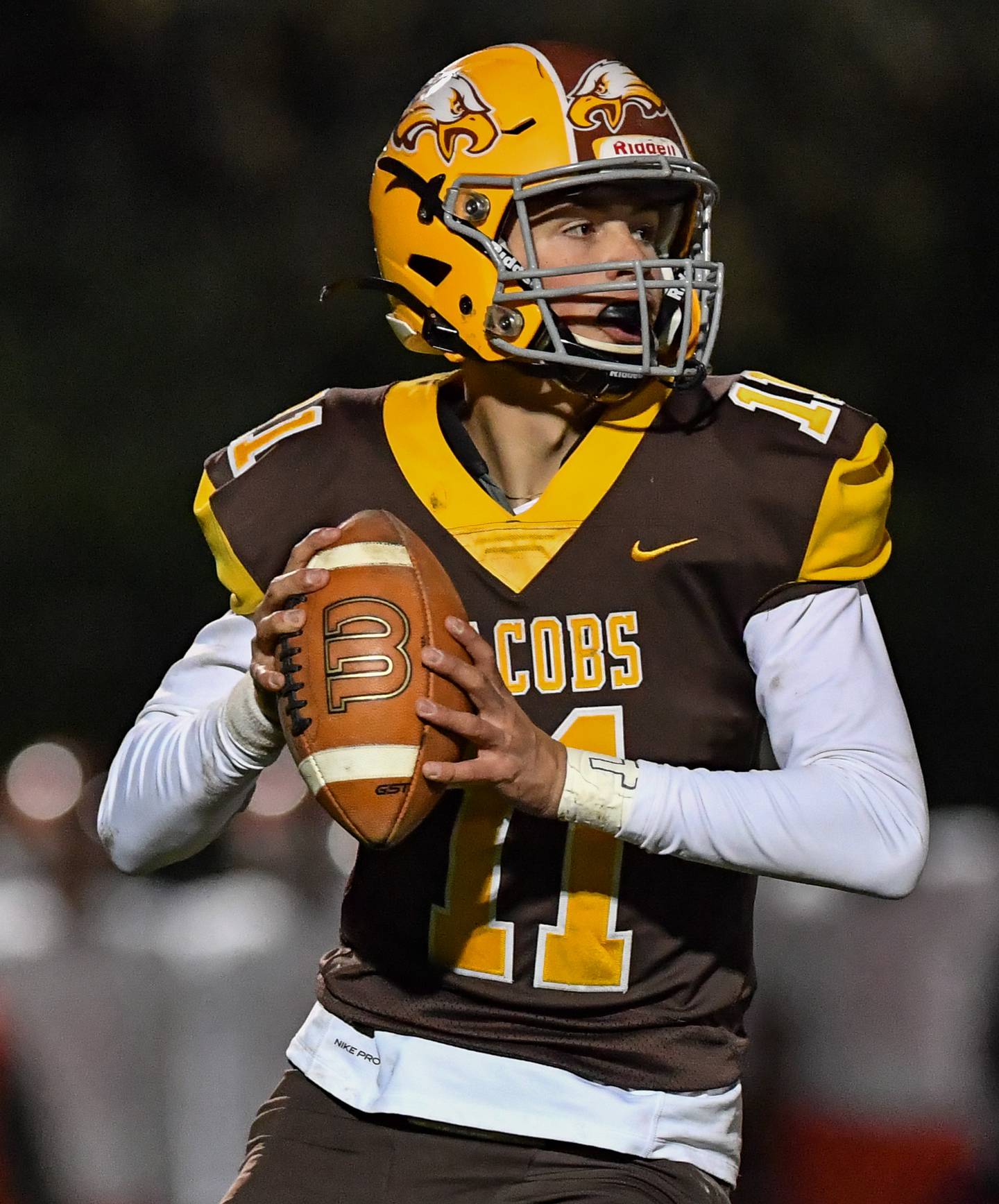 Quarterback Max Benner, a junior, returns to run the offense with a solid year of varsity experience. The most important players to replace will be running backs Ben Ludlum and Nasir Canty, who were first and fourth on the area rushing list.
Jacobs has not won a conference title since 2013, when the Eagles finished 6-0 to win the FVC Valley Division with several clutch performances in tight games.
Prairie Ridge and C-G have long ruled the FVC and will have something to say about it, but coming off a successful season and playoff run, Jacobs will be tough to stop.
Can anyone in the Kishwaukee River/Interstate 8 Conference Blue Division catch Richmond-Burton?
Richmond-Burton has done nothing but win since Mike Noll came in as coach in the spring of 2018. Noll's teams are 42-3 since with three semifinal appearances.
The Rockets won the 2019 Class 4A state title and would have been a legitimate threat to repeat had COVID-19 not wiped out the regular football season in 2020.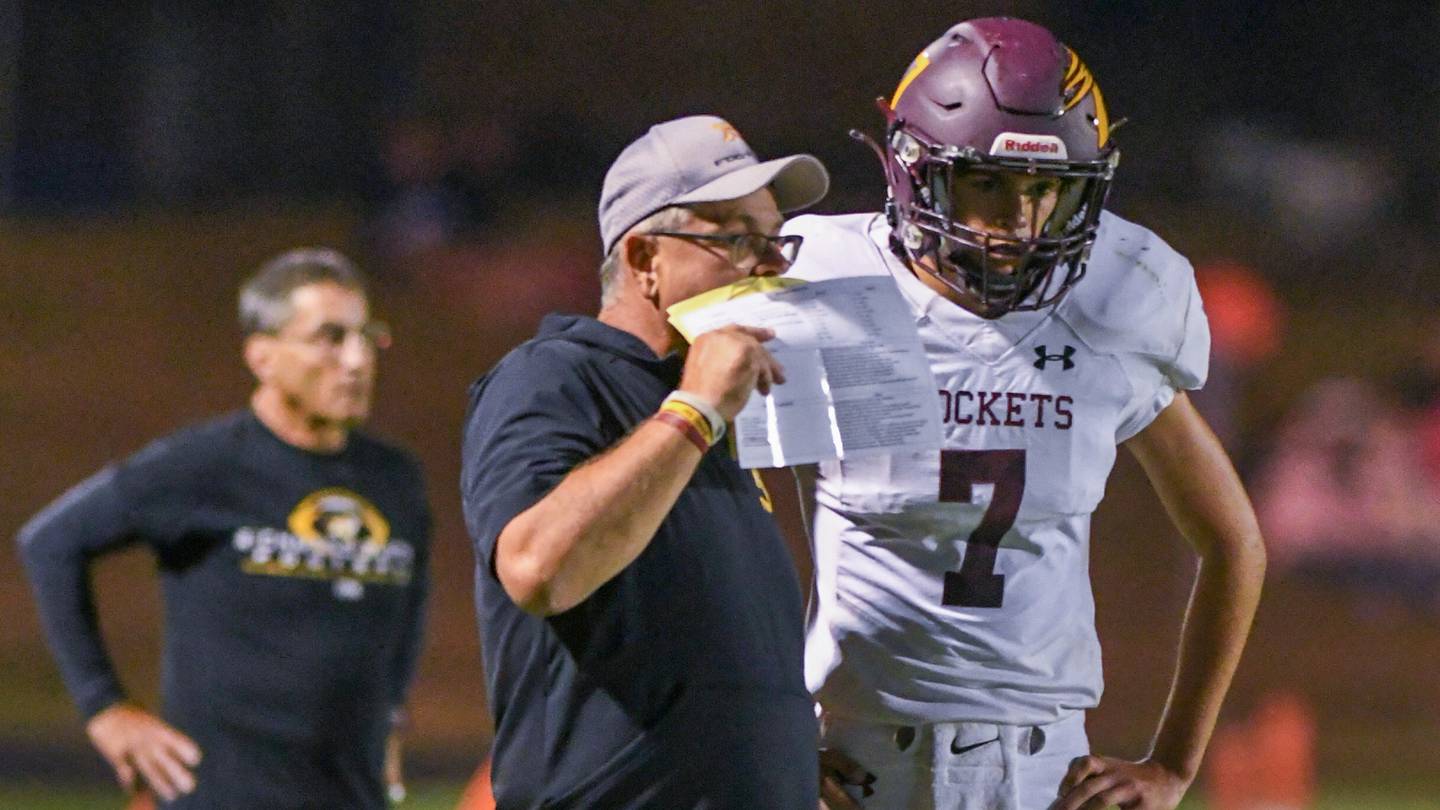 R-B ran its winning string to 32 games last season and played Joliet Catholic tough for three quarters in the semifinals before falling 35-18. Still, it was a tougher game than the Hilltoppers got from Sacred Heart-Griffin in the championship.
The Rockets lost some key players, but quarterback Joe Miller and running back Steven Siegel are among the key returning players.
Marengo, with dual-threat quarterback Josh Holst, is ready to challenge R-B in the KRC/I8 Blue. Johnsburg also has its eyes on the Rockets.
But R-B will be the favorite until some team knocks it off.
How will Marian Central fare out of the CCL/ESCC?
Marian Central's dropping enrollment and rugged football schedules have been a problem for most of a decade.
The Hurricanes made the playoffs in 2015, 2016 and 2017 and twice made the quarterfinals as a four-loss regular-season team.
Three of Marian's five losses last season came against IC Catholic (Class 3A semifinalist), Fenwick (5A state champion) and St. Rita (7A state runner-up).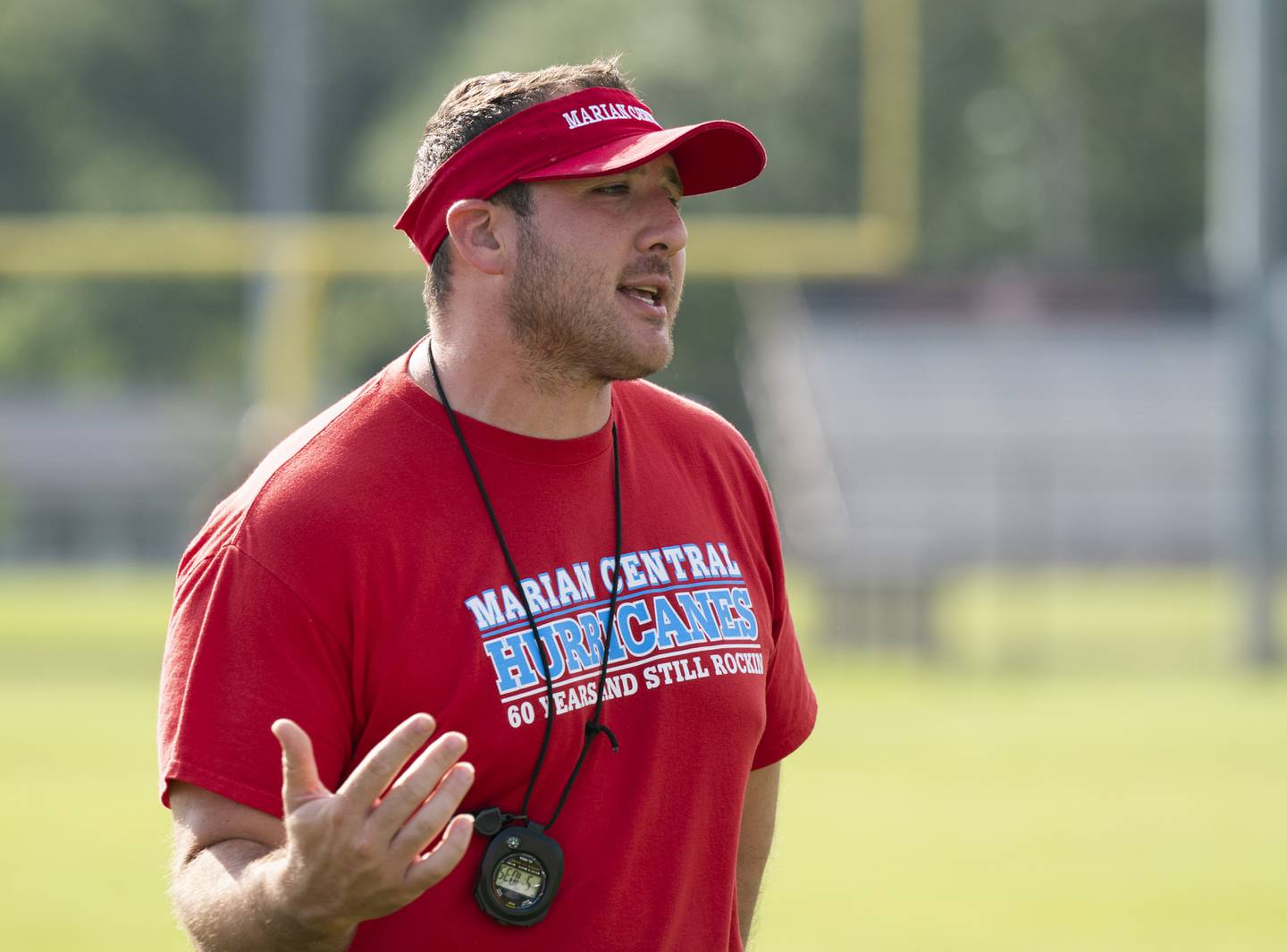 Relief will be on the way next year when the Hurricanes start in the new Chicagoland Christian Conference with Christ the King, Chicago Hope Academy, Aurora Christian, Bishop McNamara, Chicago Christian, St. Edward and Wheaton Academy.
For this season, as an independent, first-year coach Liam Kirwan and the Hurricanes will have to face St. Rita, Wheaton Academy and St. Patrick, and added 1A state champion Lena-Winslow and 3A semifinalist Mount Carmel.
If the Hurricanes can reach five wins, they will have been battle-tested for the postseason.
What colleges will Jacobs' Grant Stec and Marian's Christian Bentancur choose?
Along with watching teams develop, the college recruitment of the area's two junior tight ends will bear watching as well.
Stec (6-6, 230) and Bentancur (6-5, 235) both started as freshmen and both currently have around 30 NCAA Division I offers, some from the same schools. There are several Big Ten Conference and Southeastern Conference schools that have offered.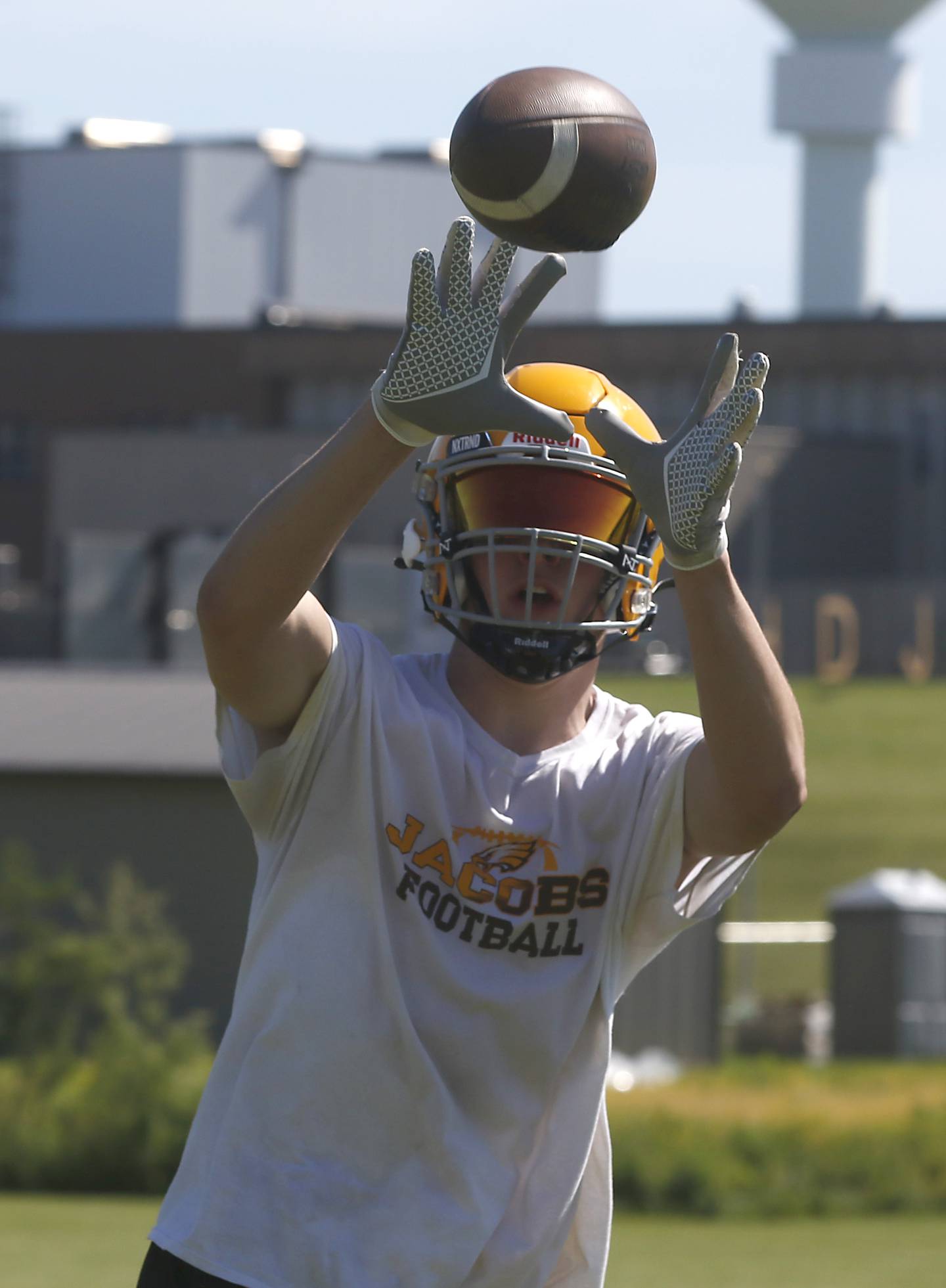 Bentancur plays in a more pass-oriented offense and caught 49 passes for an area-best 11 touchdowns last season, and that was with him missing a game.
Stec grabbed 25 passes for 438 yards and seven touchdowns. While Jacobs prefers running, he and True will be tough for defensive backs to match up with.