If Crystal Lake Central has established anything in its first two games, it has proven to be a second-half team.
The Tigers struggled in the first half against Jacobs on Friday, then bounced back with 28 second-half points for a 41-34 victory at Central's Owen Metcalf Field.
In the season opener, Central scored 25 points after halftime to beat Huntley, 32-21.
[ Read more: Crystal Lake Central holds off Jacobs with late touchdown ]
The Tigers also won those games in dissimilar manners. Both quarterback Colton Madura and running back Brent Blitek rushed for more than 100 yards against Huntley; they combined for 18 rushing yards against Jacobs.
"The running game wasn't there," Madura said Friday. "It was a different atmosphere and we took advantage of what we could do passing the ball."
Madura completed 23-of-29 passes for 282 yards and five touchdowns. Wide receivers Jake Carnrite (10 catches, 131 yards, 3 TDs) and Jason Penza (8 catches, 85 yards, 1 TD) were his main targets.
Central jumped into The Associated Press Class 6A poll last week at No. 8 after beating Huntley. Now, the Tigers should stay ranked after coming back to beat Jacobs.
"It means a lot (to be 2-0)," Carnrite said. "We knew this was a trap game with Huntley, Jacobs, then (No. 1) Cary-Grove next week, which they're super-tough. We couldn't overlook (Jacobs). We knew that. We made that mistake last year (spring season), we beat (Prairie Ridge) and we were 3-0 and went 0-3 the rest of the year.
"That's not what we're going to do this year. We have too many guys back to let that happen. We have the mentality that we're going to win, even if it's ugly like tonight."
Central (2-0, 2-0 FVC) faces a huge test on Friday at No. 1 Cary-Grove (2-0, 2-0).
Missed chances: Jacobs looked back at its first half against Central with a good deal of regret. The Golden Eagles fumbled inside the Tigers' 5-yard line on their first drive. They also had a high punt snap late in the half that led to Central taking over on the Eagles' 18 and scoring just before time expired.
"I feel we shot ourselves in the foot," Jacobs coach Brian Zimmerman said. "I got a lot of respect for (Central). It's tough to swallow when we should have come out (for the second half) with a three-touchdown lead and we were up by one.
"I hope we showed people we're better than they thought we were."
Running like the Wolves: Prairie Ridge, which ranked just outside the top 10 in the Class 6A Associated Press Poll after Week 1, has done nothing in the first two weeks to suggest it has lost a step after a 3-3 spring. After scoring 41 points against McHenry in Week 1, the Wolves dismantled Burlington Central, 41-14, Friday behind another big rushing attack. Through two weeks, Prairie Ridge (2-0, 2-0 FVC) has averaged 7.1 yards a run, despite losing its starting quarterback, Tyler Vasey, to an elbow injury before the season opener.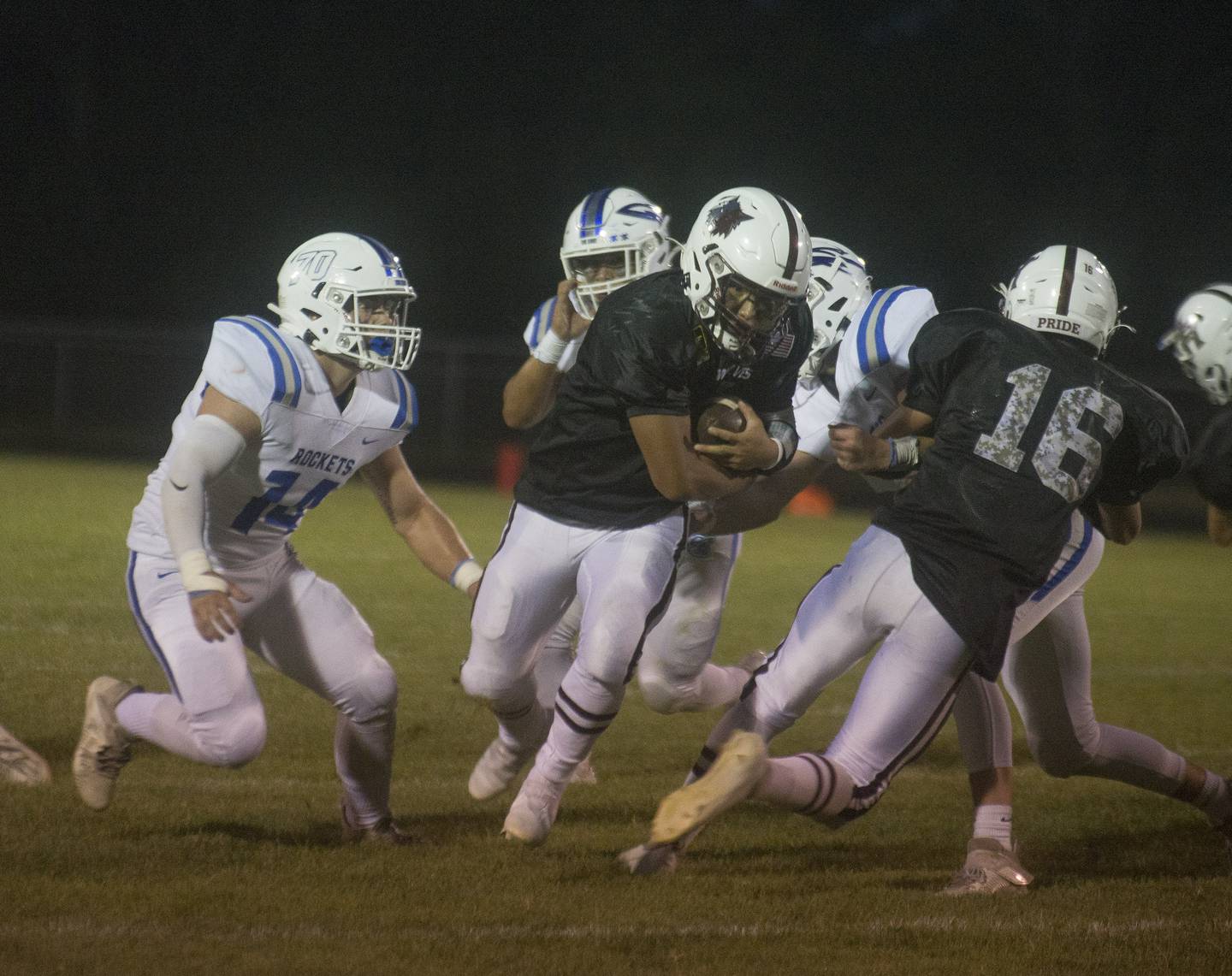 Five-foot-7 senior Mason Loucks, who played quarterback as a freshman in the lower levels but has been used mostly in the secondary the past two years, has filled in admirably behind center and is one of three Wolves (running backs Zach Bentsen and Nathan Greetham) to go over 100 rushing yards in each of the first two weeks.
[ Read more: Mason Loucks, Prairie Ridge run past Burlington Central ]
After watching his team give up 370 yards on the ground to Prairie Ridge, Burlington Central coach Brian Melvin called the Wolves "a machine" and said any talk of them being down is premature.
"We were there all night, but it's hard to practice their speed in practice," he said. "They're just so good at it. They're just so fluid. They're not down. They're a real good football team. Whoever said they're down is not right."
Prairie Ridge has heard it, too.
It will have another big test and chance to quiet that crowd in Week 3 at Huntley (1-1, 1-1).
"I think the rumors around conference are, 'Yeah, Prairie Ridge isn't as good,' " Wolves coach Chris Schremp said. "We've got a good program. We've been good for a long time now. It's not just going to fall apart. We have a lot of good coaches and a lot of pride in our program."
Getting defensive: Richmond-Burton, No. 3 in Class 4A, has yet to surrender a point in its two games. The Rockets (2-0) have shut out five of their last eight opponents.
Since its Class 4A state championship season of 2019, R-B has shut out 11 of its 22 opponents and not allowed more than 14 points in one game.
The last time an opponent scored more than 14 against the Rockets, IC Catholic beat them, 28-9, in the 2018 Class 4A playoff semifinals.
Nowhere to run: Both Huntley and McHenry put on display devastating run-defense efforts. Of McHenry's 28 rushing plays, the Red Raiders defense held the Warriors to 3 yards or less on 17 of those plays.
[ Read more: Nicholas Martino helps Huntley pull out FVC win against McHenry ]
Conversely, of Huntley's 29 running plays, the Warriors held the Raiders to 3 yards or less on 19 of those plays. McHenry had only two runs of more than 10 yards (Brody Hallin had an 18-yarder and Andrew Hoffman had a 21-yarder), while Huntley had four rushes of 10-plus yards, all by Emanuel Tinajero.
• Alex Kantecki and Sam Natrop contributed to this report.