St. Bede introduced a new look Friday night.
The Bruins put two quarterbacks on the field at the same time in Max Bray and Gino Ferrari in St. Bede's 42-8 rout of Westmont in Chicagoland Prairie League action.
Both were in the backfield at the same time on some occasions while on other plays one was at QB and the other lined up at receiver.
Bray, a senior who played the bulk of the snaps the first four games, ran for a pair of touchdowns. Ferrari, who is a sophomore, ran for two TDs and tossed a 60-yard TD pass to Alex Ankiewicz.
Both also had receptions in the game.
St. Bede coach Jim Eustice said the Bruins are likely to use the same approach in the future.
"It's new looks," Eustice said. "It's something for teams to prepare for. Gino is the future, so we're bringing him along. The situation warranted it."
In a good spot
Bureau Valley is in new territory after Friday's 35-14 win over Mendota in a Three Rivers Conference Mississippi Division game in Manlius.
The Storm are 3-2, giving them a winning record through five games for the first time since 2017. That year, BV started 4-1 and finished 4-5.
"Obviously, having a winning record at this point in time is a good thing," Pistole said. "We think we had one that got away from us early in the year [in a 21-14 loss to Monmouth-Roseville], but that's over and done with and we're worried about next week (against Newman). This is a big one for us, and we're going to have to get ready to go."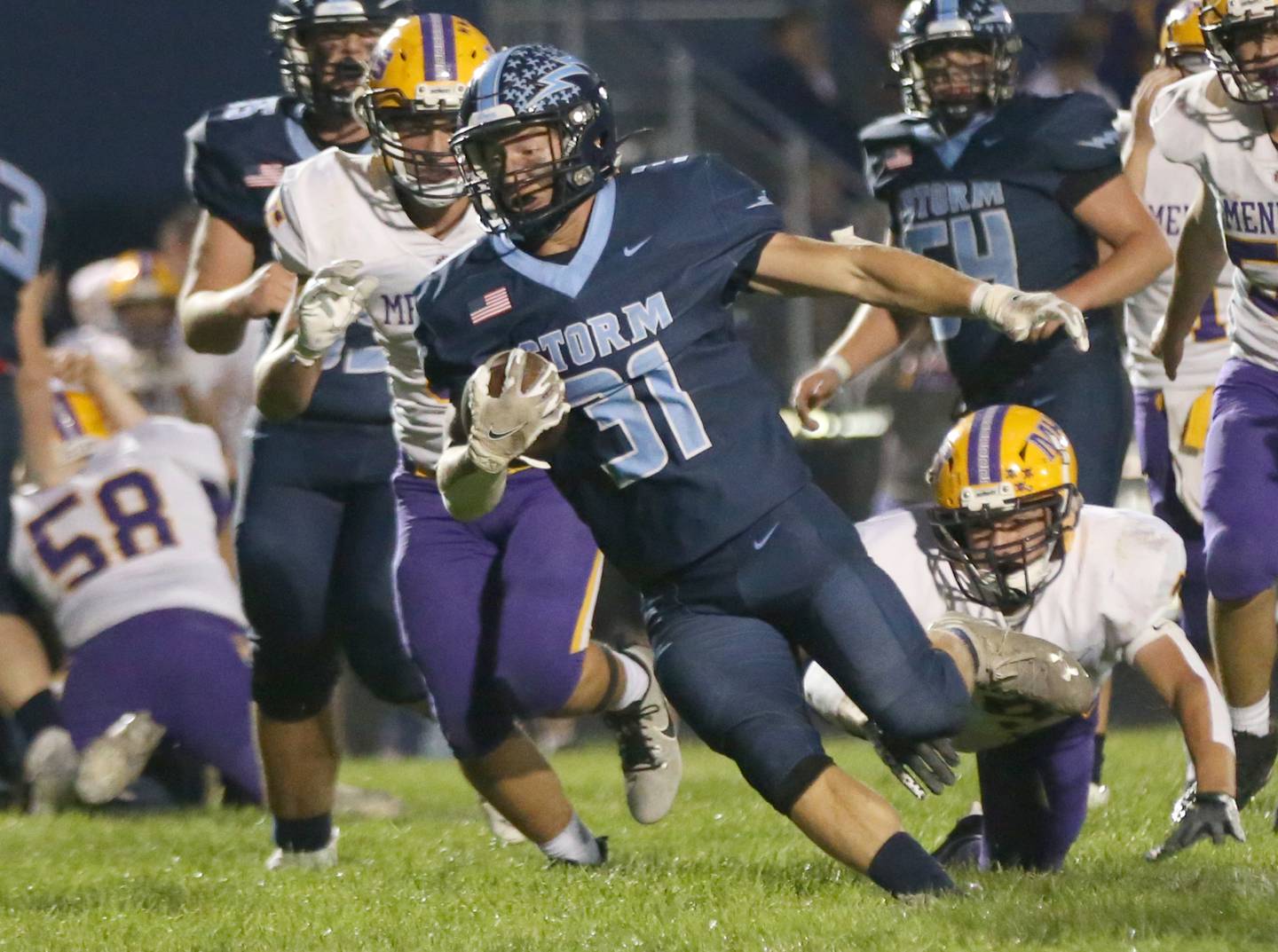 The Storm have a tough closing stretch as they try to qualify for the playoffs for the first time since 2016.
Bureau Valley travels to Sterling to face Newman (4-1) this week before playing Princeton (4-1) and Aurora Central Catholic (2-3) on the road and closing at Morrison (5-0).
After fumbling three times – losing two – and committing seven penalties against the Trojans, Pistole said the Storm must clean it up.
"We can't have fumbles and penalties like we had tonight to win on a consistent basis," Pistole said.
Airing it out
Mendota quarterback Justin Randolph attempted 42 passes in Friday's 35-14 loss to Bureau Valley.
Randolph completed 22 passes and threw an 11-yard touchdown pass to Aidan Tillman, while not throwing an interception.
The Trojans' strategy of throwing the ball so much is a big contrast in the area.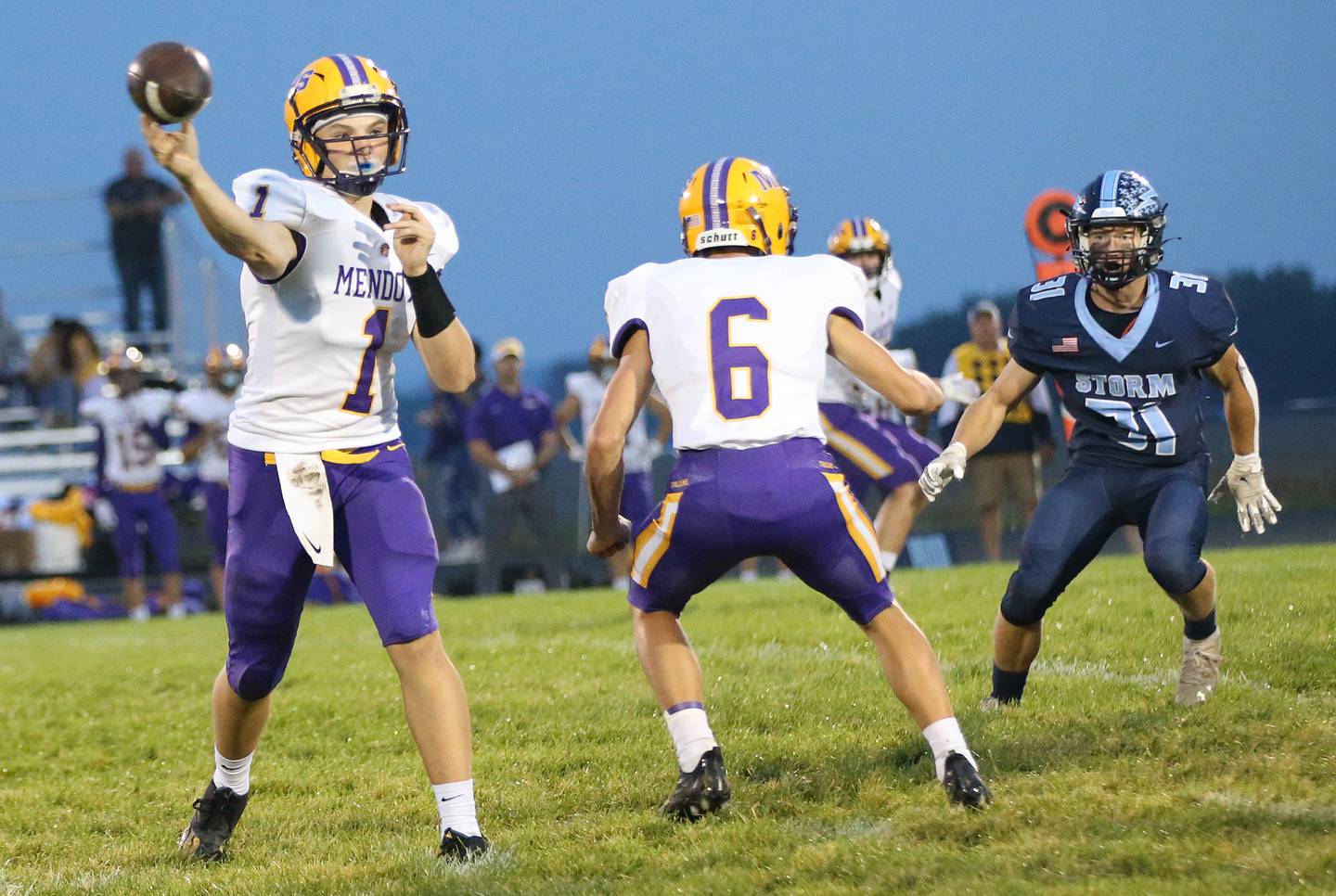 On Friday, BV quarterback Bryce Helms did not attempt a pass, while Princeton QB Will Lott threw only two.
For the season, Lott leads the area with 128 passing attempts, while St. Bede's Max Bray is second with 86, and La Salle-Peru's Brendan Boudreau is third at 73.
Randolph attempted about as many passes Friday as Helms (43) and Lott (49) have all season.
Conference title on the line
This week's game between Princeton (4-1, 1-0 TRC Mississippi) and Kewanee (5-0, 3-0) could have big implications in the Three Rivers Conference Mississippi Division.
Every other team in the conference has at least one conference loss.
The Princeton-Kewanee matchup has played key role in deciding the conference title multiple times in recent seasons.
In 2021, the Tigers and Boilermakers finished 5-1 in the conference. Kewanee beat Princeton 49-21 that season but later lost to Newman to force a tie atop the standings.
In 2019, the Tigers won the title with a 6-0 record, while the Boilermakers were 5-1 with their lone loss to Princeton (49-7).
The Tigers have won five consecutive conference championships.
Small successes
The 40-0 final score and 424-92 disadvantage in yards from scrimmage weren't what La Salle-Peru was hoping for from Friday's visit to undefeated Morris.
The Cavaliers did find small successes throughout, including converting at least one first down on four of five first half drives and seeing standout defensive plays, including fumble recoveries from Tyler Delphi and Nolan Glynn as well as tackles for loss by Glynn, Richie Santiago, Walter Haage and Zack Pocivasek.
It ultimately wasn't enough against the Kishwaukee River/Interstate 8 White co-leaders.
Still, 3-2 is not such a bad place to be heading into the home stretch of the regular season which immediately includes a chance to become playoff eligible with games at Woodstock (0-5) and home versus Ottawa (2-3) before finishing against Sycamore (5-0) and Kaneland (3-2).
"It's not [what we were hoping for]," L-P coach Jose Medina said. "We have some tough games coming up. It's not going to be easy. We're going to focus on Woodstock this week, go up there and get a victory."
Hall facing a familiar foe
This week, Hall will have a nonconference game as it welcomes Illinois Valley Central to Spring Valley.
The Grey Ghosts are a familiar foe for the Red Devils as IVC and Hall were members of the NCIC from 2006-2010. IVC was 4-1 against Hall during that span.
IVC (0-5) now is a member of the Illini Prairie Conference.