A 4-0 start and an offensive attack humming along is just the beginning of Geneva's continued rise to the top of the DuKane Conference.
Armed with four-star wideout Talyn Taylor's 90 yards receiving per game, an effective two-headed rushing attack with Michael Rumoro and Troy Velez combining for 103 rushing yards per game, and a seasoned second-year quarterback in Nate Stempowski, Geneva's offense is getting it done.
"I think we have executed well, but not to our full potential," Rumoro, the Vikings' junior tailback, told Friday Night Drive on Sept. 18. "To have accomplished so much this far, and still have things to work on, is amazing. We have a lot of playmakers on the offensive side in all positions ready to make a play."
Running behind an offensive line consisting of Will Anthony, Joe Petit, Mack Stoetzel, Cameron Ziegler, and James Bucholz – with Derek Verdone and Holden Schmedes sprinkled in – is allowing Rumoro to average nearly 7 yards per carry and accrue seven touchdowns through four games.
Velez, meanwhile follows with 108 yards on 22 carries with nearly 5 yards per carry.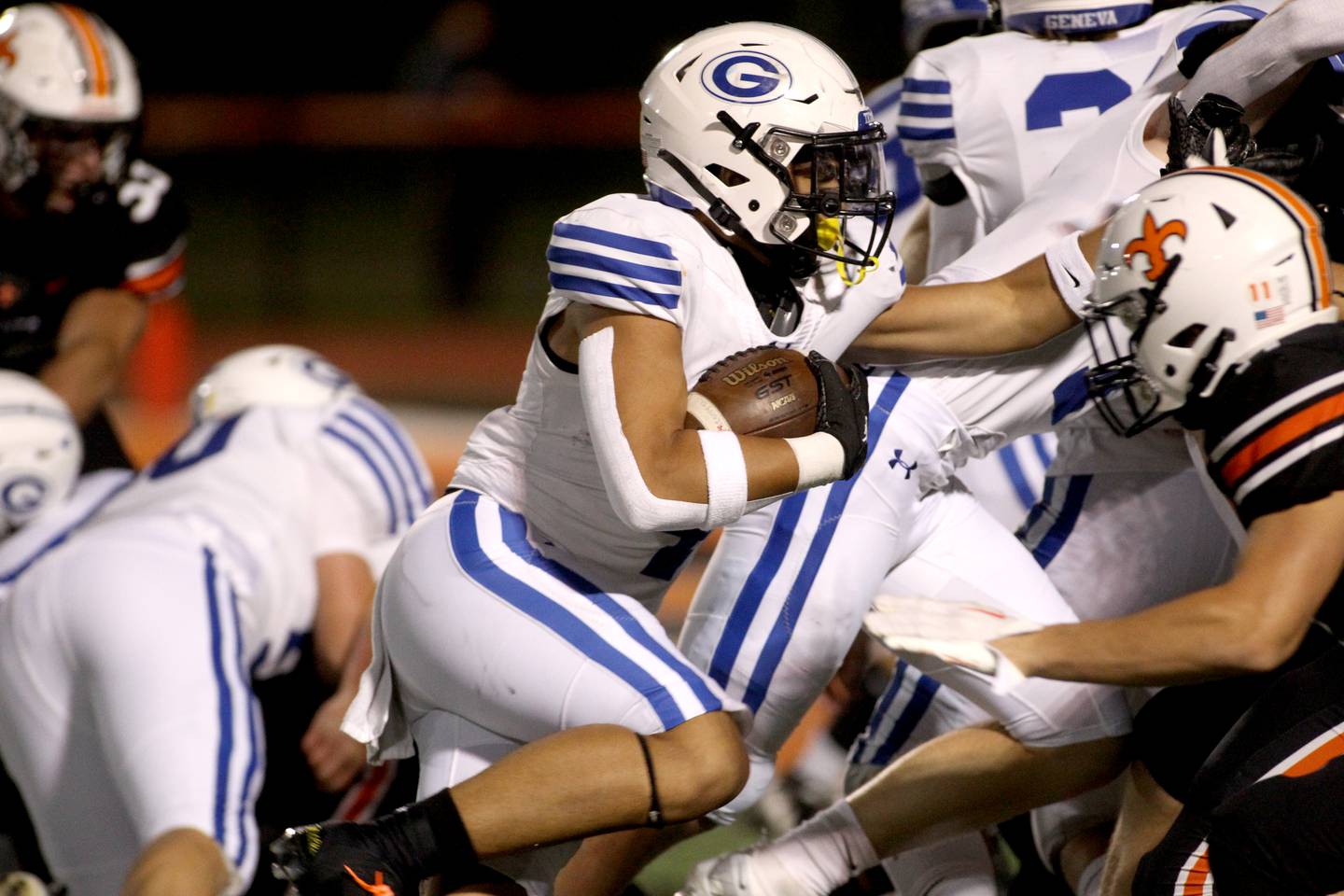 "Troy and I contribute greatly to the run game together," Rumoro said. "Whether that is me running the ball or him, we both know how to fight for tough yards and make the play when needed."
"Troy is an extremely tough running back and football player and knows how to run down hill," Rumoro continued. "As for my style, [that] is a more a shifty way of running and when bringing these different styles together, it's hard to beat.
Diamond, Geneva defense holding strong
The Vikings defense, however, shouldn't be overlooked.
Keeping opponents off the scoreboard, a margin of 125-23, is an area they're looking to maintain.
"We've been successful because we out-tough every offense we go against," Vikings senior linebacker Tommy Diamond said. "We play harder and more physical, and it shows up on the film. We don't have the biggest defense, but we play with intensity and it allows us to shut down offenses."
One stat that might appear low is sacks – three, per Geneva stats on MaxPreps – but the pressure is still making life difficult on offenses.
"Our defense has been lacking on the stat of sacks, but definitely not pressure," Diamond said. "The sacks will come, but what doesn't shown up on the stat-line is our ability to force quick and inaccurate throws. Our defense line helps out our whole defense in the pass game because of forcing the QB to get the ball out."
Senior Charlie Winterhalter leads the defense with 33 tackles, 8.3 per game, and a fumble recovery.
"Winterhalter is a quick and athletic guy who is great at stuffing the run," Diamond said. "He always seems to be filling the right gap and making tackles for loss. He plays with a high motor and is really the key to our defense. You need an inside linebacker like him on your team."
Granberg brings speed element to balanced Batavia rushing attack
Batavia senior Charlie Whelpley is long-established for all he can do on the football field for Batavia.
Last week's win over St. Charles North, again, affirmed it.
But, the Bulldogs' rushing attack runs deep with both Nathan Whitwell and Zach Granberg adding a primarily complementary speed element to their mix.
Granberg has rushing 221 yards and averages 7.9 per carry.
"I think our three-back run game is tough to defend, especially with our second-year O-line," Granberg said. "Charlie is super fun to watch. One thing I admire, and hope to learn from [him], is his versatility in the passing game."