ST. CHARLES – If Batavia needed a crucial play, Charlie Whelpley delivered.
Over and over again.
Whelpley, a senior running back, hardly appeared winded after a gutsy four quarters of football in the Bulldogs' 45-21 win over St. Charles North on Sept. 15.
Whether it was moving the chains on third down, bringing a punishing running presence on counter runs or even connecting on a 29-yard pass to CJ Valente to set the table for a score to open the fourth quarter, Whelpley upheld his end of the bargain to produce.
"Such a great football player," Batavia coach Dennis Piron said. "One of the best football players in the state of Illinois. One of the toughest players. One of the best blockers, best receivers, a power runner. You can't bring him down with one guy. He's just getting going. So we'll wait and see as the year goes on what he can do, but he can do it all."
Whelpley finished with 121 rushing yards, 53 receiving yards and a rushing score.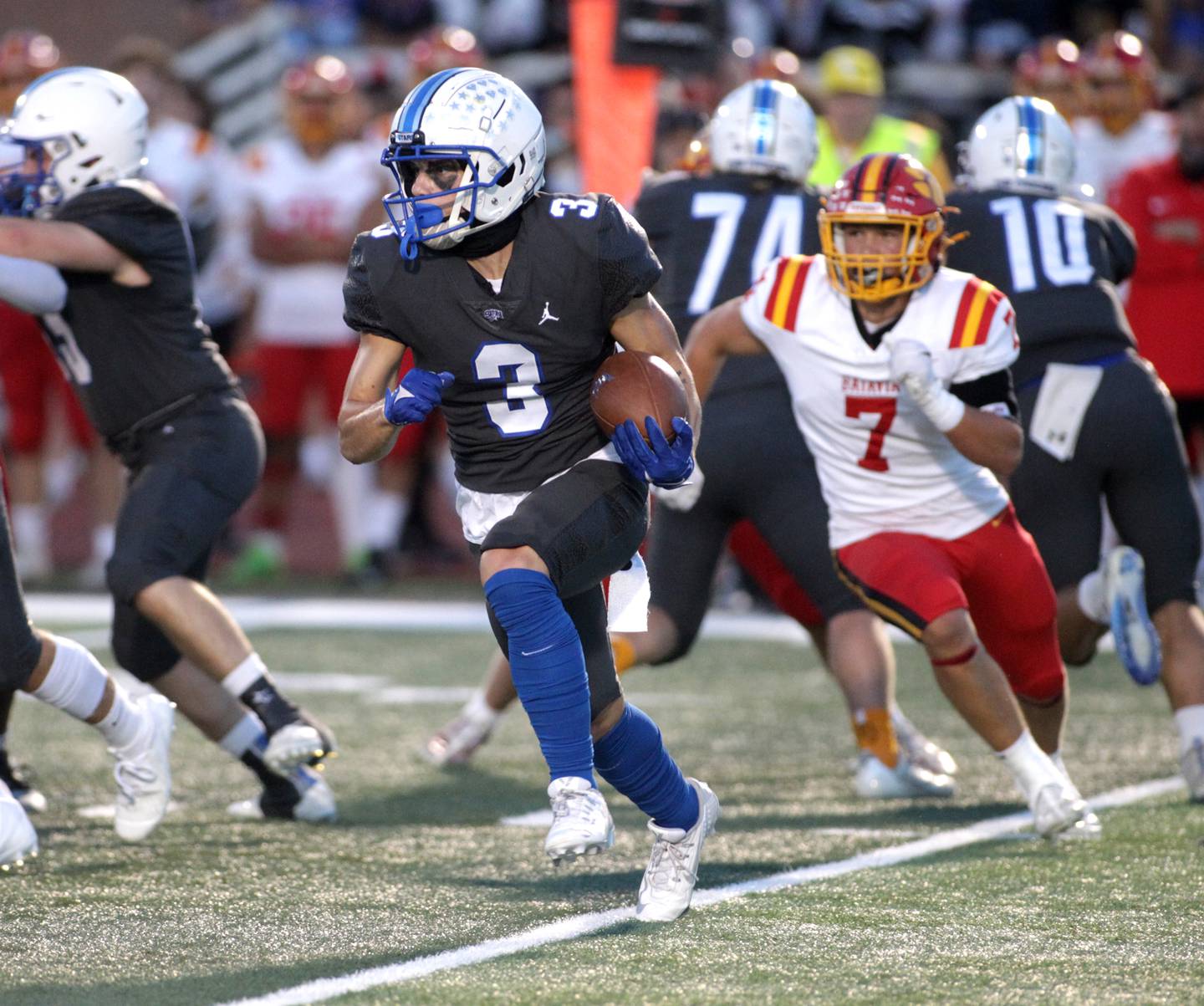 "I've been getting [coached] in the film room about running too high [as a ball carrier] and I finally found that running low is the key," Whelpley said.
St. Charles North (2-2, 0-2 DuKane Conference) fumbled deep into its first offensive drive and it didn't take long for Batavia (3-1, 2-0) to strike on Ryan Boe's 63-yard touchdown to Valente for a 7-0 lead with 9:19 in the first quarter.
The North Stars answered on a tough series engineered by quarterback Ethan Plumb, who cashed in with a 2-yard rushing score to tie the game.
Batavia went on an 11-play drive capped by Whelpley's 4-yard rushing score with 25 seconds left in the first quarter.
Plumb and senior standout wideout Jake Mettetal quickly scorched the defense with a 72-yard completion for a touchdown to tie the game at 14 to end the first quarter.
The Bulldogs scored on Nathan Whitwell's 6-yard touchdown to make it 21-14 on a drive that was aided by a 19-yard completion from Boe to Whelpley that moved the chains four plays before the TD. The North Stars fumbled the ensuing kickoff when Whitwell poked the ball away from Anthony Taormina. Five plays later, Boe's 1-yard rushing score made it 28-14 Batavia with 3:24 remaining in the first half.
On a lengthy North Stars drive that had six combined penalties by the two teams, Plumb found Mettetal for a 16-yard touchdown and Batavia led 28-21 at the half.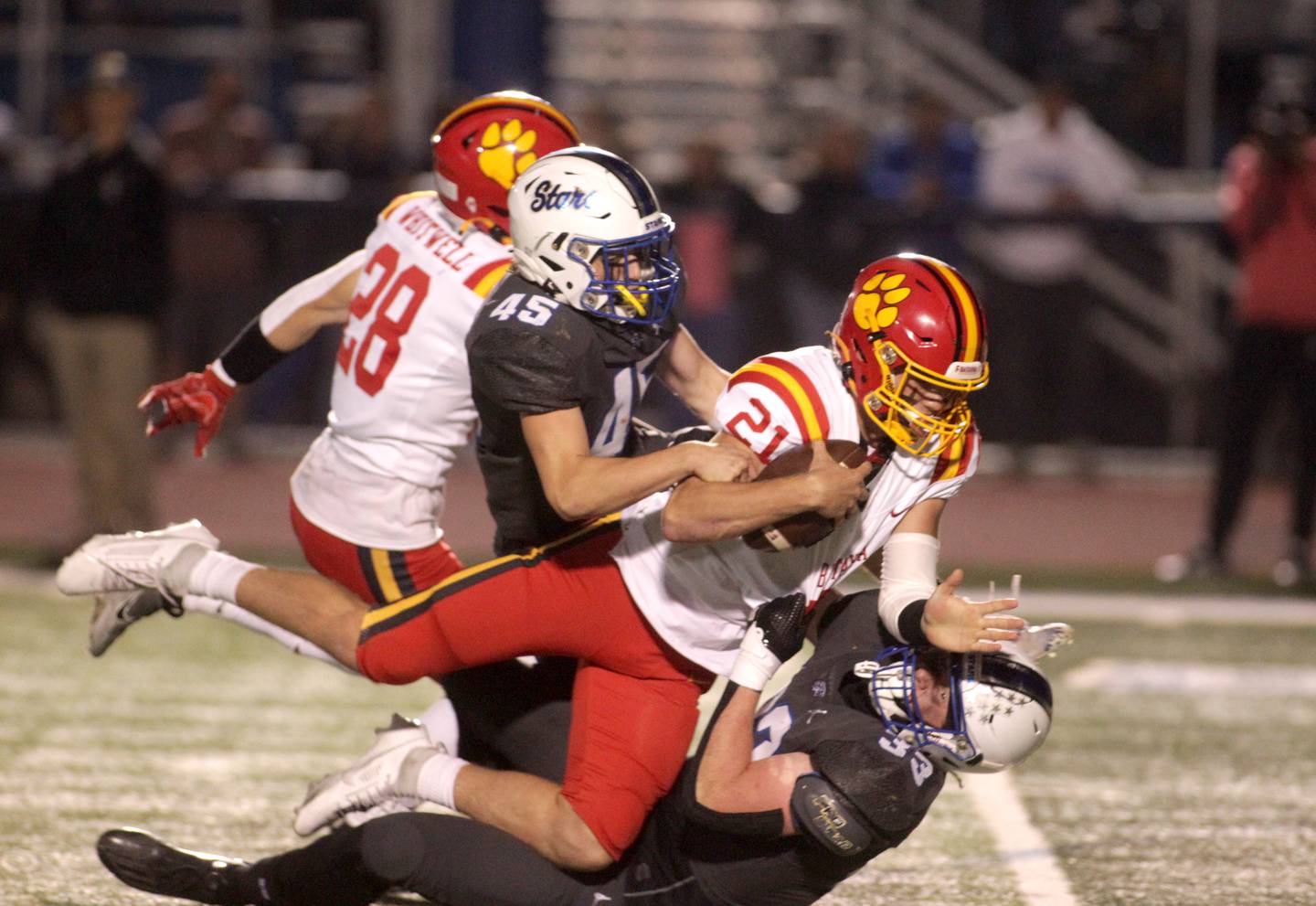 Out of the break, Batavia quickly punted, but got the ball back on an interception by Kyle Porter that went through a receiver's hands. Bulldogs kicker Pat McNamara punched in a 29-yard field goal to increase the lead to 10 points with 9:33 left in the third quarter.
Batavia added rushing scores from Boe (9 completions, 146 yards, two rushing TDs) and Zach Granberg to ice the game by the middle of the fourth quarter.
The North Stars were led by Plumb's 237 passing yards. Mettetal had 103 receiving yards and two touchdowns. Jake Furtney had five catches for 36 yards.
"We've just got to play better football," North Stars coach Rob Pomazak said. "There's really not much we can do about it. We just have to play football. ... They were able to run the football very well, yes. They made some adjustments. We made some adjustments in the second half that turned out to be good, but you can only plug so many holes and they're a great football team. They're well-coached. They're going to keep coming at you and they went to the counter and we really couldn't have an answer for it because we just weren't recognizing it like we should've on the field."
https://www.shawlocal.com/friday-night-drive/2023/09/16/charlie-whelpley-batavia-runs-past-st-charles-north/