Here's more from the Herald-News area sidelines in Week 6.
L-W East's two-headed monster
Lincoln-Way East is rolling with what head coach Rob Zvonar called a "two-headed monster" in the backfield, as senior Nuri Muhammad and junior Zion Gist are having plenty of success.
"The great thing is, they're each other's biggest fans, and they love seeing each other do well," Zvonar said. "At the same time, they want the ball. We want them to be greedy, but we want them to support the other guy.
"These two guys have been wonderful to each other and tremendous for our team."
Gist gave an example of how he and Muhammad cheer each other on.
"On Nuri's big run in the first quarter, I'm flying down the sideline screaming and yelling," Gist said. "It's the best thing in the world seeing your brother and your dual backfield partner have big runs and do what he's supposed to do. I just love to see it."
Muhammad ran for 124 yards and two touchdowns on eight carries in Friday's 41-0 win over Lockport, while Gist finished with 96 yards and a touchdown on 17 carries.
Joliet West back in the mix?
With its fifth win of the season, a 30-7 handling of Plainfield South on Friday, Joliet West probably has wrapped up its first playoff berth since 2019 and fifth in school history.
The majority of 5-4 teams have made the playoffs as at-large qualifiers in recent years. That included all of them in 2022 plus a 5-3 team [Madison] and, in a rarity that's becoming more common, even a 4-5 squad [Buffalo Grove].
One 5-4 team [Warrensburg-Latham] missed the field in 2021, two 5-4s missed in 2020, and a double-digit number of teams – including 18 in 2018 and 25 in 2011 – fell on the wrong side of the cutoff every season prior back to at least 2009.
The determining factor is playoff points, aka the combined number of wins of a team's nine opponents. When Warrensburg-Latham went 5-4 but missed the playoffs in 2021, its nine opponents had only won a combined 31 games.
With 18, Joliet West currently has the lowest number of playoff points in the Southwest Prairie East. Six of the 18 come from undefeated Morris, which handed the Tigers their lone loss back in Week 2. That number is guaranteed to climb weekly, but Joliet West still likely will finish on the lower end of the scale.
Of course, the playoff point discussion will become moot if the Tigers get a sixth win these final three weeks against Romeoville (0-6), Plainfield East (2-4) or Plainfield Central (2-4). An undefeated run through the three would earn the Southwest Prairie East's automatic conference champion playoff bid and almost certainly a first-round home playoff game for Joliet West.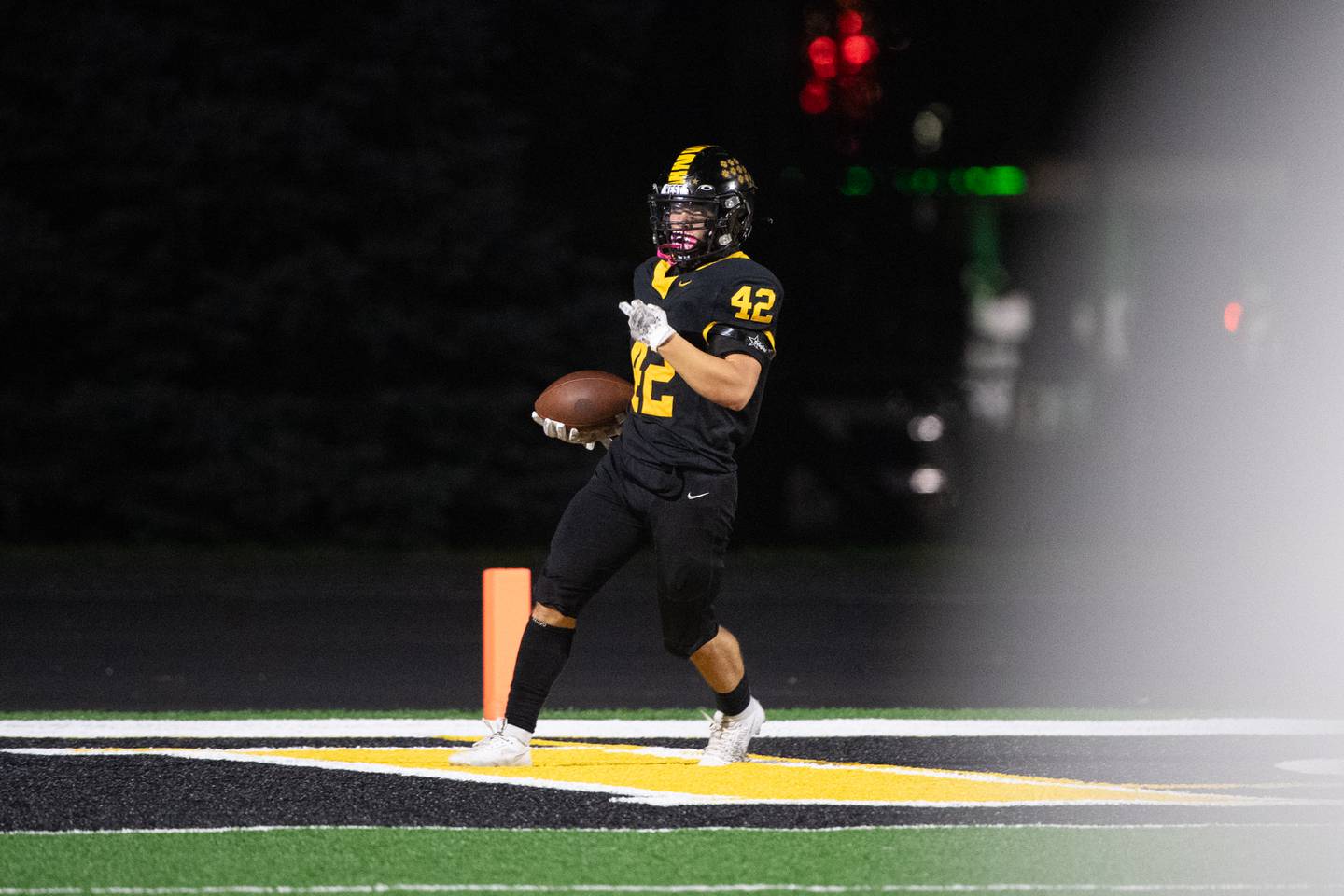 Knights also qualify
Improving to 5-1 with a 28-7 win over Bolingbrook on Friday, Lincoln-Way Central became playoff eligible for the first time since 2018.
The Knights held down a Raiders offense that entered the contest averaging 36 points a game and had scored at least 21 points in 25 straight regular-season games going back to 2021.
In head coach David Woodburn's first season, Lincoln-Way Central's only loss came in overtime 28-21 to crosstown rival Lincoln-Way West.
Almost perfect
Morris senior quarterback Carter Button nearly was perfect in a 35-7 win over Richmond-Burton on Friday as Morris avenged a 31-7 defeat at the hands of the Rockets last season.
Button completed the first nine passes, including four for touchdowns to four different receivers – Griffin Zweeres, Ethan Mumbrue, A.J. Zweeres and Jacob Swartz.
Button's final pass of the night was incomplete, leaving him 9 of 10 for 169 yards and four TDs.
For the season, he has completed 64 of 102 passes for 1,115 yards and 17 TDs with one interception.
Benson running wild
Coal City junior running back Landin Benson continued to tear through Illinois Central 8-Man Conference defenses Friday night, racking up 148 yards and two touchdowns on 19 carries in a 35-6 win over Reed-Custer.
In the Coalers' four ICE games this season, Benson has carried 47 times for 585 yards and nine TDs, also throwing a long touchdown pass in the team's win over Streator.