Prairie Ridge coach Chris Schremp had spoken with his players, both present and the numerous alums in attendance, after Friday's 21-20 victory over Cary-Grove in the battle of Fox Valley Conference powerhouses.
There was one more person Schremp needed to address. He had met with Trojans coach Brad Seaburg at midfield in the handshake line, but had more to say.
"I really hope we fall to 5A," Schremp said, patting Seaburg on his left shoulder. "I don't think our team would survive another game with you."
Seaburg had similar thoughts.
Either C-G (4-1, 4-1 FVC) or Prairie Ridge (5-0, 5-0) has played in every Class 6A state championship game since 2016, usually with one knocking the other out along the way in the playoffs.
Friday's game was another classic, a defensive struggle in which yards were difficult to come by and often met with strong resistance. The two triple-option teams sometimes know better than others how to slow one another down.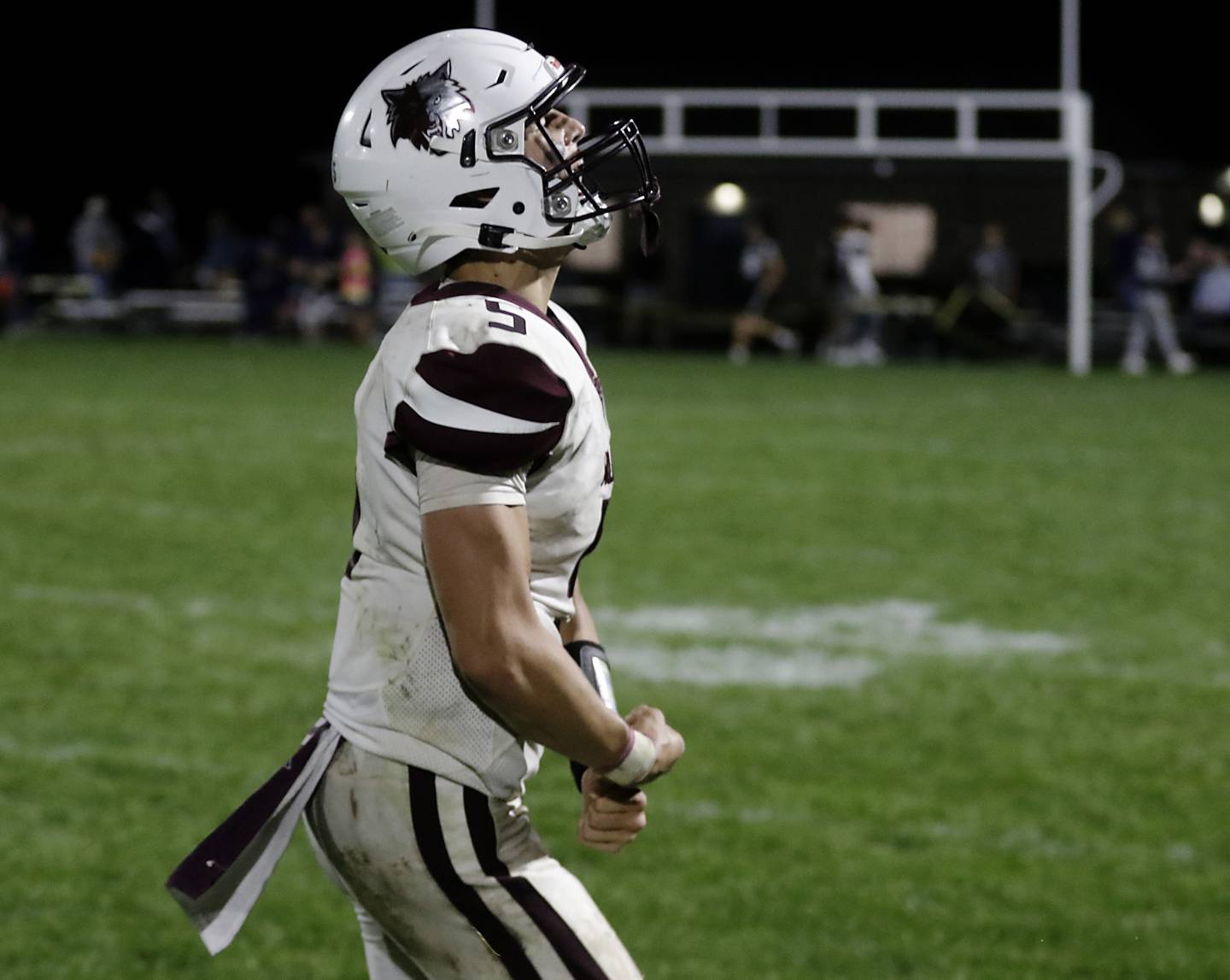 "It's always a tough game," Prairie Ridge quarterback Joey Vanderwiel said. "The physicality's always there. It just worked out for us. I just go in thinking about playing the game plan and playing my best."
Vanderwiel capped an eight-minute drive with a 5-yard scoring run with 2:09 left, but C-G roared back with a five-play drive to score. The Trojans missed an extra point that likely would have produced overtime.
The Wolves are ranked No. 1 in Class 5A; C-G is No. 5 in Class 6A and should stay there despite the loss. Prairie Ridge was projected as a 5A team last season, but wound up as one of the smallest 6A schools.
As memorable as the C-G and Prairie Ridge playoff games have been, it would be fun to see the giants of the option in different classes for the first time since 2015. C-G made the Class 7A semifinals that season; Prairie Ridge was in the 6A semis.
Electrifying: C-G running back Andrew Prio had two plays of 38 yards and ran back a kickoff 95 yards for a touchdown in the Trojans' loss to Prairie Ridge.
Prio is one of the FVC's fastest players and had a 38-yard run and a 38-yard reception on the final drive.
"We knew he is really good," Wolves coach Chris Schremp said. "We were worried he was going to get like 20 touches tonight. He can change a game. He's a heck of a player."
Prio has 28 carries for 359 yards, giving him a 12.8-yard average per carry.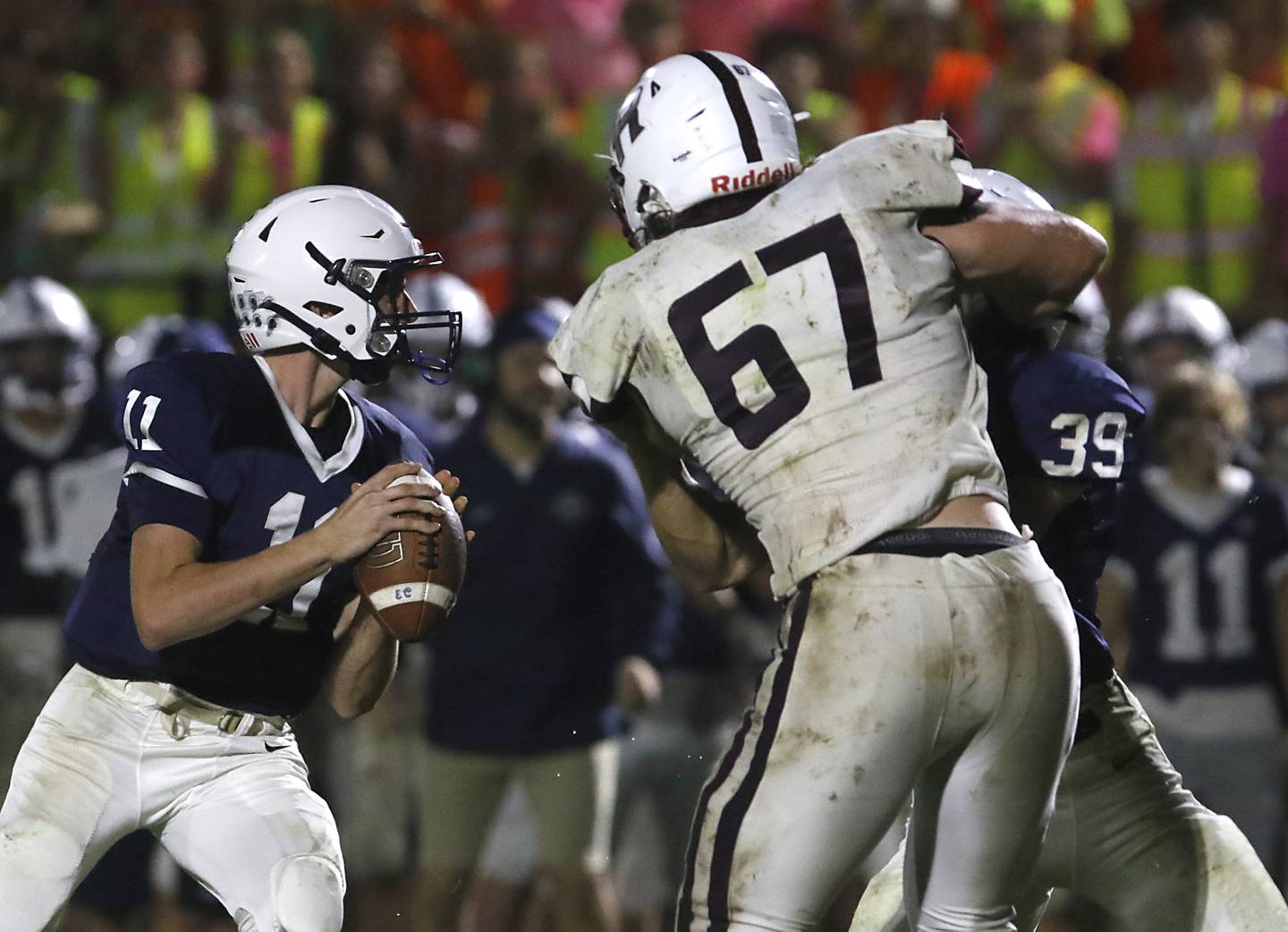 Interesting stat: One of the area's most intriguing statistics going into Week 5 was C-G quarterback Peyton Seaburg's four completions for the season, all of which went for touchdowns.
Seaburg stretched it to five with a 38-yard scoring strike to Jake Hornok in the first quarter, but his streak ended with the 38-yard reception to Prio on the final drive. However, he finished that drive with a 16-yard scoring pass to Luca Vivaldelli.
So, for the season, Seaburg is 7 of 15 for 170 yards [92 of which came Friday], with six of his seven completions for touchdowns.
Keeping it clean: Two major reasons for Prairie Ridge being the only unbeaten team remaining in the FVC are its lack of turnovers and penalties.
Thus far, the Wolves' only turnover came late in their 27-14 win over Huntley. Quarterback Joey Vanderwiel fumbled just before the goal line at the end of a 63-yard drive that took 9:12 off the clock. The Red Raiders got the ball with 20 seconds remaining.
Even more remarkable, Prairie Ridge's offense has been flagged only twice in five games, only once for holding. Against C-G on Friday, the Wolves only penalties came on a Trojans extra-point attempt, which do not count in game totals.
Fun rivalry: Friday's game against Woodstock North will be one to remember for Woodstock assistant coach Mickey Olhava, and for more reasons than just how it ended.
Filling in for head coach Mike Brasile, who was ill, Olhava had an opportunity to act as head coach against the school where he teaches. He also previously served on the Woodstock North football staff before moving over to Woodstock.
He heard the playful boos from the Woodstock North student body as he took the field, which made him smile.
The switch caused a little last-minute shuffling for the Blue Streaks, but Olhava was proud of the way his kids responded and played despite the loss.
"We love each other, and that's what you start with right there," Olhava said. "You could see it after the game. It's how we treat each other as young men and men alike. And Coach Brasile really established that culture we have.
"We're a real brotherhood. I know every program says that, but I think it's different at Woodstock."
The Blue Streaks had the ball inside North's 5 with 9.5 seconds remaining when Olhava tried to get the officials' attention to call timeout. When he was not acknowledged, he moved farther onto the field and was flagged for unsportsmanlike conduct.
Woodstock's last two pass attempts from the 16 fell incomplete.
As for his postgame speech, he had one simple message for his kids – learn from it and move on.
"You can point to one play or another, but there's plenty of it to go around," he said. "We just get to the film room and go back to work. It's one game. I always tell them this game will break your heart. Someone has to come out on the other end of it."
• Andy Tavegia contributed to this report.