There were questions surrounding the Fox Valley Conference a month ago when the high school football season started.
In most seasons, Cary-Grove or Prairie Ridge, or both, have been considered prohibitive favorites. But C-G was coming off its first non-playoff season since 2003 and Prairie Ridge graduated its prolific quarterback Tyler Vasey, who crushed the IHSA season rushing record and led the Wolves to the Class 6A state championship game.
Huntley and Jacobs shared the title with Prairie Ridge last season. Perhaps one of those two would take over the top spot.
Crystal Lake South and Crystal Lake Central had talented quarterbacks with deep receiving corps who looked capable of generating lots of offense.
After four weeks, the FVC is right where it has been so many times before. Prairie Ridge plays at Cary-Grove at 7 p.m. Friday in a game with the last two unbeaten conference teams.
Prairie Ridge (4-0, 4-0 FVC) beat Huntley 27-14 last week and is ranked No. 1 in The Associated Press Class 5A poll. C-G (4-0, 4-0) beat Jacobs 27-14 in Week 4 and is No. 5 in Class 6A. The two programs each have won three state titles since 2009.
Prairie Ridge's defense, which returned most of its starters, has allowed 40 points in four games, with only 12 coming in the second half. Those 12 were scored by Hampshire, after the Wolves were up 43-0 at halftime.
Prairie Ridge killed most of the fourth quarter Friday against Huntley with a 9:00-plus drive while it was ahead 27-14.
"That's a PR drive, right there," Wolves coach Chris Schremp said. "That's what we practice all the time, controlling the clock. Over the years we've been really good at holding onto the ball and controlling the clock. We call it Milk Train, our slowdown offense."
C-G brought back a load of experienced players on both sides from last season. The Trojans have allowed only 53 points, second to Prairie Ridge.
"It's where we wanted to be," C-G coach Brad Seaburg said. "We know how tough the Fox Valley is, we knew it was going to be really talented. We were always just trying to get better every week, and I think we have.
"Being 4-0 is where we wanted to be and we expected to be, but it's such a tough conference week in and week out. I haven't watched [Prairie Ridge] too much this year, but it sounds like they're doing really well on defense, and the offense is starting to click, too. So it sounds like a normal Prairie Ridge team, and we'll see what happens."
C-G or Prairie Ridge has either won or shared the FVC championship every year since 2013, when Jacobs won the FVC Valley Division.
Randl sparks D-C offense: Senior quarterback Zach Randl gave Dundee-Crown's offense a much-needed boost after it managed just 41 yards and three first downs in its first three possessions Friday at McHenry.
On its final possession of the first half, Randl used his legs on two of the first three plays for scrambles of 10 and 19 yards. He also completed all three of his passes – the last a 34-yarder to Terrion Spencer – to set up Kadin Malone's 1-yard touchdown run. That capped a 75-yard drive as the Chargers snapped a nine-game losing streak 13-7.
"That gave us some juice," D-C coach Mike Steinhaus said of Randl's runs. "He extended plays with his feet and when you do that good things happen. They came at opportune times."
But Randl thought the Chargers' defense provided a big boost by stopping three first-half trips into their territory by McHenry. Anthony Looze and Max Del Rio had stops for losses on the first possession, and Looze, a 6-foot-2 sophomore linebacker, had another tackle for loss and a sack in the second half.
"To give up zero in the first half really got us going," Randl said. "We have a tendency to get down after losses, but as leaders we try to pick each other up and everyone was on the same page with that."
Warriors get offensive boost: McHenry sophomore quarterback Ethan Dietmeyer returned to action in Friday's second series against Dundee-Crown after breaking a finger in the opener against Hampshire. He provided a spark by rushing for 87 yards on 12 carries and he got the first 56 of a 98-yard drive that cut the deficit to 13-7 with 5:55 to play.
"Without Ethan we felt we had to make a couple of adjustments, so this was the first time we got back to parts of what we really want to do before the season started," McHenry coach Jeff Schroeder said. "For us to do that [drive], we're only going to get faster and better at it. Our young guys up front especially are going to get better."
McHenry starts sophomores Cayden Behrendt, Joseph Saavedra and Aiden Ramirez, junior Elijah Guardyak and senior Jesus Saavedra on the offensive line. The Warriors moved the ball into D-C territory three times in the first half.
"We moved the ball really well between the 30s," Schroeder said. "It's a new system and we're still growing in it. You make a few mistakes and it kills a drive."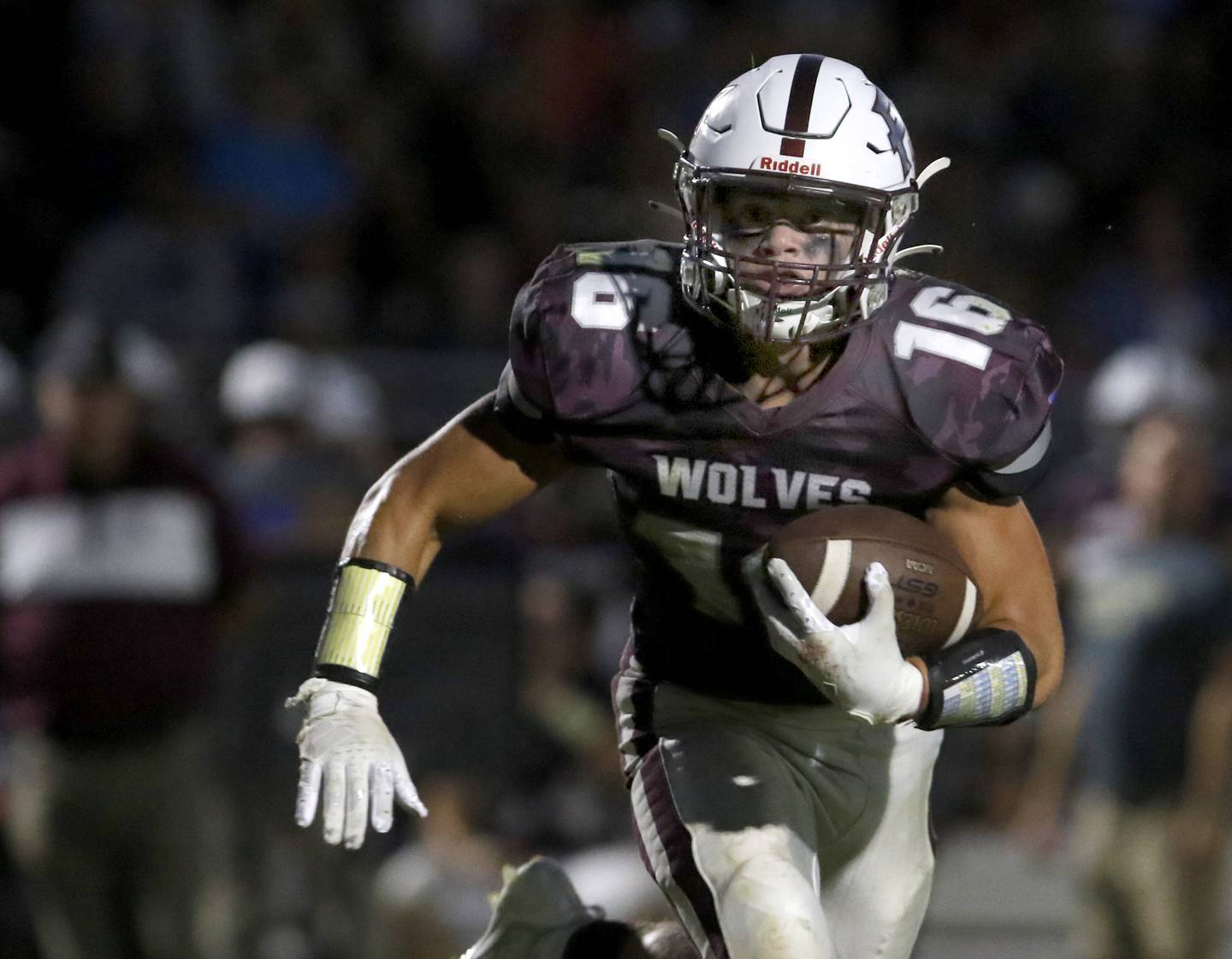 Dom-inator: For someone who spends most of his snaps at safety in Prairie Ridge's defense, senior Dom Creatore has a knack for making the most of his offensive snaps.
Creatore has six touchdowns, five rushing and one kickoff return, and has only 24 carries for the Wolves.
Creatore had the only score of the season opener, a 42-yard touchown run in a 6-0 win over Jacobs. He had a rushing touchdown against South in Week 2, then returned the opening kickoff 90 yards for a touchdown and had a rushing TD in Week 3 against Hampshire.
On Friday, Creatore scored on a 37-yard run early in the third quarter for a 20-14 lead, then added another rushing touchdown a few minutes later after his junior brother Gio Creatore recovered a fumble.
"It's a great opportunity for me." Creatore said. "The coaches let me have that opportunity, and it's a nice feeling. I'm really happy the coaches let me do that."
Schremp used Creatore on offense and returns sometimes last season and has given him a bigger role, although he is not a starter on offense.
"He can make a play," Schremp said. "He's a playmaker. We can get him the ball and he can make a play without much blocking. That's nice to have. The play doesn't have to be perfect and he can still gain yards."
Bands of brothers: The Creatores are one of four sets of brothers with Prairie Ridge this season. Quarterback Joey Vanderwiel (senior) and running back Luke Vanderwiel (sophomore) start on offense, twins Zander and Landon Seversen (seniors) start at linebacker and Fernando (senior) and Isaac (junior) Rodriguez are starters on the offensive line.
• Marty Maciaszek and Alex Kantecki contributed to this report.