ELMHURST – Sean Winton stumbled but stayed on his feet, shedding tacklers to reach the sticks for 13 yards on fourth-and-12.
York's senior quarterback was not always asked to perform a heavy lift Sept. 1. But Winton seems to have the uncanny knack for the money play when it matters most.
Winton threw four touchdown passes, three during the Dukes' stunning 28-point second quarter. Winton was one of many heroes in York's surprisingly one-sided 42-13 win over Nazareth in a nonconference matchup between the third-ranked teams in Class 8A and Class 5A in Elmhurst.
"It's really important to step up in those big moments and I think I do a great job of that," Winton said. "I have great teammates, great blockers who set it up for me and from there I just use the abilities that I have."
Luke Mailander and Chris Danko each caught two of Winton's TD passes, and Jake Melion ran for 163 yards on 29 carries and TDs of 28 and 30 yards. Adam Fennell and Jack Trautmann both had big special-teams plays, and Joe Reiff recovered a Nazareth fumble inside the York 5-yard line to end the half with York ahead 28-7.
[ Purchase photos from York vs. Nazareth football in the Friday Night Drive photo store ]
The Dukes (2-0), who won their 13th consecutive regular-season game, were originally scheduled to play crosstown rival IC Catholic Prep. When the Knights backed out, York found Nazareth – and made quite a statement against the defending Class 5A state champs in front of a home crowd bursting at the seams.
"It was big for our kids to play a program with that type of tradition," York coach Mike Fitzgerald said. "These kids wanted that type of competition. They wanted IC and they bailed on us. Our guys wanted that IC game and getting a program like Naz is good competition."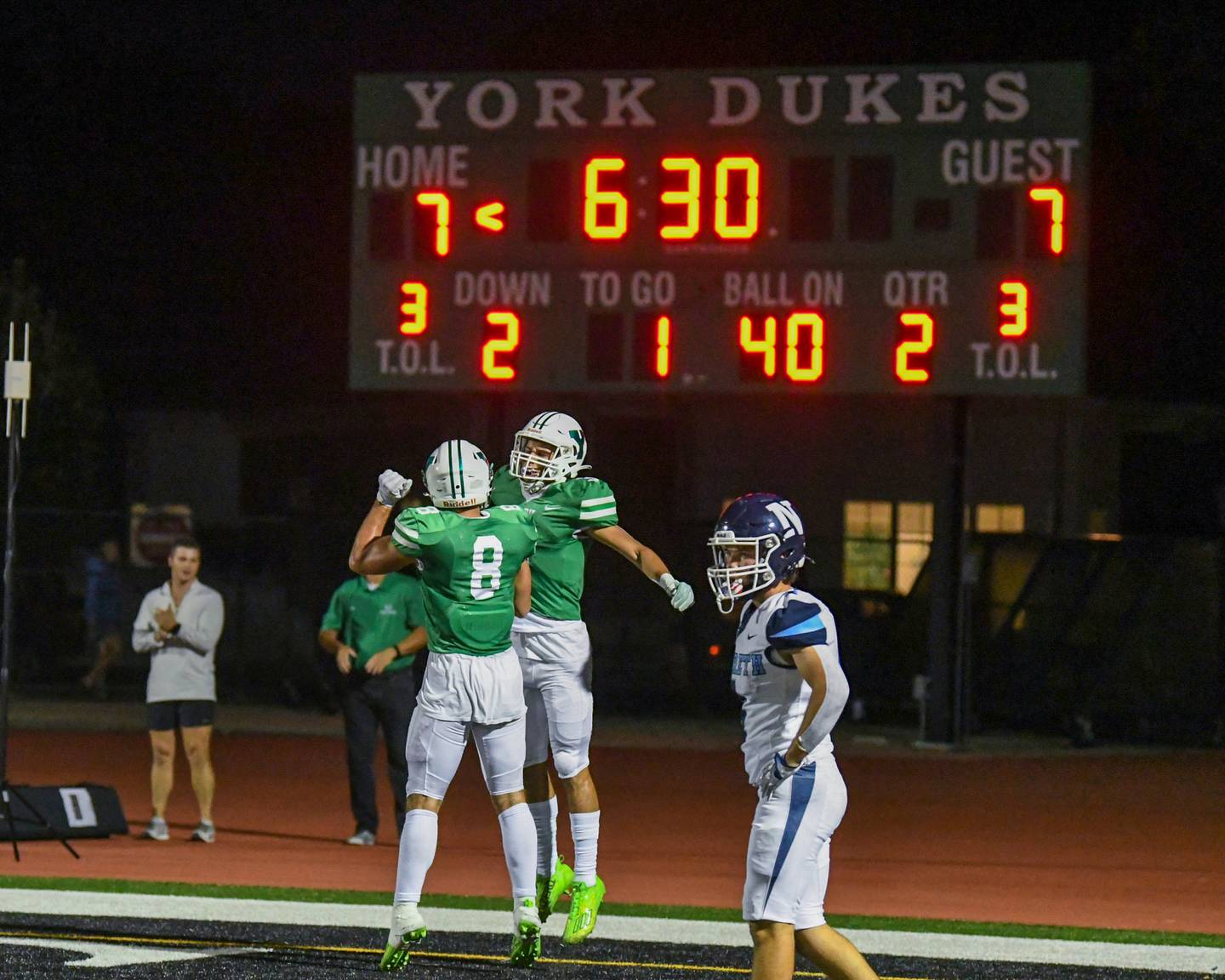 Winton was 10-for-16 passing for 135 yards with a series of big throws.
He found Mailander on a perfect strike across the middle for a 21-yard TD, then lofted a beauty of a play-action ball down the right sideline to Danko to make it 14-7 with 6:30 left in the second quarter. After Fennell recovered the ensuing kickoff, Winton connected with Danko for a 19-yard TD on third-and-12.
"Those plays are huge momentum-swingers," Winton said. "They completely change the game."
York does not seem to have missed a beat at quarterback with Winton, even after All-State quarterback Matt Vezza graduated.
"I keep telling people he would have been a starter on most teams last year," Fitzgerald said. "That's what's awesome. In a world of everybody transferring stuff he learned, he competed last year, kept getting better and better and he's a competitor."
Nazareth junior quarterback Logan Malachuk was 13-for-21 passing for 229 yards and two TDs to James Penley, who caught seven passes for 169 yards.
Malachuk's 42-yard TD pass to Penley gave Nazareth its only lead, 7-0 midway through the first quarter. The Roadrunners (0-2) had a number of big plays called back on penalties, including a TD in the final minutes of the second quarter, and had a punt blocked by Trautmann.
The self-inflicted wounds snowballed.
"When you have self-inflicted wounds against a team like York that is well-coached, it will never be your night," Nazareth coach Tim Racki said. "We had so many tonight that I ran out of room on my game notes."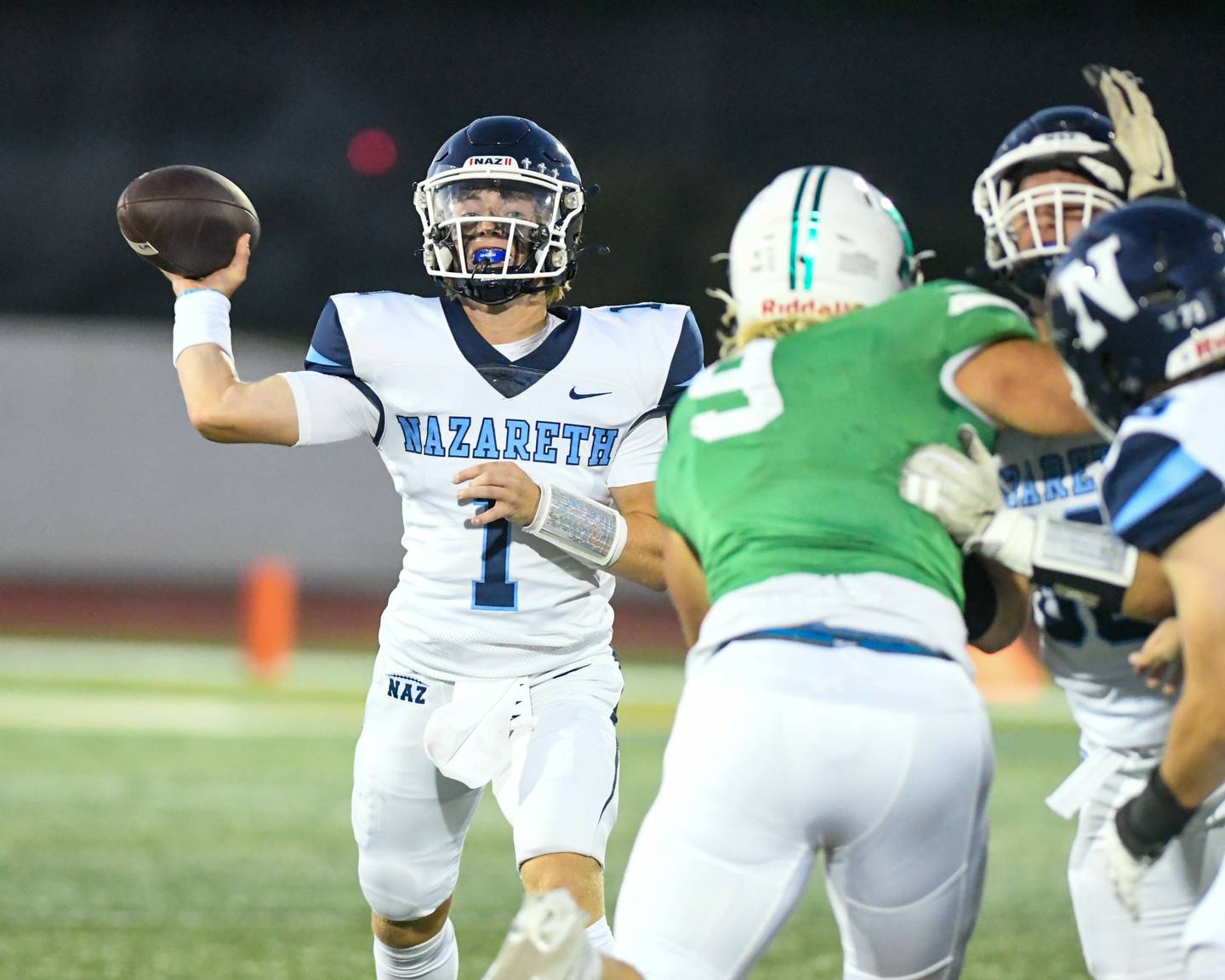 Nazareth, trailing 28-7 in the final minute of the second quarter, drove to the 1-yard line with the opportunity to draw to within two scores. But Malachuk was hit on a sneak and Reiff recovered the fumble for York.
"I feel like that play really turned the tide," Reiff said. "It really flipped the switch. This was a huge win. A lot of respect to those guys on that [Nazareth] program. My teammates played fantastic."
Nazareth, unable to overcome an early hole for the second straight week, finds itself in a familiar spot. The Roadrunners started last season 2-4 before winning their final eight games to win the Class 5A championship.
"We did some things better than we did last week. I don't care about what the scoreboard is, I care about where we're going and where we're at," Racki said. "We have to hang on to what we improved on and we have to address the other things."