JOLIET – Even though Tuesday's Southwest Prairie Conference match between Joliet West and Minooka came at the midpoint of the season, it certainly had the feel of a postseason affair.
With a large crowd cheering for both sides, the Tigers were able to outlast the scrappy Indians 25-20, 21-25, 30-28 to improve to 18-1 on the season and 5-1 in the SPC.
"This felt like a regional or sectional final match," Joliet West coach Chris Lincoln said. "It's always a good rivalry with Minooka. A lot of the girls know each other from club or from just growing up together, and I coached for six years at Minooka before I came here. They are a quality opponent and gave us everything we wanted tonight."
The decisive third set was like a heavyweight boxing match, with the teams trading knockout blows at the center of the ring.
Minooka led 23-19, but Joliet West got three straight kills from Ava Grevengoed, who led all players with 25 to go with eight digs. Teammate Lina Govoni got a kill on a freeball to tie the score.
Minooka got the lead and the serve on a kill by Brooklynne Brass, one of her team-high 19, but Grevengoed answered with back-to-back kills for a 25-24 West lead. Brass put down another kill to tie it, and a West hitting error put Minooka ahead 26-25. A serving error by Minooka tied it again, and there were ties at 27 and 28 as well.
West then got a point on a Minooka hitting error and ended it when Natalia Harris blocked a Brass kill attempt.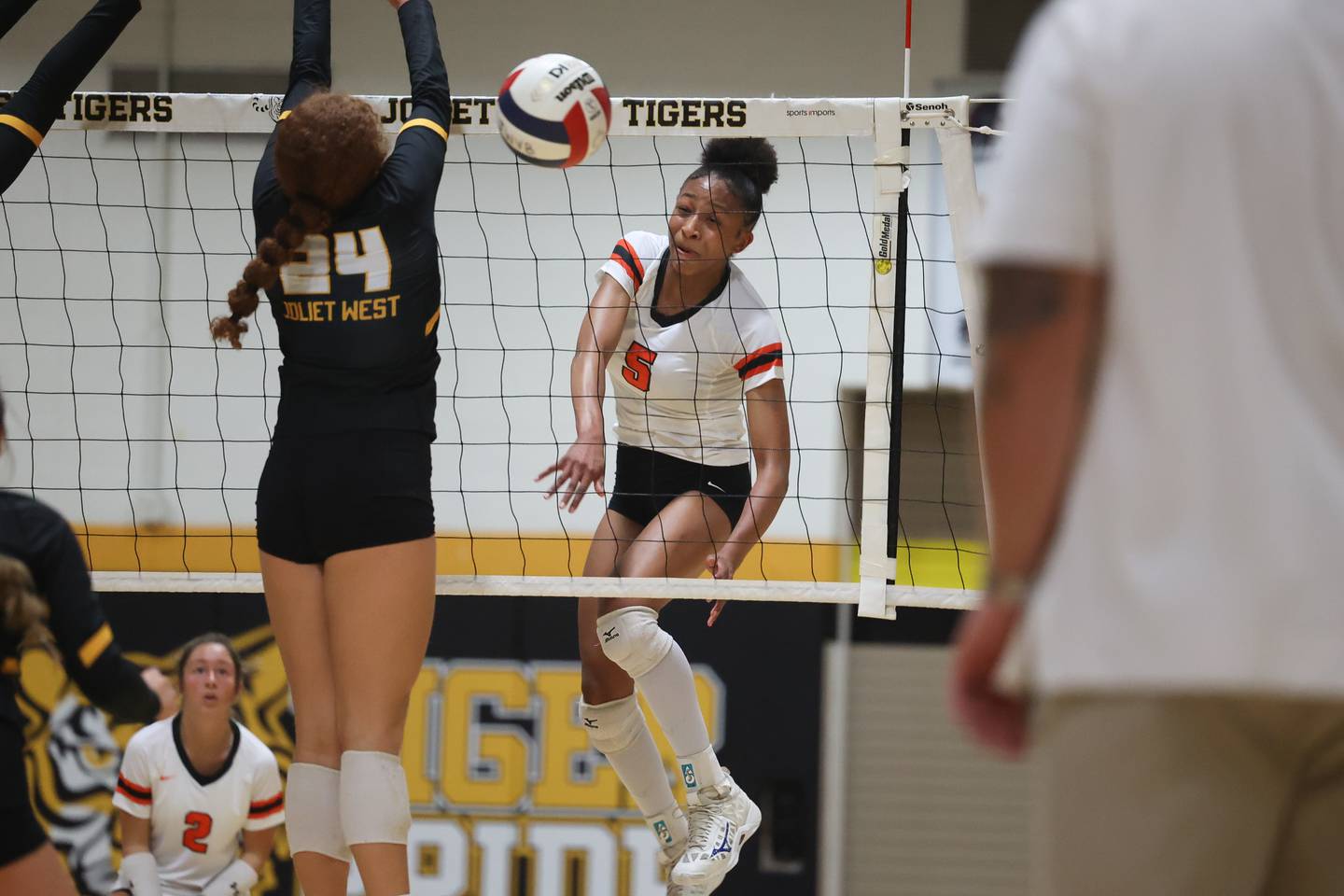 "I think my heart is just starting to slow down," Harris said. "It was going pretty fast for a while. This match felt like a playoff match with the energy and the atmosphere.
"Coach Lincoln told us to line up with No. 5 [Brass]. I saw where she was and lined up with her hitting hand and jumped as high as I could. Everyone played their role tonight. We played together as a team.
"We've had a lot of close matches this year, and we know how to pull them out."
Joliet West was strong in the first set, getting out to a 17-10 lead and cruising to the win. Minooka (8-6, 4-1) didn't back down and jumped out to an 8-3 lead in the second set. The Tigers eventually got to within 21-20 but couldn't get any closer.
West then raced out to a 6-1 lead in the third set and held a 10-5 advantage before Minooka began to chip away. Behind the hitting of sophomores Brass and Kendall Kozak (11 kills, 14 assists, eight digs), the Indians were able to build a 23-20 lead before West's final comeback.
"This was a fun match," Minooka coach Carrie Prosek. "It would have been more fun if the score was different, but I am very proud of the way the girls played. Our sophomores grew up a little bit tonight. After they got some nerves out of their system early, they were just out there making plays.
"Our setter [Ava Valentin] and libero [Kennedi Brass] played great tonight, too. We have come a long way since the start of the season, and we are still building."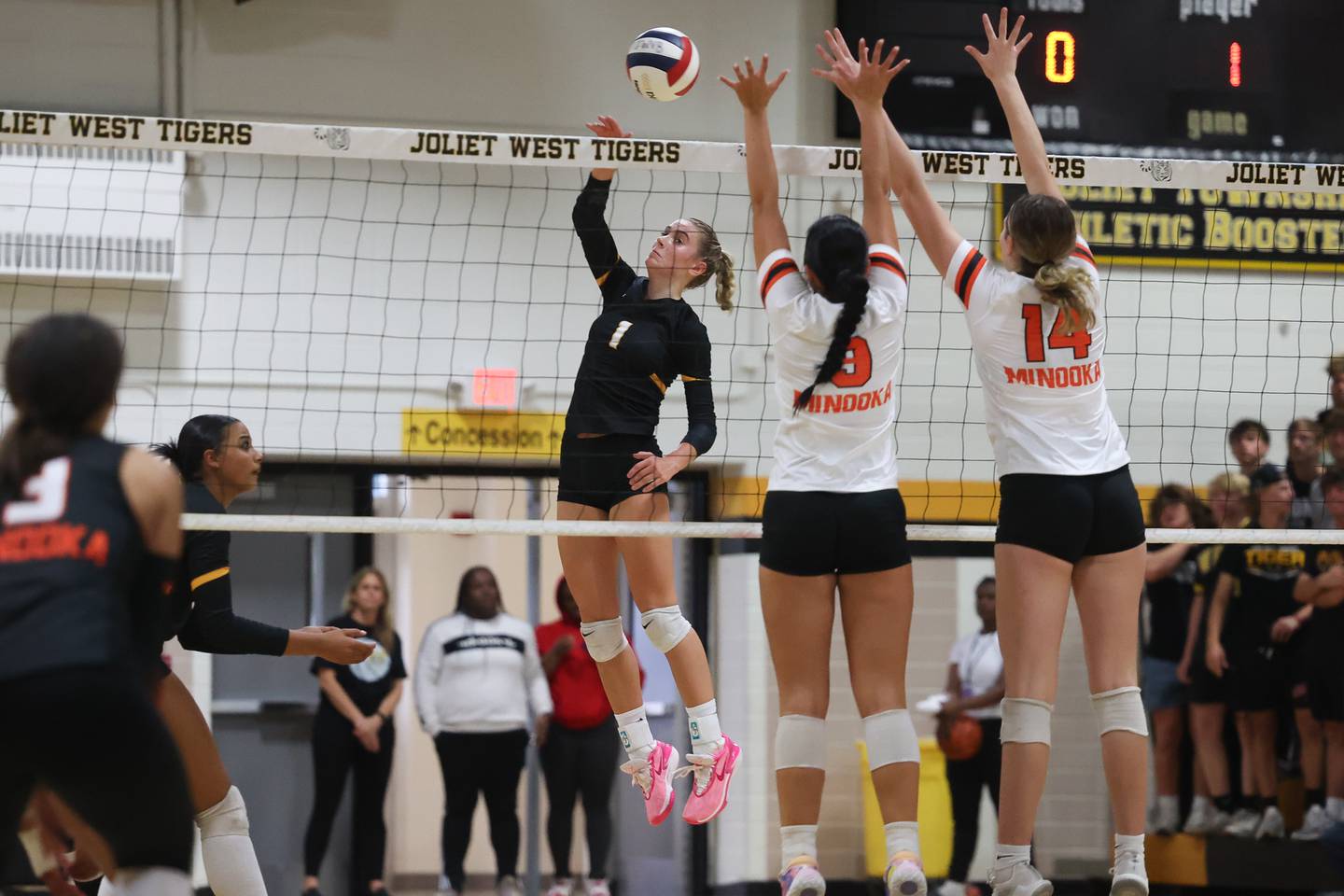 Valentin had 16 assists for the Indians, while Kennedi Brass had 21 digs.
For West, Isabella Nelson had nine digs and Julia Adams had 22 assists and eight digs. Olivia Baxter had 15 digs and seven assists, Gabby Piazza had five kills and three blocks, Faith Jordan had four blocks and Grevengoed and Harris each had two.
"Ava is our go-to," Harris said. "She is so reliable, and we love her so much. We have a great chemistry, and we just click together. Most of us have been together since middle school, and we have been waiting for this.
"This is our time, and we are ready to shine."