CRESTWOOD – It felt like Lincoln-Way East had the game under control for much of the Class 4A Ozinga Field Supersectional on Monday night.
Until it didn't.
Lincoln-Way East carried a three-run lead into the bottom of the fifth inning, but Brother Rice scored three runs in its half of that frame and then stunned the Griffins by walking them off in the bottom of the seventh on a two-out RBI single from Randall Nouden to win 5-4.
Brother Rice (26-14) advances to the state tournament and will face New Trier in the semifinals at 5 p.m. Friday at Duly Health and Care Field in Joliet. Lincoln-Way East closed its season at 31-9.
The Crusaders mounted their decisive rally with two outs in the bottom of the seventh. After Lincoln-Way East starter Zach Kwasny was forced to leave the game because of the pitch count threshold after a long duel with Crusaders No. 9 hitter Sean Sullivan for the first out of the inning, the Griffins recorded the second out before Jackson Natanek laced an RBI double into the right-center field gap.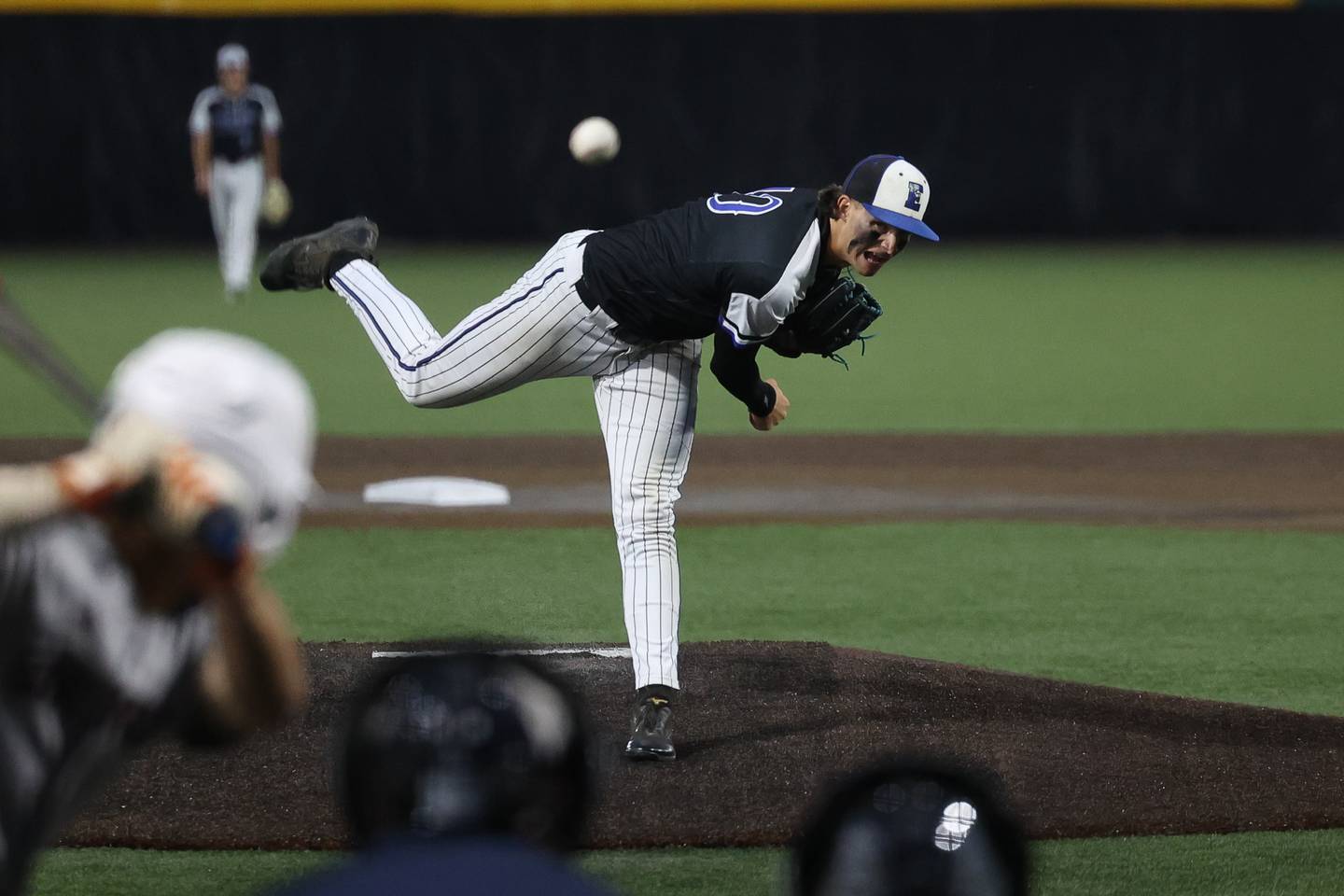 The Griffins elected to intentionally walk Brother Rice's No. 3 hitter, Amir Gray, who homered in the fifth to set the stage for Nouden, who lashed a sinking liner down the right field line that caught grass and easily allowed Natanek to come around with the winning run.
[ Photo Store: Lincoln-Way East vs. Brother Rice Class 4A Supersectional Baseball ]
Nouden was fired up by the intentional walk that gave him his opportunity.
"When they walked [Gray], it was like they put him on to get an automatic out, and I didn't like that," Nouden said. "I came into this game, sitting back, waiting back on those pitches that I know I can hit."
It was a clean hit, but that made it no easier to stomach for Lincoln-Way East.
"We battled, they battled," Kwasny said. "We had a couple of miscues in that inning where they got those three runs. But we had time to capitalize, and we hit the ball hard, but we just couldn't find a hole. That's baseball sometimes."
"We gave it our all, they gave it their all. It's just tough to end the season on something like that."
Brother Rice took an early lead by scoring on a balk in the first inning, and that 1-0 score held until the third, when the first three Lincoln-Way East batters reached base. Jack Cosich led off the inning with a walk, Matt Hudik laced a single, then Tyler Bell drove them both home with a deep double to put Lincoln-Way East up 2-1.
The Griffins added two more runs in the fourth when Hudik delivered again with a two-out, two-run single that scored Kwasny and Johnny Dwyer, both of whom reached via a walk.
Brother Rice went quietly in the third and fourth innings but sparked back to life in the fifth. No. 9 hitter Sean Sullivan legged out an infield hit, and a Bryce Nevils single led to some defensive chaos for the Griffins. When all was sorted out, Sullivan had scored, and Nevils stood at third base. A sacrifice fly by Natanek scored Nevils and then Gray's long home run down the right field line tied the game at 4.
Lincoln-Way East loaded the bases in the sixth but couldn't score as Brother Rice tracked down a long fly ball from John Connors on the warning track to end the threat.
Kwasny hit the pitch count threshold with one out in the seventh. The Ball State commit was operating on short rest, having pitched the Griffins into the sectional finals with a win over Lincoln-Way West on Thursday.
"Zack emptied the tank for us," Lincoln Way East coach Eric Brauer said. "He's on three days rest from Thursday, and that's that's every ounce of what he had in his body tonight. There's nothing else he could give."
Lincoln-Way East missed a few early opportunities to add an extra run or two that turned out to be pivotal against a Brother Rice team that refused to go away.
We left a run out there in the second and maybe two. We squandered a few other chances as well," Brauer said. "But we had eight hits. It was a decent offensive performance, it just wasn't enough."