FRANKFORT – Before Tuesday night's Southwest Suburban Conference match, the Lincoln-Way West and Lincoln-Way East girls volleyball teams raised money for their annual Volley for the Cure match. The proceeds went to Cal's Angels, an organization dedicated to pediatric cancer.
The honorary captain was Bryce Sikora, a second-grader who was diagnosed with leukemia in 2018 at age 3 and completed three years of chemotherapy in 2021. He now is cancer-free and receives regular checkups to ensure that the disease hasn't returned. Before the match, he received gifts from Lincoln-Way East seniors Ava Nepkin, Jada James and Grace Poynton.
The Griffins then gave him another gift by beating the district rival Warriors 25-18, 25-16, and all three seniors played key roles.
Poynton ran the offense as the setter, and her main targets were James in the first set and Nepkin in the second. James finished the match with five kills and two serving aces, while Nepkin had four kills and two aces, all of which came in the second set.
"We work a lot on the fundamentals and getting the basics down," Nepkin said. "When our serves and passes are working, then we can run our offense. That's when we have fun with it. We have so many hitters that can put the ball down, and we can run our offense fast.
"Plus, it's always fun to beat another Lincoln-Way team. We beat Central last week, so now we have the Lincoln-Way bragging rights."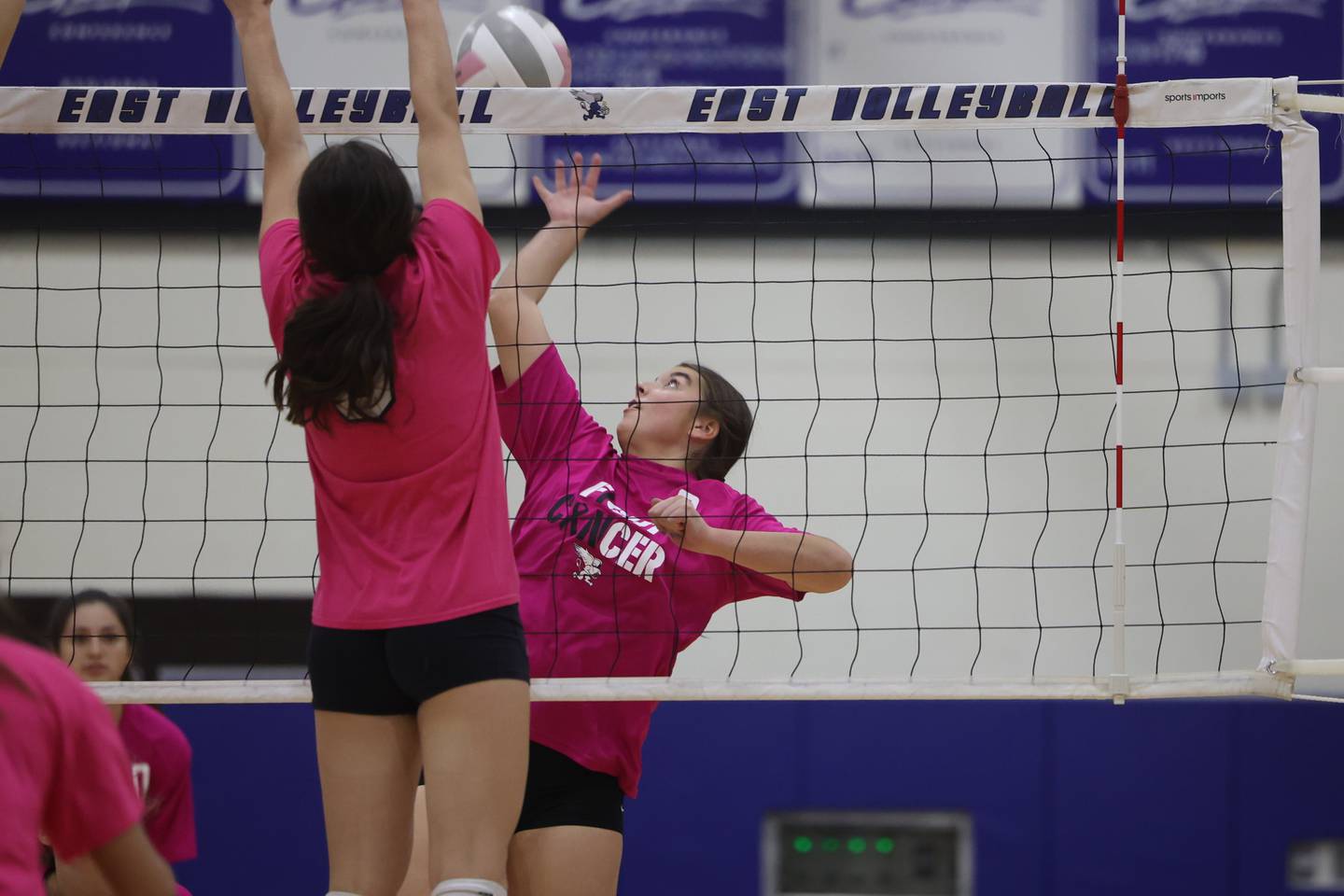 The Griffins (16-3, 4-0) had plenty to brag about all night.
The scrappy Warriors (12-11, 1-4) kept the match close early in the first set and had it tied at 10 after a kill by sophomore Caroline Smith. East got the serve back after a West serving error, and James followed with an ace and another point on a hitting error to take a 13-10 lead they never relinquished. James added two kills down the stretch and Poynton served an ace to make it 24-17. West got a kill by Laney Tuttle, but another serving error ended the set.
"We played well tonight," East coach Kris Fiore said. "We played clean, we were defensively sound, and we didn't make a lot of errors. Our setters [Poynton and Maggie Simon] spread the offense around, and we got a lot of girls opportunities to play tonight.
"All the girls played smart volleyball. Sometimes when you have a big event like this it can be hard to keep your focus, but the girls did a good job of that tonight."
East jumped ahead 8-2 early in the second set, but West rallied to pull to within 10-7, getting kills by Smith, Elly Decker and Cielo Arnold. A kill by Nepkin gave East a 12-7 lead, and another put the Griffins ahead 13-8. She then served an ace to move the Griffins ahead 15-9. After the teams traded points, East freshman Alaina Pollard had three quick kills to move out to a 19-11 lead. Nepkin's fourth kill of the set put East ahead 21-13. After Tuttle's team-high fifth kill pulled West to within 22-16, a West serving error made it 23-16, and Nepkin finished the match with two more aces.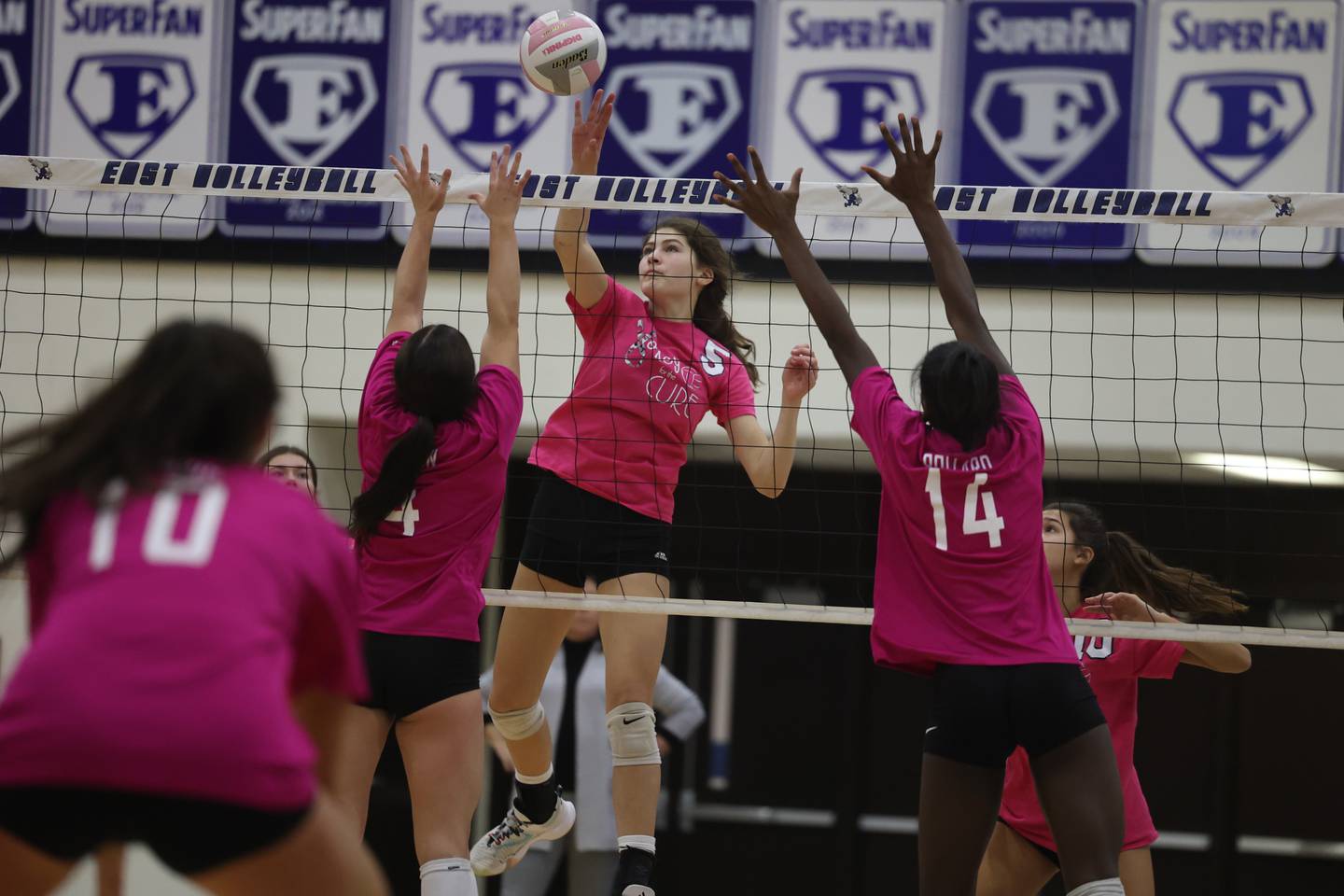 "We are pretty young and inconsistent," West coach Kendall Villa said. "At any time, we had three sophomores on the court. They are working hard and getting good experience, but you can't give away as many points as we did to a team as good as Lincoln-Way East.
"I taught and coached at East for many years, so I know their girls are going to be well-prepared and well-coached. Hats off to Kris and that program for building the athletes they have.
"I think we were a little intimidated, especially by their size, but I would rather play a match against a team like East. It's a great experience for our girls."