PLAINFIELD – Even Nathan Rudd admitted it was probably the thing to do.
But that doesn't mean the Plainfield East senior wasn't a little fired up by the intentional walk by Joliet West to Bengals standout Christian Mitchelle before Rudd's third inning at-bat.
"It definitely gave me a little bit of an edge," Rudd said. "It was definitely a big moment with two outs, and I wanted to step up for my team."
Rudd certainly did, lacing a single to drive in Brady Louck, who started the third inning machinations with a two-out double. Mitchelle came around to score on a single from Aden Aukland, providing the only two runs of the game in the Bengals' 2-0 Southwest Prairie Conference victory over the Tigers.
"That's exactly what I thought was going to happen," Rudd said in regards to the intentional walk. "They were taking a little time to do it, so I thought maybe they wouldn't. I guess they saved four pitches because they probably would have walked him anyway like every other team has been doing recently. Hitting behind two really good hitters in Brady and Christian, you have to expect that those opportunities are going to come."
Plainfield East coach Adam O'Reel wasn't surprised that Rudd delivered in the key moment.
"We like Rudd's aggressiveness. We have to put someone behind Christian who is not afraid of the situation," O'Reel said. "And he may not look it physically, but his intensity and his drive is bigger than what his body shows. He's a fastball machine, and if he gets it, he's not afraid to go after it."
The Bengals (12-10, 5-3 SPC East) needed that third-inning rally, as they missed several other key opportunities. Joliet West (16-9, 6-1) squelched two rallies with double plays, and Plainfield East failed to capitalize with runners on second and third with nobody out in the fifth.
"We had two innings where we killed ourselves and could have made it less stressful," O'Reel said. "We have to be better at that, and eventually you will lose. We did what we were supposed to today, but we need some of the younger guys to step up. Some of the guys that are lower in the lineup have got to come through in tough situations."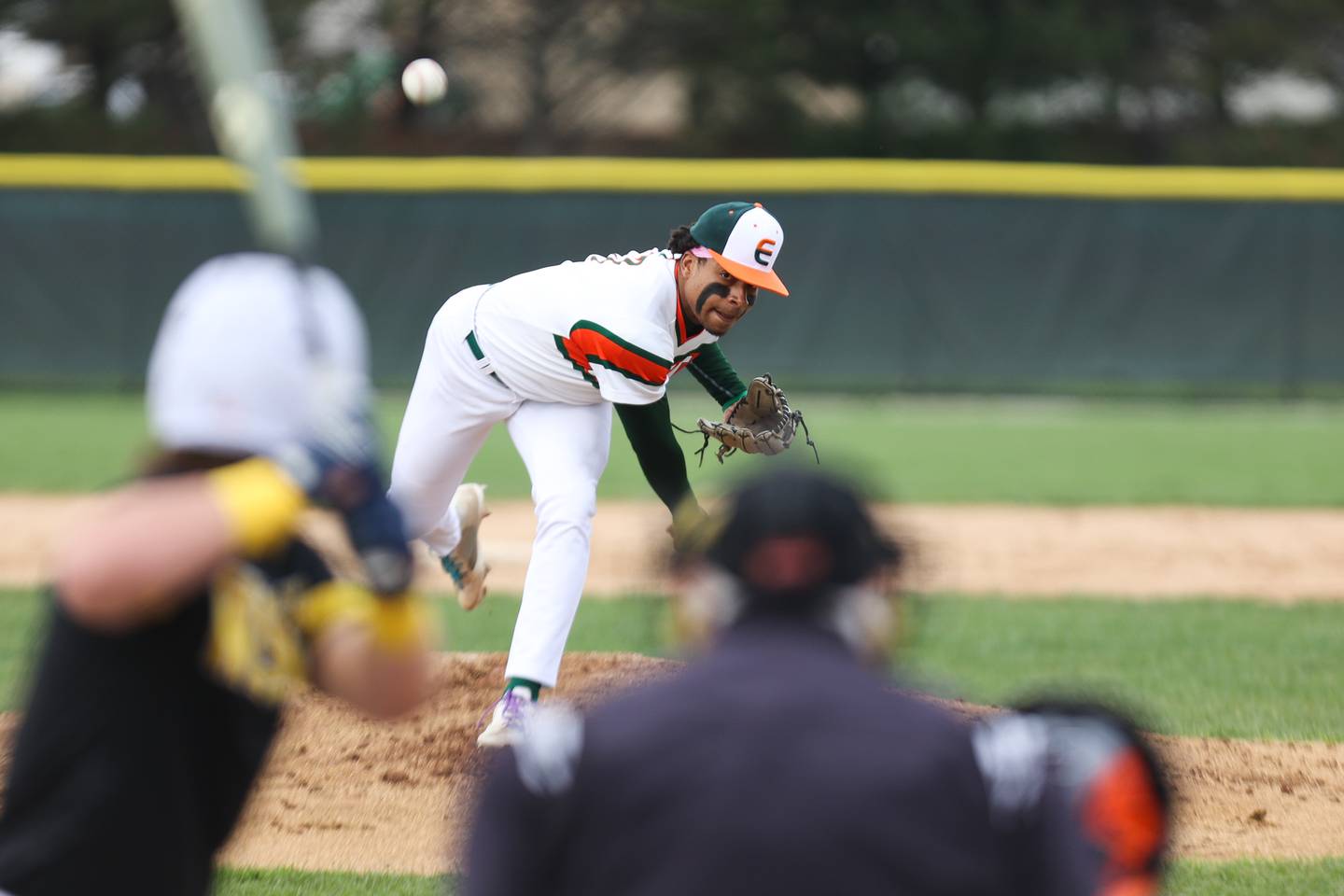 Although the cushion certainly would have been welcomed, it wasn't that necessary with the groove that Mitchelle is in on the mound. Over his past 18-plus innings, Mitchelle has allowed only one run (that was scored on a balk) and five hits while striking out 32. The only thing that might have slowed him down was the pitch count, as he was right up against it as he retired the last Joliet West batter in the seventh.
"When you get a guy throwing 10, 11 strikeouts a game, he's working fast, but that count still ticks up," O'Reel said. "There's good and bad with that. You're going to get your strikeouts, but we had two guys up just in case."
But pitch count might be the only concern when Mitchelle is on the mound for the Bengals. Five batters reached on Mitchelle, three on hits and two on errors. He issued no free passes. Only one of those runners advanced past first base, reaching third on a wild pitch and a groundout in the second.
"Obviously its a huge advantage when you come out there and you dominate like he can," O'Reel said. "He's the best player in the area. He's as good as anyone out there."