Grandparents and other elderly caregivers in Will County can expect to receive more support for raising children with a three-year pilot program that will begin at the start of next year.
On Wednesday, Gov. JB Pritzker signed legislation establishing the Grandparents Raising Grandchildren program, which promises to better help connect grandparents and elderly people with the resources they need from state agencies in childcare.
"This pilot program will have multi-generational benefits," said Paula Basta, the director of the Illinois Department of Aging.
The program will require an intake coordinator for Will County to be responsible for connecting grandparents raising grandchildren to resources and services provided by state agencies, according to the governor's office.
Pritzker's public signing of the legislation took place at Grand Haven, a gated community in Romeoville for adults 55 and older. Pritzker was joined by Basta, State Rep. Natalie Manley, State Sen. Meg Loughran Cappel and Romeoville Mayor John Noak.
Brianne Hetman, chief executive officer for Senior Services of Will County, was at the signing to explain what the pilot program will do for elderly caregivers and their children.
"We will establish a network in Will County to navigate education, health care, behavioral health and guardianship needs for these families," Hetman said. "We have it now."
Hetman recalled the difficulties their agency faced with providing financial assistance to one particular family where the elderly caregivers were raising a child with special needs. She said the pilot program will create "an opportunity for us to do better, for us to be better."
The pilot program, which "advances the reach and impact" of the 1996 Grandparents Raising Grandchildren Program, will raise awareness about various programs and services in Illinois such as Extended Family Support Program and the Children Health Insurance Program, according to the governor's office.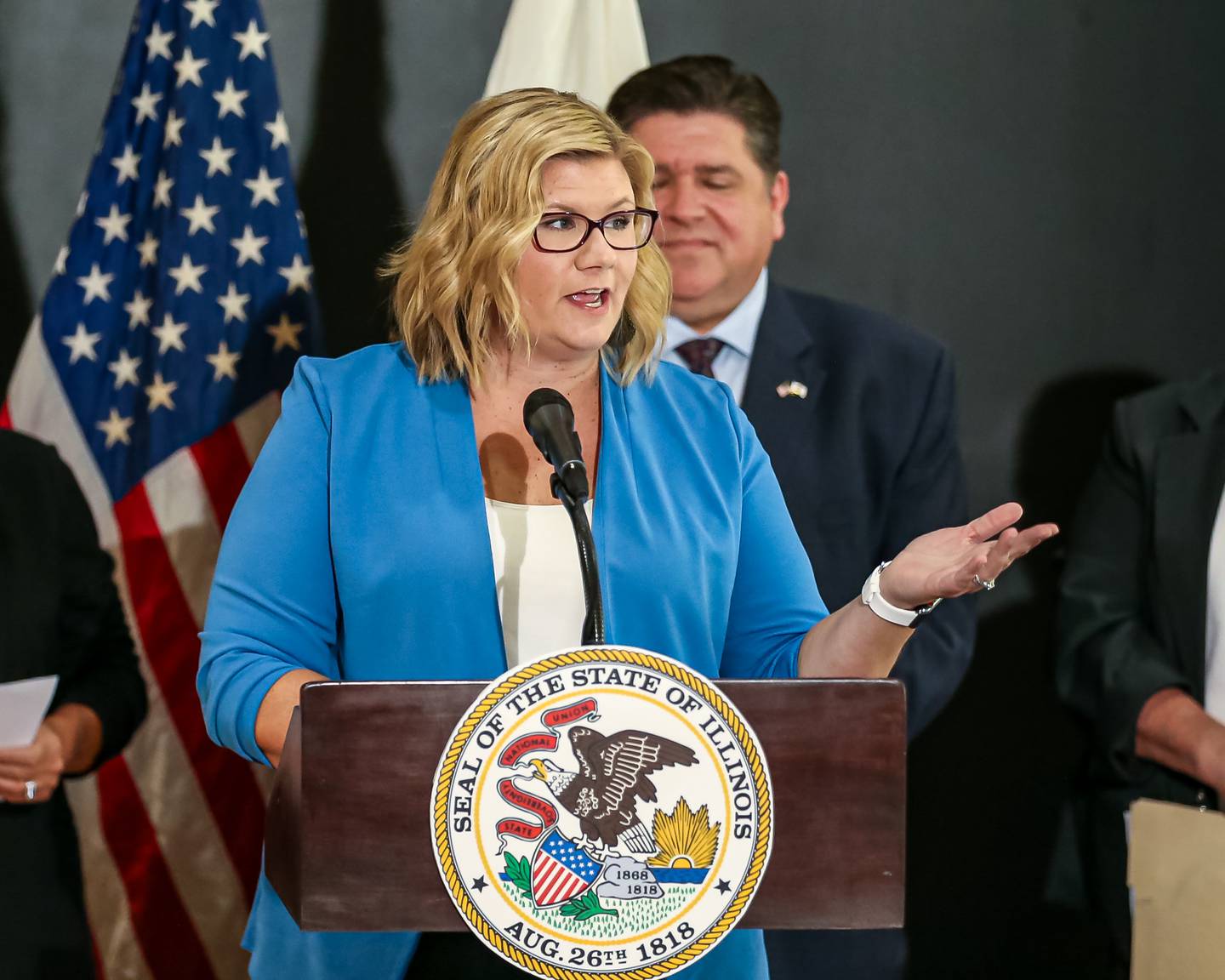 The program will also involve a public awareness campaign on services and resources that elderly caregivers can access through state agencies.
Basta said for elderly caregivers, the "unexpected transition" from having to raise children comes with new expenses and new concerns regarding whether they can provide children the education and health care they need.
"This new law will make it so much easier for our grandparents raising their grandchildren to access these services and the resources they need without spending hours browsing government websites," Basta said.
Manley said Senior Services of Will County will be facilitating the pilot program. She said the agency will not only help grandparents but "uncles, aunts, [and] siblings who are going through the same thing."
"This is my first public bill signing that I've ever attended," Manley said. "It's not the first bill I passed, but it's the first signing, and I can't think of something I'm more proud of."
Cappel said she knew there was a need for the pilot program in Will County.
"I spent 15 years in the classroom," she said. "From my experience, I saw grandparents who had taken on the role of raising their grandchildren and the need to have resources readily available for them."
Pritzker thanked Manley and Cappel for their work on legislation needed to create the pilot program.
"It takes working together in the legislature to make things happen, and it takes real leadership and these two have demonstrated that," Pritzker said. "They're creating a brighter future for our state's children and, of course, for our grandparents."