Meghan Adler kept replaying a memory as she watched her childhood friend fight for her dreams.
She sat inside Chicago's Wintrust Arena on Sunday as she watched Allie Quigley start a rally for the Sky, down 11 points to the Phoenix Mercury early in the fourth quarter with a WNBA title on the line. Adler couldn't stop thinking about how whether they played in a driveway in Joliet or at a practice at Joliet Catholic Academy, no one ever wanted to play knockout with Quigley.
That memory was hard to replace when she watched Quigley make back-to-back 3-pointers to make it a five-point game with about nine minutes left in the game. Or another with a little less than six minutes remaining and then on a 7-foot jumper with 4:27 left.
"It was unsurprising," Adler said. "Having been there through it all, to see her come out in the fourth quarter and just keep them in the game, truly she's clutch. It's unsurprising."
Adler had seen these moments play out like this her entire friendship with Quigley since they were in grade school. She, like many friends and family, had seen the tireless work Quigley had put into her dream of being a WNBA player.
In front of family and friends packed into a sold-out arena, Quigley reached the peak, becoming a WNBA champion.
"It's a dream come true to be at a franchise for nine years in your hometown and bring the city a championship," Quigley said Monday. "It's just a dream come true."
Sunday's championship culminated a long journey for Quigley after she graduated Joliet Catholic in 2004. The Seattle Storm drafted Quigley in 2008 after being a star player at DePaul University, but cut her before the season started.
She signed with Phoenix and played there for two years before she moved to Mersin, Turkey, and played there for two seasons.
Quigley bounced among three teams in 2010 and 2011 and didn't play in the WNBA in 2012 before returning to Chicago in 2013. There she became a three-time WNBA All-Star, two-time WNBA Sixth Woman of the Year and three-time WNBA Three-Point Shootout champion.
Her high school coach, Matt Major, watched Quigley and the Sky celebrate as he watched with his son Sunday. He wasn't surprised by what had happened in the fourth quarter and who led the charge, because he knew the determination Quigley ran on.
"It's because of all the sacrifices that she's made to get to that point," Major said. "It's just wonderful."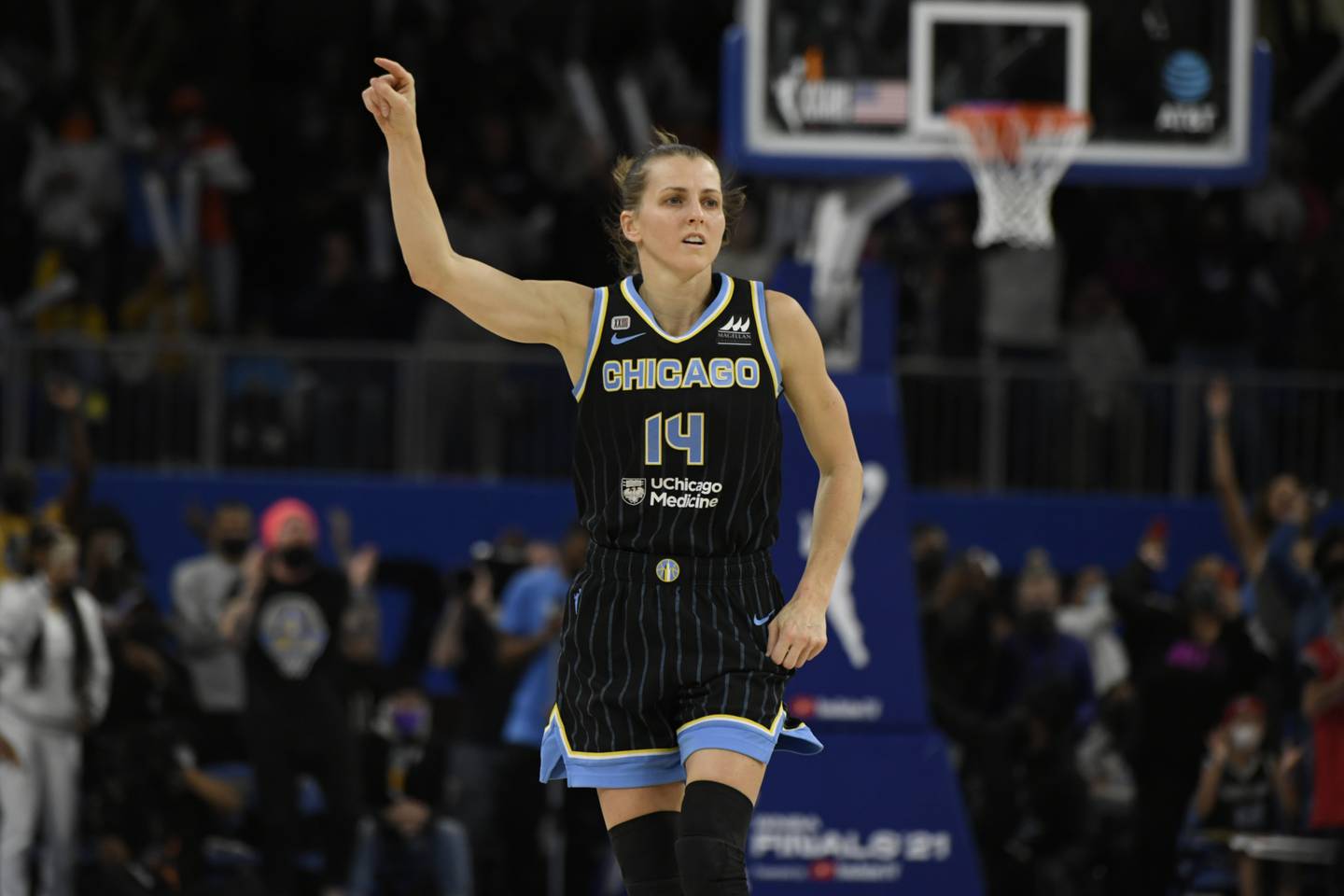 Sam Quigley watched with her family inside the arena as the game didn't go according to plan. After a commanding 86-50 win Friday night to take a 2-1 series lead in the best-of-five series, Sam never thought the team would be down by 11 early in the fourth quarter.
Once Quigley made that first 3-pointer, she knew there was fight left in her sister. She thought about their girls volleyball state championship they won together and how not many thought they would win.
"You knew she wanted to be great," Sam said. "Seeing her see the success and what the work ethic was, seeing her have a great game … it could not have played out better."
Quigley's play always has inspired Rachel Pawluk. The senior on the Joliet Catholic girls basketball team grew up watching Quigley play and wanted to be just like her. She and her teammates had a watch party Friday to watch Game 3 and sat behind the bench Sunday, cheering and high-fiving the Sky throughout the game.
It's inspiring to Pawluk, sophomore Layla Pierce and the rest of her team to have someone who used to be in their shoes now be a WNBA champion. They want to work hard each day to follow in her footsteps. Pawluk even told Quigley's dad that one day, she's going to be playing alongside Quigley for the Sky.
"She's been a huge inspiration," Pawluk said. "Seeing her achieve that moment and being there, it was a super surreal moment."
Quigley never dreamed about winning a WNBA title when she played knockout in driveways or gyms. She didn't think about it as a star at Joliet Catholic or DePaul, or at the beginning of her career when she struggled to find a home.
All Quigley wanted to do was play in the WNBA. She worked hard every day and developed into the player that she's become in her time in Chicago.
But she didn't get to Sunday by herself. There were times of struggle and need for support throughout her career from family and friends, which is why winning in front of the people she loves made Sunday the best moment in her sports career.
"Just to be able to share that with so many people who have been in my life since I was born and even 5 years old, grade school, coaches, grade school teammates, best friends," Quigley said. "To have everyone in the gym, it felt like we were on this journey together, and it felt right that they could be there with me to celebrate with me."