LOCKPORT – It wasn't a good idea Thursday to try to hit past Lincoln-Way Central middle blockers Jaden Didrickson and Michael Greco.
The pair combined for 10 blocks in the Knights' 25-22, 25-23 win over Lockport in SouthWest Suburban Conference Blue boys volleyball action. The victory over the Porters improved Lincoln-Way Central's record to 18-13, including a 4-0 conference mark.
"They kept sending guys at me," Didrickson said. "I just kept going up and blocking them. It was nice to have a good game again, especially against a great team like Lockport. This is our biggest win of the year, and to do it on their floor makes it extra big.
"The block has been strong for us all year, and it was again tonight."
The play of Didrickson, who led with six blocks and added a pair of kills, was a welcome sight for Lincoln-Way Central coach Mary Brown.
"Jaden really woke up," Brown said. "He had been in kind of a lull for a little while, but in our last match, he was on fire. I told him it was like someone kidnapped him for a while, but now he's back to the Jaden we all know and love."
Didrickson and Greco (four blocks, four kills) were part of a strong defensive effort for the Knights, a defense that started with libero Luke Mostello, who had a team-leading eight digs and was a passing machine on serve receive.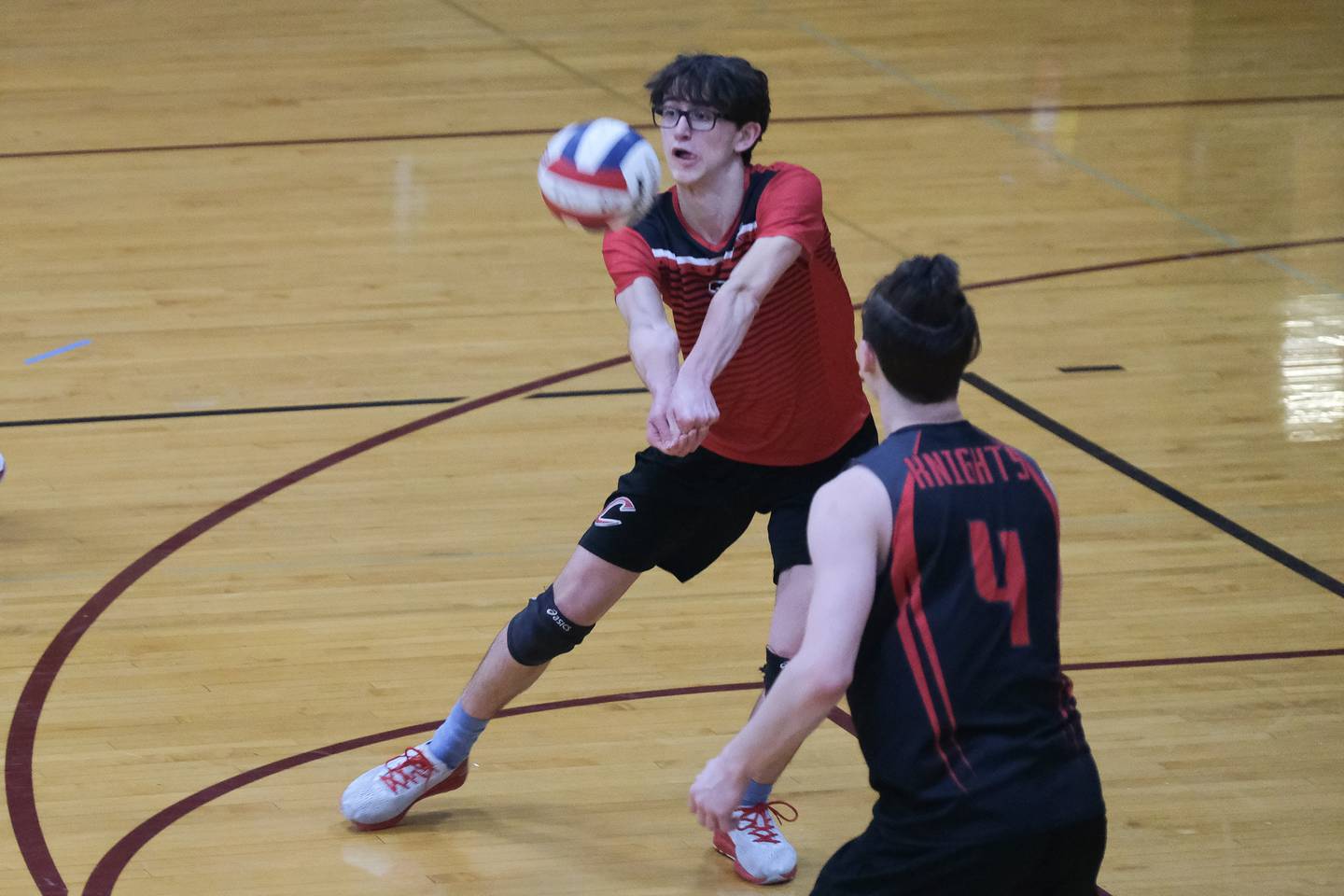 "I've been a libero for the last six years," Mostello said. "I just lay it all out there and try to not let the ball touch the ground. This is a really big win. We're still unbeaten in the conference, and we might get to see Lockport again in the postseason."
Neither team could gain much of an advantage in the first set until Lockport (20-6, 1-3 SWSC Blue) grabbed a 12-9 lead on a kill by Nate Nancino, one of a team-high eight on the night. Central rallied to take a 14-13 lead and eventually went up 17-14 on a block by Iaian Hillegass. The Knights' lead stretched to 22-17 after a kill by Ryan Kroen, a block by Greco and a Lockport hitting error. The Porters got another Nancino kill to pull to within 24-22, but Central's Cody Teske (four kills) ended the set with a kill.
The loss seemed to spark the Porters, who jumped out to a 7-0 lead in the second set as Ben Murdoch served two of his three aces and Nancino had three kills.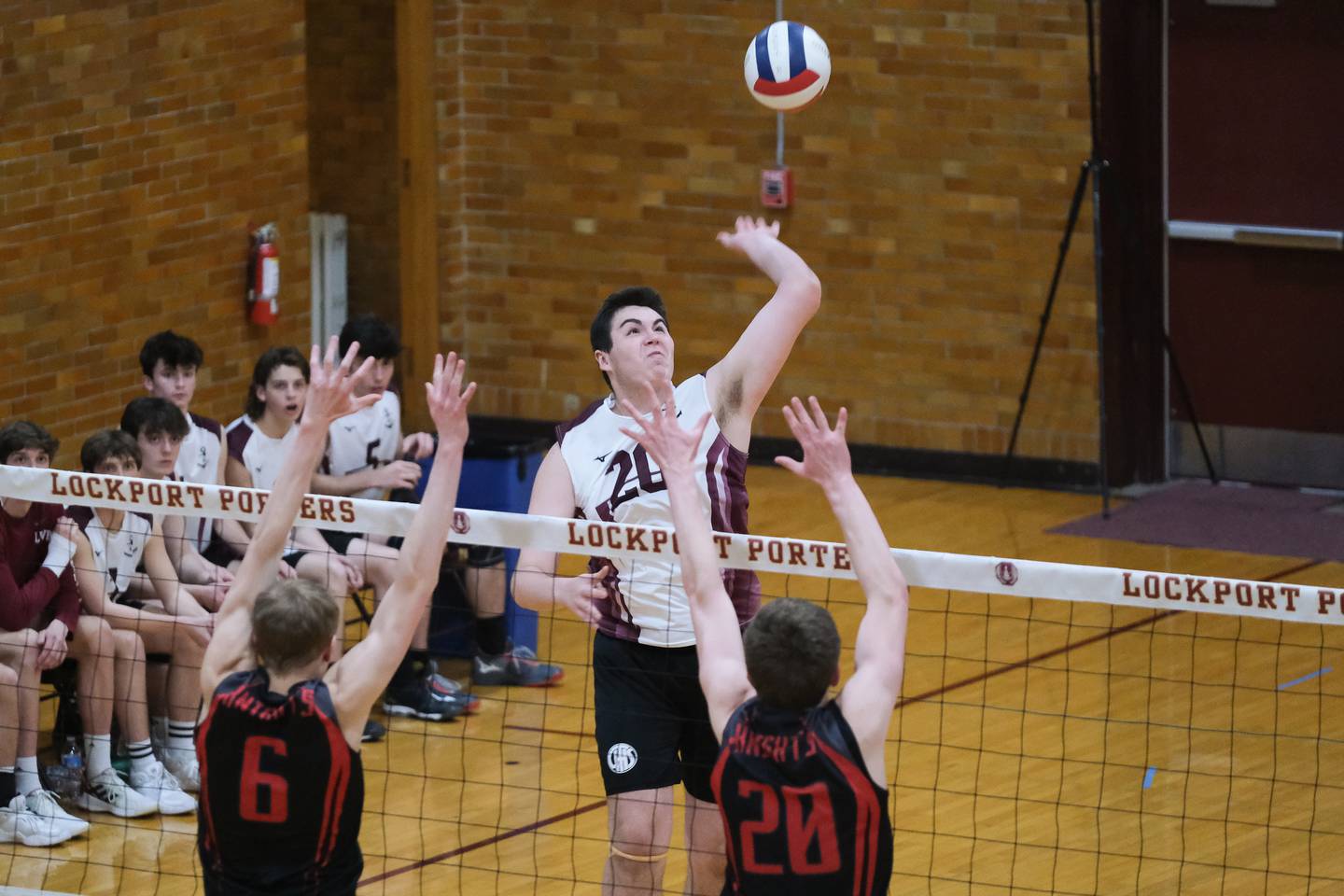 Lincoln-Way Central didn't flinch, and eventually grabbed a 15-11 lead of its own when Didrickson put down a kill. Lockport trimmed the lead to 16-14 on a kill by Murdoch, but Central scored the next four points, including an ace by Timothy Slattery and a block by Greco, to move out to a 20-14 advantage.
Lockport refused to die on its home floor, and a kill by Evan Dzidkowiec (17 assists) pulled the Porters to within 23-20. A pair of Lincoln-Way Central hitting errors made it 23-22 before a Didrickson block made it 24-22. Lockport got a point on a Wade Welke kill, but Teske again ended it with a kill.
"This was a fun match," Brown said. "Our defense has been pretty resilient all year. Tonight, we didn't give away a lot of points, which has been a problem for us. We spread out our attack really well, and Luke Mostello did a great job on serve receive."