LOCKPORT – After the Lockport Township boys volleyball team graduated nine players from last season's state quarterfinal team, the outlook for this season's Porters team seemed more subdued.
It's not anymore.
Starting four sophomores, Lockport showed it still is going to be a force to be reckoned with this season. Led by eight kills from sophomore Josh Bluhm and 23 assists by sophomore captain Evan Dziadkowiec, the Porters handed Joliet West its first loss of the season, 25-18, 25-20, on Tuesday morning at the Lockport Central campus.
Coming off a fifth-place finish at the Marist Volleyball Invitational the weekend before, Lockport (6-1) is off to the same sort of start as last season when it opened 7-1 en route to a 22-4 record in a shortened season.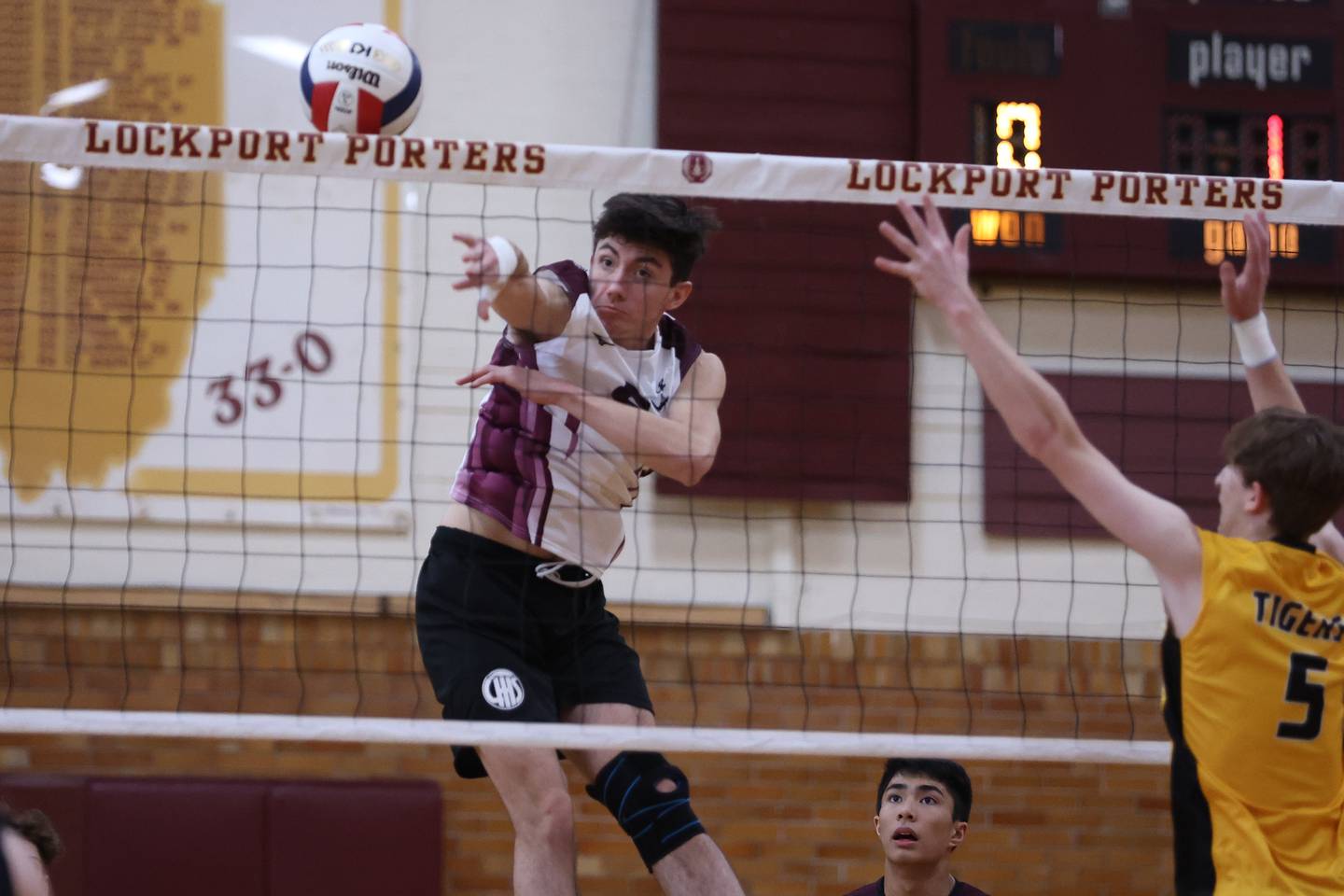 The Tigers (7-1) won their own invite last weekend. But, unfortunately, senior middle hitter Collin Mcintyre injured the thumb on his right [hitting] hand in practice Monday and will be out indefinitely.
"I think last year was the first year to be able to show off that we are a steller program," said Bluhm, who was on the JV team as a freshman. "We are very young, and coming into the season we weren't regarded as a good team.
"But we've had some good matches, and we are making a name for ourselves."
Bluhm had a block to go with his eight kills. In the opener, the score was tied four times through 7-all. Then Bluhm and senior outside hitter Matthew Krzos each had a pair of kills in a 10-1 run that gave Lockport a 17-8 lead. The Tigers never got closer than five points the rest of the first set.
"Coming into this season we knew that we'd be strong at setter and defensively," Lockport coach Nick Mraz said. "But we had to get guys to terminate. If we can get guys to terminate at a high level we will be successful."
Last season, the Porters had seven guys who were 6-foot-5 inches or taller. Two of them are back in Krzos (6-5), who had seven kills in the match, and senior middle blocker Braeden Goebbert (6-7), who had five kills.
"Josh is going to go through some growing pains," Mraz said of Bluhm (6-6). "We have a lot of sophomores and are going to make some mistakes, but there's a high ceiling and high expectations for them."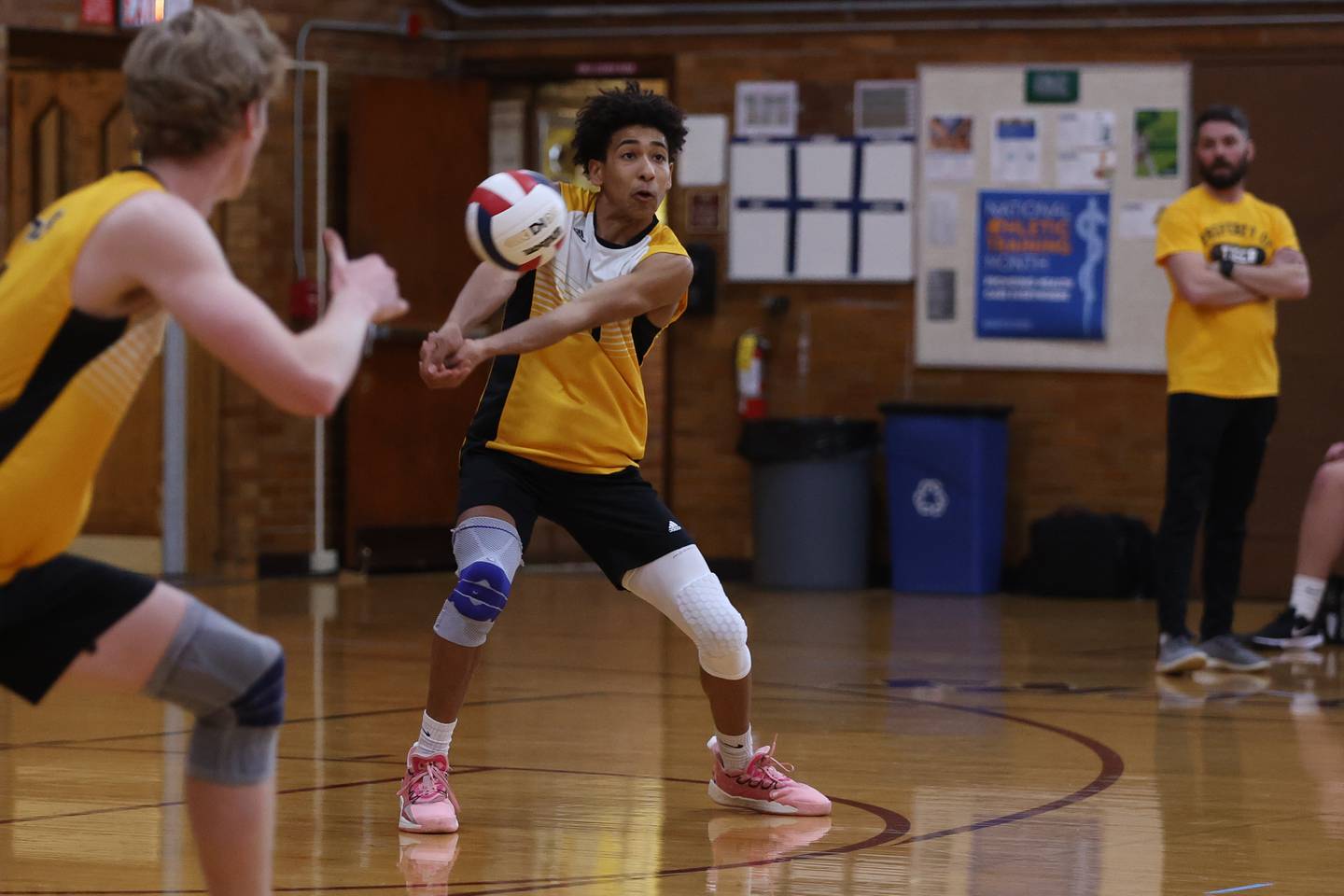 There were seven early ties in the second set. Trailing 9-8, Bluhm, sophomore outside hitter Wade Welke (3 kills) and Goebbert each had kills to start a 5-0 Porter run which put them in front to stay.
Joliet West closed within two points on five occasions, the last time at 18-16. Then senior middle blocker Ben Murdoch (4 kills) had a kill to start a 3-0 run. Ahead 23-20, Lockport closed out the match on a kill from Goebbert and a disputed back row attack call.
Sophomore libero Kevin Rodriguez added 11 digs for the Porters.
The Porters designated sophomore Dzaidowiec, who stepped into the starting setter role last season as a freshman, as their captain.
"When a freshman can come in and run a 5-1 at the varsity level, that shows leadership," Mraz said of making Dzaidowiec a captain.
Dzaidowiec appreciates the responsibility.
"It's an honor," Dzaidowiec said. "We lost nine seniors from last season's team, so no, I didn't know that I'd be captain. But I'm a captain on my club team at Ultimate, so I'm always vocal.
"We have new guys, but we should be winning in a lot of different ways, and we will be good. It's a great start so far, and we want to continue it."
Joliet West is also off to a great start, already surpassing its win total from last season's shortened 6-11 campaign. The brother combo of sophomore Landon Brouwer (11 assists) and Logan Brouwer (7 kills, 6 assists) at opposite hitter/setter led the Tigers. Senior outside hitter Ben Castillo had four kills and senior libero Jake Krefft added 12 digs for Joliet West.
"We won our tournament [this past Saturday] with wins over Lincoln-Way West and Stevenson (25-21, 26-28, 25-23 in the title match), which were ranked in the preseason," Joliet West coach Neil Lucchetti said. "We have a resilient group, and it was great to win that against two tough teams.
"It was tough to see Collin (Mcintyre) go down. It was just a freak thing where he tore ligaments in his thumb blocking. But Brady Neverman got thrust into that [middle hitter] role and played well. Lockport is a really good team, and there were times they slammed it down our throat. Still, we have the pieces to do well. We just have to figure some things out."
The Porters have figured out that, after going to state last season, their goals are a little higher now.
"It's no longer fun just to win a regional," Mraz said. "After breaking through last year and going to state, that's the expectation."