MINOOKA – After having a pair of losses and a tie in its previous three matches, the Minooka boys soccer team had a goal to get off to a good start when it faced Lincoln-Way West on Monday afternoon.
Mission accomplished.
Ben Wolcott had a pair of goals as Minooka jumped out to a four-goal lead, including scoring two goals in a little more than three minutes, and the Indians went on to a 4-1 victory over the Warriors in a nonconference match.
"We were talking about energy at the beginning of the game," Wolcott said. "We kept saying that 'we had to be better early.' We had to get a lead and keep it going."
The PA announcer was still reading the starting lineups when Wolcott, a junior forward, got his first goal 1:44 into the match.
"Tyler Colwell made a run through and crossed it," Wolcott said of the goal. I was coming right down the middle, took a touch on it and got it right in."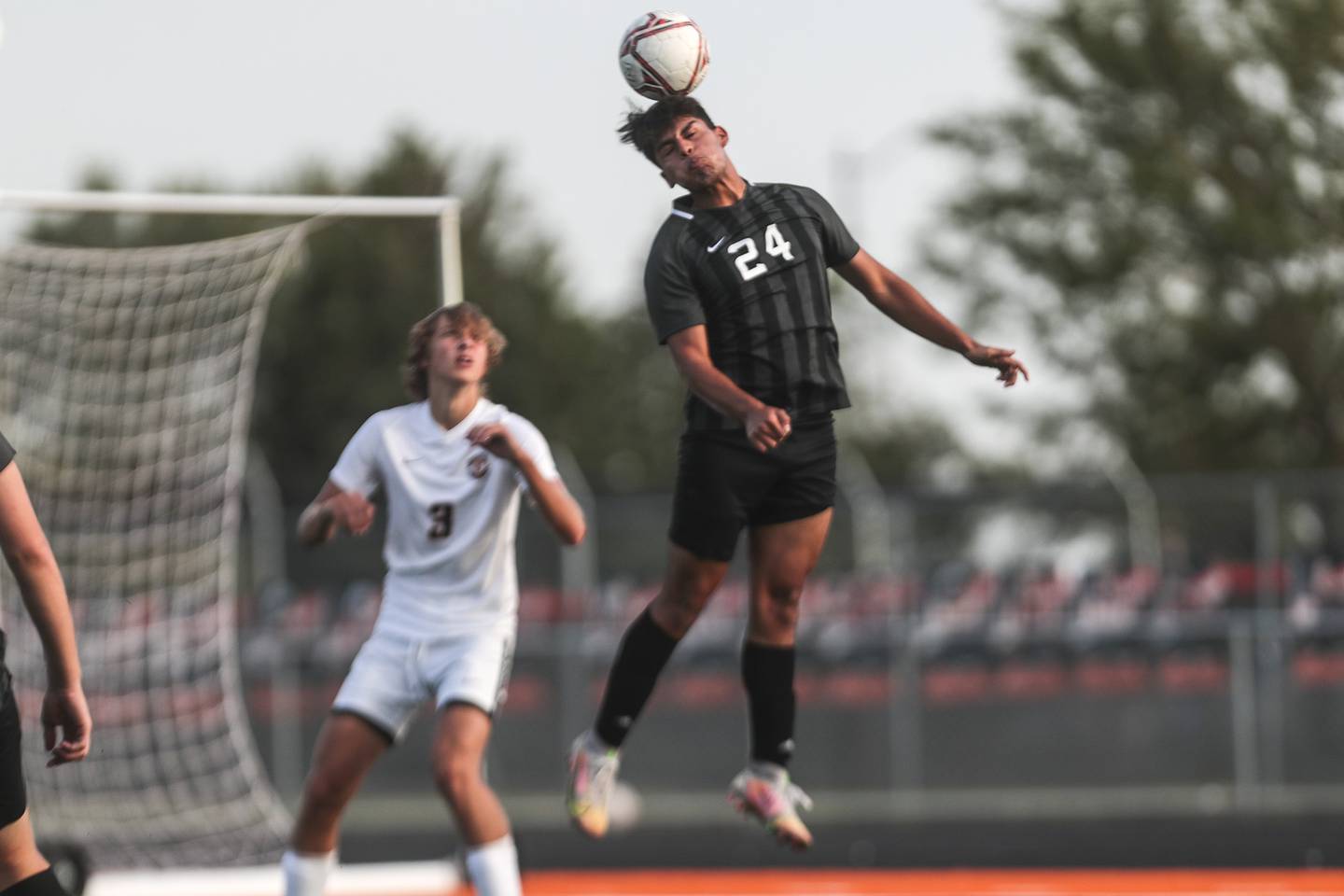 Just more than a minute later sophomore midfielder Diego Escobedo was tripped on the left side near the box and Minooka was awarded a penalty shot. Zac Monnett took the PK and blasted it past junior keeper Rylan Decker for a 2-0 lead with 36:58 to play in the first half.
"I always take them. I've never missed one here on four opportunities," Monett said of the PK. "It's a good bounce-back win. We had a tie and two losses in our previous three games.
"We just have to play at this level off the bat. To stay successful we have to keep this energy going."
Minooka (9-4-2) added another goal when the same combo of Colwell to Wolcott connected. This time from the left side and it was 3-0 with 9:28 left in the opening half.
"We've made position adjustments where we moved Zac Monnett to center striker and slid Tyler Colwell to the outside," Minooka coach Nate Spriggs said. "That utilizes Tyler's speed on the wing and really gets us going. He is scary fast. It's frightening how fast he is."
Colwell, a senior, is one of the top track sprinters in the state.
But there was no foot speed needed on the Indian's fourth goal. That was an unassisted blast by junior midfielder Roger Valles with 7:25 to play in the half. It appeared to sail wide of the upper left corner but then was ruled to be a goal because the back netting had come off in that corner. So rather than hit the net, the ball went through where the goal was and out.
While many of Minooka's shots were finding their target, Lincoln-Way West (5-6-1) couldn't connect. There were plenty of first-half chances starting with a nice feed from junior forward Jack Towner to senior midfielder Ian Webber that was saved by Indians' junior keeper Ethan Kimbarovsky.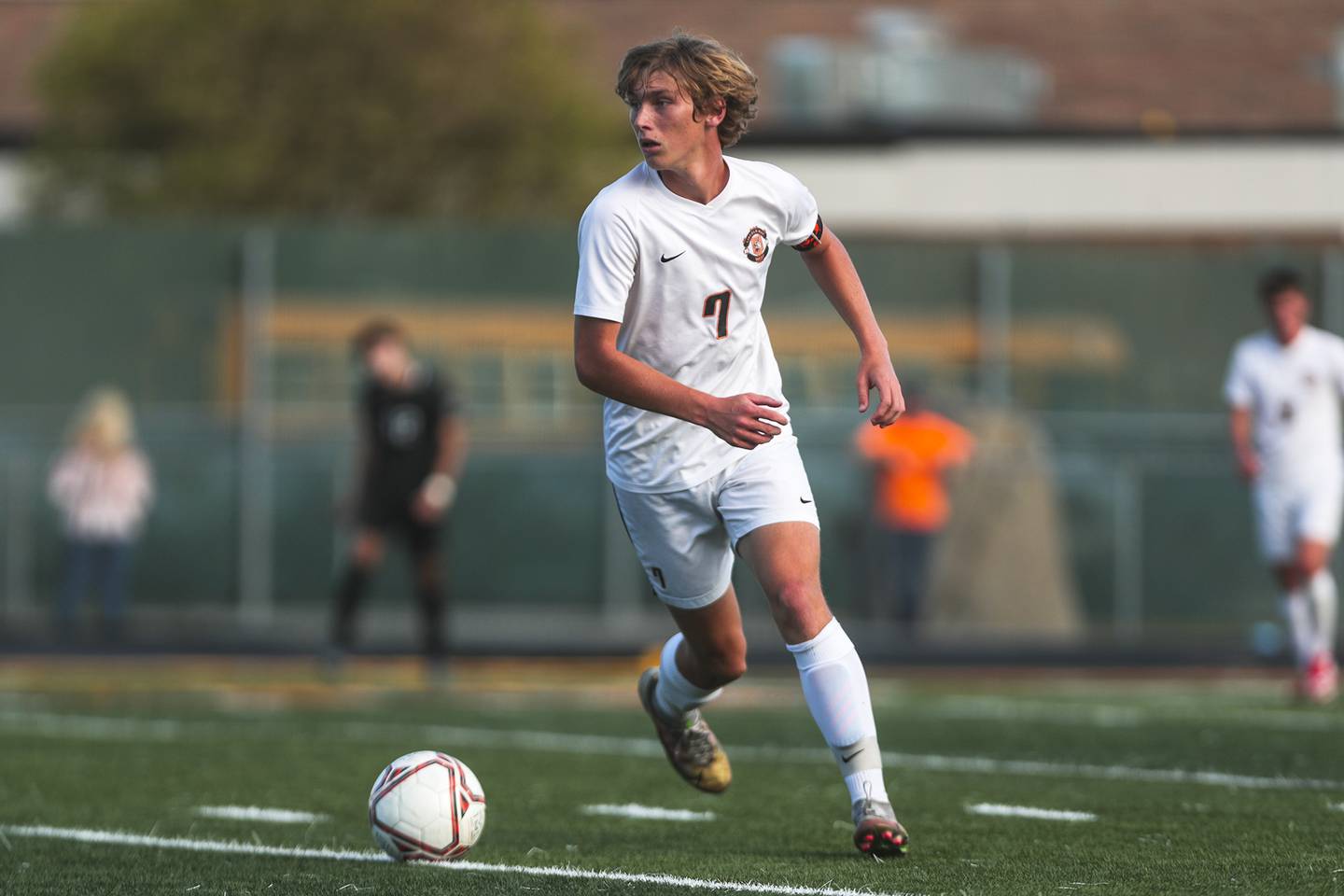 Seniors Anthony DeSilva and Julian Panisi from the midfield and Luke Swallow from the defense had shots that either just missed or were turned back. The Warriors finally found the back of the net when Towner tapped one in off an assist from Panici with 5:12 to play in the first half.
"This is what happens when you're not ready to play," West coach Matt Laude said. "We played well against Lockport [a 2-1 loss Saturday] and did a lot of good things. Then we came out here and weren't ready.
Credit Minooka, they came right out and were ready. We had plenty of opportunities, we just couldn't put that last pass into the back of the net. But we will find it."
Both teams had different keepers in goal in the second half. Brad Szubryt was in net for the Warriors, while fellow senior Cade Ooms tended for the Indians. Ooms, however, left the game with 11:32 to play after having the wind knocked out of him on a collision. He's expected to be OK.
While Ooms was in he saved a point-blank shot from DeSilva. On the other side, Monnett managed to hit the left post on a shot, and Diego had a header opportunity that was saved.
"They're a good team, and I try to schedule tough, nonconference games to get ready for the postseason," Spriggs said. "The seeding meeting is coming up and we want to accumulate as many quality wins as we can."