MINOOKA – Minooka made the most of its second chances.
The Indians boys soccer team scored four unanswered goals in the second half and went onto a 5-3 win over visiting Joliet Central in a Southwest Praire Conference match Monday evening.
Logan Kalafut tied the game, and Tyler Colwell scored the final two goals as Minooka (7-2-1, 1-2) picked up its first SPC victory of the season.
"In the first half we started flatfooted," Colwell said. "But [to get the conference win] is a lot of weight off our shoulders."
In order to help his team regroup, Colwell had to slow down. That's hard for the senior forward, who is one of if not the fastest sprinter in the state in track and field.
That speed showed about six minutes into the second half. Colwell got the ball and streaked in for what looked like a sure breakaway goal. However, he missed the shot to the right of the net.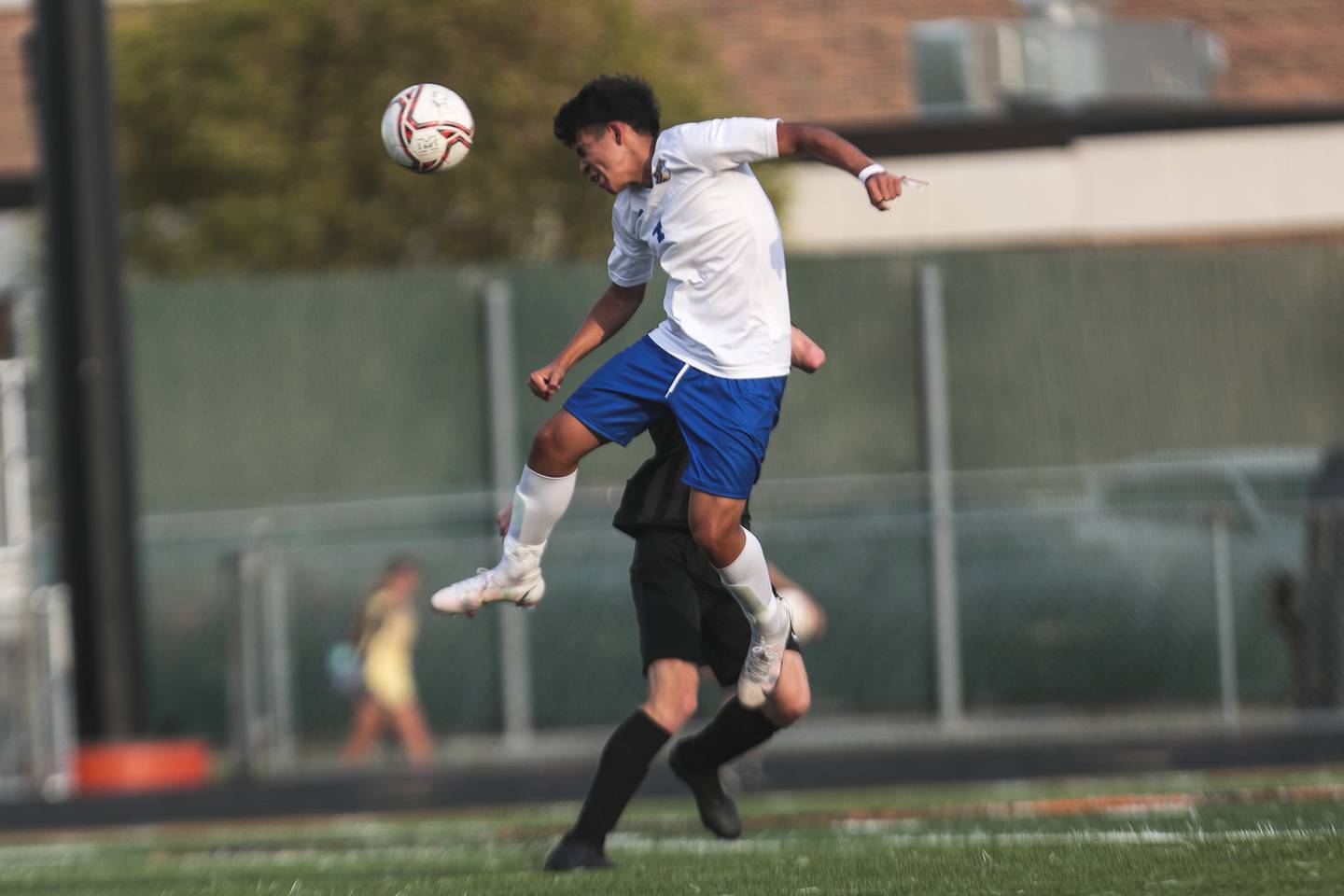 But given a second opportunity, with the game tied later in the half, Colwell came up big. He hammered a shot from the top of the box that eluded junior keeper Christian Villagomez and sailed into the back of the net for a 4-3 lead with 17:16 to play in the match.
"On that breakaway, I was just going in too fast," Colwell said. "That was unfortunate, but I kept my head up. You can't let it drag you down. I just had to slow down and reevaluate what I can do."
The Steelmen (3-3, 0-3) had their best second-half opportunity with 8:21 to play. Senior forward Felipe Martinez ripped a line shot that was deflected out by senior keeper Cade Ooms, who was in net in the second half, as usual, since he and junior Ethan Kimbarovsky alternate by halves. The rebound went to junior defender Roberto Hernandez who misfired on his shot.
Colwell took a pass from senior midfielder Zac Monnett (2 assists) and added the clinching score, which was his eighth goal of the season, with only 1:15 remaining.
"It was a great pass," Colwell said. "Zac is a really good midfielder."
It was a really good rally for the Indians, who played and won for the third day in a row. They had a couple of wins in the PepsiCo Showdown on Saturday and Sunday.
"We only gave up one goal in our previous five games," Minooka coach Nate Spriggs said. "But this was our third game in a row, and we came out sluggish. That's going to happen, but the guys really stepped up. We needed it and we got it. It's always nice to get a conference win."
Junior forward Ben Wolcott started the Minooka comeback when he took a crossing pass from Colwell on the right and tapped it in at the left post with 26:57 to play in the game.
Kalafut, a senior who started as a defender before moving to midfield, knotted the score at 3 when he slid as he was taking a shot from the left side of the box. The shot stayed down and went in with 23:19 remaining. It was the first goal of the season for Kalafut, who made up for shooting high on a couple of opportunities in the first half.
"It was just good team play, and I got a chance in the box," Kalafut said of his goal. "All I could think when I went to shoot it was 'keep it low.' I kind of went down [on the slide] when I went to shoot.
"We started slowly in the conference, but it's good to get this first one under our belt."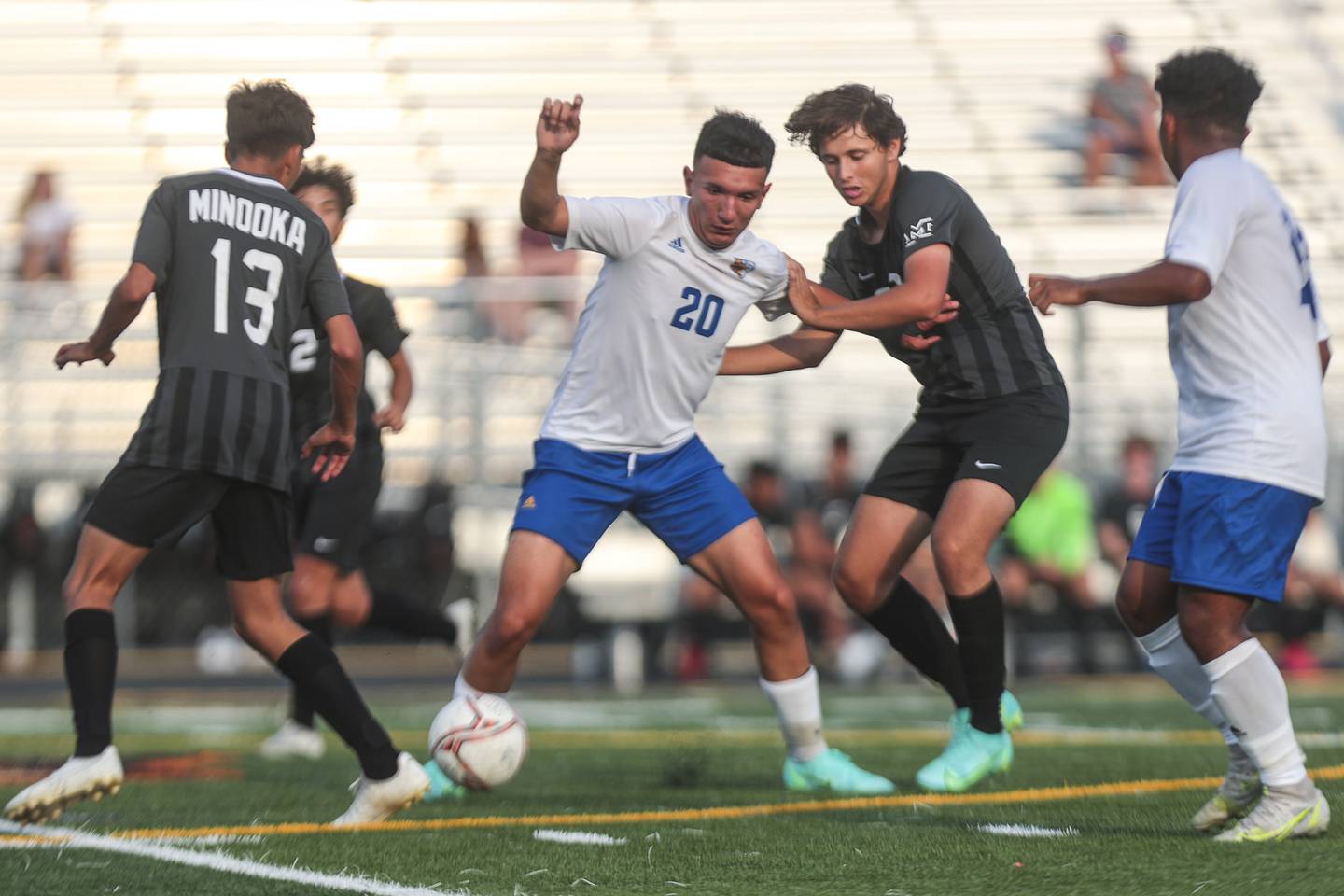 Moving Kalafut up paid dividends.
"That was a big chance, but we had to do something," Spriggs said. "We played three in the back and moved Logan up to center mid."
Jonathon Martinez had a pair of goals just more than eight minutes apart in the first half to give the Steelmen a 2-0 lead. Fellow junior forward Jonathon Mendez had the assist on the first one and senior midfielder Christian Diaz had the second assist for the two-goal lead with 27:15 left in the first half.
Junior midfielder Carson Messina scored on a penalty kick to get Minooka on the scoreboard with 25:05 to play in the half. But the Steelmen scored again as senior midfielder Oswaldo Azpeitia had a breakaway. His initial shot was stopped by Kimbarovsky but the rebound went directly back to Azpeitia, who tapped it in for a 3-1 lead with 2:37 left in the first half.
"There are a couple of things we have to work on and one is consistency," Joliet Central coach Erick Estrada said. "We have to play better in the second half. In the first half, we came out and looked great, then we ran out to gas.
"Minooka keeps running and they are fast and well-conditioned. Give Nate [Spriggs] and his guys a lot of credit for battling back."