FLOSSMOOR — Mired in an uncharacteristic rough patch, the Bolingbrook boys basketball team didn't much care how they managed to get into the win column on Friday night, just as long as they figured out a way to do it.
And they certainly found a creative path in achieving that as it edged long-time rival Homewood-Flossmoor 83-82 to give it just second wins in its last seven tries after starting the season 12-0.
"I told the guys if we were able to get out of here with the win I don't care what it looks like or how it comes, a win is a win," Bolingbrook coach Rob Brost said.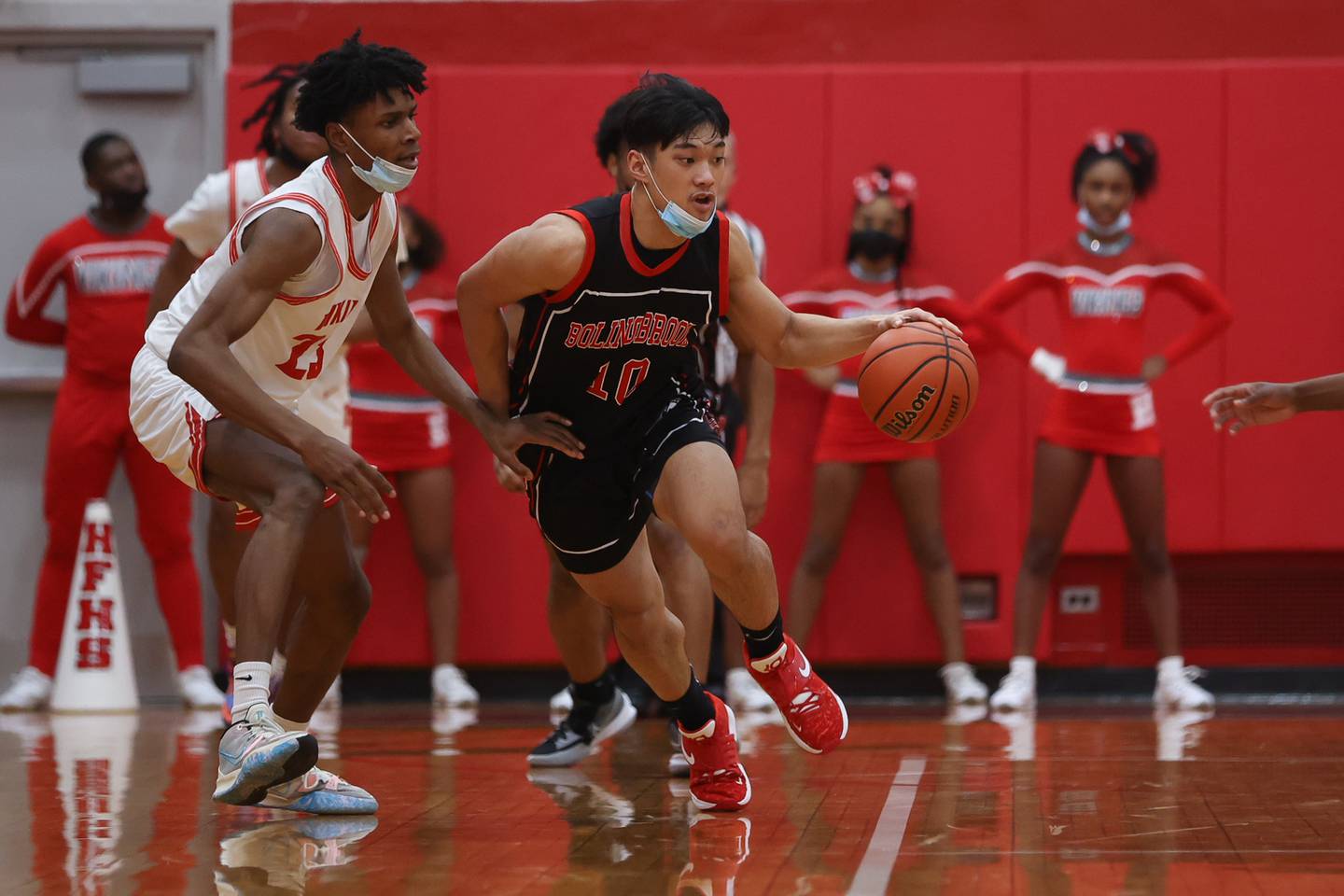 Bolingbrook appeared to have the win in hand with about two minutes to play and a double digit cushion on the scoreboard, but the game was called extremely tight by the officiating crew, with well over 60 fouls whistled in the game, so nothing was over until the final horn sounded.
Homewood-Flossmoor started to slice into Bolingbrook's lead with a mini five-point run that not only got the Vikings to within striking distance, but also continued to pin individual fouls on key Bolingbrook players. Three Raiders starters fouled out in the contest, starting with Jaydin Dunlap late in the third quarter, Michael Osei-Bonsu early in the fourth and finally Donaven Younger. Raider reserve Hunter Racic also fouled out in the game.
"We might have helped the refs with a few of those," Brost said. "But we have to fight through that kind of stuff. We're a good enough team to do that and you saw that tonight."
Bolingbrook was able to keep H-F chase mode largely because they were able to convert from the foul line (two Vikings also fouled out in the contest), Mekhi Cooper was the big standout of the final frame hitting 9-of-10 from the foul line in the fourth on his way to 18 points. Keon Alexander also made a big pair of free throws for the Raiders.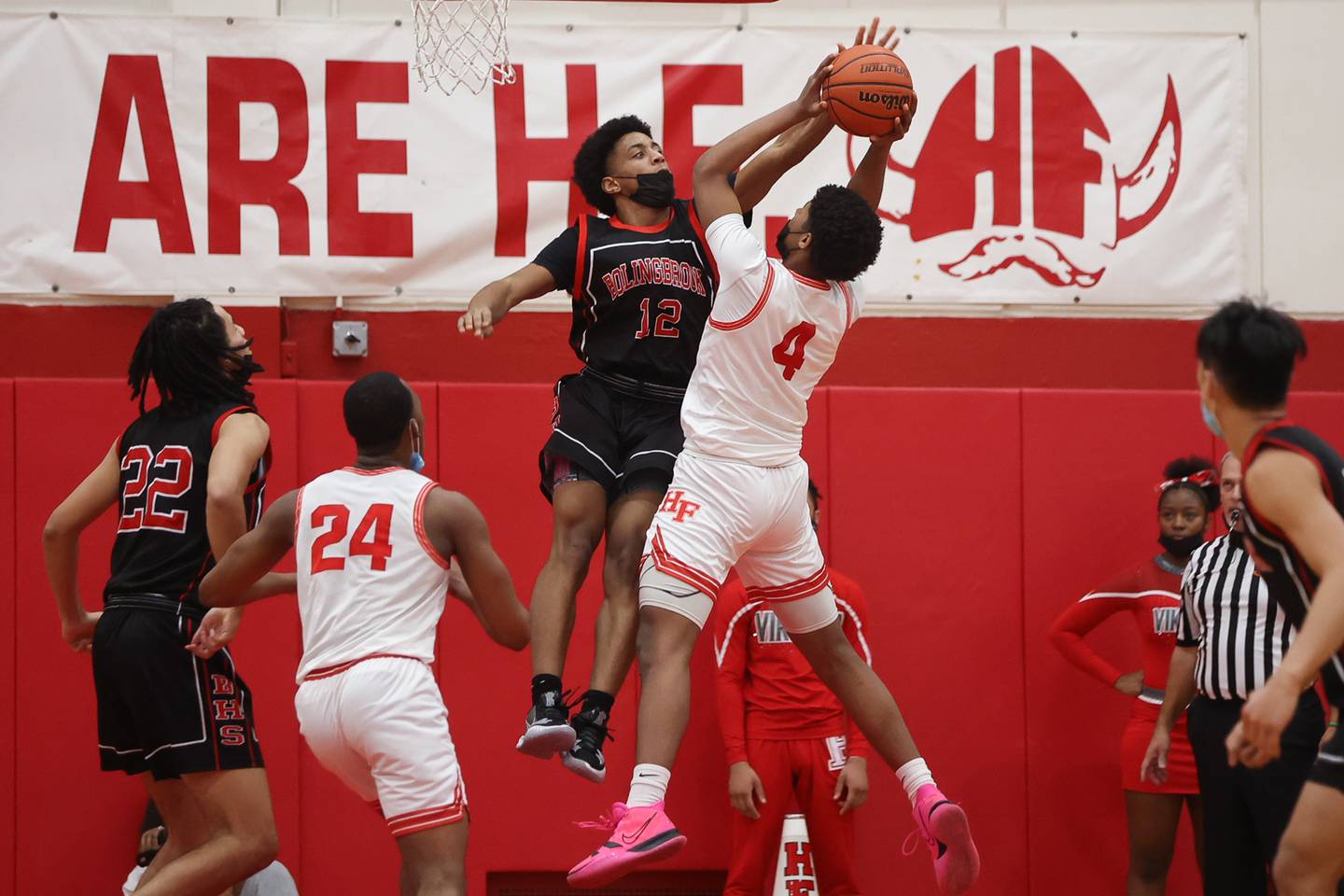 But even Alexander's pair of free throws with 23 seconds left didn't squelch the Vikings entirely. Christian Meeks, who led all scorers with 32 points, converted a traditional 3-point play and then a Bolingbrook turnover led to Meeks hitting on one of two free throws to pull H-F to within two at 81-79 with 5.5 seconds to play.
The Raiders then failed to inbound the ball without turning it over, but before H-F had a chance to try to equalize or go ahead, they turned the ball over themselves. Bolingbrook inbounded to Cooper who as it turned out hit two very important free throws as H-F's Chakaris London fired in a 35-footer at the horn to account for the final score.
It didn't look like the game was going to even have the opportunity to be interesting at the end as Bolingbrook opened up a double-digit lead with a 9-0 run to start the second half. Daniel Walker (15 points) and Younger led the charge for the Raiders as they seemed firmly in control building leads as large as 13.
The significant lead still held at the end of three quarters and then midway through the fourth quarter, but the relentless foul trouble and the fact that Osei-Bonsu played sparingly all night due to the foul trouble that eventually led to his fouling out, Bolingbrook struggled to find its footing at times during the late rally.
"I'm just proud of our guys, we had some guys come through that really haven't played for us much," Brost said. "We just go to work, you just don't want to play like we had the two games prior to this, the winning and losing is beside the point, how we played the last two games is not indicative of who we are. It was nice to get back to who we are."
Younger led all Bolingbrook scorers with 21 points and finished off a double-double with 12 rebounds before fouling out with 1:50 to play.
"He did a great job for us," Brost said of Younger. "Very assertive, especially on the glass, and when he's assertive the offense follows."
MJ Langit added 11 points to place four Raiders in double digit scoring.