BOLINGBROOK – The two high schools in the Valley View school district squared off in a boys basketball game Wednesday evening, and Bolingbrook came away with a 74-54 win over Romeoville.
Not only did the Raiders claim district bragging rights, but it also was coach Rob Brost's 300th win in his 14th season.
"We've had some really, really good players," Brost said after the team doused him with water after the game. "And we have great coaches, a great community, great leadership at the school. I am really proud of these guys, and I am happy to celebrate with them."
It was a welcome win for Bolingbrook, which won its first 12 games of the season before dropping two straight and finishing fourth at York's Jack Tosh Holiday Classic.
Bolingbrook dominated in the lane on both ends of the court from the start, as Michael Osei-Bonsu had eight points and eight rebounds to help power the Raiders to a 33-22 halftime lead. The Raiders were balanced in the first half, as Jaydin Dunlap scored seven, MJ Langit had six, Mekhi Cooper five, Daniel Walker four and Donaven Younger three. The 6-foot-9 Younger added four rebounds and a blocked shot before intermission.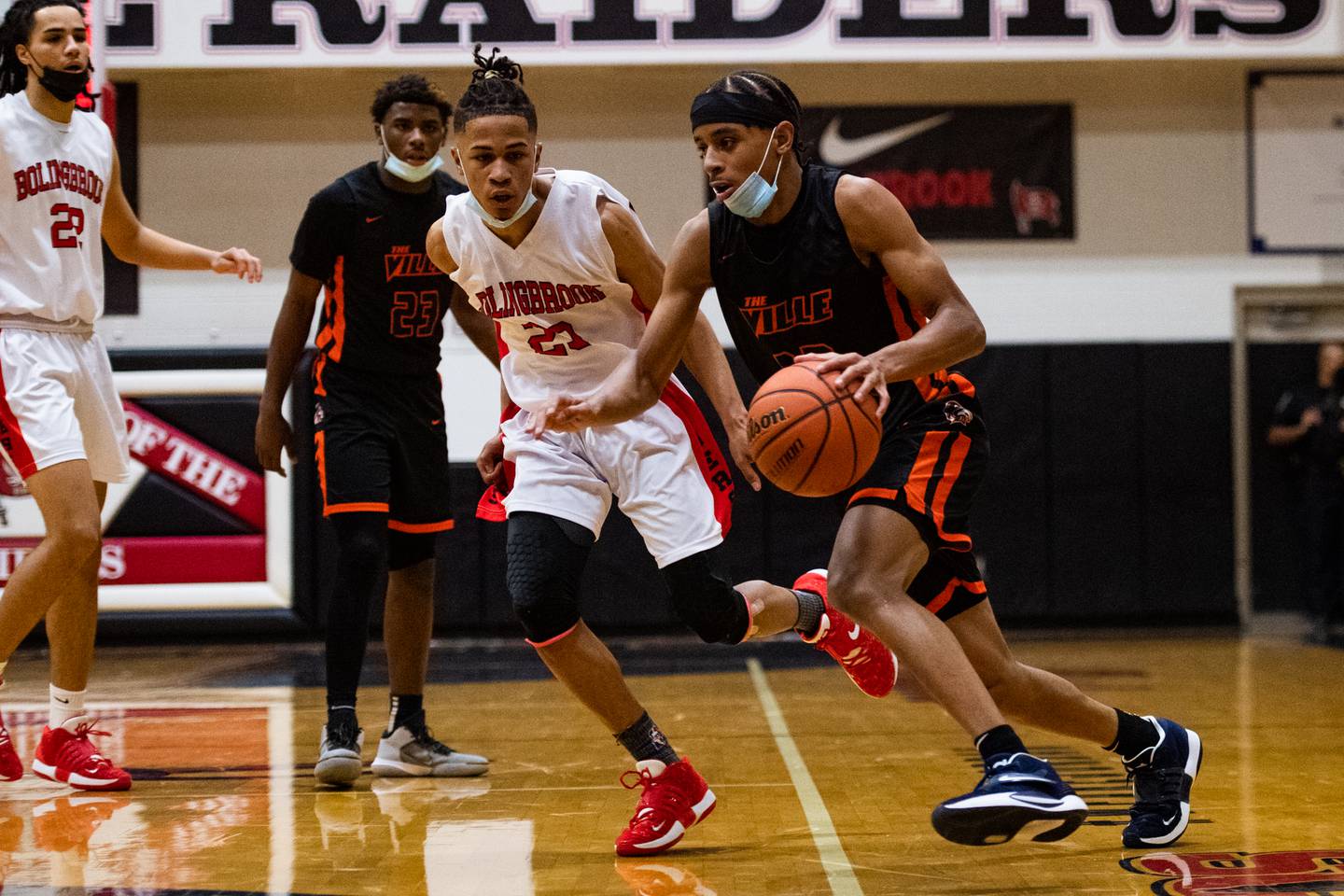 The balance for the Raiders continued throughout the game. Dunlap led Bolingbrook (13-2) with 15 points, while Osei-Bonsu, Langit and Cooper all scored 14. Osei-Bonsu also had a game-high 16 rebounds.
"I just try to do whatever I can to help the team," Osei-Bonsu said. "If that's getting boards and starting a break, that's fine. If they drive and dump it to me underneath, that's great.
"It's nice to get a win after a couple losses at the Christmas tournament. And it was nice to get coach Brost his 300th win. He's a great coach."
After the Raiders took the 11-point lead into halftime, Romeoville (7-7) outscored Bolingbrook, 9-2, to start the second half and cut the lead to 35-31. Bolingbrook answered with an 11-2 spurt to move ahead, 46-33, after the second of back-to-back Onsei-Bonsu buckets. Troy Cicero Jr., who led all scorers with 18 points, sandwiched a pair of 3-pointers around a pair of free throws by Dunlap to pull Romeoville to within 48-39, but that was as close as the Spartans got. Bolingbrook ended the third on a 6-0 run, capped by a dunk by Younger off an assist from Josh Aniceto.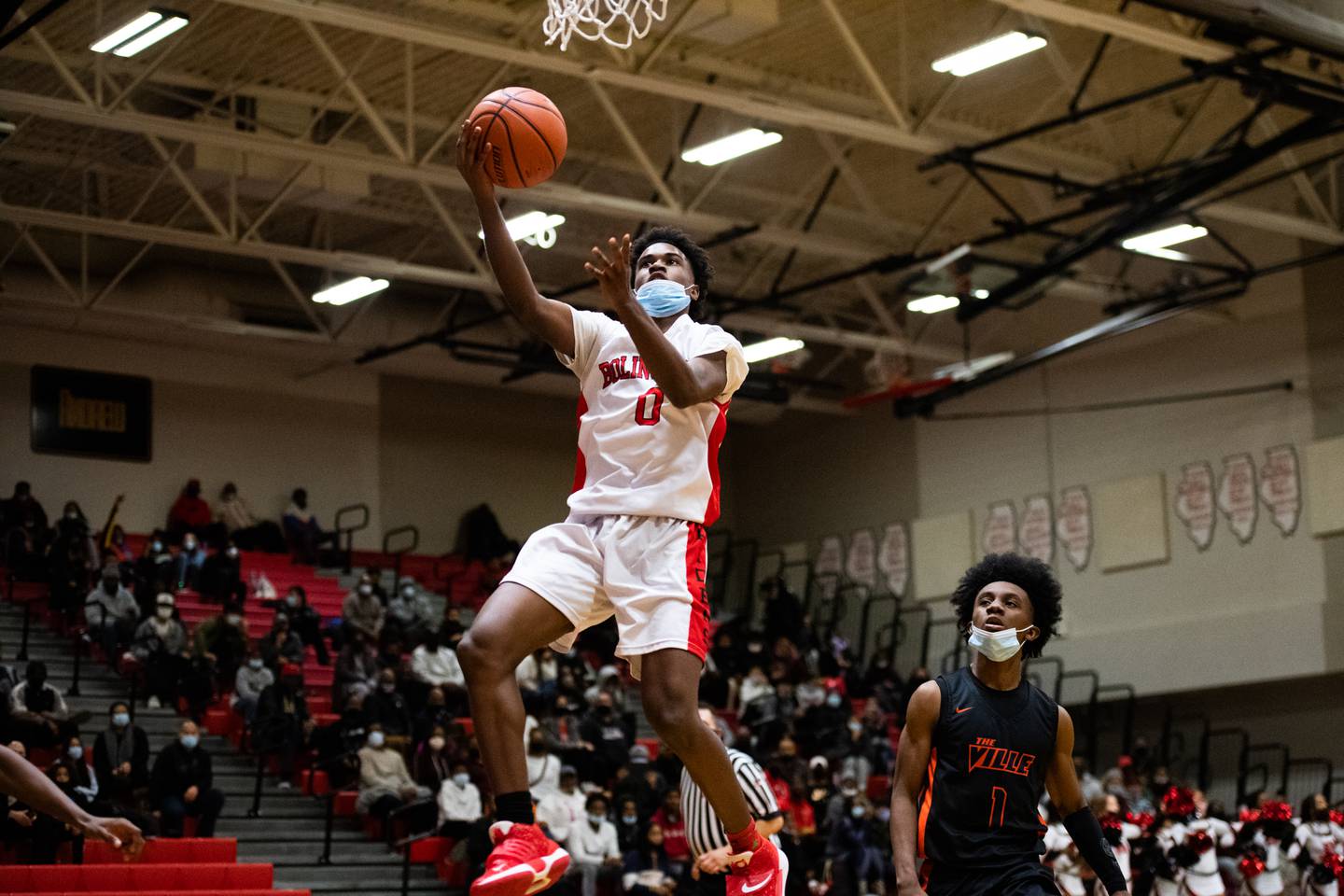 Langit took over the scoring in the fourth for Bolingbrook, posting eight points. His final basket, a steal and layup, put the Raiders ahead, 70-46, with just over 3:30 remaining. Dunlap followed with a basket for a 72-46 lead before the benches were emptied. Romeoville's Corey Jones Jr. drained a pair of 3-pointers in the game's final stages.
"The balance in our scoring is not a surprise," Brost said. "We've had seven different leading scorers in our first 15 games. I am pretty sure that not too many teams can say that. That's what this team is about. They play together. They may not always play right, but they are always looking out for one another.
"A case in point is Daniel Walker. A couple of games ago, he scored 16 points. Tonight, he had four, but he also played really good defense on Cicero. [Cicero] is a really good player, but Daniel didn't let him do much tonight."