When one thinks of Route 66, several iconic roadside sights spring to mind: the nostalgic Blue Whale of Catoosa, Oklahoma, the surreal Cadillac Ranch in Amarillo, Texas, the bustling Santa Monica Pier at the western end of the route on the Pacific Ocean in California, but few icons of the mother road loom larger than Wilmington's own Gemini Giant.
One of the many iconic "Muffler Men" sculptures that dot Route 66 and other historic routes across the country, the Gemini Giant is beloved for its unique space-age theming and quirky color palette. These molded fiberglass advertising giants, named after the mufflers the original statues held in their hands, have become a staple of Americana since their creation in the early 1960s by boatbuilder Steve Dashew and his International Fiberglass company.
While thousands of these Goliath-sized figures would be scattered across the country in the decade they were produced, few have built up the beloved fan base of the Gemini Giant. Named after the Gemini space program, this custom fiberglass figure sports a silver, torpedo-like astronaut helmet and, instead of a muffler, holds a rocket ship in his hands.
The 438-pound giant originally was purchased by Dari-Delight owners John and Bernice Korelc in the mid-'60s. Seeing an opportunity, they rebranded their restaurant The Launching Pad to fit with the Gemini Giant's theming and symbolize the kickoff to countless Route 66 journeys.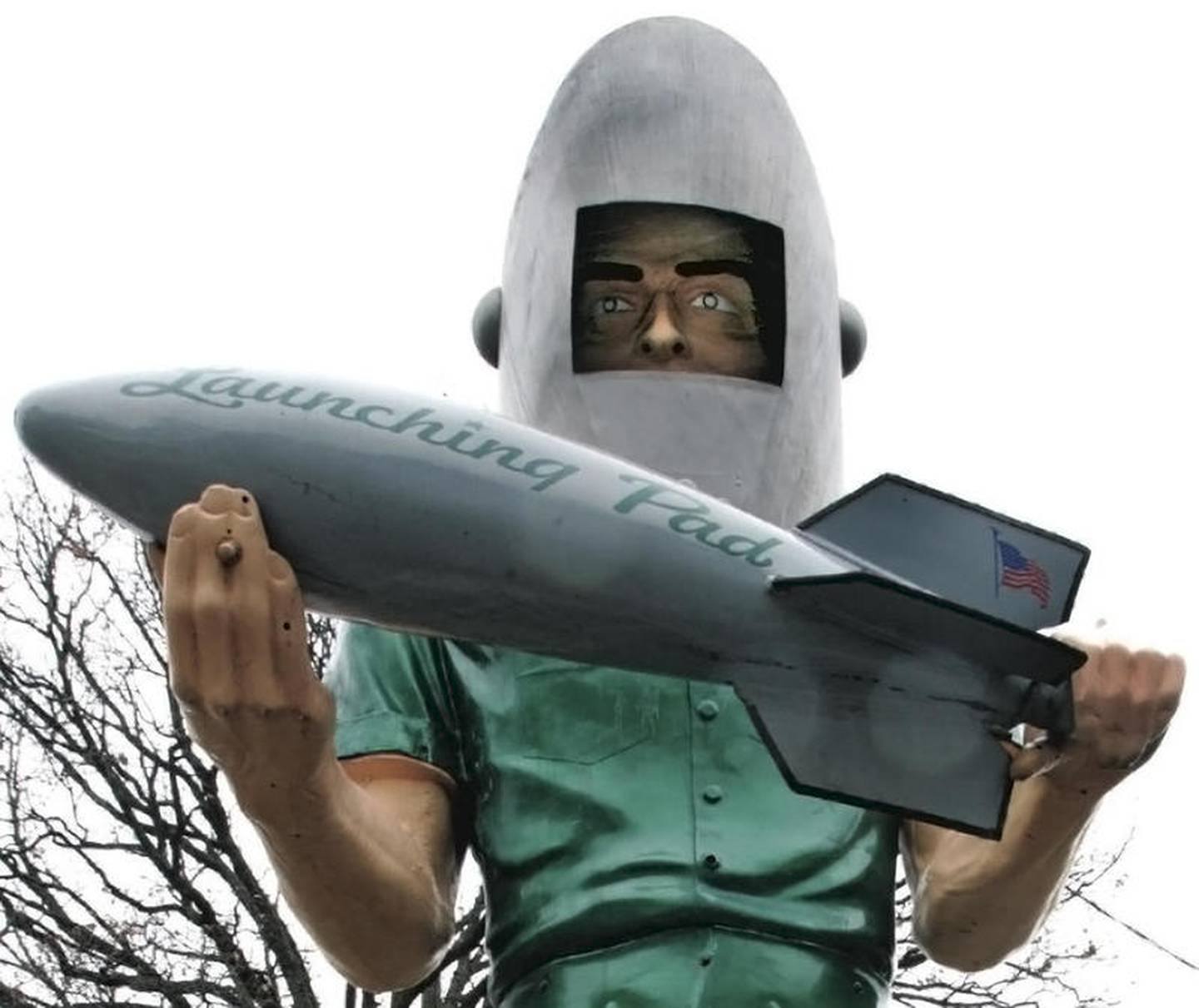 While many Muffler Men across the nation disappeared, the Gemini Giant always remained in place. In 2017, Holly Barker and Tully Garrett purchased The Launching Pad restaurant, and pledged to return the iconic giant to its former glory. Within a year, a beautifully restored Gemini Giant was unveiled on its original parking lot pedestal.
The popular photo op can be found along Historic Route 66/East Baltimore Street on the north end of Wilmington, about 50 miles from the start of the route.
While The Launching Pad restaurant currently is closed for the season, the owners welcome photo ops with the giant (be sure to tag them on Facebook and Instagram). For more information and to see their great selection of Gemini Giant and Route 66 memorabilia, visit geminigiant.com.
The Gemini Giant can be found at 810 E. Baltimore St. in Wilmington.