JOLIET – When it was time for someone to take charge for Joliet West and put Monday's regional quarterfinal match against Plainfield South away, the ball went to senior Nathan Fleischauer.
And Fleischauer, who led the Tigers with 12 kills in the 25-20, 25-23 win over the Cougars, wouldn't have it any other way.
"I like to be that guy that the team counts on," Fleischauer said. "When [setter] Landon [Brouwer] puts the ball up for me, I have to show what I can do with it.
"We were focused on what we had to do tonight. We played South last week and it went three games, so we knew they are a good team. Their outside [Brett Jensen] plays with some of us in club, so we know how good he is. We wanted to be tough with our blocks, which we were, and we were able to come away with the win."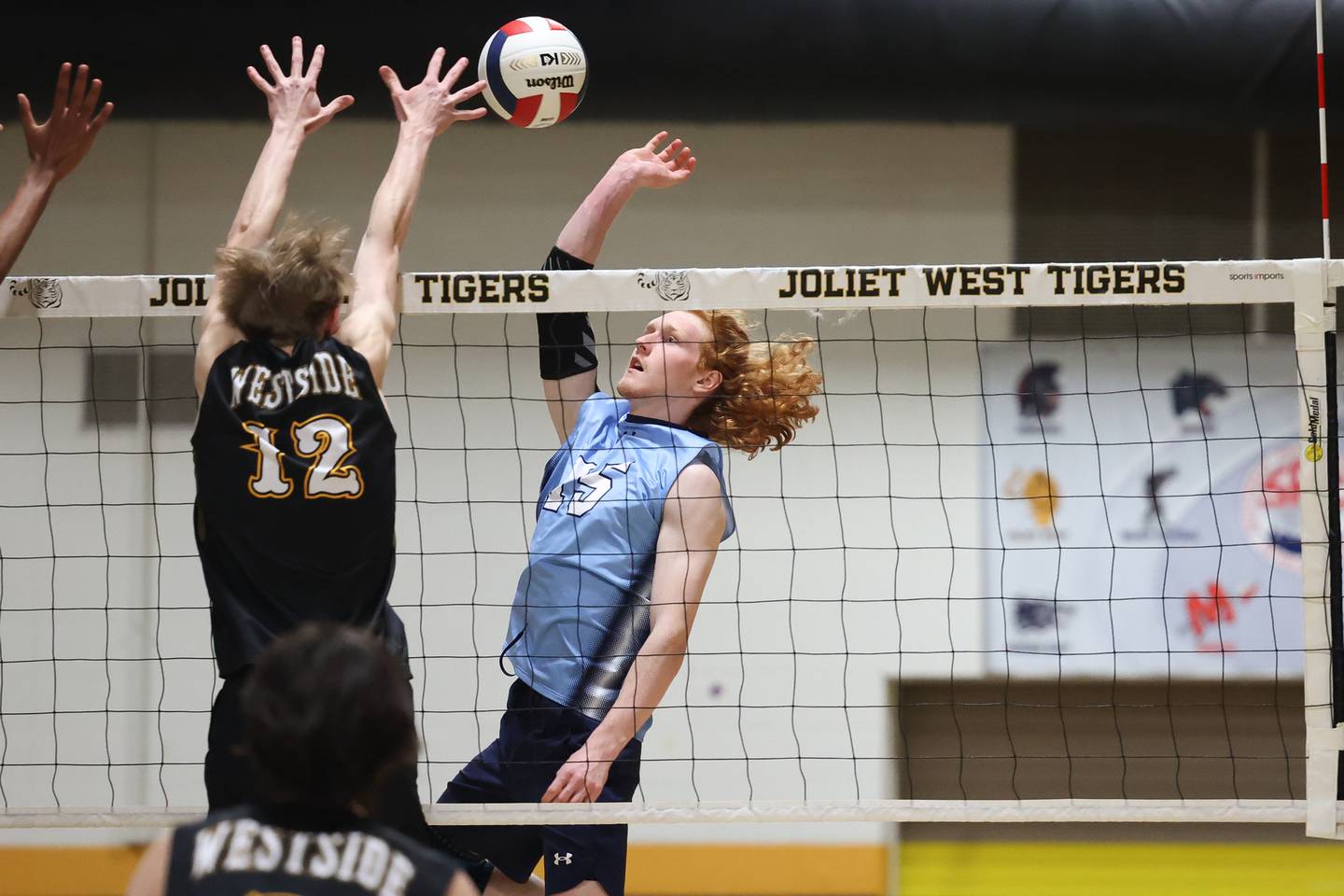 South, seeded eighth in the Lockport Sectional, held a 20-19 lead over the seventh-seeded Tigers late in the first set. But Fleischauer got set and delivered a kill on three of the next six points, putting his team ahead 23-22. After a block by Drew Johnson put the Tigers ahead 24-22 and a hitting error by West allowed South to pull to within 24-23, Brouwer finished the game off with a kill. Brouwer finished with three kills to go with 11 assists, while Thomas Fellows added 10 kills. Jensen, whose long red hair and beard have garnered him the nickname "Ginger Jesus," led South with seven kills, while teammate Dominic Krejci had six.
West coach Tara Litwicki believes in hard work and felt that the Tigers' work in practice all season helped boost them to victory.
"We just played South, and we are pretty even teams," she said. "We continued to work hard in practice. We don't make our practices easy, and it was great to see our guys come out with a lot of energy tonight on their home floor.
"A lot of credit goes to my assistant coach, Gianna Kreiger. I always say that I don't have an assistant. She's the co-head coach. Also, my three captains are like extra coaches on the floor. It's an exciting week for us here at West. We are hosting a regional in volleyball, baseball and softball, so there's a lot of pride around the school."
In the night's opening match, second-seeded Lincoln-Way West made quick work of No. 16 Joliet Central, topping the Steelmen 25-16, 25-8, and will face Joliet West on Tuesday in the first regional semifinal.
Connor Jaral had a team-leading nine kills for the Warriors, while Connor Studer had seven, Hunter Vedder had five and Colin Gargan added five. Setter Garrett Konopack had 26 assists, while Andrew Flores had five digs.
"We took care of business tonight," Jaral said. "We just wanted to stay focused on what we do and we played our game and didn't let up.
"We are pretty deep, and we have a lot of guys who can put the ball down. That makes it hard for a defense to focus on one guy, and Garrett is very smart about getting the ball to whoever has the best matchup."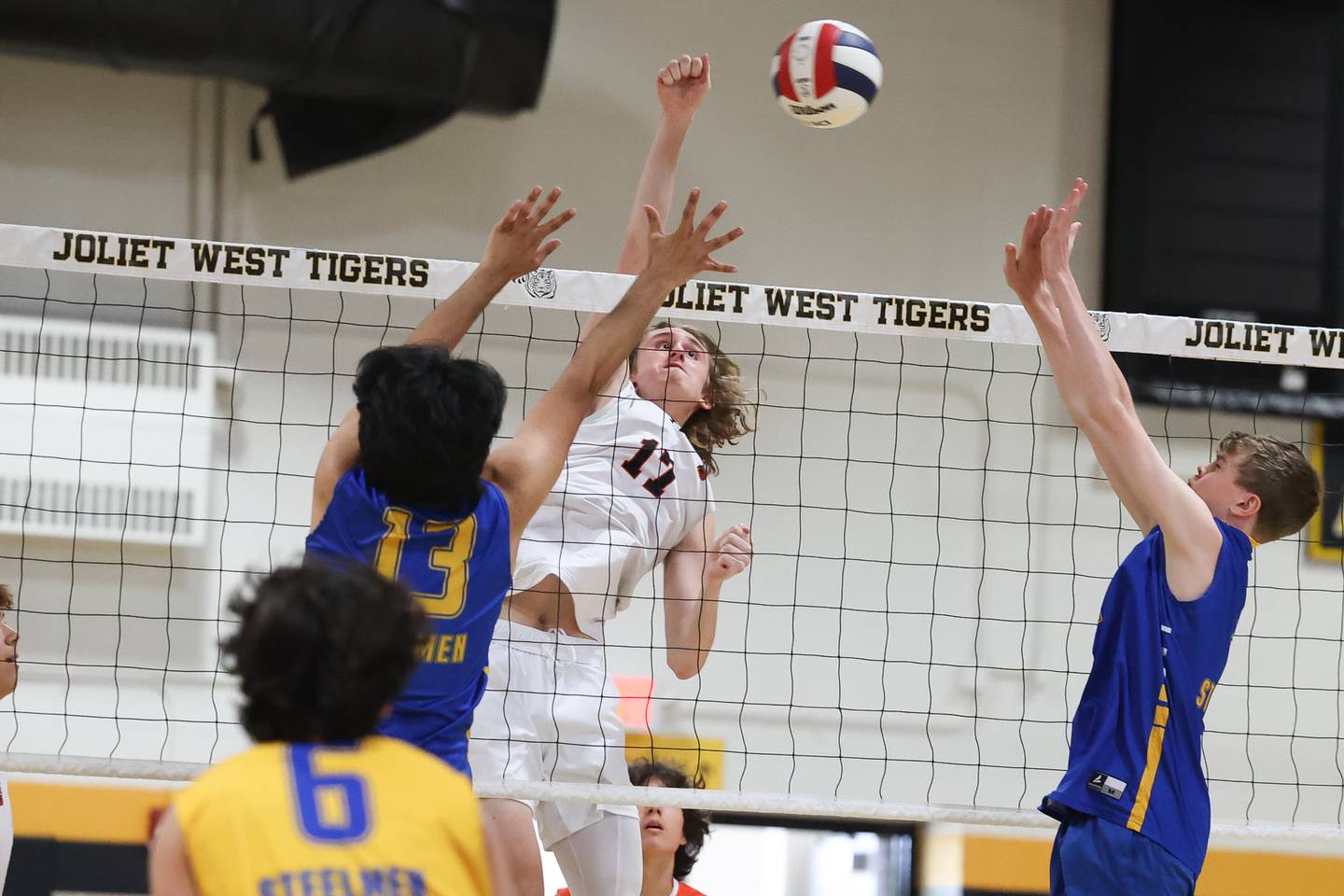 The Steelmen hung with the Warriors early, taking leads of 7-6 and 8-7 in the first set before Jaral sandwiched a pair of kills around a kill by teammate Jack Ladd for a 13-9 lead. The closest Central got after that was 15-12, as the Warriors put the set away.
In the second set, West got its spark from Dargan, who had three kills to help increase a 10-4 lead to 16-8 before Ladd served nine straight points to end the match, getting two kills from Jaral and the final one from Anthony Igel.
"We were able to spread our offense around pretty well," West coach Jodi Frigo said. "We are getting better at realizing that in order to keep teams honest and prevent them from setting up a block that we have to rely on some of the other hitters.
"This is the time for us to do that and build up the confidence of the other hitters so they are ready for the matches down the road when we will need them to step up. We came out focused tonight and had a lot of good passing. When Garrett gets a clean pass and he's able to get off a clean set, our offense works really well. It all starts with the passing, and we have five guys who could be liberos out there. That keeps us in system quite a bit."