JOLIET – Earlier this week, Plainfield East secured the Southwest Prairie Conference East Division title, which had belonged to Joliet West the previous three seasons.
Thursday night, the Tigers decided it wasn't going to be a simple changing of the guard.
Behind 38 points and 14 rebounds from Maziah Shelton, Joliet West scored its season high in points and beat the Bengals 83-74.
"That's the most I have scored," Shelton said. "I wasn't counting how many points I had. I just wanted to keep making shots.
"We had some extra incentive this game. They beat us the last time they played us and No. 44 [Nia Wilkerson] had a good game against me. I had to come back tonight."
Shelton did just that, scoring 19 points in each half and helping the Tigers maintain control throughout most of the game.
Joliet West (17-10, 11-3) raced out to an 18-8 lead with 3:04 left in the first quarter, but Plainfield East (20-6, 14-1) caught fire in the latter stages of the period, going on a 14-4 run of its own to tie it at 22 at the end of one quarter.
The Bengals continued to keep pace with the hot-shooting Tigers in the second quarter, at one point taking a 35-31 lead. Joliet West, however, got eight points from Shelton and five from Destiny McNair (23 points, 4 rebounds) to pull ahead 45-35 before Wilkerson, who led East with 31 points, scored to end the first half and make it 35-27 for West at halftime.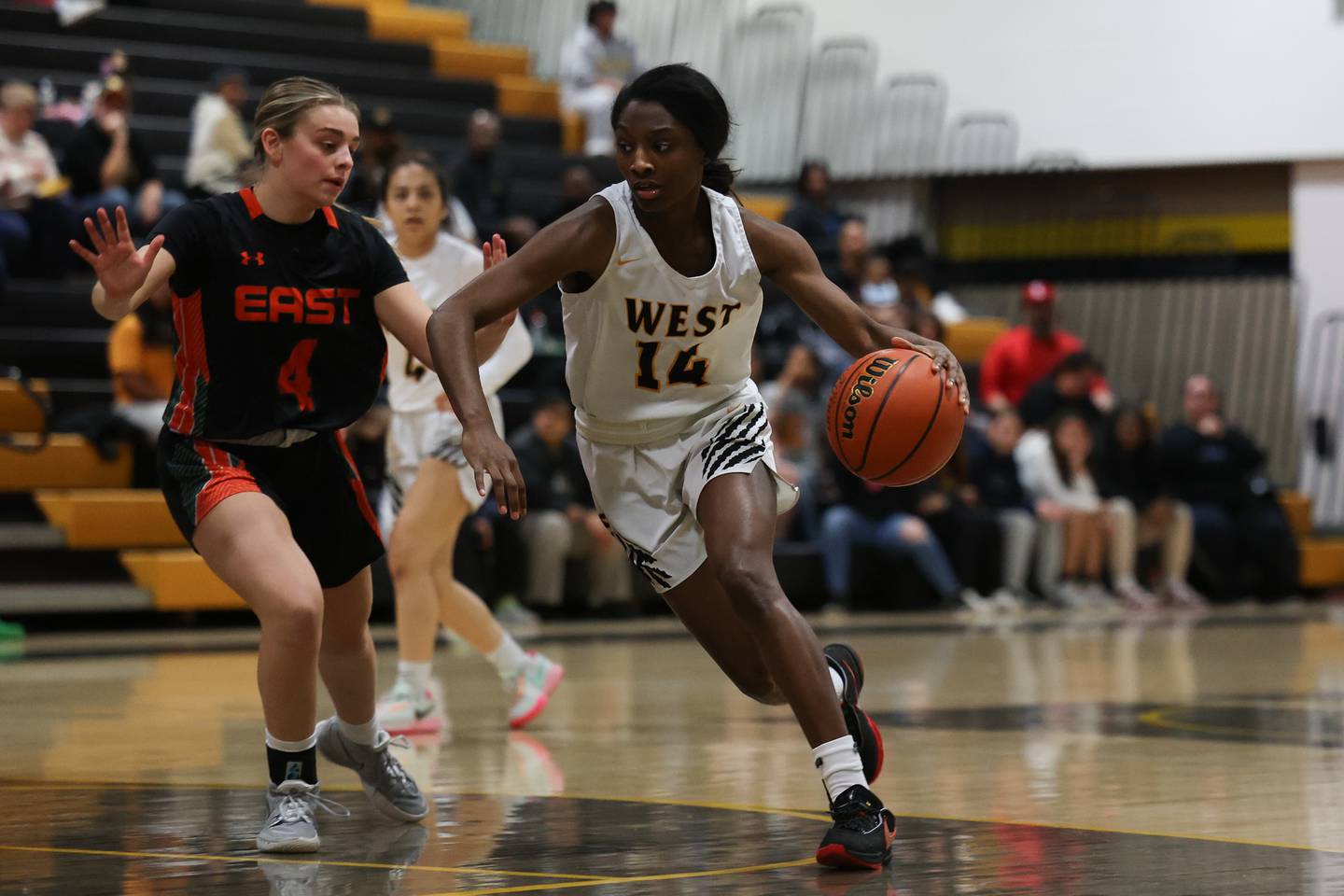 "We were able to take them out of their 2-3 zone," West coach John Placher said. "We knew coming in that they are a good team. They weren't 14-0 in the conference and conference champs for no reason.
"Once we were able to get them to go into a man-to-man, we were able to get Maziah the ball, and she was outstanding. We did a great job of getting her the ball."
On several occasions, West's Brooke Schwall got a pass in the high post, quickly pivoted and hit Shelton on the block for an easy basket or a foul and free throws. Shelton was 12 of 18 from the charity stripe in the contest. Schwall finished with six points and five rebounds, and the Tigers also got a strong performance off the bench from Alaya Redditt, who had eight points and seven rebounds.
"Our girls didn't want to give up the conference crown easily," Placher said. "They had won 14 conference games in a row. We had a 44-game conference winning streak that ended this year, so we know how hard it is to go through the conference undefeated.
"This was a great win for us."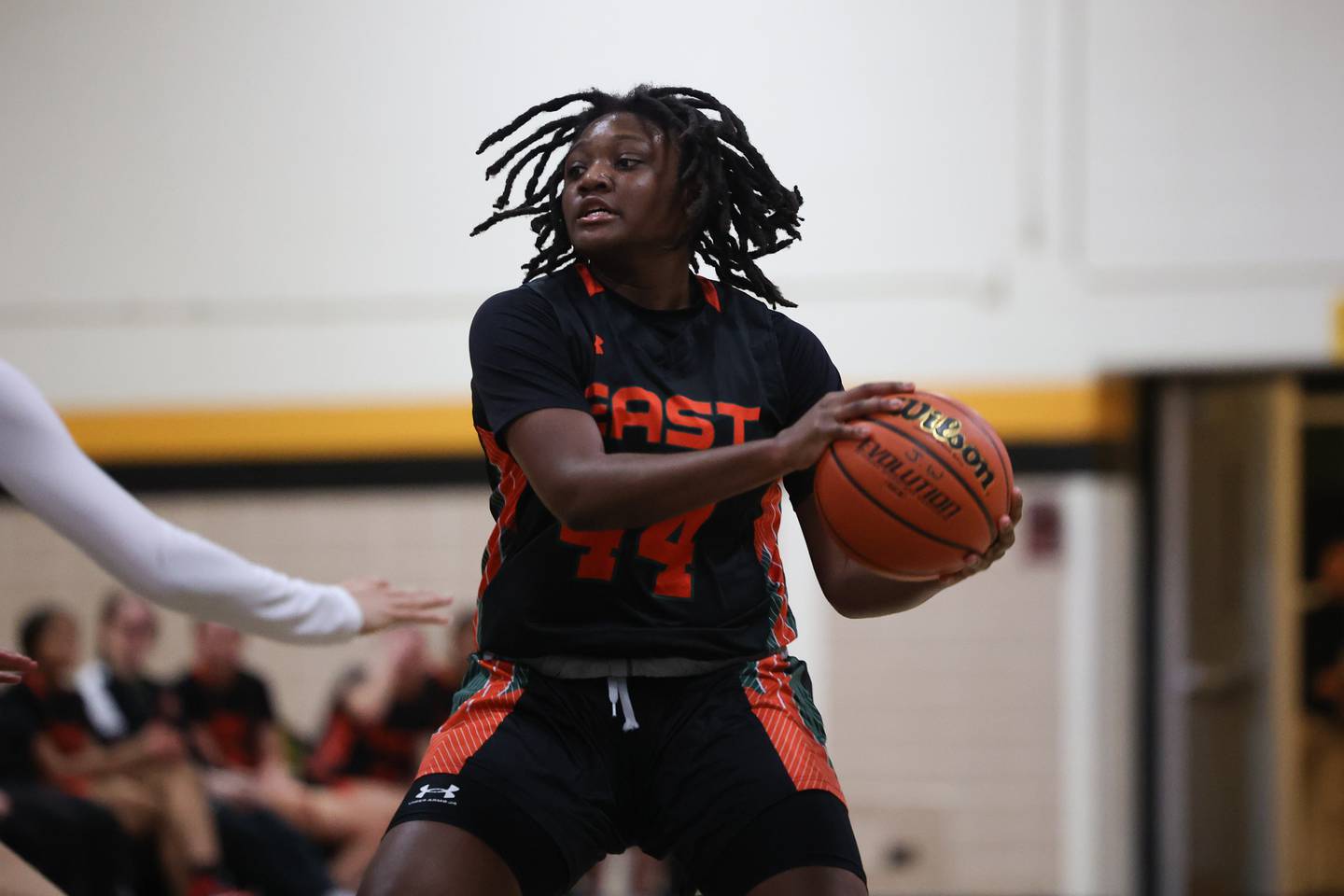 Shelton had high praise for the Tigers' teamwork.
"We wanted them to go to man-to-man," she said. "We felt that when they played man, they didn't have anyone who could stop me. Most of my points came from my teammates getting me the ball. We did a great job of sharing the ball."
The second half was all West as the closest Plainfield East got was 60-52 early in the fourth quarter on a basket by Jocelyn Trotter (14 points, 6 rebounds). Lexi Sepulveda had 25 points and six boards for the Bengals as well.