With the expansion of the Frontier League in membership and travel distance for the 2021 season, the league decided not to have an all-star game this season.
And although the Frontier League's 96-game season hasn't quite reached the midway point, its interesting to note which Joliet Slammers might be worthy of inclusion in such a game if it were to occur.
Offensively, third baseman Brylie Ware has been a consistent bat for the Slammers all season. A 23rd-round pick of the St. Louis Cardinals in the 2019 draft, Ware has been an on-base machine for the Slammers, carrying on-base percentages as high as .450 at times. He's currently batting .299 with four home runs. He also has only 12 strikeouts in 97 at-bats.
Pitchingwise, reliever Trevor Charpie likely would be the Slammers pushing for an All-Star nod. Charpie carries a 2.57 ERA with seven saves, more than half of Joliet's victory count to date. He's also struck out 26 batters in only 21 innings.
WEEK IN REVIEW
Joliet 8, Lake Erie 2 (6/29): The Slammers used the long ball to take control of this contest, as Kyle Jacobsen, Brylie Ware and Braxton Davidson all went deep for Joliet. That trio combined for six RBIs.
Lake Erie 2, Joliet 0 (7/1): The Slammers managed only four hits, two by Patrick Causa. A strong start from Tyler Jandron was squandered, as he allowed one earned run over six innings.
Joliet 1, Lake Erie 0 (7/1): A brilliant effort from three Joliet pitchers: Winner Andrew Zuk, Bradley Van Asdlen and Trevor Charpie allowed one hit combined to lead the Slammers to victory.
Florence 8, Joliet 2 (7/2): The Slammers' pitching staff got roughed up in the later innings as they dropped a decision to one of the better teams in the league thus far.
Florence 3, Joliet 1 (7/3): Joliet struggled to come up with a key hit despite plenty of base runners. The Slammers had eight hits, three by Lane Baremore, in the loss.
Florence 15, Joliet 2 (7/4): This one quickly got away from the Slammers as the pitching staff was touched up for 13 hits and 13 walks.
Jackson Dvorak had three hits for Joliet.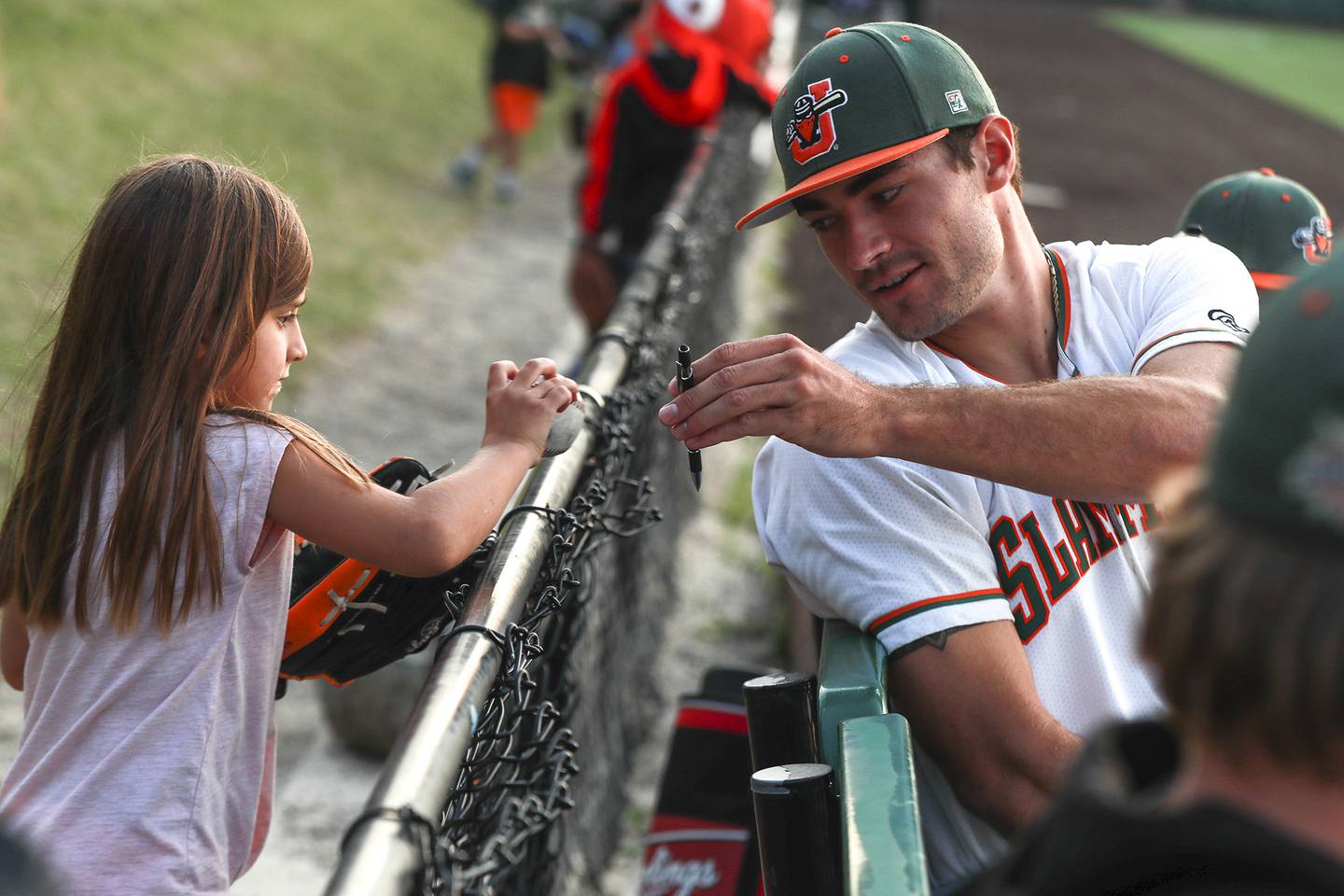 POSTSEASON GLANCE
The Frontier League's modified schedule means that the leaders of each of the four divisions will qualify for the postseason, which is scheduled to begin Sept. 12.
The Slammers have some work to do over the next 10 weeks if they hope to be one of those four teams, as they stand in third place in the Central Division. Joliet, with a record of 13-19, trails the Lake Erie Crushers and the Schaumburg Boomers by 5 1/2 games.
They do have ample opportunity to slice into the gap directly with nine games remaining this season against Schaumburg and six against Lake Erie.
COMING UP
The Slammers begin a six-game road trip Tuesday with a three-game set at the Evansville Otters, followed by a three-game series with the Southern Illinois Miners.
The next home game for Joliet will be the opener of a three-game set that begins July 13 against the Schaumburg Boomers, which is followed by a weekend set (July 16-18) with the Gateway Grizzlies. The July 16 game will have a postgame fireworks show.
Slammers games hosted at DuPage Medical Group Field begin at 7:05 p.m. for games played Tuesdays through Fridays, 6:05 p.m. on Saturdays and 1:05 p.m. on Sundays and Mondays.