POLO – For 15 years, a regional championship eluded the Polo girls basketball team.
The last time the Lady Marcos hoisted a regional plaque in 2008, Cliff Bardell was the head coach and Jeff Grobe was an assistant.
In 2023, the long wait finally ended. With a 49-43 win over Amboy in the Class 1A Amboy Regional championship last month, Polo again made program history – with the next generation leading the way: head coach Jason Grobe (Jeff's son) and assistant Tommy Bardell (Cliff's son).
For helping the Marcos rally from a slow start and guiding them to their first regional title in more than a decade, Jason Grobe has been named the 2022-23 SVM Girls Basketball Coach of the Year.
"It was just a good group of kids. It was fun coming to practice everyday. A lot of talent there – I just had to get them to believe in themselves," Grobe said. "Tommy and I, we told them from the beginning of the season, '2008 was a long time ago. That's too long of a wait.' So we knew we had the talent to make sure we were going to get this done, and I just reinforced that as much as I could to them all year."
Early in the season, the Marcos took their lumps.
They opened the 2022-23 campaign with three straight losses – all by 15 or more points – to Morrison, Aquin and Oregon.
After a 50-37 loss to Amboy on Jan. 4, their record was 7-9 just past the halfway point of the season.
Although the Marcos found themselves down, they never quit.
A big reason for the early-season struggles was simply health. Senior Lindee Poper, junior Sydnei Rahn and freshman Camrynn Jones were in and out of the lineup due to injuries and illness.
With three starters missing time in the first two months of the season, and all three sidelined at once around the time of the Polo tournament right before Christmas, wins were tough to come by.
But once those missing starters returned on Dec. 28, the Marcos started winning. And they kept winning. Again and again.
In the new year, they went 11-3.
"Most of it was health. We had injury problems earlier in the year, and then, I think right around the time of our Polo tournament, we were down three starters with injuries and illness as well," Grobe said. "So we just finally got healthy. That was the main thing.
"I knew we had the talent to win [a regional championship]. Looking back, I'm kind of glad we had the struggles early. It made it a little sweeter at the end once we finally got healthy. But like I said, the biggest part was just getting the girls to believe in themselves."
A 52-43 win over Forreston on Jan. 6 sparked a five-game winning streak. From there, the Marcos won four out of their next six regular-season games, then two more to capture the regional title.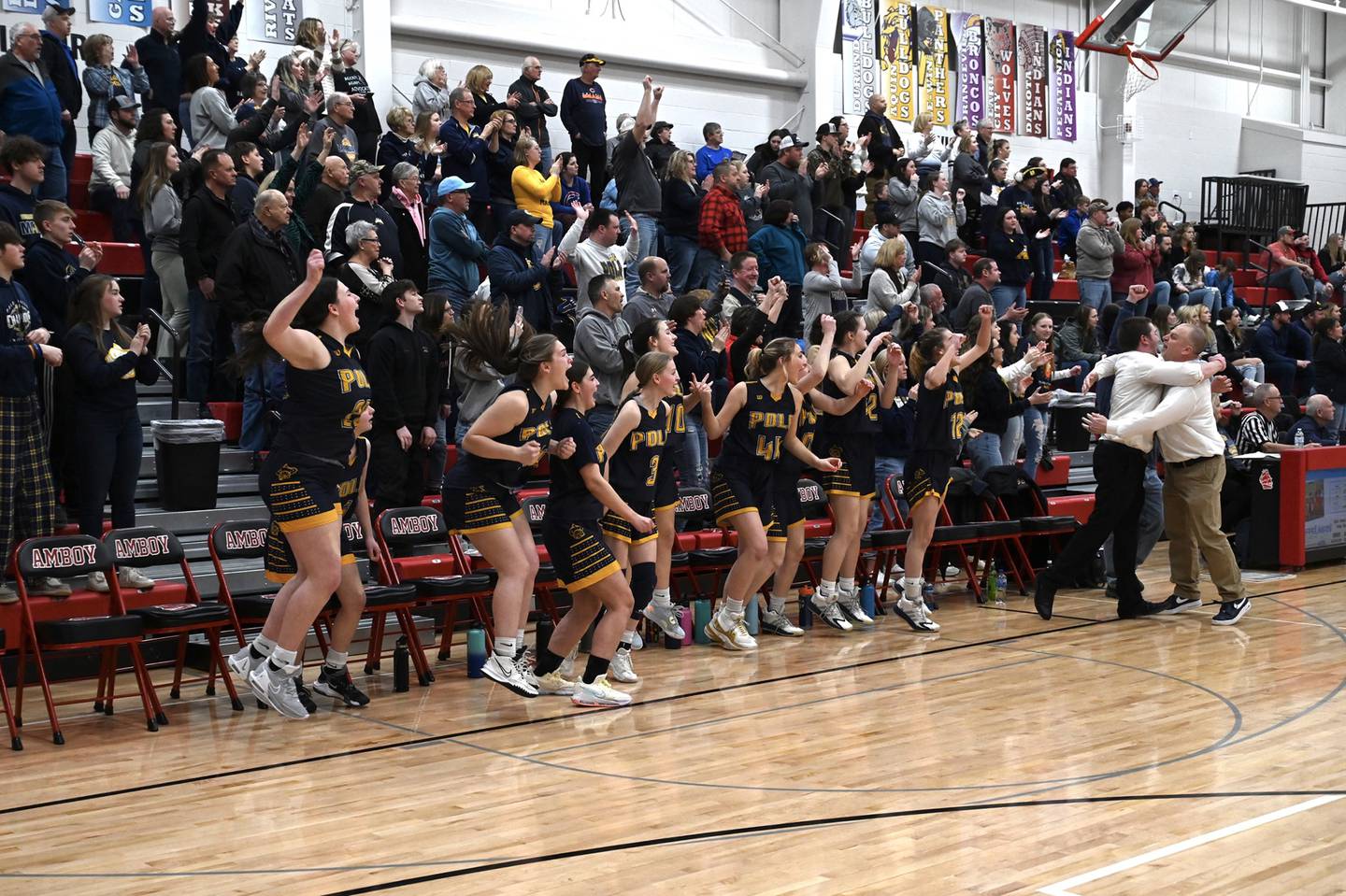 After a 51-45 win over Forreston in the regional semifinal, a 49-43 regional championship win over Amboy, and a Class 1A Polo Sectional semifinal loss to state-ranked Orangeville, the Marcos finished their season 18-12.
After his history-making first season as a varsity head coach, Grobe will have some lasting memories. The postseason run in particular provided some memorable moments.
"The regional semifinal game, I think we were down eight in the second half to Forreston, and Annalise [Stamm], one of our seniors, she hit a 3 – didn't even think about it, just drained it – and that right there turned the momentum around, and we ended up winning that game," Grobe said. "Then, of course, how happy everybody was after we won the regional. Probably the last month to month-and-a-half of the season, I started noticing more people showing up to games, and there was more people showing up that weren't directly connected – they didn't have grandkids or didn't have kids playing, or just people in town that were excited to see us play, and it was fun to have that crowd there for us."
Making the regional win even more special for Grobe was sharing it with his daughters Carlee and Courtney, a freshman and junior on the team – as well as his wife and son, who also attended the games. Also, his father is back on the bench as an assistant as well.
"I am extremely lucky and proud to have the opportunity to coach my daughters. It isn't always easy for me or for them because my expectations for them are high. I tried to make sure that at practices and games I am just 'Coach,' and at home I'm just 'Dad,'" Grobe said. "Winning the regional was great for our entire family. My two daughters were on the team, my son filmed the games for me, and my wife was always cheering and taking tons of pictures of all of the players. Definitely memories we will cherish."
At the end of this season, four Polo seniors finished their high school basketball careers: Poper, Stamm, Bekah Zeigler and Jasmyn Ludewig. As the JV coach last year, a former volunteer assistant, and a youth coach in the area in the years before that, Grobe has seen these girls grow up and improve, both as basketball players and as people.
"They were a fun group. Growing up, since I've lived in Polo all my life, I've watched all those girls grow up," Grobe said. "My daughters are a junior and a freshman. I told them at the beginning of the season, they're all like daughters to me. I've seen them grow as people, I've seen them grow as basketball players. It's been fun to watch them grow through the years."