It might have been for selfish reasons, but after participating the Reagan 5K Run last month, I pondered the actuality of a road marathon in Dixon.
The volunteers that put on the annual 5K run are well-versed in organizational skills. There is a strong running heritage throughout the school district. Though not road-runners by trade, the Keith Aurand-led Yeti group has much experience in putting trail races on.
Both the Dixon Park District and YMCA are enthusiastic in support of athletic endeavors. Grace Ehrmann-Crowe even made a go of it with a specialty running shop, a tough sell for a town as small as Dixon.
Having watched Dixon facilitating various events over the last few decades, I have seen a can-do spirit.
So I wondered: could all of this be translated in a 26.2-mile race?
Every town does a 5K, but it takes a special commitment to put on a marathon. Dixon could do it, but the difficult part would be finding a race director dedicated to the cause and mobilizing the troops.
Reagan Run committee member Mike Grady shared with me how much time and work was entailed in the 5K. He also warned of not doing anything that would take away from the Reagan Run.
That brings up another aspect – finding a suitable weekend to have it. It would have to be in either the spring or fall and not conflict with other races.
School distance coach Evan Thorpe wasn't sure if a marathon would fly. Though the 5K gets hundreds of runners, a marathon has a much smaller pool of potential entrants.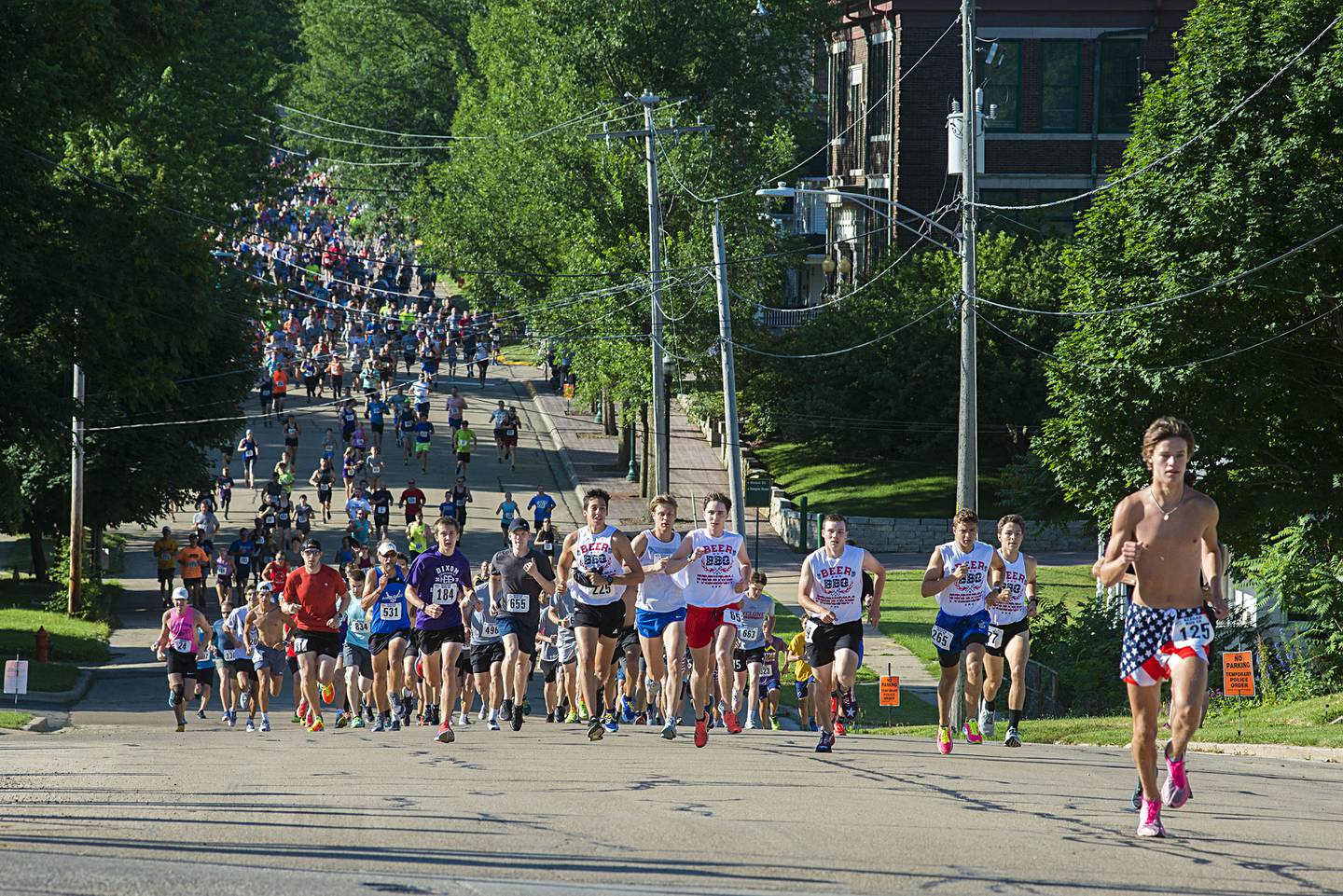 Shutting down roads for a 5K is a major undertaking in itself. What about 26 miles?
Big cities love marathons and readily shut down roadways. The amount of money gained from tourism outweighs the inconvenience. Las Vegas shuts down the Strip on New Years Eve, but also makes an exception for its nighttime marathon. That's how valuable these events are.
A marathon like Chicago will have 40,000 runners willing to pay over $200 to enter it, and those people have plenty of discretionary income to spend on hotel rooms, restaurants and shopping. Besides Chicago, there are a handful of marathons in the suburbs and a few downstate. Rockford used to have one, but could no longer support it.
Indeed, they are a lot of work, and unless you have a decent turnout of runners, it may not be worth the effort.
The closest marathon to Dixon is in the Quad Cities, and it has been successful since it first began in 1998. But with an experienced race director in Joe Moreno and a committee of 75 volunteers, it has developed a first-class reputation and is an attractive draw for the elites and rest of the pack.
I have not run it for 10 years, but found it enjoyable traversing four cities, one island, two states and three bridges, all along the Mississippi River.
Dixon has the Rock River and plenty of natural beauty. For a marathon to work here, it would have to be on a much smaller scale than the big-city venues.
Instead of shutting down numerous roads, much of the route would have to be in the country. The Meadows and Lowell Park would also be a way to get the runners off the street and on a different terrain.
The aforementioned Yeti running club utilizes that area for many of their races, ranging from a few miles to 100-milers. The difference between those and a regular marathon is that town-based marathons are held on roads, not trails.
There are also two general classes of runners – those that do trails and those that run on the roads. The Reagan 5K was first road race I have done in years, because I find the trails more peaceful and easier on the joints.
But I'd love to find a low-key local road marathon – and what better place for that than Dixon?