STERLING – The Westwood Fitness & Sports Center has undergone numerous changes and experienced considerable growth in its 25-plus-year history.
Over the last two years – and especially this year – that development has continued as Sterling's preeminent sports complex unveiled an array of new equipment, areas and services for its members.
Westwood manager Kel Bond says he and his staff are constantly looking for ways to maximize the space they have and expand their offerings for members. That forward-thinking mindset is what's prompted the recent run of renovations.
"A lot of changes. A lot of space here that we just kind of got clever with," he said. "Moving and adjusting what we had, and just utilizing and losing some of the dead space because this was all here. Just using it in a way that was beneficial to us.
"We're trying to be more of a full-service fitness center vs. the typical fitness center, which is coming in and moving weight or running on treadmills. We're adding a whole different dynamic, knowing kind of the wellness idea vs. fitness."
The Wellness Center is its biggest project in development, costing an estimated $300,000 and slated to open on Nov. 14.
The redeveloped space will be home to many new services, machines, and pieces of equipment, including infrared saunas, compression therapy, stand-up tanning beds, spray tan, zero-gravity chairs, hydro massage chairs, and a cryogenic chamber.
One of the five infrared saunas will have salt therapy, and red light therapy will also be available.
"We've taken our machines and crunched them back down to kind of the spacing that we had before we spread everything out when COVID first hit," Bond said. "We've gone back to where our regular spacing was, and with the space down there and a few other changes we've had, it freed up about 1,000 square feet right here in this space, and that's what we're renovating now with the wellness area. Plus, a few other areas that we kind of tore into and took out, that was space in there that we moved then to other areas in the building."
A grand opening ceremony for the Wellness Center will be held at noon on Nov. 14, barring any delays.
The occasion will open with a ribbon cutting, with tours of the area, giveaways, merchandise for sale, and possibly demos of the different areas within to follow.
A few of Westwood's 2022 projects have already been completed, many of which took place in Building 1. The free-weight area and kids gym are two parts of the facility that were recently expanded. Westwood also just added what it's calling the "HIIT House" for High-Intensity Interval Training.
That area, which was redeveloped from a former racquetball court, is already getting much more usage than before.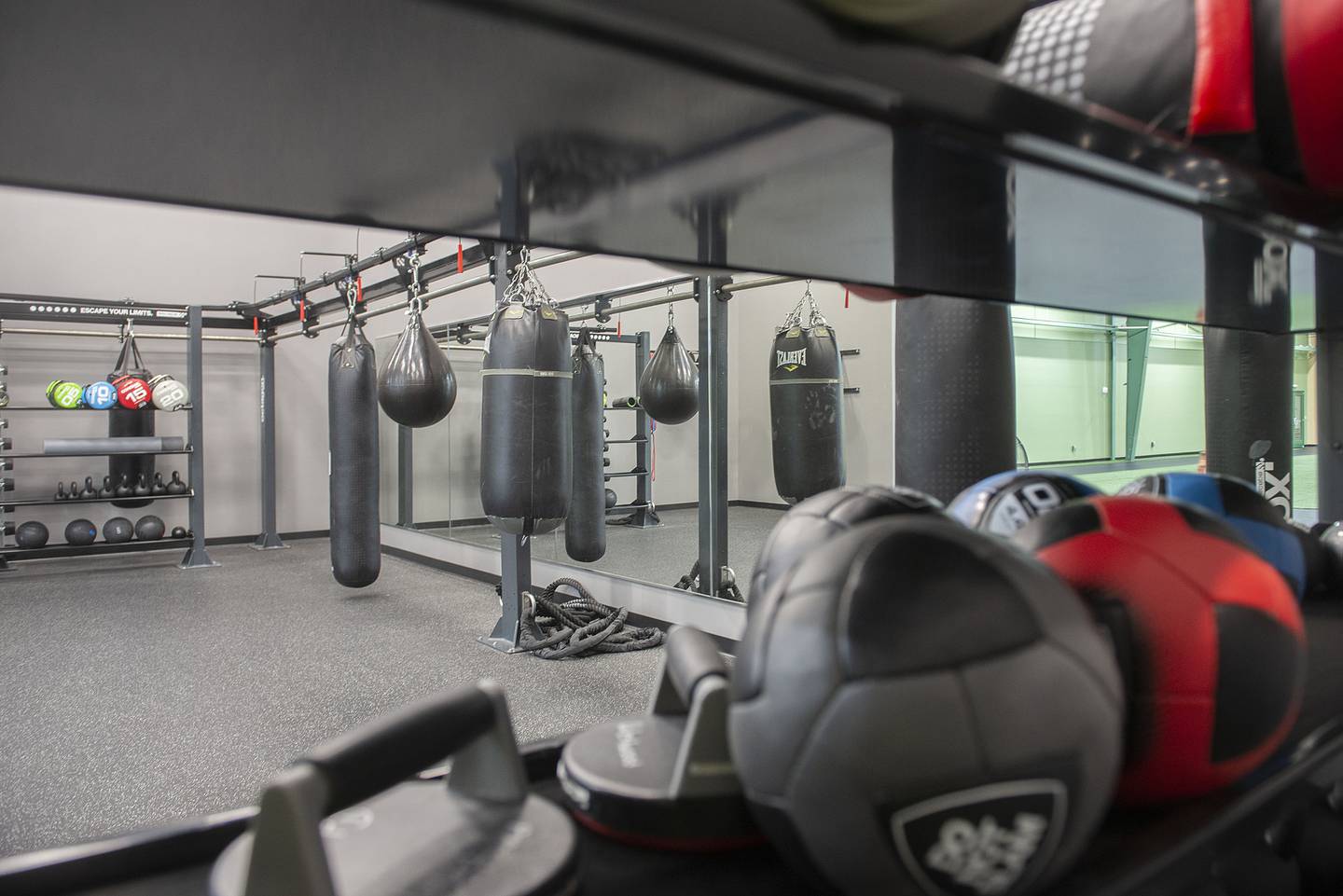 "We cut into the wall here, so the entrance to the racquetball court used to be there. Racquetball, wallyball participation numbers were way down from where they were years ago," Bond said. "We still have three courts; I don't know that we needed a fourth court, so we ended up converting it into this. And overall usage, we get 100 times more use out of here than we did when it was a racquetball court."
The HIIT House is full of completely new equipment, including a large overhead rail which suspends various types of punching bags, and slides and locks to move them where desired. The back wall features a set of mirrors that stretch across its entire length, providing gym-goers with a way to watch their movements as they work out.
On Monday, the sports complex also opened Westwood Smoothie Company, a new juice and smoothie bar. That area, which resides just inside the main Building 1 entrance to the left, offers an entirely new menu. Using real fruit ingredients and allergy-sensitive recipes, it hopes to provide better, healthier options for visitors. Later on, the smoothie bar will expand its concession offerings and add a lunch menu.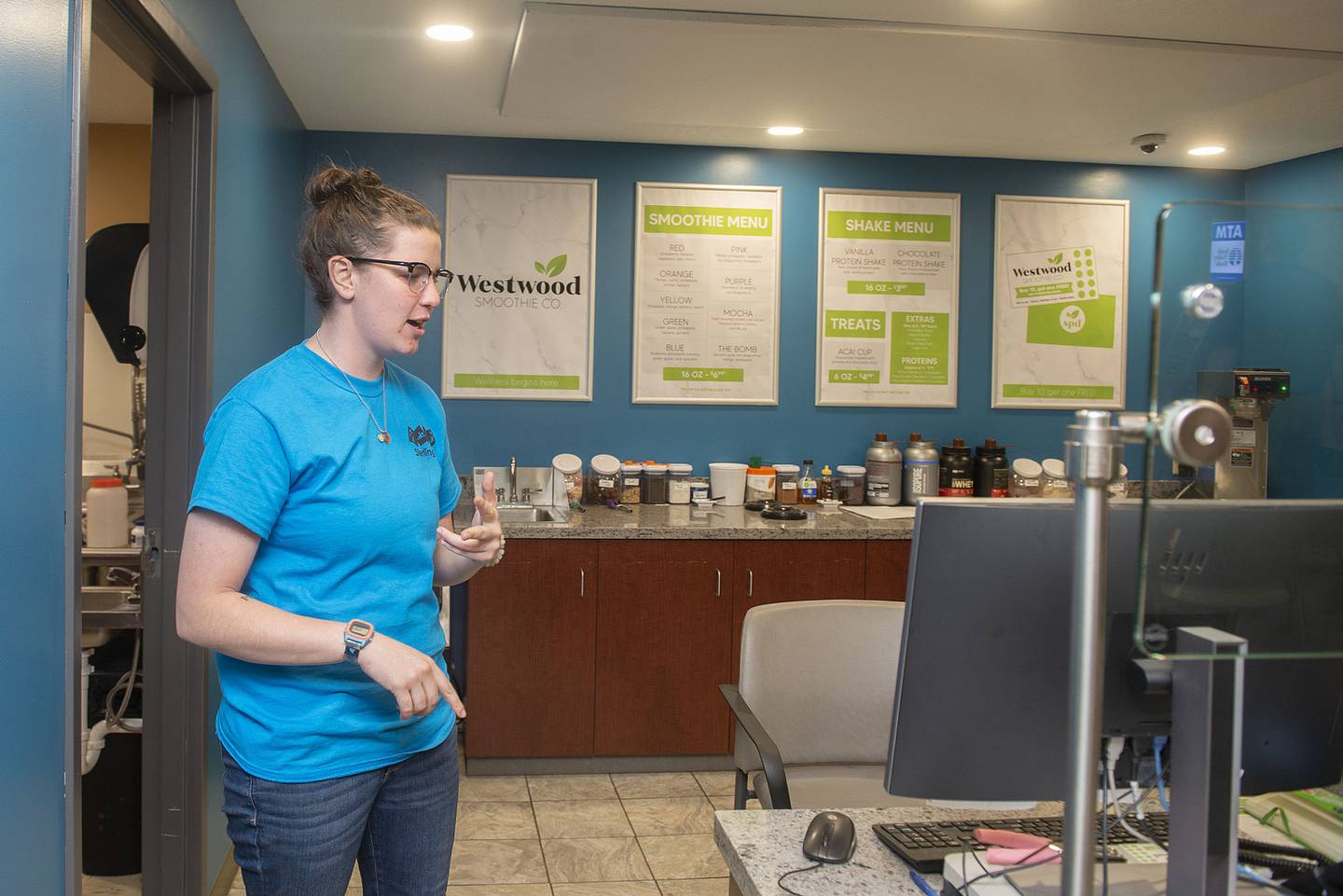 Another redeveloped area in Building 1 is the Westwood Wellness Annex, which will house a few different services.
"Right past our desk, we've added a space. It was kind of dead space before where we used it as storage, and senior fitness classes we would run out of there," Bond said. "We converted that space and added some walls, and brought in a chiropractor. So he's got the space in there that he's using. Dana Dietz is bringing Pro Strength Muscle Therapy, so a massage therapist that also does some nutrition consultation and fitness-related things. ... And then we have another room in the works with another renter for some space in there doing similar things as well. Nothing official on that end, but paperwork's kind of started there, too."
Westwood also plans on expanding its food offerings at the Building 1 indoor track concession stand, the Building 3 concession stand, and the Emerald Hill Golf Course concession stand.
Along with the renovations, there are plans to expand and improve class offerings.
A cardio kick-boxing style class and a few youth classes are currently in the works. Westwood also wants to revamp some of its ninja-style and obstacle course classes.
Even after the Wellness Center is finished, the planning and projects will continue.
"Always little ideas of what we could bring in and what we could add, equipment that we don't have," Bond said. "One of the biggest things that I try to do is find out what we don't have, what we have space for, and then what our members may want, or what they may not know they want until they see it and they want to try it. We could bring in more treadmills and more weight machines, but do we need the same ones or can we bring in something a little bit different? A few different ideas of stuff we can do with our turf area out here, maybe some projects out there."