DIXON – The Sauk Valley women's basketball team saw its losing streak extend to three games Thursday night after a 65-42 loss to the Kishwaukee Kougars in an Arrowhead Conference game in the SVCC gym.
After exiting the first quarter with a 19-15 lead, the game slowly slipped away from the Skyhawks. In the third quarter, they were outscored 18-5; in the fourth quarter, they were outscored 15-7. The turnover problems that plagued Sauk in the first half carried over into the second half, but the scoring wasn't there to offset it after halftime.
Sauk Valley's fast start was led by freshman guard Hailey Walters, who scored eight points in the first quarter. Walters gave the Skyhawks the lead at 8-6 with a 3-pointer about three minutes into the game.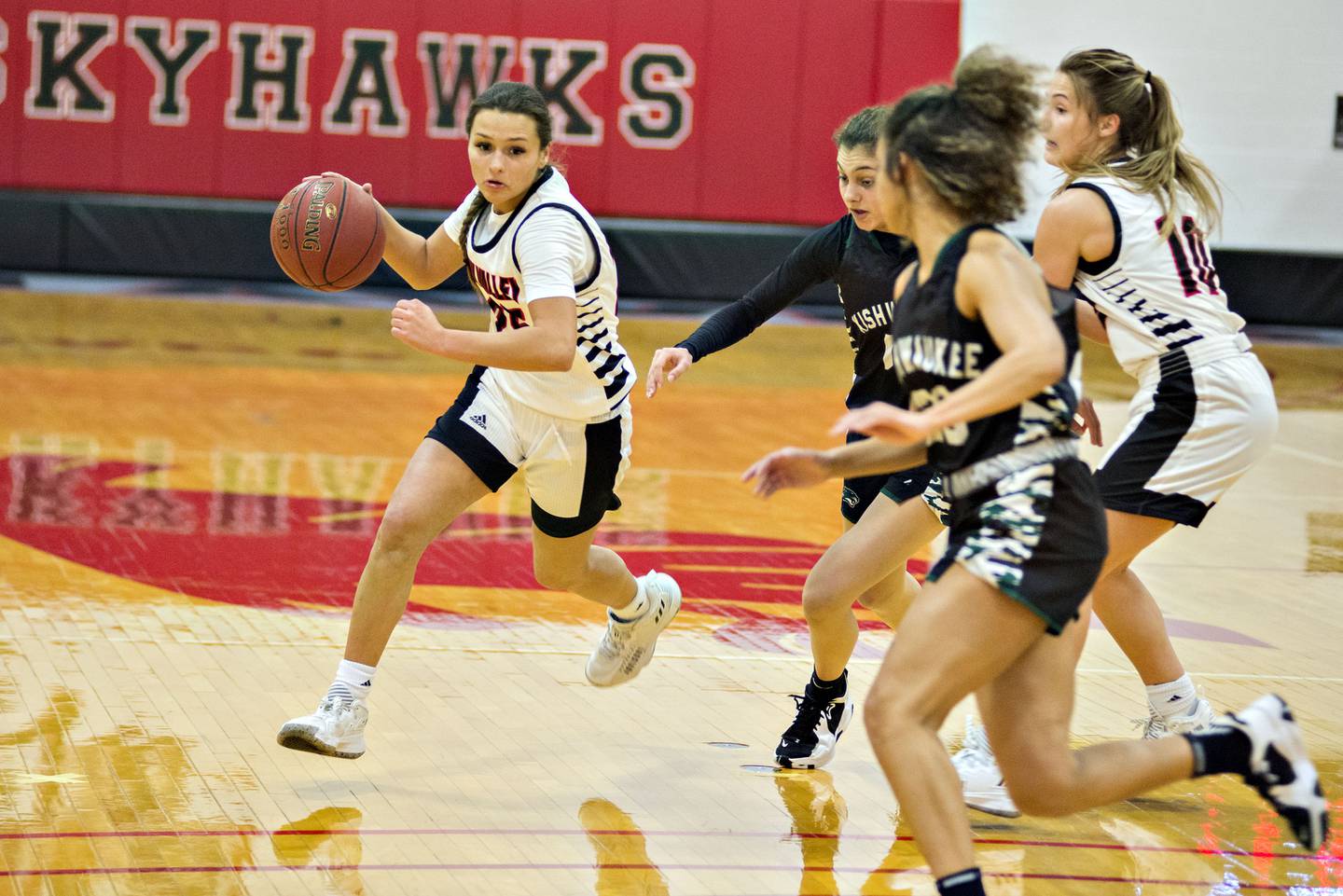 Sauk Valley turned that momentum into the four-point lead after the opening period, and early in the second quarter, the Skyhawks were still in control. Sophomore forward Jenna Johnson got going offensively, scoring six points in the quarter. Her layup off an inbounds pass with 3:40 left in the half put Sauk Valley up 26-19.
But Kishwaukee closed the half on a 13-4 run. Sophomore guard Chian Scott scored three consecutive layups to the capture the lead at 27-26, then hit a 3-pointer with 1:14 to go to make it a 32-26 lead for the Kougars. Sauk Valley answered with a Nakiya Rascon free throw in the last five seconds and a putback on the second shot by Johnson to make it 32-30 game at halftime.
"We didn't turn the ball over as frequently as we did in the second half. We executed some plays and made some shots," Sauk Valley coach Julie Schroeder-Ranz said about taking the early lead. "Josie Rank did a really good job of driving on the baseline and hitting some post players that made shots. That was a big part of how we scored in the first half."
Added Johnson: "I feel like our intensity was a lot higher, and I think we started to get tired in the second half, which is why we fell down the slope when we weren't running our plays. But I think we were moving better in the first half."
Scott finished the first half with a game-high 19 points.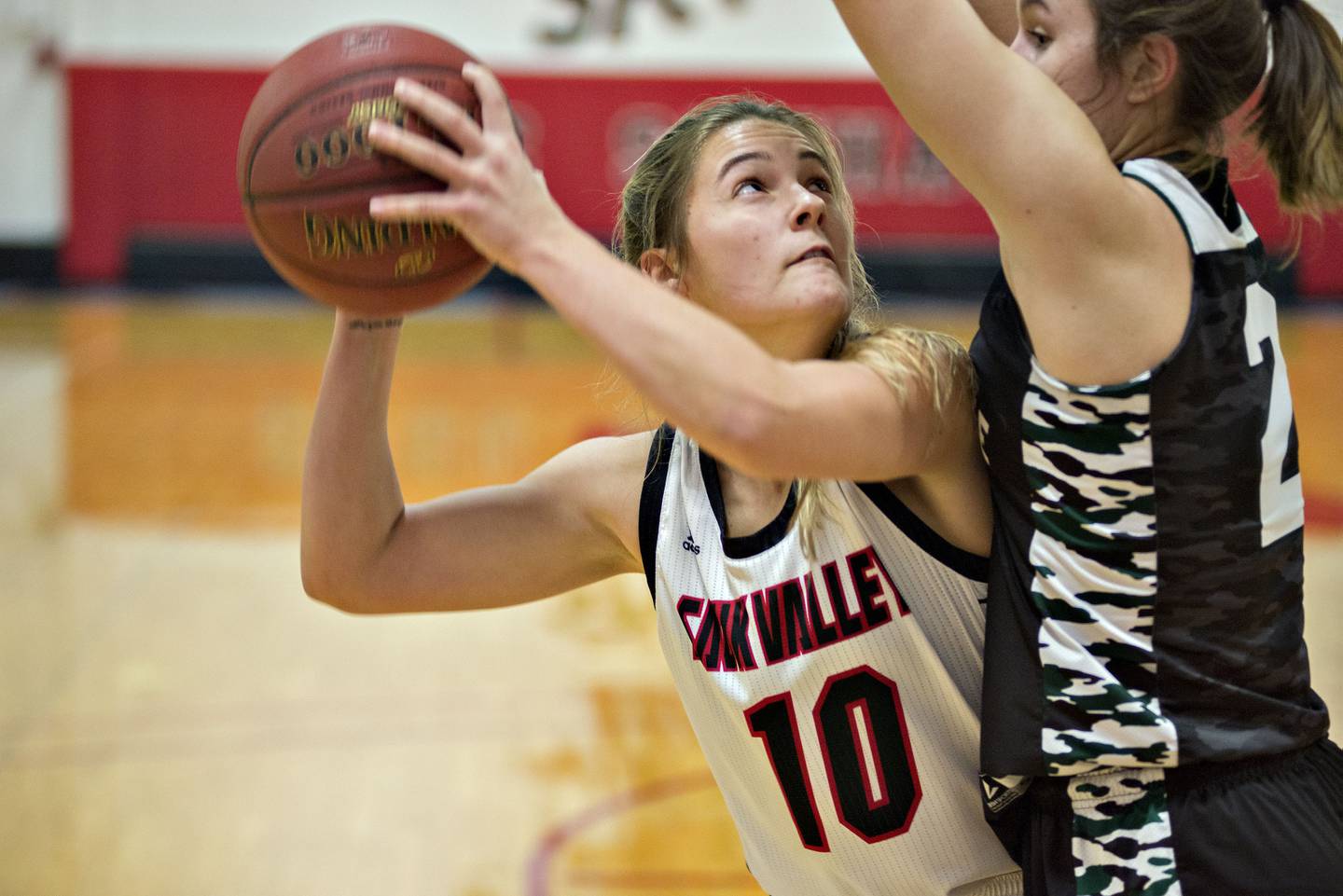 Early in the third quarter, freshman guard Latonia Lacy started a run for the Kougars with back-to-back layups, including a Euro-step finish around a defender to make it 36-30 Kishwaukee. Scott hit a 3 from the left wing with 7:11 on the clock to make it 39-31 Kish, then scored a fast-break layup on the next possession to make it 41-31. Freshman guard Bridget Babb's 3-pointer with 4:52 to play made it a 46-31 game. Kishwaukee closed out the third quarter with a 50-35 lead.
In the fourth quarter, freshman guard Nadia Timm's layup made it 55-39 with 6:18 to go, and with about 1:50 to play, Babb's 3-pointer made it 60-41. The Kougars dribbled out the clock after two more quick baskets for the 23-point win.
The Skyhawks were shut down in the second half, scoring just 12 points and finishing the game with more than 20 turnovers.
"In the second half, they really took us out of everything we wanted to do," Schroeder-Ranz said. "Our ball-handling and our passing were really weak in the second half."
"Just turnovers. Stupid passes. Not knowing, I guess," Johnson said. "We weren't running our plays as well as we normally do, and that's gonna be where a lot of defeat comes from."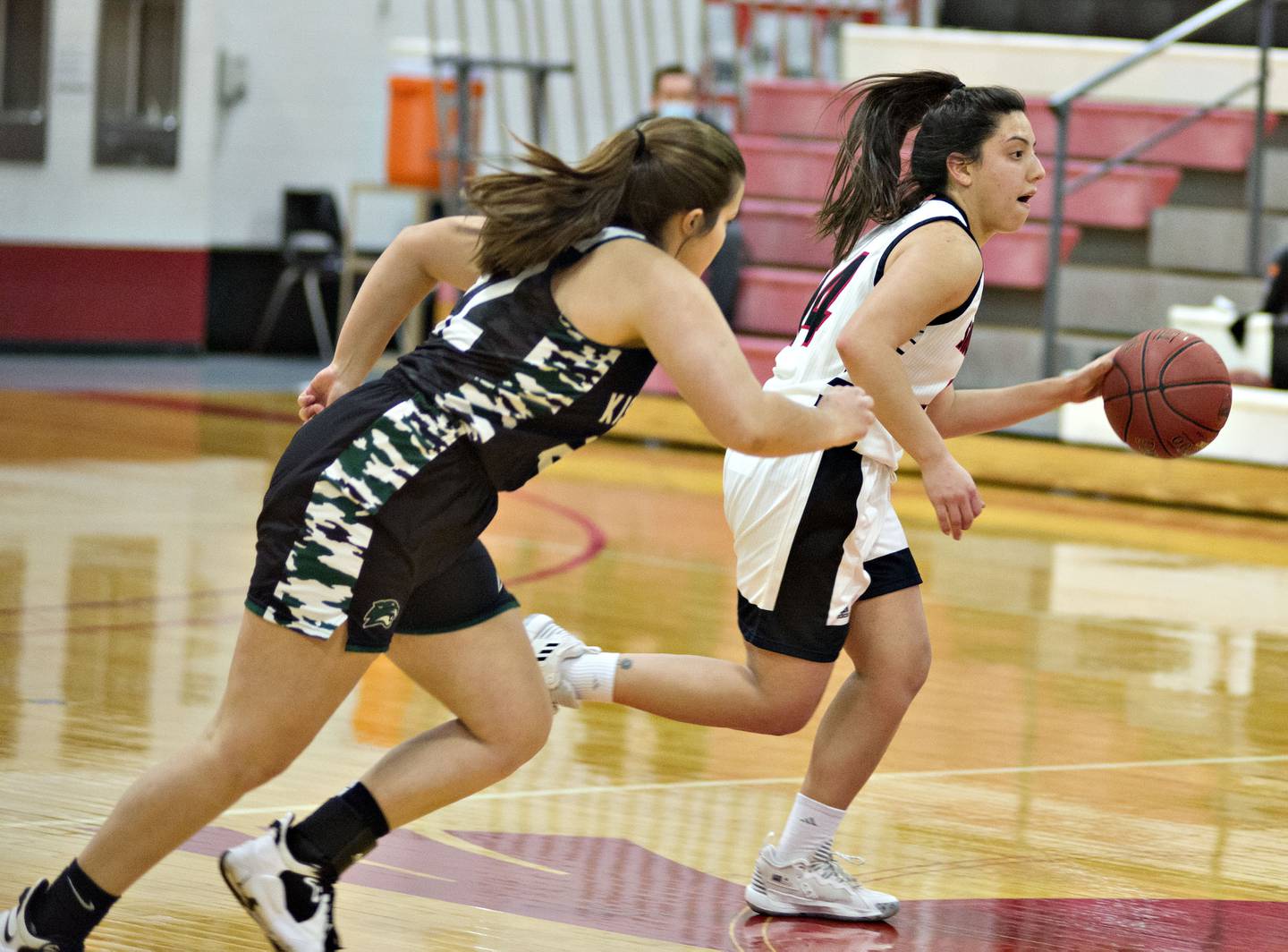 Scott finished the game with 26 points, four rebounds and six steals to lead the Kougars. Babb scored 15 points with a game-high five 3-pointers, while Lacy added 10 points for Kishwaukee.
"Scott's a player. We did not do a very good job in the first half with our scouting report, unfortunately, and she kind of went off and really made us pay when we closed out too hard and then drove around us," Schroeder-Ranz said. "And then she made some big shots, so she's a really nice player. She did a great job today."
Johnson paced Sauk Valley with 12 points and six rebounds. Walters added nine points for the Skyhawks.