DIXON – Playing against the 11th-ranked team in the country, you usually need to play solid defense and hit some shots.
The Sauk Valley men's basketball team did one of those things Saturday afternoon against No. 11 Indian Hills, but it was the other that hurt them in a 68-54 loss.
The Skyhawks (3-3) started slowly on offense and shot just 27.7% from the field (18-for-65) in the game, digging too large a hole to climb out of on their home court.
"The defense was really good; we covered well and understood the scouting report and tried to take away their main players when it came to scoring, for the most part," sophomore guard Cade Nailor said. "It was mainly our offense that struggled and kept us from winning this game."
Devon House hit a 3-pointer 18 seconds into the game to open the scoring, but Sauk managed just six points – 3s by Jamal Winston and David Williams – over the next 15 minutes of game time as the Warriors (8-2) built a 28-10 lead.
"I think we came out from the start with our best effort today," Indian Hills coach Hank Plona said. "We made some shots early, and I thought we defended very well in the first half.
"I think Sauk Valley is a very good team, and I know our kids do too. We watched a couple of their games on film … and this team had our players' immediate respect. I think they're a very good team that will win a lot of games."
Down the stretch in the first half, Andre Brandon knocked down a shot and Riek Riek hit a 3, with both assists going to Montez Taylor. Derian Duncan then buried a 3 off an assist from Nailor, but Indian Hills scored a pair of baskets to close out the half, the second one a runout layup from Taj Anderson off his own steal for a 37-20 halftime lead.
The second half was a different story. After the Warriors opened up a 46-28 lead in the first 4:20 after the break thanks to Braxton Bayless' drives to the hoop and a Eddiean Tirado 3, the Skyhawks found their stride.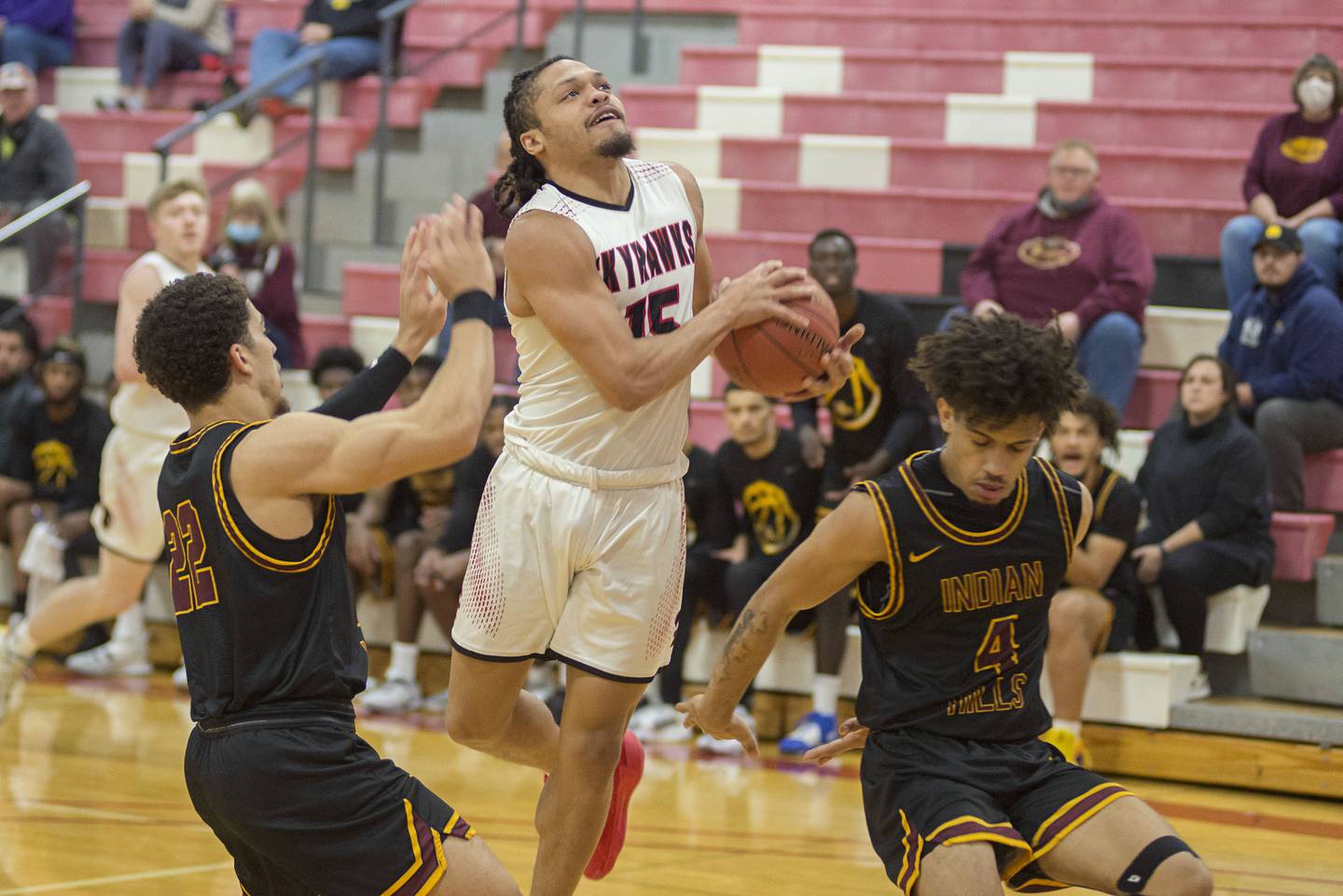 Nailor nailed a 3 off Duncan's drive-and-dish play, then Nailor answered an Indian Hills bucket with an up-and-under move for a layup. Beau Bailey found Nailor on the next trip for another 3, then Nailor returned the favor to Bailey a minute later.
After an Indian Hills timeout, Bailey found Andre Brandon and Nailor for jumpers on consecutive possessions, and Sauk was within 49-43 with 8:26 to play thanks to the 15-3 run.
"We tried not slowing down, actually, but keeping our break and mainly focusing on our execution," Nailor said. "We knew if we were just getting our cutters and movement, they wouldn't hang around for the full 30 seconds, so we were trying to push it and get our cutters open and get open shots.
"I think we just came out a little shaky, but in the second half, once we started feeling our rhythm, the shots started falling."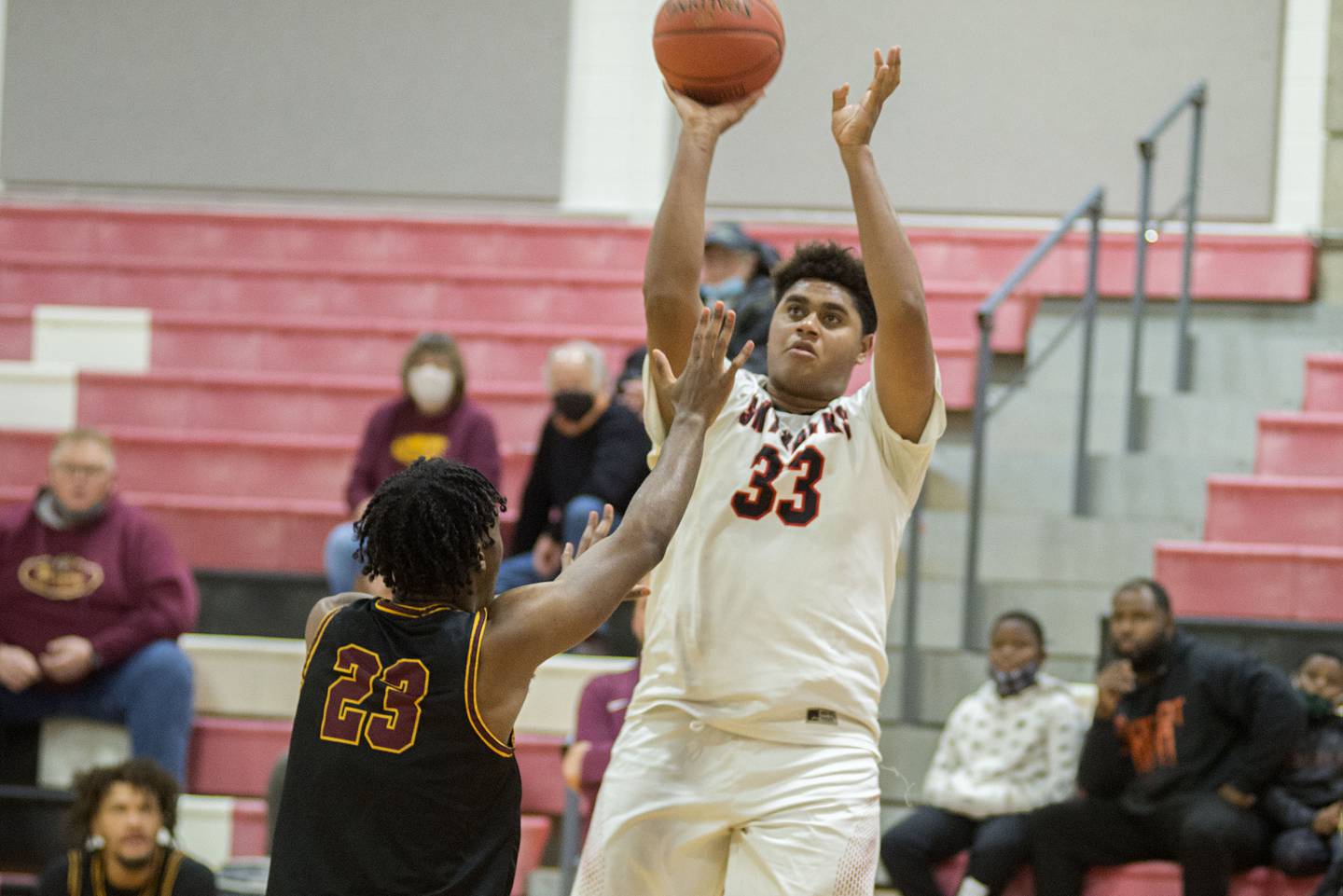 Indian Hills found the answer by attacking the basket. Bayless scored on a drive, then Anderson found Tirado for another 3 before Bayless drove to the hoop and completed a three-point play to push the lead back to 59-45. J'vonne Hadley put the final exclamation point on the Warriors' answering 12-2 run with a breakaway dunk off a steal.
"Anderson hit four 3s in the first half, and Tirado hit a few in the second half, and when you make those shots, that kind of opens it up a little bit," Plona said. "Bayless is kind of our anchor, and late in the game he had the ball in his hands and was able to get to the basket. Anytime you can get stops and then score at the rim, it can put an end to a run."
The teams traded baskets over the final 5:07, with House and Bailey hitting jumpers and David Williams knocking down a 3 for the Skyhawks.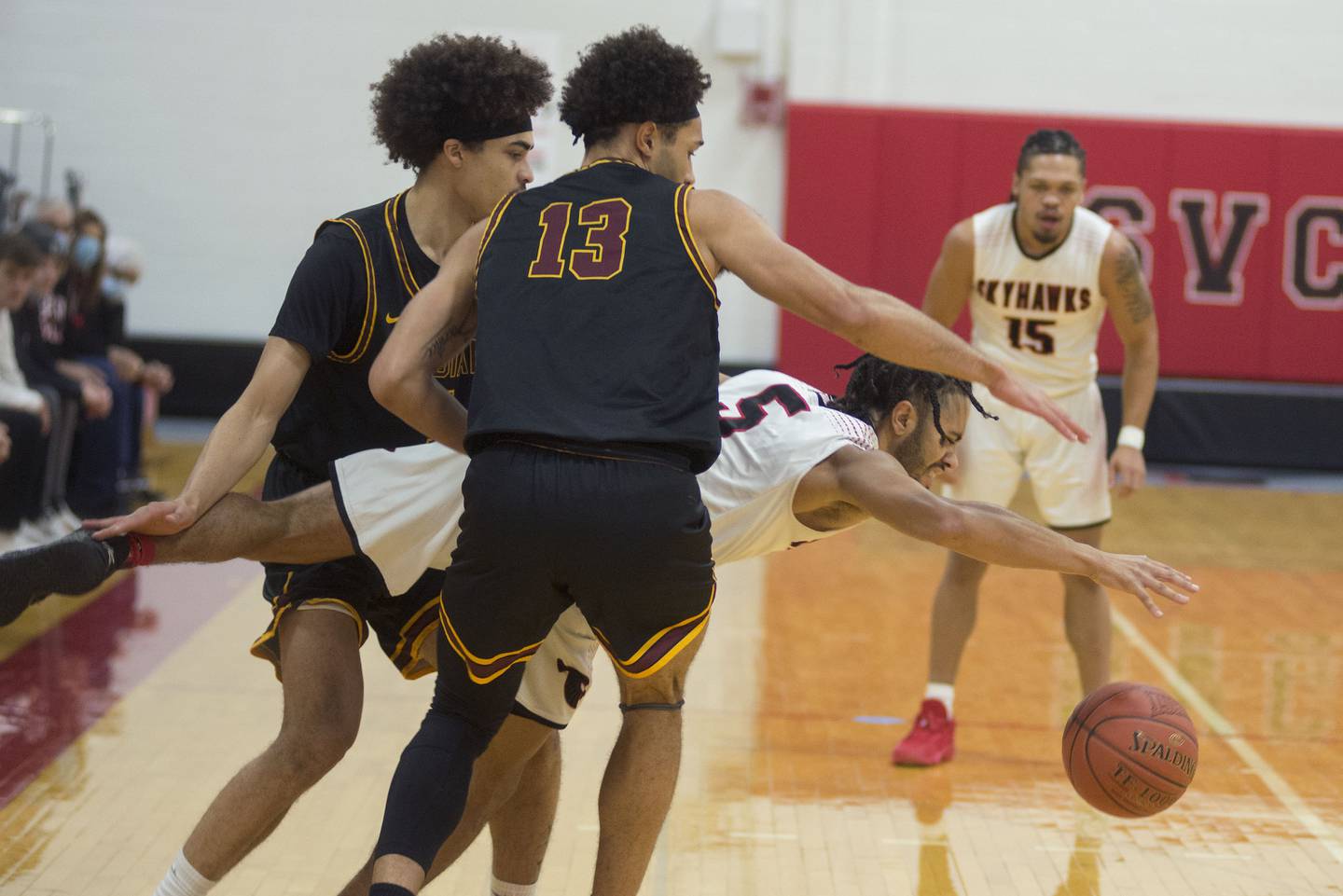 House had nine points, three rebounds and a block for Sauk, and Nailor added eight points, six rebounds, four assists and a steal. Brandon and Bailey scored seven points apiece, with Bailey grabbing three rebounds and dishing three assists, and Brandon adding seven rebounds and two blocks. Duncan dished four assists, and Leroy Williams grabbed seven rebounds. David Williams hit two 3s for six points, and Taylor chipped in five points, three assists and two steals.
"We couldn't buy a shot early, and that was partly credit to them; they sped us up a little bit," Sauk coach AJ Sharp said. "Then all of a sudden in the second half, we decided we were going to execute against them, and we got some good looks and were able to hit them. It felt good to get the lid off the basket, but we've got to find that in the first half now. Defensively, we played great, and we gave ourselves a chance on that end of the court. We just needed a few more shots to fall."
"The first half we came out a little rough, and the second half we picked it up and cut it close, but it was too late," Nailor added. "If the first half would've gone better, it would've been even closer."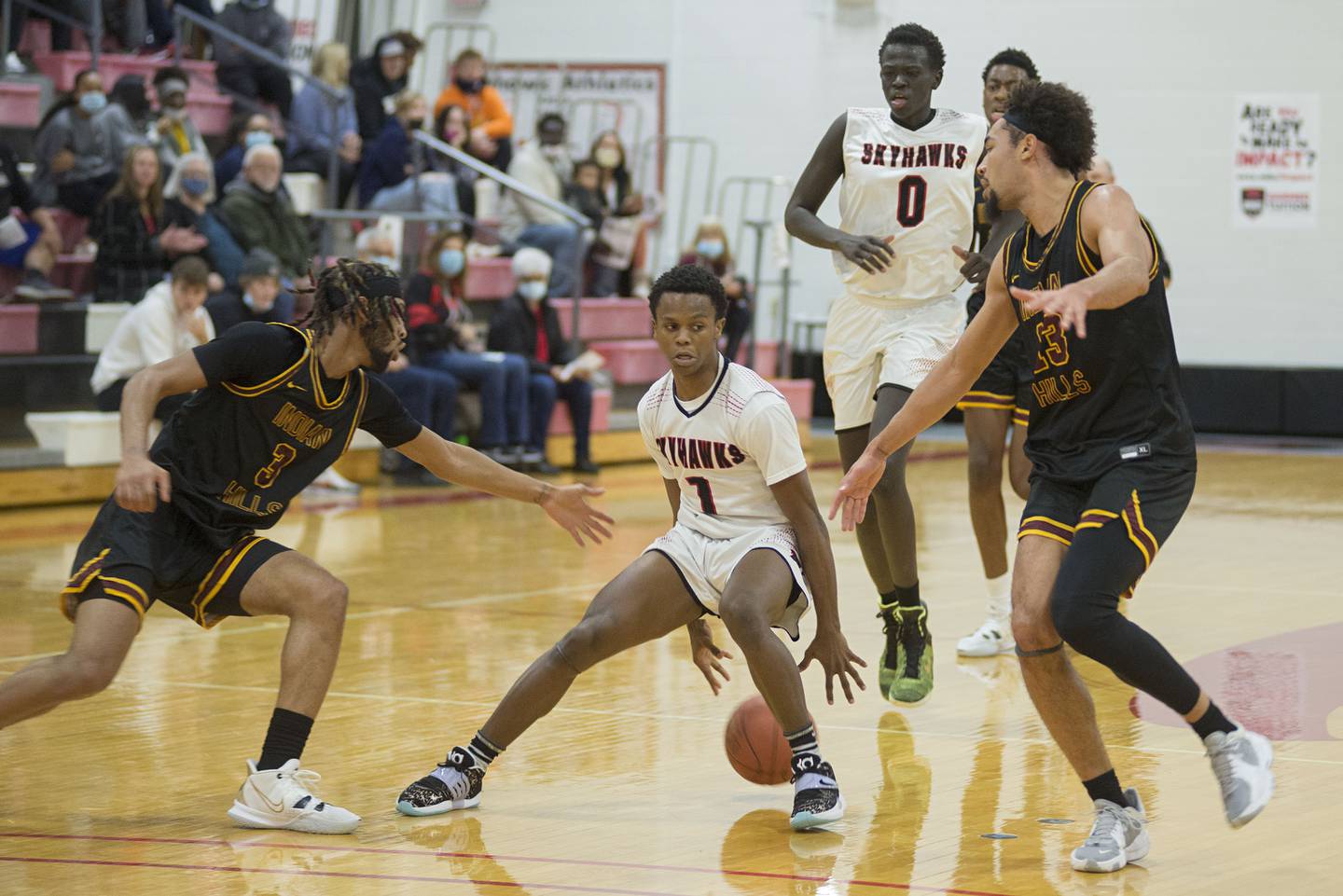 Anderson hit four 3s and scored 14 points, all in the first half, while grabbing five rebounds and dishing two assists for Indian Hills. Bayless scored 11 of his 13 points in the second half, and also nabbed a pair of steals. Tirado hit four 3s for 12 points, Enoch Kalambay had seven points and two assists, and Hadley finished with six points and seven rebounds. Davin Zeigler scored six points, Mouhamadou Mbow grabbed five rebounds and two steals, and Isaiah Marin chipped in four points, five rebounds and three assists.
"I thought it was kind of a chess match back and forth, and I'm very happy to get the win today," Plona said. "Obviously the second half was a battle. They brought their perimeter guys out. We were kind of sagging off of their 4s and 5s in the first half to clog the lane, and they came out [in the second half] and hit some shots on the perimeter. We went to a 2-3 zone there for the last eight to 10 minutes just to take them out of their rhythm, and I thought that was effective."