DIXON – It was a gratifying moment when the students in Shannon Sherlock's fifth-grade class at Madison Elementary started to click with the new English instructional materials.
It was the last day of a writing project when students had to share their works by reading out loud. Instead of reluctance from their classmates, speakers received eagerness, attention and even vocal support.
"It was so cool to see them cheering each other on," Sherlock said. "Some of the shy girls, for the first time ever, read in front of the class. The whole class recognized that, and they were lifting each other up. It was really nice to see that community build."
But that moment didn't come easily. Integrating new materials into the classroom had some early hiccups. But these fifth-graders are starting to hit a stride, Sherlock said.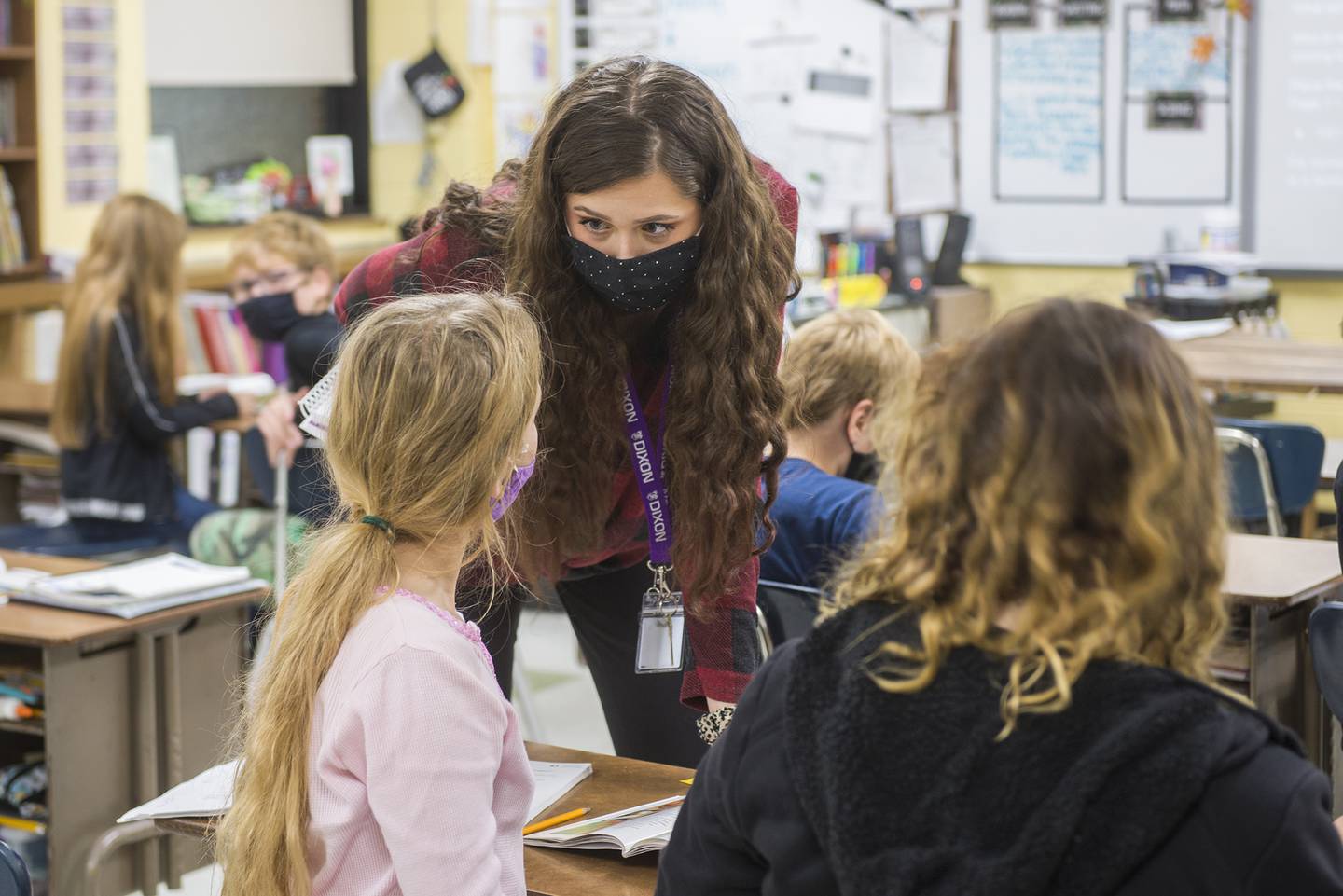 A pilot program
Sherlock's class is one of 32 taking part in a pilot program to determine which language arts curriculum the district will adopt for K-8 students.
Sherlock's class is among those testing materials provided by Amplify. Half of the other elementary teachers are testing Savvas My View. At each grade level, there are two teachers tackling the same material, so they can partner up and provide support.
At Reagan Middle School, the implementation is different. Grades 6 through 8 are doing two units of Savvas May Perspectives, followed by two units of Amplify.
"The nice thing is, it's teachers doing all the analysis, all the investigation," said Dixon Public Schools Assistant Superintendent Doug Stansford, who has been overseeing the project since the curriculum committee of 21 met last year and decided on this approach. "It's not just an administrator or central office saying, 'Here is your curriculum, go do it.' We wanted them to have the buy-in."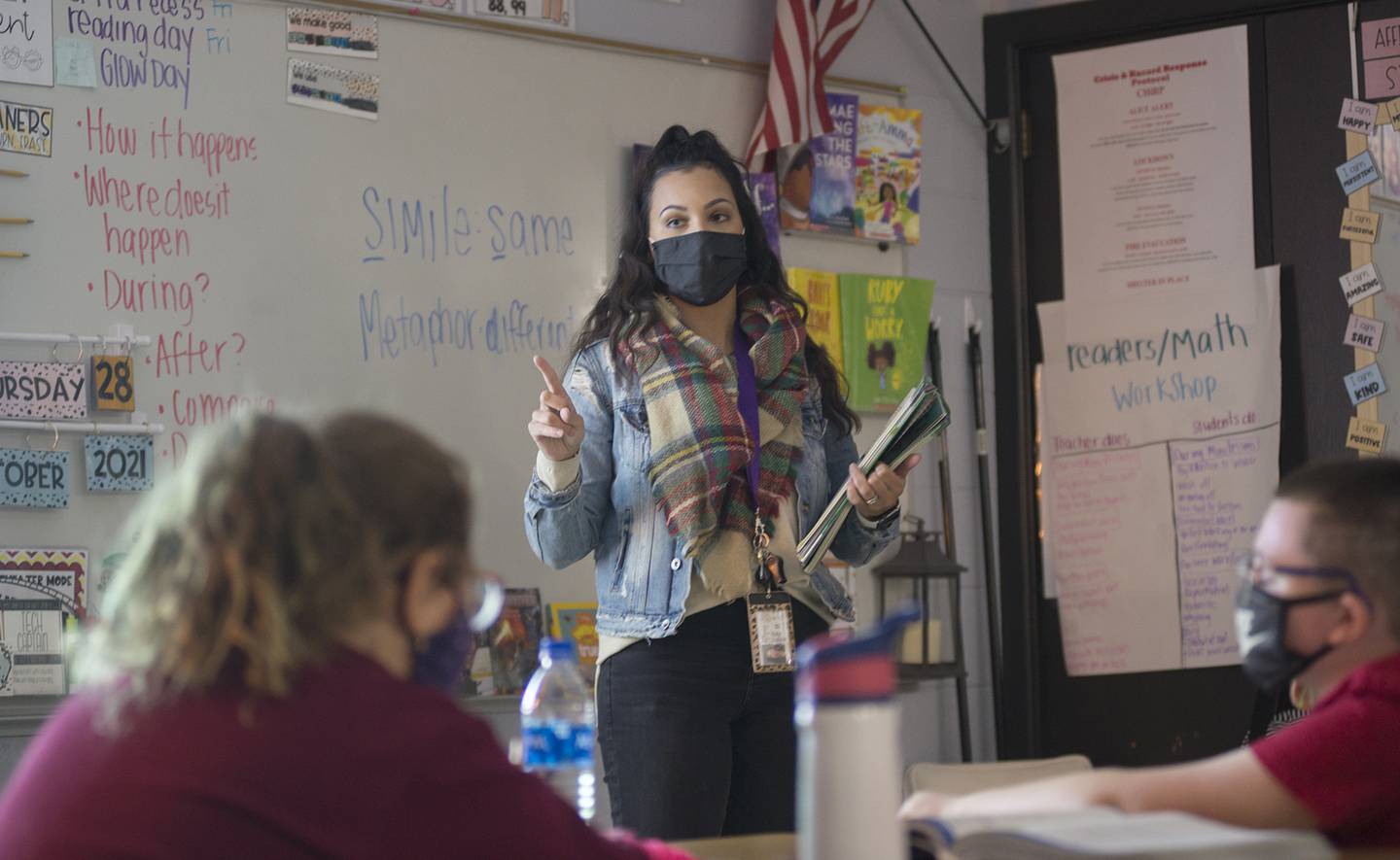 Selection process
The process began long before the textbooks reached the classroom, Stansford said. To get a feeling of what was out there, he consulted with his counterparts in Sterling and Rock Falls.
Then the committee made what it called a rubric, or a tool that listed priorities for the selection.
Initially, the committee reviewed and ranked available curriculums. Members relied upon evaluations made by EdReports.org, then applied the rubric and "went through it with a fine-tooth comb," he said. They narrowed it down to four before getting presentations from the publishing companies.
"We wanted to break it down to two for a pilot," Stanford said. "We had questions for them."
Stansford sent some teachers to other districts to see the curriculum in action. That nixed one leading contender, because "that one was difficult to implement."
Implementation was key. The curriculum had to be classroom-ready, so instructors wouldn't have to work at developing their own supplementing materials.
Cost was a factor, but the district had some leeway because it could use federal COVID-19 relief money. In the end, Dixon chose Amplify and Saavas for the pilot.
Amplify, formerly Wireless Generation, launched in 2000 and was rebranded in 2012. It was sold in 2015 to a philanthropic group headed by the widow of Apple's Steve Jobs, Laurene Powell Jobs, and one of the co-founders is now chief executive. Dixon is using Amplify CKLA program for grades K-5 and Amplify ELA for 6-8.
Savass Learning Co. previously was Pearson K12, which developed the MyPerspective ELA in 2017. The company's roots go back to longtime elementary school textbook maker Scott Foresman and Co. Dixon is using MyView for K-5 and MyPerspective for 6-8.
The learning materials are in the teachers' hands.
"I've gone over and visited these classrooms where we are doing these pilots," Stansford said. "Just looking at the workbooks, the vocabulary and the sentence structure the kids are having to read, it's pretty rigorous."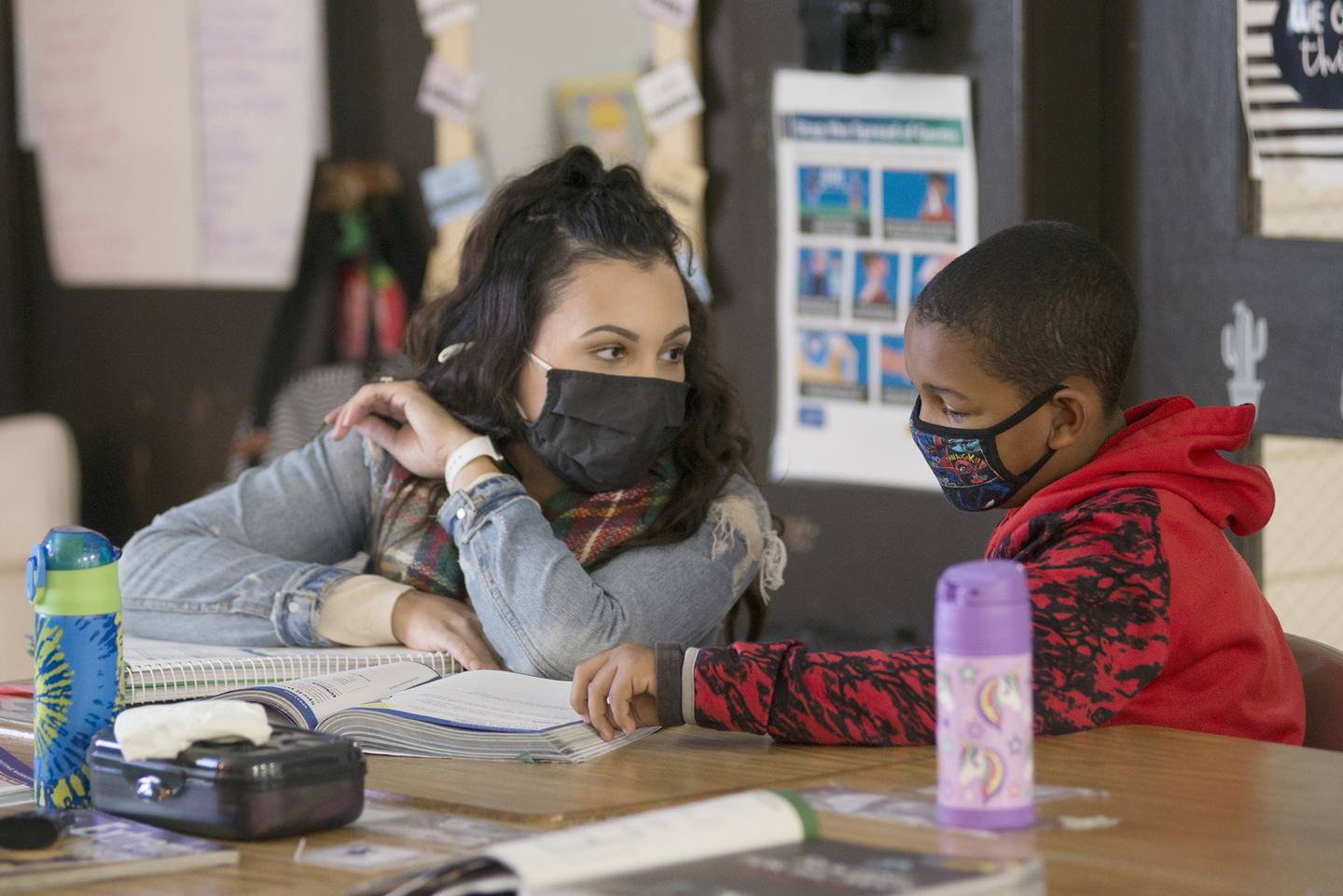 'Rigorous' program
In talking to the teachers, the word "rigorous" comes up in the conversations about both Amplify and Savvas. While the materials are classroom-ready, there's still a settling-in period.
"When you start presenting this, it's like you're a brand-new teacher," Stansford said. "The scope, the sequence; it's been work for them, way beyond what they would have done with the regular curriculum."
But the pilot will give the district a head start when things get started in full the following year.
"Whichever one we choose, we'll have two experts at every grade level knowing how it works," Stansford said. "They will be the go-to people."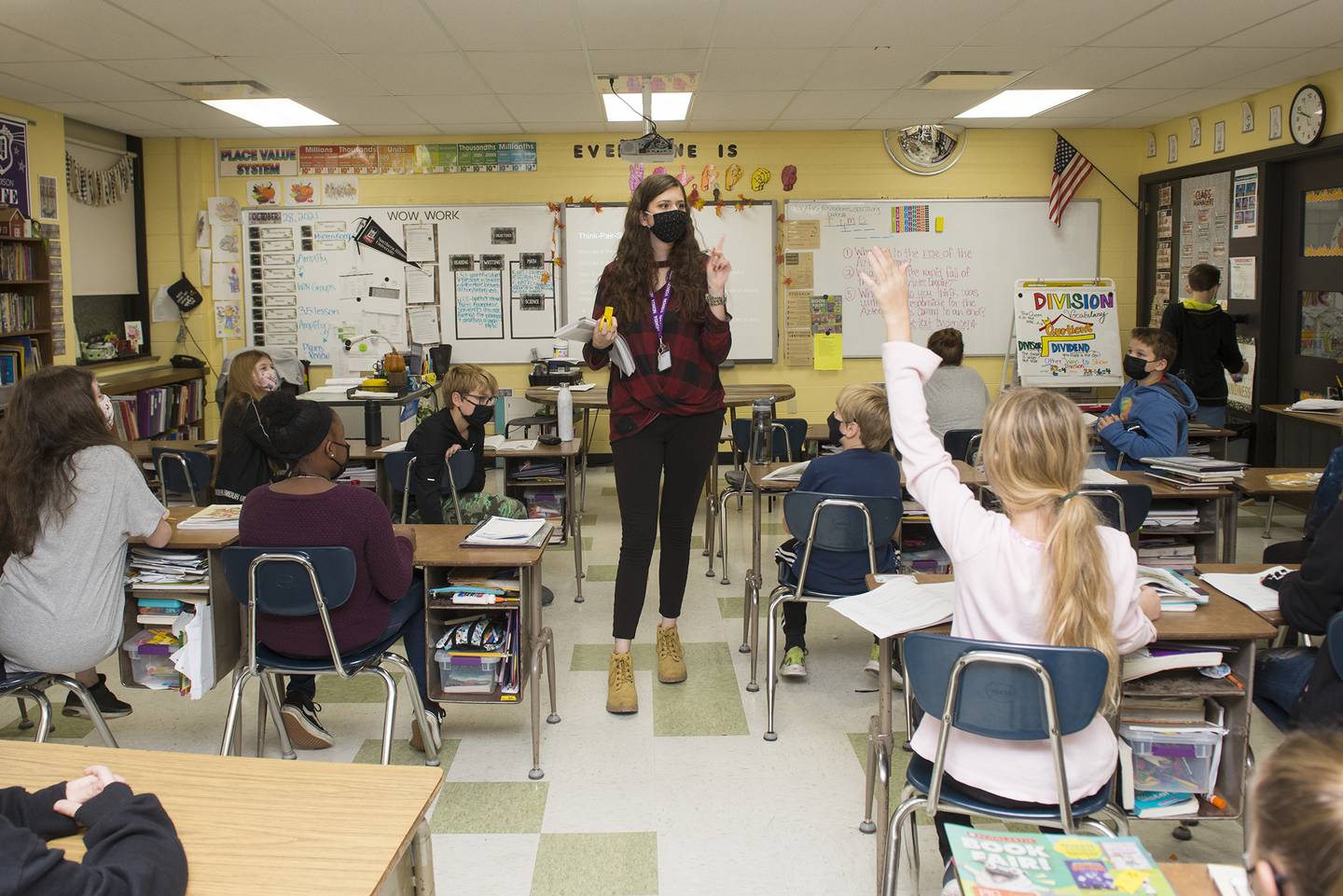 Tie-ins with other subjects
Alicia McPhillips' fourth-grade class is using Savvas. The curriculum dovetailed with an Oct. 12 field trip to Dixon's architectural sites because of the material's horizontal structure, meaning it incorporates other subject matters – social studies in this case. The students got the chance to demonstrate what they'd learned and articulate it during the tour.
"So when we were finished with our first unit, we got to make a brochure on a landmark," McPhillips said. "We really got to specify within Dixon. Looked at the arch, the cabin, the Lincoln statue, all of that. They had that background knowledge from researching it. Then going into the tour, it was "My gosh, I got to research this! I know about this!'
"Had a pair of boys. They did their brochure on the Dixon Theater," said McPhillips, who described the give and take between the tour guide and the students over the number of times the theater caught fire over the years. "The kids' faces were so excited. Because they were there, they were listening to hear what was said."
The crossover with other subjects continues, especially as the English assignment focuses on nonfiction reading material. Right now, there is a science connection: a reading comprehension section on how some animals have adaptations of coloring or appearance. "We read a story about different types," McPhillips said. "It's something new, something they can go home and talk to their parents about, or their siblings."
The Amplify material also has the component, and Sherlock's class is exploring early American civilizations in their reading.
"It ties in perfectly," she said. "Kids are making connections. They have a background knowledge of what we are reading about."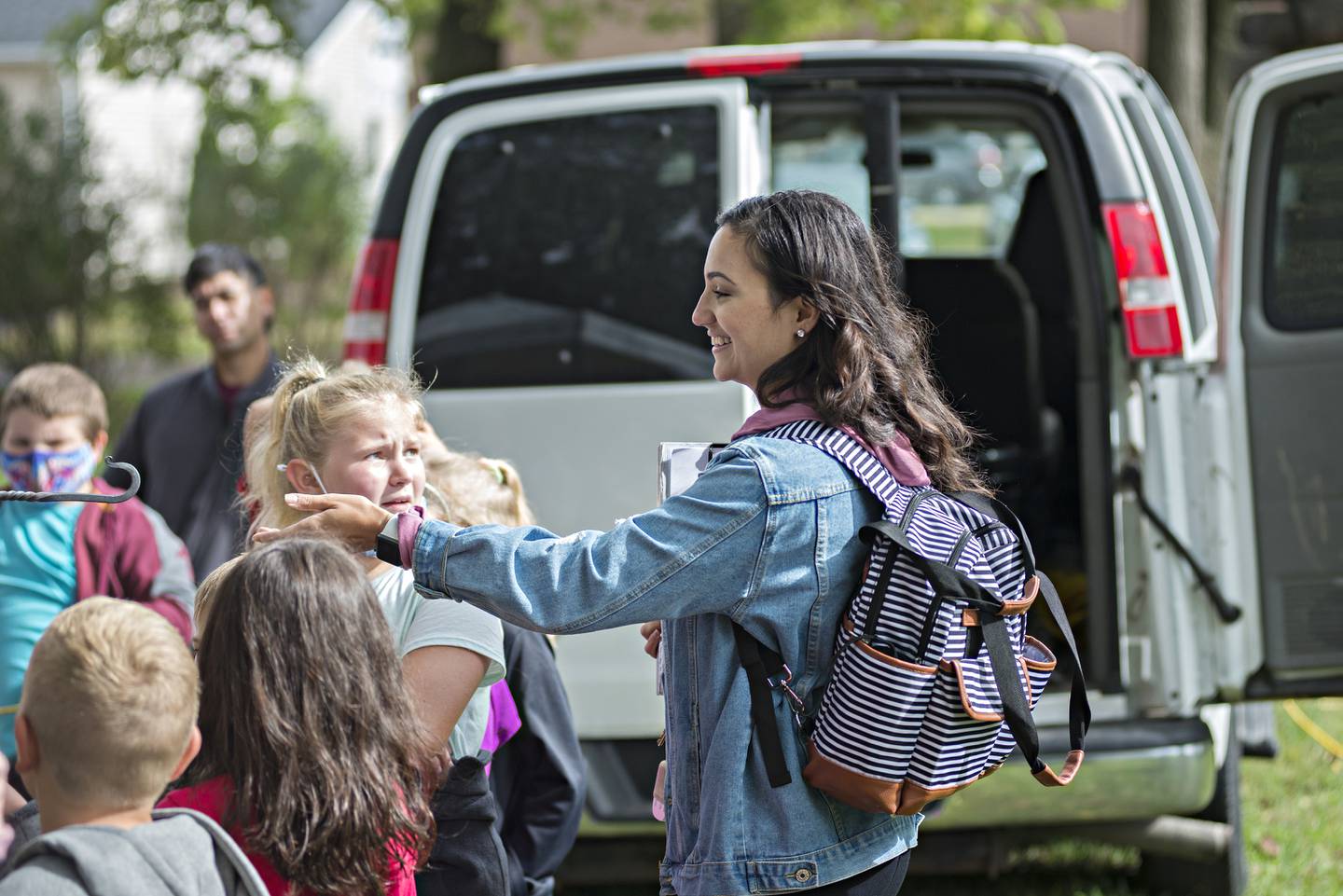 A rocky start
There were stumbling blocks at the outset.
While some of the Savvas materials arrived on time, a kink in the supply chain meant the workbooks were delayed until mid-October, which meant a lot of trips to the photocopier, McPhillips said.
"We were excited when the workbooks came in," she said. "They are in color, and the pages are thicker."
In addition, all the materials have a digital components. That means even kids in quarantine can log in remotely and access the workbooks on the computer.
Amplify relies so much on what went on before: an element of its spiraling curriculum structure that introduces concepts at the earliest grades than adds more complexity as they progress over the years, Sherlock said. Without that background, a lot of the students initially were lost.
That showed up in the baseline testing done at the start of the unit, which constituted three days of paper and pen testing, mostly on terminology and concepts they hadn't been exposed to yet.
"If they had been doing Amplify since kindergarten, then it would make more sense to them," Sherlock said. In this case, her first unit was on personal narrative — a subject that would have been covered in the spring of the previous school year. So early on, a lot of time was devoted to these concepts to bring the students up to speed. It took a month to get used to it. As we go further and further, the kids are starting to like it. They complained a lot at first. It challenges them in a way so that even kids who aren't school-driven, actually like it. It pushes them to have that standard for themselves."
One adjustment Sherlock made was to transfer the material to Power-Point so they could be projected onto a screen in the classroom. To her thinking, the print in the books was too tiny; now she could blow it up to fit her classroom style.
So far, she said Amplify is worth the effort.
"Honestly, I'd rather have a curriculum that is really good and working for the kids," she said. "I can work with the weaknesses."
Analysis and selection
Students in both pilot groups took benchmark assessments at the start and will take another at the end of the first semester, Stansford sad.
The students at Reagan Middle School are doing their assessments a little differently. They will complete the second unit of Savvas at the end of November and then take an assessment. After the switch to Amplify, the next assessment will take place in February.
At the end of the school year, the committee will compare test results and other relevant data, including whether the programs are teacher-friendly, before making its choice.
The district is already seeing the benefit of this process, though. A math pilot for middle school teachers is in the early stages. A pilot program for a K-5 or K-8 curriculum also is on the table, Stansford said.
In the meantime, the instructors in the pilots are communicating with each other. There also is a running diary online, in which teachers make daily observations in a running log. McPhillips and her Savvas partner Casandra Kurschner maintain a conversation. "Reminder of how things have gone," McPhillips said. "Here's the pros and cons. Here's the proof of it. That will be looked at."
McPhillips said she is comfortable with either curriculum. The last two years of interruptions caused by COVID-19 have placed students in a unique place. It may take more than one school year for the results to be seen, but the spiraling curriculum, in which key concepts get reinforced year after year, eventually will take hold.
"My son is in the first-grade class that's doing the same one (Savvas)," she said. "When he gets here, that's when we'll start seeing it pay off."
Glossary of terms
Spiral curriculum. Key concepts are presented repeatedly throughout, but with deepening layers of complexity. It allows early introduction of concepts traditionally reserved for specialized courses.
Vertical curriculum. Links knowledge learned from one lesson, which can then be applied to the next, which leads to the next, and so on.
Horizontal curriculum. Integrates knowledge from across a wide range of disciplines or fields of study that tie into a core subject.
Integrated or blended curriculum. Incorporates two or more of these approaches.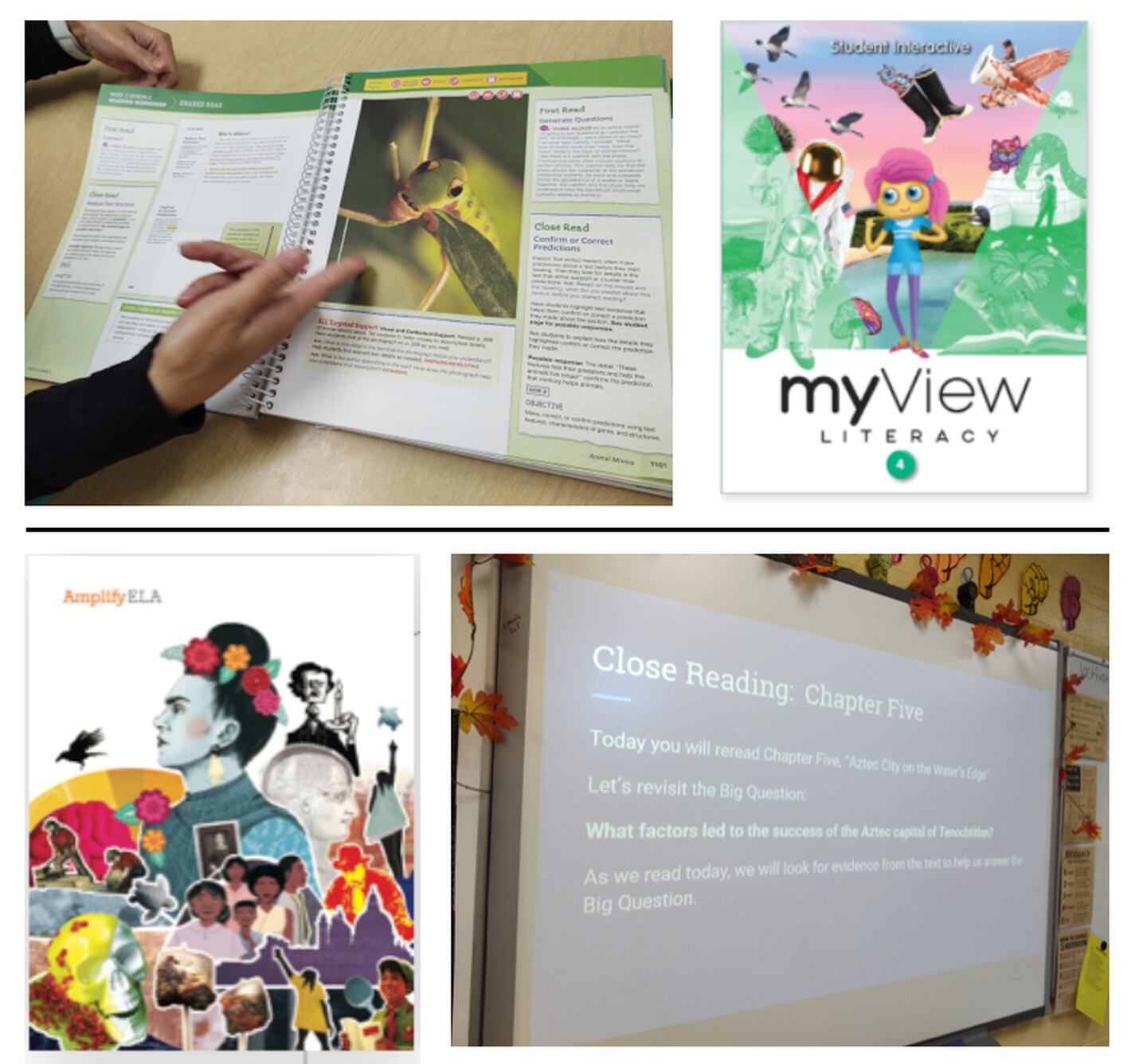 Who are the publishers?
Amplify, formerly Wireless Generation, dates back to 2000. But was rebranded in 2012. It was sold in 2015 to a philanthropic group headed by the widow of Apple's Steve Jobs, Laurene Powell Jobs, and one of the original co-founders is now chief executive.
Savass Learning Co. previously was Pearson K12, which developed the MyPerspective ELA in 2017. The company's roots go back to longtime elementary school textbook maker Scott Foresman and Co.
Classrooms in the pilot
Instructors in the Savvas pilot:
Kindergarten: Jill Alston, Carie Ramirez
First: Amy Doane, Ronda Scott
Second: Katie Dewey, Leah Saunders
Third: Shana Engelkes, Lisa Hoyle
Fourth: Casandra Kurschner, Alicia McPhillips
Fifth: John Barker, Marsha Johnson
Instructors in Amplify pilot:
Kindergarten: Maria Peterson, Jordan Miller
First: Mandy Dallas, Julie Karper
Second: Danielle Andrews, Allison Hunter-Rosene
Third: Courtney Gaulrapp, Jennifer Kuehl
Fourth: Kim Bork, Susan Lauer
Fifth: Liz Bushman, Shannon Sherlock
Instructors in the 6-8 Savvas and Amplify pilots:
Rebecca Clevenger, Greer Collins, Jennifer Gasso, Tammy Hill, Candace Lind, Addie Pace, Bridgette Renkes, Julia Thornton