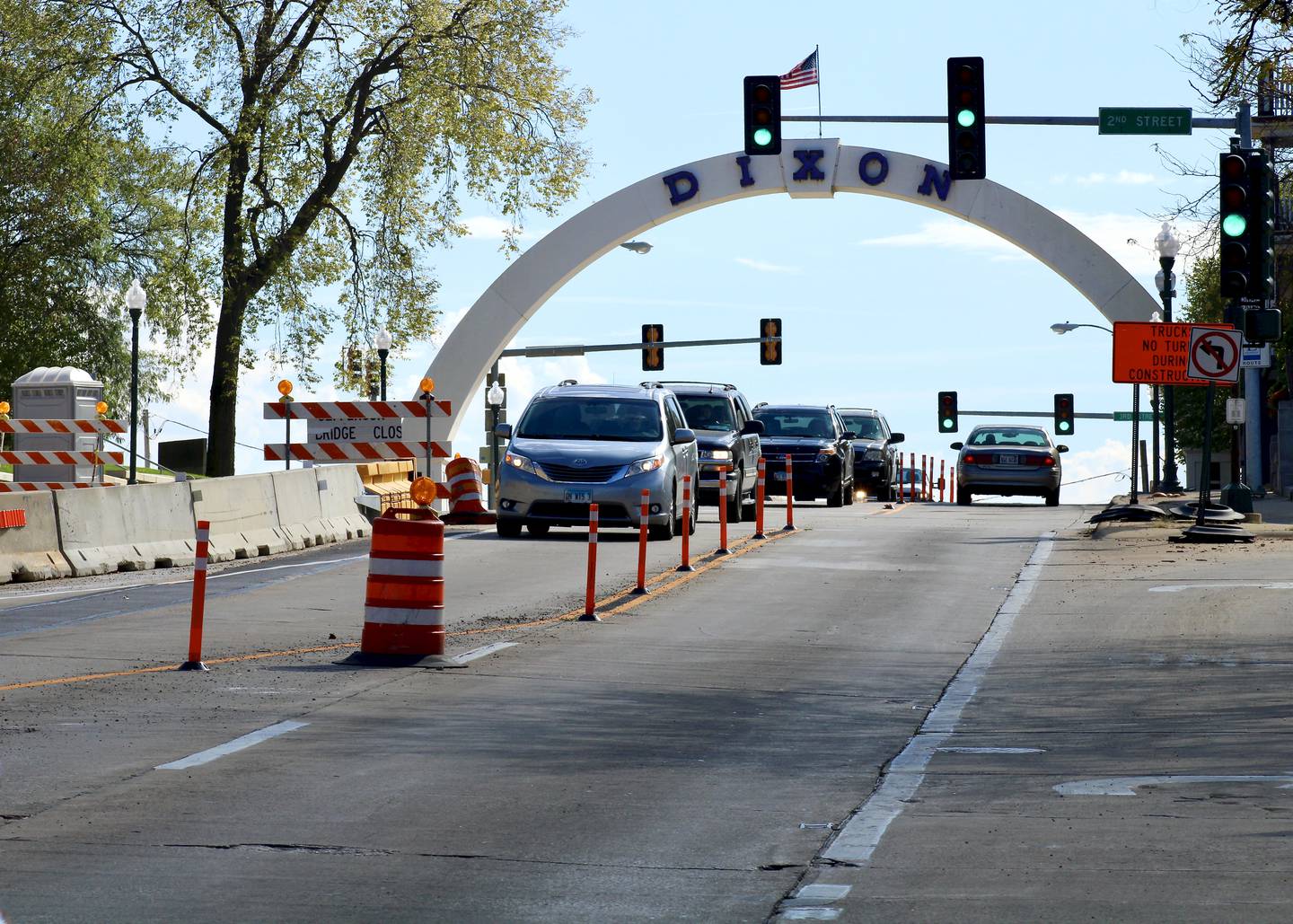 DIXON – The water main replacement project along South Galena Avenue is expected to conclude about Oct. 27, Dixon Public Works Director Matt Heckman told the City Council.
"We came across some underground surprises, as you do in old downtowns," Heckman said at Monday's meeting.
The project, which began Aug. 23, was expected to take six weeks, and next week will be its tenth.
Traffic control on South Galena will switch lanes Thursday or Friday, and the city will block off inside lanes and repair the median. First Street remains open.
Meanwhile, patching is completed on Division Street, the primary access to Reagan Middle and Madison Elementary schools.
Heckman said the Safe Routes project has been molded into a single project with Illinois Department of Transportation. Those repairs will begin soon after school dismisses for the summer, he said.
The federal Safe Routes to School program reimburses projects that make areas more walk- or bike-friendly for students going to and from school. IDOT administers the funds.
Council reports
Mayor Liandro Arellano Jr. said he met with the mayors of Rock Falls and Rochelle.
Comcast made a presentation on high-speed optic cable. The company's offerings are in the high end of infrastructure, and Arellano said he is looking for something in the middle tier – something that provides an approachable price point for city residents.
City Council member Chris Bishop said he and others would take part in government day activities with eighth graders Wednesday at Reagan Middle School. Before the COVID-19 pandemic, those activities had included a tour of City Hall and other facilities, but since that isn't possible this year the presentation will be at the school.
Council member Mary Oros said the approaching Scarecrow Festival would be family-oriented and will be 10 a.m. Saturday at the riverfront.
Council member Mike Venier recognized the Touchdowns for Ta-Tas, a fundraiser for breast cancer that started in Sterling in 2012 but moved to Dixon the past three years. Venier said he will be master of ceremonies for the Dixon Park District community center event at 3 p.m. Thursday at Washington Avenue, where Van Halen tribute band Completely Unchained will perform at 7:30 p.m. Saturday, Oct. 27, at Dixon Historic Theatre.
Action items
• The council voted unanimously to approve applying $500 from the Airport Fund to cover the insurance deductible to enact $90,000 worth of repairs to runway lighting at Dixon Municipal Airport. The lighting system was struck by lightning.
• The council voted unanimously to allocate $10,000 from the Local Fiscal Recovery Funds to cover the grant writing process by Fehr Graham. Becky Fredericks, finance director, said the city is trying to apply for a U.S. Economic Development Association grant of $5 million to $8 million to modernize the air filtration and ventilation at the Dixon Historic Theatre as a COVID safety measure. Arellano said they looked at needs in the city that met American Rescue Plan requirements, and this was the best match.
• The council accepted a bid of $30,500 for an annual payment from Richard Humphrey to farm and maintain 98 acres at Dixon Municipal Airport. There were three bids for this four-year lease opportunity.
Patient and commendable
Walter Parsons waited two hours to make a public comment in appreciation of city workers, whom he said were frontline workers deserving of a Christmas bonus.
"I hope it is bottom up, not top down," he said. "Also, if I ever have to come here again, I hope you put us further up in the agenda."
Oros thanked Parsons for staying so long to give praise to public works and city workers.
Council member Dennis Considine asked when Parsons' suggestion might be put on the agenda. Arellano replied that the city has had conversations about the use of Cares Act money.
"If the council would like to move that to the council floor, we'll make that happen," Arellano said before pointing to the clock. "Except tonight."