DIXON – Congressman Adam Kinzinger's admiration for Dixon's favorite son is well known.
So when he popped into the YMCA for a tour that included a visit with its daycare's preschoolers, it seemed appropriate he be given a toy of his own. A doll.
OK, maybe not a doll, per se. Let's call it a 17-inch-tall political action figure, NIB.
Y Executive Director Andy McFarlane, with a big grin on his face, presented Illinois' GOP rock star with a locally produced book on Ronald Reagan along with the presidential plaything, both of which Kinzinger graciously accepted with a broad smile.
The North Galena Y, 50 years in its current building and, next year, 150 years in Dixon, is where Reagan became certified as a lifeguard. Without the Y, he could not have gone on to save 77 oft-swooning swimmers from the Rock River at Lowell Park, as the legend goes.
The Y was Kinzinger's last stop on a two-city visit Tuesday that began at the Princeton Rotary Club and included a tour of the Borg Warner plant in Dixon.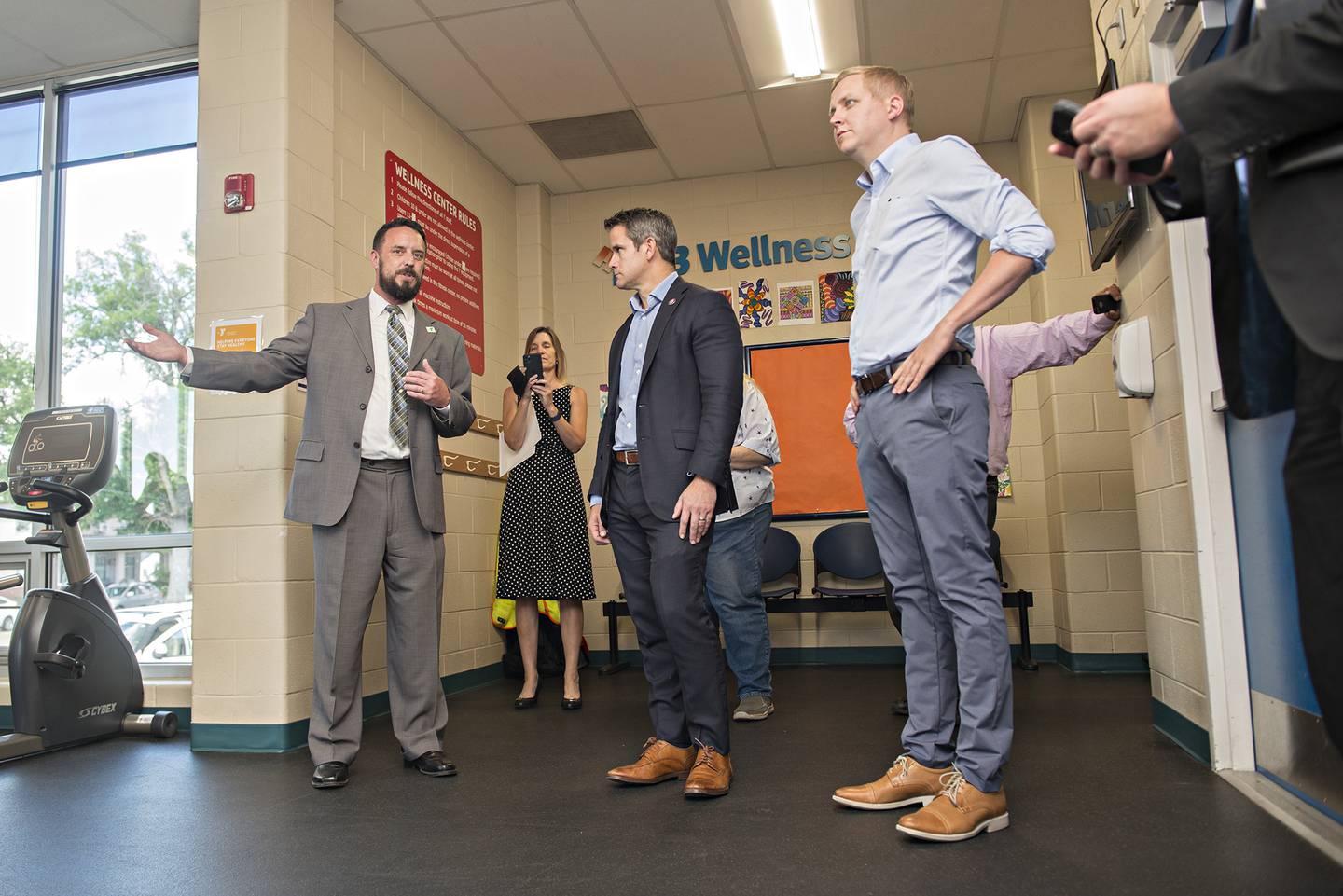 He resumes his swing through the 16th District Wednesday with a visit to a Sycamore dairy farm, the Maletti salon products manufacturer in Belvidere, a closed town hall for employees at the Carus Corp. plant and a tour of the Epsilyte facility, both in Peru.
The 43-year-old Channahon Republican is up for reelection next year. Such visits to the Sauk Valley have been infrequent, and with his recent appointment to the special committee to investigate the Jan. 6 riot at the Capitol – and a baby boy due in January – his life isn't about to get any less hectic.
Tuesday, though, he was genial, relaxed and attentive, focusing on McFarlane's tour, taking in the history, remarking on the many and varied programs and taking a little time to schmooze the 4- and 5-year-olds, many of whom start kindergarten soon.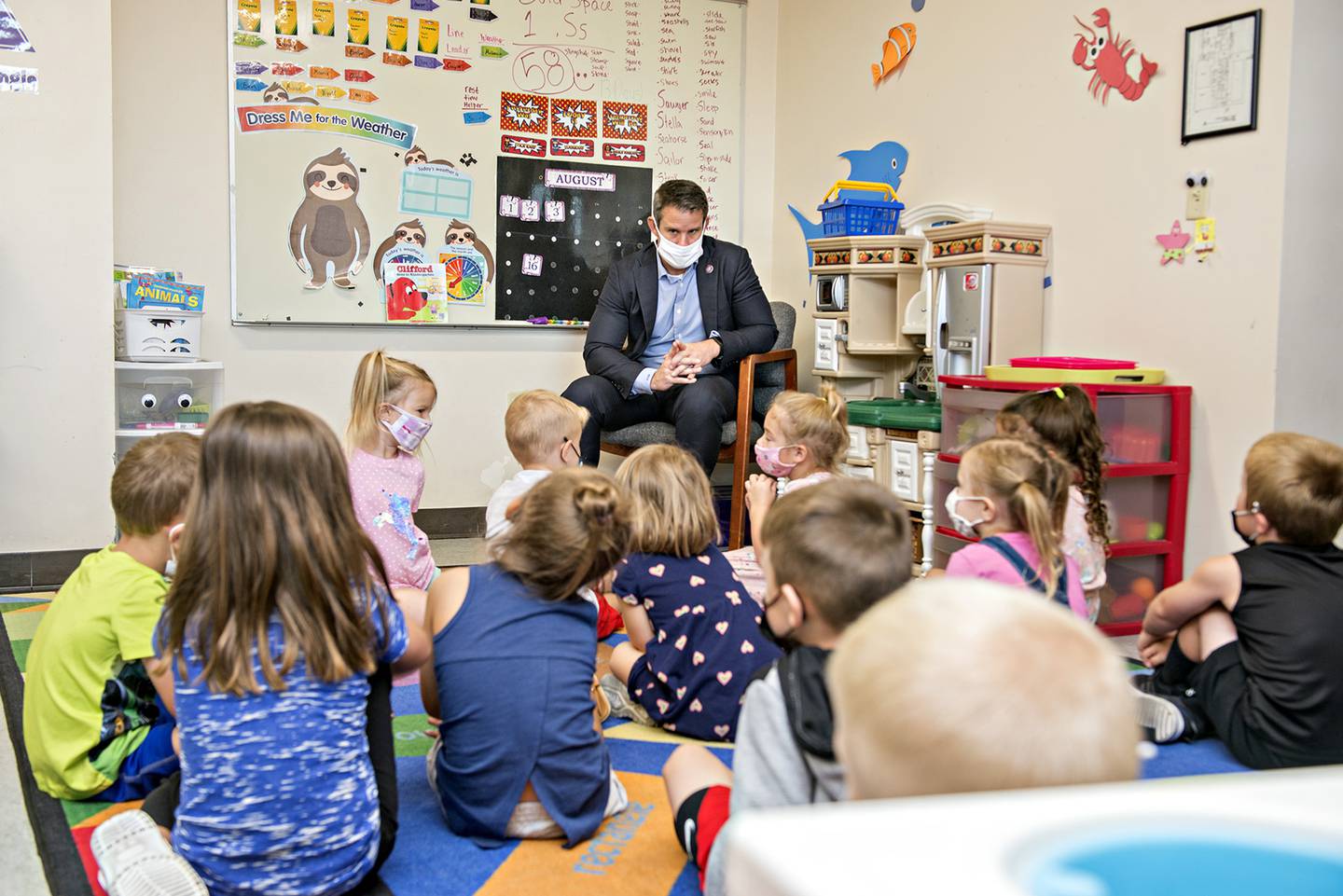 Afterward, he paused for a chat with two of the journalists tagging along. Not surprisingly, the topic quickly turned to COVID.
Everyone should get vaccinated, he said.
Not only that, "hopefully at some point soon they approve the third shot, which I think will up the effectiveness against the delta variant," he said.
"We're going to be living with these variants for a while. This is why the vaccinations are so important" – to keep the vaccine from mutating.
Still, short of a variant that is completely resistant to the vaccines, Kinzinger doesn't see the country going back to 2020 restrictions.
"I'm just not too worried that we're going to go back to the posture of lockdown. I just don't think people are ready for it, I don't think they can handle it, and I don't think it's right.
"I think while everybody should get vaccinated, some have chosen not to, and that is their risk they are taking but those that have done, I think, the right thing should not be imposed with all these (masking) issues."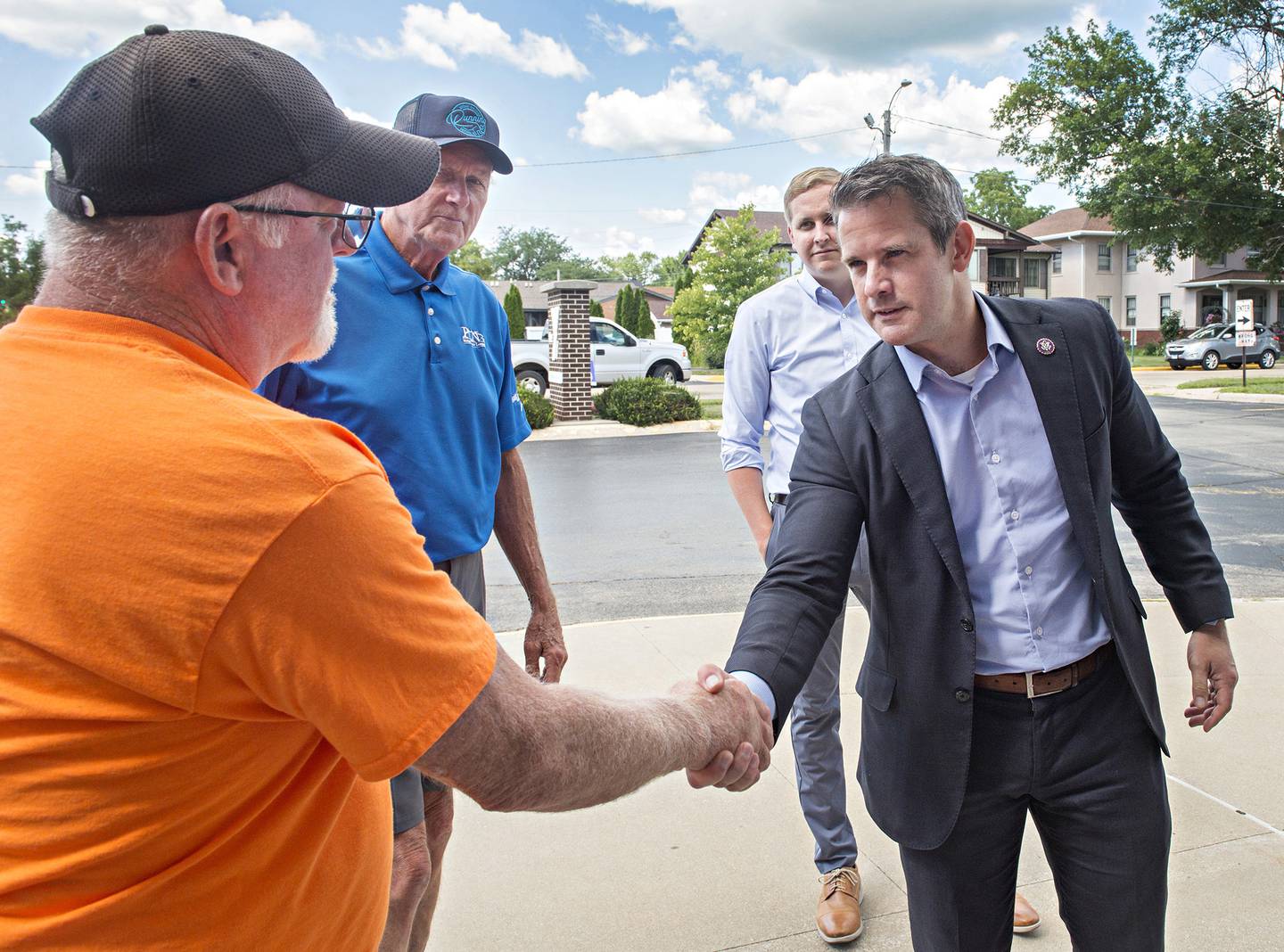 It's also time to get the country back to work, he said.
When the coronavirus first hit and unemployment benefits were extended, they were necessary to help keep people from working, to encourage them to "shelter" at home, but now that the vaccines are here and COVID is loosening its grip, it's time to bring benefit levels back to normal, to encourage people to get back to work, he said.
"It was important to ensure that the people who truly needed (unemployment benefits) got them, but we can't keep extending it into perpetuity."
It's not just an economic issue: People who don't work get depressed, Kinzinger noted.
Another issue: Employers say they can't find workers, and many workers say that's because they can't find child care. YMCAs are the largest providers of child care in the nation, McFarlane said, and Kinzinger acknowledged the agency's role.
"I think the expansion of child care is so important … employers are hearing from their folks, 'We're trying to come back to work' but they don't have a any place to send their kids."
Most importantly, the YMCA is a place that brings people together, and that's what the country needs right now. It's the most important issue facing the nation, Kinzinger said.
"I think it's the biggest role you can play, healing division. It's the thing that I worry about the most, more than any foreign policy issue: people's inability to talk to each other."
McFarlane agrees, and he's proud of the example the Dixon YMCA sets.
"It's a real reflection of the community," McFarlane said. "Income barriers, religious barriers … it all melts away when you come here."