Dixon High School, Rock Falls High School and Sterling High School had students who qualified for Illinois Music Educators Association state conference activities last week at the Peoria Civic Center in Peoria.
The ILMEA conference is a four-day meeting for music educators filled with seminars, recitals and performances by select groups. The conference culminates with a series of all-state and honors concerts starting at noon Saturday.
The schools announced their participation in various ways: Dixon's music instructors made a presentation during the Jan. 18 school board meeting, while Rock Falls and Sterling posted the news on their social media accounts.

Dixon
Dixon chorus director Erin Rogers said the high school will have senior Kayti Miller in the all-state chorus, junior MyKaylah Kirby and Owen Winters in the honors chorus, and senior Grace DeBord was chosen by District 8 to attend Future Music Educator events.
In auditions, high scores were collected by Miller among vocal jazz altos and Kirby among senior chorus altos.
During the presentation, Rogers was joined by high school band director Riley Carter and Reagan Middle School junior chorus and band director Ashley Almquist, who shared lists of District 8 festival qualifiers. They said the 24 auditions were the most for the district.
They were alto saxophonist James Cocar for senior band; Miller, DeBord, Kirby, Ava Pazera, Anne McFarlane, Gianna Dukes, Owen Winters, Dominik Zachary, Molly Oliver, Olivia Gingras and Leslie Pettorini for senior chorus; Cocar, Miller, DeBord, McFarlane, Gingras, Oliver Payne and Emmy Pettorini for vocal jazz; saxophonist Nathan Stauter for junior band; Julia DeVries, Melanie Gurney, Emma Nicklaus, Kate Wadsworth for treble choir; and Penelope Rodriguez and Rory Weakman for mixed choir.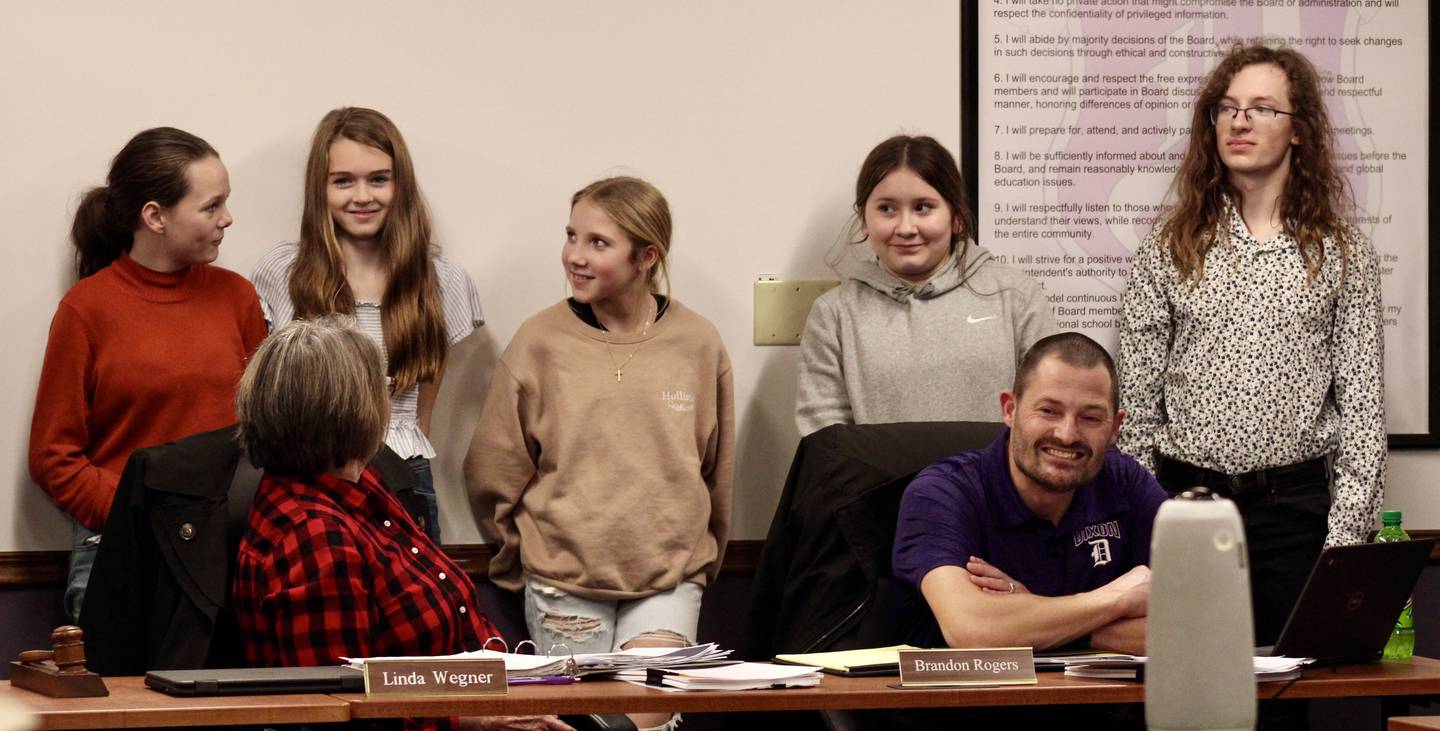 Rock Falls
Rock Falls posted that it qualified junior tenor Braeden Thome and sophomore soprano Alliah Haines-Penny for all-state choir and senior bass Raul Garcia-Ferneandez and senior soprano Ariana Dias for honors choir.
Sterling
Sterling posted that junior bass Kyle Knutsen, freshman Morelia Vargas and senior tenor Christian Garza were in the all-state choir; senior Anna Hutchinson, freshman Gavin Fischer, senior Emma Stroup, senior Kiara Olinger, sophomore Cole Stumpenhorst and junior Henry Oberg were in the honors chorus; and senior violinist Israel Grande and junior bass clarinetist Ava Cassens were in the concert orchestra.