Before and after the turkey and the football, consider adding these festive and heartwarming elements to your Thanksgiving weekend activities, all part of 5 Things To Do in the Sauk Valley.
1 Traditional thanksgiving meals. Dixon Knights of Columbus 690 will offer free meals to go 11 a.m. to 2 p.m. at Kay Cee Hall, 506 W. Third Street, Dixon. Limit six meals per vehicle. Harvest Time Bible Church, 1802 Dixon Avenue, Rock Falls will have meals noon to 1:30 p.m. in the Family Life Center, with curbside pickup available 10-11 a.m. if registered in advance at 815-626-1234. First Evangelical Lutheran Church, 301 S. Clay St., Mount Carroll will have a meal noon to 2 p.m., with donations going to Mount Carroll Ministerial Association and Lutheran World Hunger.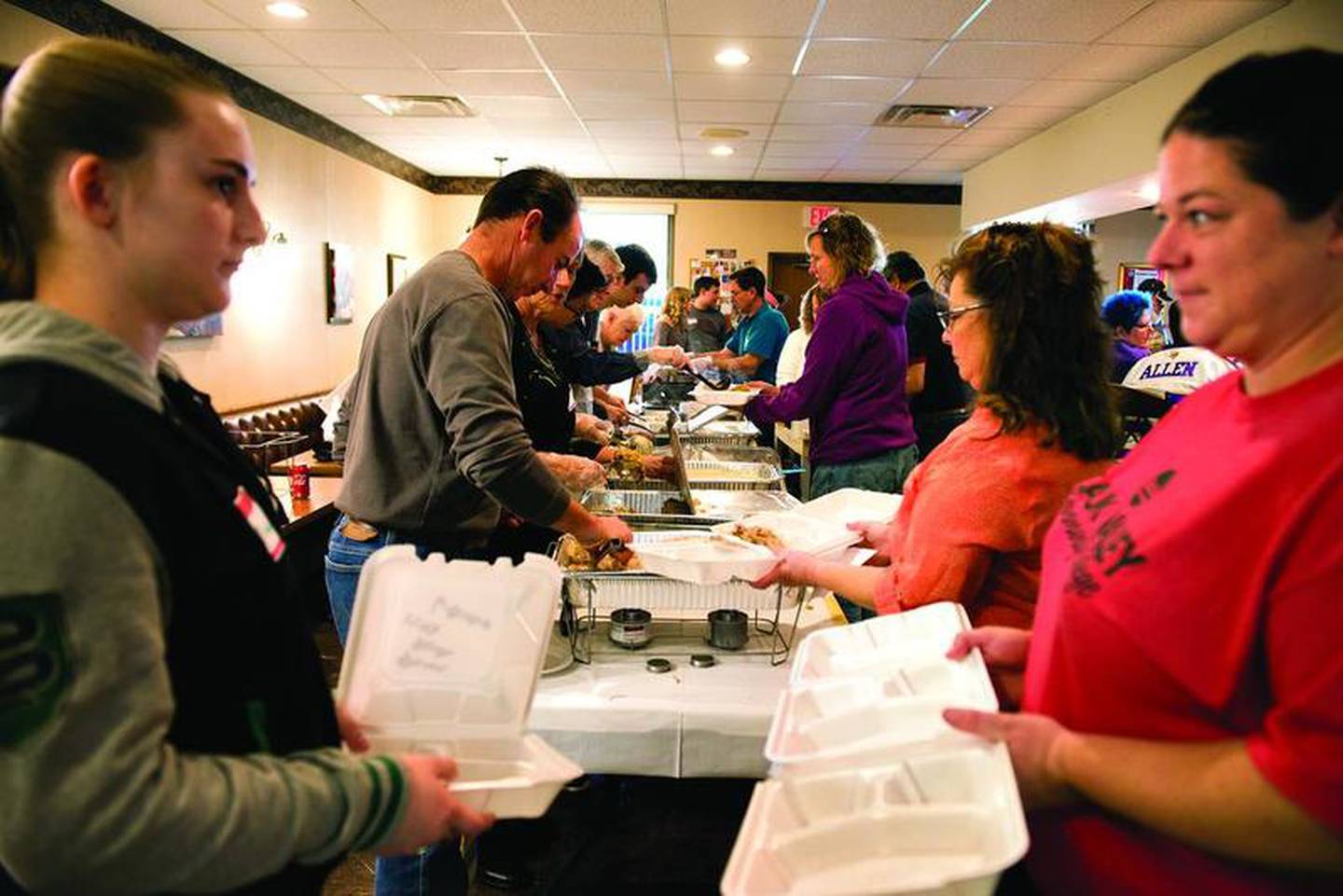 2 Run before the feast. St. Anne's 5K Turkey Trot, 8 a.m. Nov. 24, Lowell Park, Dixon. This family friendly event is on a paved course which offers forest landscapes as well as a portion along the Rock River. There will be water stations, timing, overall awards, age awards and a prize for best costume.
3 Holiday shopping. Discover Dixon is holding Dixon's Shop Small on Saturday sponsored by Chris Hammitt State Farm. For every $25 spent at participating businesses earns a shopper a chance to win prizes including $500 in cash or gift baskets valued between $50 and $250. "When you shop local you allow small businesses to reinvest back into the community. Whether sponsoring your child's sports team, donating to a local fundraiser, or supplying jobs for your neighbors. Shopping small has a direct impact," said Rustic Roots owner Amy Nicklaus. Sauk Valley Bank is holding a treasure hunt to find five hidden piggy banks throughout town. Things start at Dixon Welcome Center, then move to participating businesses: J Boutique, Venier Jewelers, Alley Loop, Arthur's Garden Deli, Pam's Hallmark, Papa Murphy's, Salamandra's, Premier Rental Purchase, Waterfront Gifts, Sherman Williams, J Salon, Snyders Pharmacy, Weeds, Revive Boutique, Shamrock Pup, Kaleel's Clothing and Printing, Dixon Family YMCA, Books on First, Paper Escape, Green River Cyclery, Fresco on First, Triple P BBQ II Trein's Jewlery, The Asterisk Boutique, The Crystal Cork, My Play Village, The Wellspring Medical Spa, Chickweed Cottage, Coffee Crush Dixon, Rustic Roots, Renew Me Gallery, Stone Bridge Running, Majewski Motors, Value Lab, Rockin Nutrition, Somkit Thai and Sushi, Flowers Etc., and Ace Hardware.
4 Small Town Christmas. The 36th annual Candlelight Walk will be 3-8 p.m. Saturday in Oregon. It features horse-drawn rides, visits with Santa, a winter carnival, holiday shopping, Candy Cane Lane, children's crafts, a tree-lighting ceremony, live music, madrigals and caroling, holiday gift fair at Coliseum, a sip and shop, specialty shopping at Conover Square Mall on Third Street. The same evening, the Eagle's Nest Art Group will have its art show, 4 to 8 p.m. at Conover Square Mall. No price for admission to view the gallery, which includes original works in a wide variety of mediums by artists from Ogle, Winnebago and Lee counties. Some of the artists will be on hand. Works created during the October-November painting class taught by Laurie Friemuth and Karen Tucker will also be displayed.
5 Drive-thru fun. Rock Falls Centennial Park will have its Holiday Light Display, 5:30-8:30 p.m. beginning Saturday and then continuing every Friday, Saturday and Sunday from 5:30 to 8:30 p.m. through Dec. 23. New this year are two dates set aside exclusively for horse-drawn carriages and a self-guided stroll through the light display: Sunday, Nov. 27, and Friday, Dec. 9. Other vehicles will be prohibited on those dates. Admission is free, but donations accepted.
Do you have information on an upcoming event or attraction? Be sure to let us know about it. Please submit information for Sauk Valley Media's weekly calendars to https://www.shawlocal.com/sauk-valley/forms/press-releases/ or to news@saukvalley.com. Include a contact person and phone number.