AMBOY – Joshua Nichols was intrigued by the possibilities of adding electric buses to Amboy Community School District 272′s transportation fleet but, as superintendent of schools, he wanted confirmation of their capabilities.
"A year ago, I attended a workshop on electric buses," he said. "They were running them up in Alaska in extreme heat and extreme weather, and they were doing fine."
That answered his concerns over whether electric buses could handle northern Illinois winters.
It was the first step in a process that led Amboy to something new: being among the first batch of the nation's schools selected in an Environmental Protection Agency initiative to use rebates to provide low-emission transportation to low-income, rural and tribal communities.
Amboy found out Oct. 26 – during a ceremony conducted by Vice President Kamala Harris – that it would receive $790,000 for the purchase of two electric buses and charging stations.
[ Vice President Harris presides over announcement of grants for low-emission buses for schools. ]
The 72-passenger buses – emblazoned with the distinctive blue bumpers of international manufacturer Lion Electric, will be made at the company's new plant in Joliet and delivered so they can be running morning and afternoon routes when the next school year starts.
[ Lion Electric produces first electric bus from its new plant in Joliet. ]
"It's really a great deal for the district," Nichols said. "We can see and test something at extremely low cost to the district."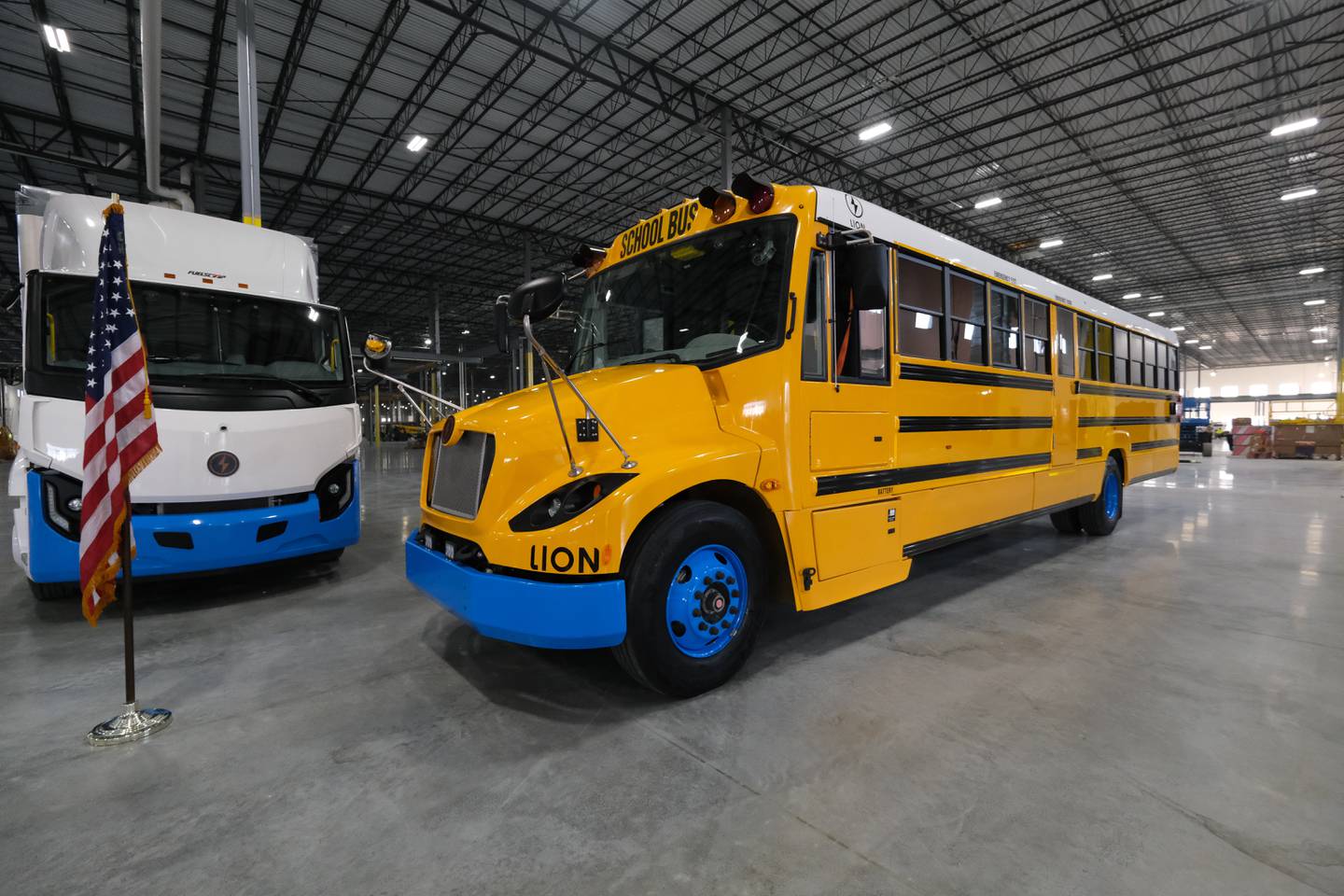 Grant process
After that initial presentation, Nichols said Lion Electric stepped forward.
"They jumped in, they brought up the grant," Nichols said. "So why not take a shot? At least try one."
Brian Alexander, director of public relations for Lion Electric said the company has a team that helps with the grant application process.
"We're making a complicated process simple," he said. "We help customers apply to the extent they would like them. We can file the paperwork on their behalf."
The assist is often needed. The very schools the grants are intended to help are dealing with driver shortages, a time-crunched administration and an agency – the EPA – with a grant-writing process that might be new to them.
Such assistance was important to Nichols if they were to acquire the right fit of bus. Amboy, which has 40-mile routes, looked at costs and sought the lower-mileage model with the 100-mile range. Some of Lion's buses go 150 miles on a charge.
"They can come back, run another route and sit on a charger overnight," Nichols said.
"The buses don't go far," Anderson said. "They're parked all night, most of the day. And it's all stop and go – good case for electrification."
That usage routine is why Lion decided in 2010 to focus on electric school buses, which it has been manufacturing since 2016. It has more than 700 all-electric vehicles on North American roads, with 10 million miles of road performance.
Its new 900,000-square-foot manufacturing facility in Joliet had the first bus off its production line this week. It plans to be able to produce 20,000 electric vehicles a year at the plant.
Anderson noted that buses use regular vehicle chargers, which streamlines the installation process; there's no need to overhaul the electricity grid.
Most of the Amboy fleet is leased vehicles, but it owns older spares. To comply with the terms of the grant, it has to remove from service an equal number of diesel buses. The timing works, Nichols said; it had two high-mileage buses from 2011 and 2012 that were ready to retire.
Amboy must commit to running the electric buses for five years; Nichols is hoping for 10 to maximize savings.
"It's their cost over 10 years, that's where the EVs start winning out," he said.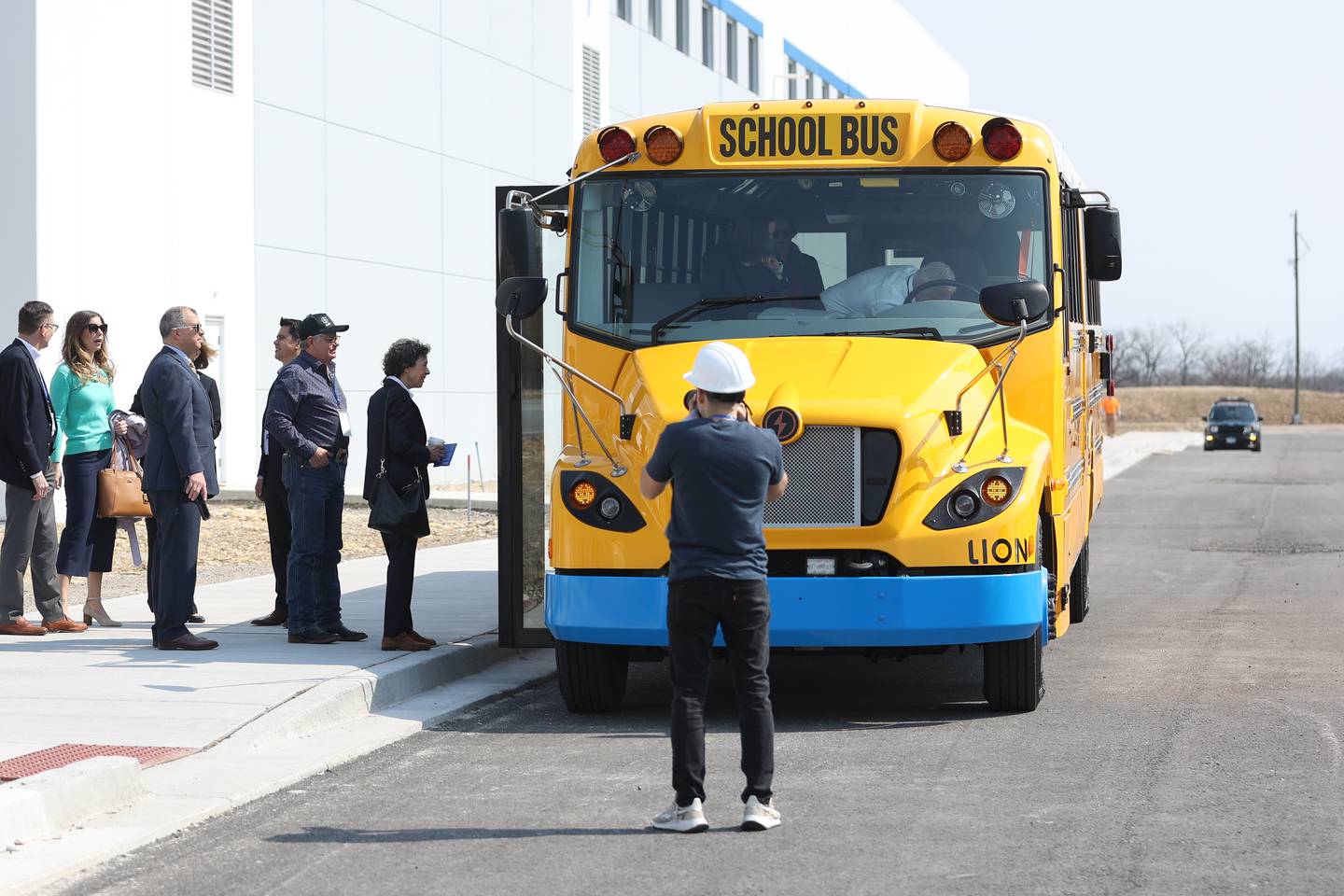 Anderson said Lion's batteries are rated to last 15 years. If more efficient batteries hit the market, which is likely, Anderson said, the older battery can be repurposed for another vehicle, used for static storage or recycled.
Lion's bus chassises are made of composite material, not steel. And because there's no engine vibration, wear and tear is reduced.
Pulling power
Anderson, who said he used to be a race car driver, understands the relationship of horsepower and torque that's important to large vehicles. He said the power band of an electric bus is inverse to the diesel ones. Essentially, the electric one has one gear and can go from a standstill; diesel buses have to rev up to get the level of torque needed to move fully loaded.
"Electricity has a lot of responsiveness off the line," he said.
The electric buses come with amenities, including interior air conditioning. Anderson said buyers have the choice of heating off the battery or from a 2-liter diesel pump. Nichols said Amboy likely will choose the latter option.
Lion will provide driver and maintenance training. Anderson said school fleets with a mix of diesel and electric buses will be around a while. But it's his experience that once they've had the orientation, most drivers prefer the electric routes.
"They want to drive the quiet bus. They can hear, there's no fumes," he said.
Savings and air quality
In a brochure on its Type C bus, Lion said the model experiences savings of 80% on energy costs and 60% on maintenance costs.
Anderson said a full four-hour charge probably costs between $15 and $20. He said the buses can be programmed to charge during low-use, low-rate periods as well.
They run clean too. During normal use during a school year, a single bus means up to 25 tons fewer greenhouse gas emissions.
The district also is obliged to install a charging station – for which the cost will be covered by the grant – at the old Amboy Junior High lot.
Nichols said the school will be evaluating performance: "Are we seeing a cost benefit? Is it playing out?"