ROCK FALLS – Two productive offensive innings to open the game and good fielding and pitching throughout proved to be a winning formula for the Rock Falls Rockets, who stayed perfect on the season with a 6-2 win over the Geneseo Maple Leafs in a nonconference home game on Wednesday.
Starting off in the top of the first, senior pitcher Katie Thatcher and the Rockets' defense made quick work of Geneseo, as the Louisville recruit threw a strikeout after conceding a leadoff walk, then induced two groundouts to finish the inning.
"Coming into the game and realizing the strike zone, I knew it was going to be hard to get those outside pitches called, so really pitching in the zone and relying on my defense to get those hits that were ground balls," Thatcher said. "I think there was only one hit in the outfield, so my defense in the infield really worked and that was a big key in this game."
[ Rock Falls vs. Geneseo softball photo gallery ]
In the bottom of the first, the Rockets (3-0) took a two-run lead.
Senior shortstop Rylee Johnson smacked a one-out double to right field to start the rally, then Thatcher singled to second to get runners on first and third. Johnson came home on a delayed steal to score the first run, then Zoe Morgan hammered a double to right to plate Thatcher for a 2-0 lead.
In the top of the second, Geneseo drew within 2-1. Sidney Spindel sparked the rally with a leadoff single, then Tara Bomleny drew a walk and Madison Scott reached on a fielding error to load the bases.
Reagan Bopes, the courtesy runner for Bomleny, came home on another error after Spindel was caught stealing and before Lauryn Wildermuth was thrown out at first on a groundout.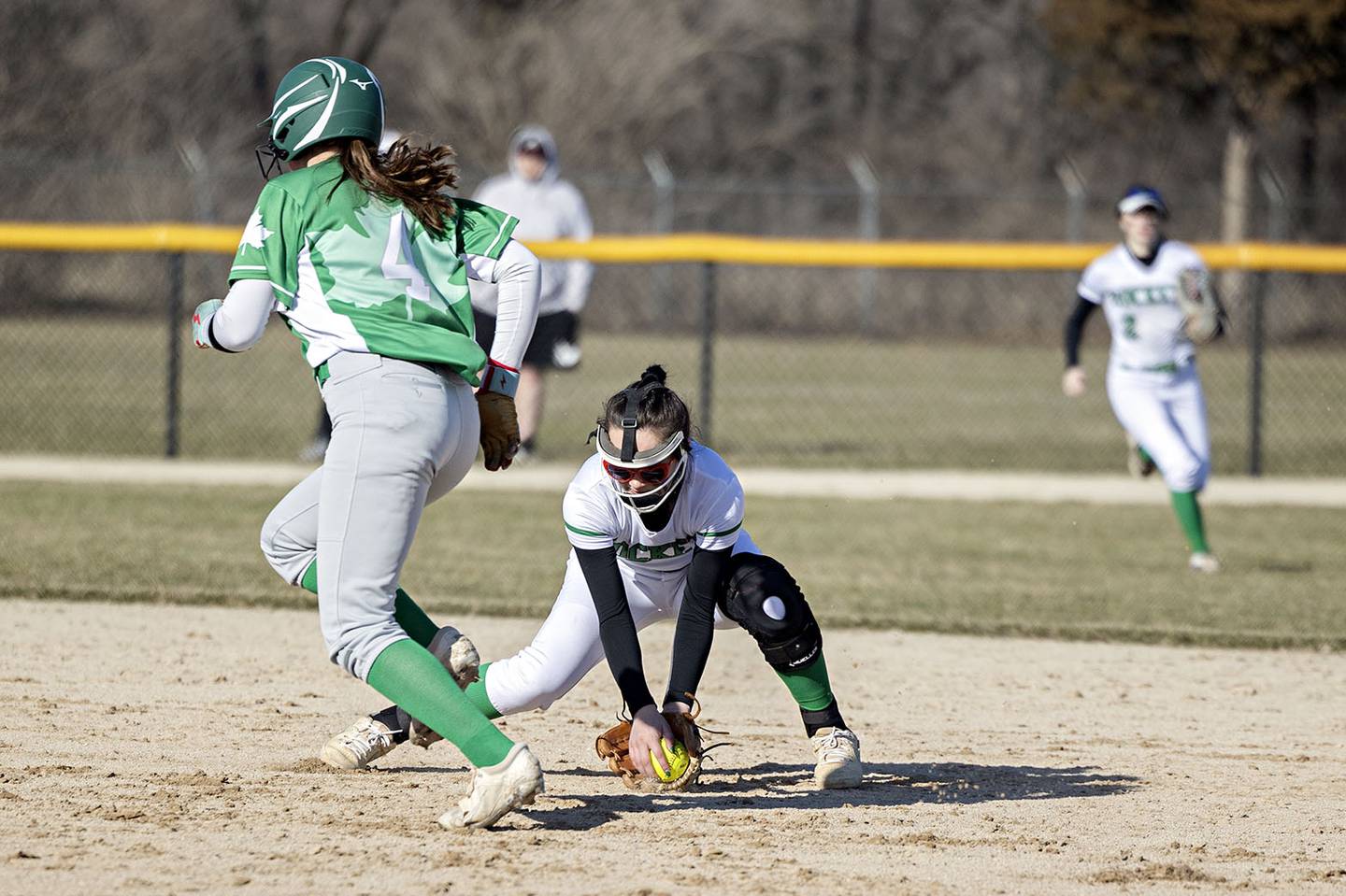 After another Thatcher strikeout for the third out, Rock Falls picked up right where it left off in the bottom of the second.
Maddie Morgan, Olivia Osborne and Brooke Howard strung consecutive singles together to build a 3-1 lead; Howard's single drove in Morgan.
With one out and runners on first and third, Johnson stepped to the plate and crushed a three-run home run to right field for a 6-1 lead.
"As soon as it was off the bat, I knew it was home run. It's just a feeling," Johnson said. "It was a great pitch to swing at, and I'm glad I swung at it. It felt great."
"I think hitting is contagious, so once one person gets a hit and it keeps going, it really helps the team out," Thatcher said.
In the top of the third, Jaelyn Lambin singled, Payton Stohl reached on an error, and Annabelle Veloz drew a walk to load the bases for the Maple Leafs. After Thatcher struck out Drayanna DeBoef, Spindel drew a bases-loaded walk to score Lambin. But two runs was all Geneseo could manage.
Thatcher got three groundouts after hitting a batter with a pitch in the top of the fourth, and worked a 1-2-3 inning in the seventh to seal the Rockets' win.
"Katie kept pitching a great game. She put up with some calls that should've went her way but didn't, and our defense backed her up perfectly," Johnson said. "I think we all played a great game."
Johnson was a triple shy of the cycle, finishing 3 for 4 with a double, the home run, two runs scored and three RBIs.
Thatcher threw a complete game, allowing two hits and two runs (zero earned), while striking out three and walking six.
"We haven't seen a pitcher that good yet. We were really glad to face somebody with that kind of talent, because we need to see some better pitchers," Geneseo coach Bob Pettit said. "We just didn't feel up to the task offensively; we've been scoring a lot of runs, and she shut us down pretty good."