Facing down her final season of high school sports, Dixon senior Sam Tourtillott knew she was going to make the most of the 2022 softball season.
But even she didn't dream it would be as stellar as it turned out to be.
She broke six school records and finished in the top seven in the area in every major offensive category – she was top-two in eight of them – and was a huge reason why the Duchesses tied the school record with 18 wins and played in their first-ever regional championship game.
With a résumé like that, Tourtillott is the 2022 Sauk Valley Media Softball Player of the Year.
"I had a season that I could have never imagined," Tourtillott said. "I performed way better than I expected to, and it was really special."
•••
The stats the senior three-sport standout put up were mind-boggling. She led the area with a .586 batting average – 20 points higher than the next-best mark – 58 hits, 52 runs, 17 doubles, and nine home runs. She was second in slugging percentage (1.111) and on base plus slugging (1.719), and her 46 RBIs was also second-most in the area.
She had an area-best 30 extra-base hits, hit .500 with runners in scoring position, came through in the clutch with 18 two-out RBIs – and she only struck out three times in 107 plate appearances.
Not only that, she rewrote the Dixon record book – with a flourish. She broke the single-season school marks in batting average by 58 points, RBIs by 15, and hits by 11, and also had three more home runs, two more doubles and two more runs scored than any other Duchess ever.
"It being my senior year, it was a lot more emotional, especially softball being my last sport of high school," Tourtillott said. "It was my last go-round, so I just had to work harder; I hit twice a day, and I knew that this was my last season and I had to lock in and go out strong."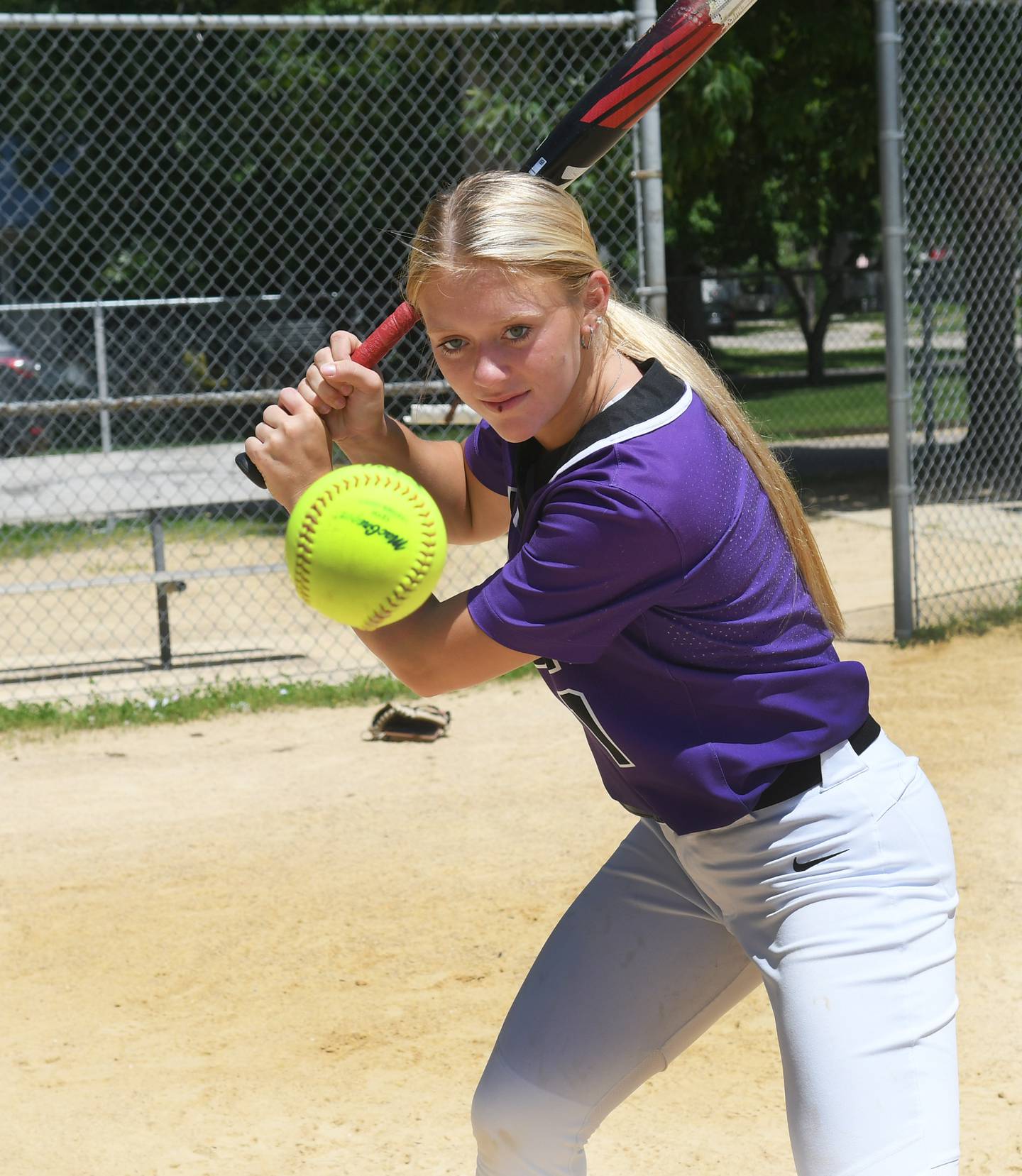 The hard work paid off. She hit 215 points higher than her junior season, and slugged 434 points higher than in 2021. Her on-base percentage was 170 points higher, with an OPS 605 points higher, and she scored 32 more runs, drove in 32 more runs, and had 14 more doubles, two more triples and five more home runs than in her first-team all-BNC campaign as a junior.
She was also slick with the glove at shortstop and in the circle, committing just three errors in 67 chances on the season for a .955 fielding percentage. She went 8-1 with a 3.44 ERA, striking out 81 and walking only 19 while giving up 27 earned runs and 47 hits in 55 innings.
Ask her coaches and teammates what words they would use to describe Tourtillott, and the three most common would likely be aggressive, efficient and determined.
But her high softball IQ and consistent approach at the plate and in the field were evident to everyone who watched her play. In her plate appearances, she was both patient and aggressive, and her ability to not press and let the game come to her was a key factor in her success.
"My approach was go to after my pitch. She has to throw me three strikes, so just wait for the pitch that I wanted," Tourtillott said. "If it was on the inside corner, I was going to take it. But anywhere else middle-out, I was going to swing at it. The first pitch is normally the best pitch, so if the first pitch was there, I was swinging at it."
It was the intangibles that impressed Dixon coach Candi Rogers more than the eye-popping stats her senior shortstop put up. A former Dixon standout who played on the 1998 team that set the single-season school record with 18 wins, Rogers can not stress enough that Tourtillott's value far exceeded the numbers on her final stat line.
"She had an incredible season, and it's not just her stats. The athlete that she is, she's still such a hard worker, a workhorse for this team, and a good leader and great teammate, too," Rogers said. "The little things are what made the difference. She set such a great example, and the other players looked up to her. She knew what we expected of our players, and she went above and beyond in everything she did.
"I can't say enough good things about her, just how good a teammate and leader and player she is. I wish I had nine of her on the field, and I'm really going to miss her next year."
•••
Like a lot of good athletes, Tourtillott was the consummate team player. Surrounded by five fellow seniors and a second-year varsity player in junior Ana-Kate Phillips, she felt comfortable taking on the leadership role, and also had plenty of support on and off the field.
Tourtillott credited the Duchesses' team chemistry with providing the perfect atmosphere for this year's squad to be one of the best in program history.
"It was super cool to be super-close with them. On and off the field, we were close – we would hang out, we'd go to the baseball games together – so that was cool to have that bond," she said. "We all just wanted it so bad. Every single one of us seniors showed up every day to practice just working hard. There wasn't a single day that we came in not wanting to work hard."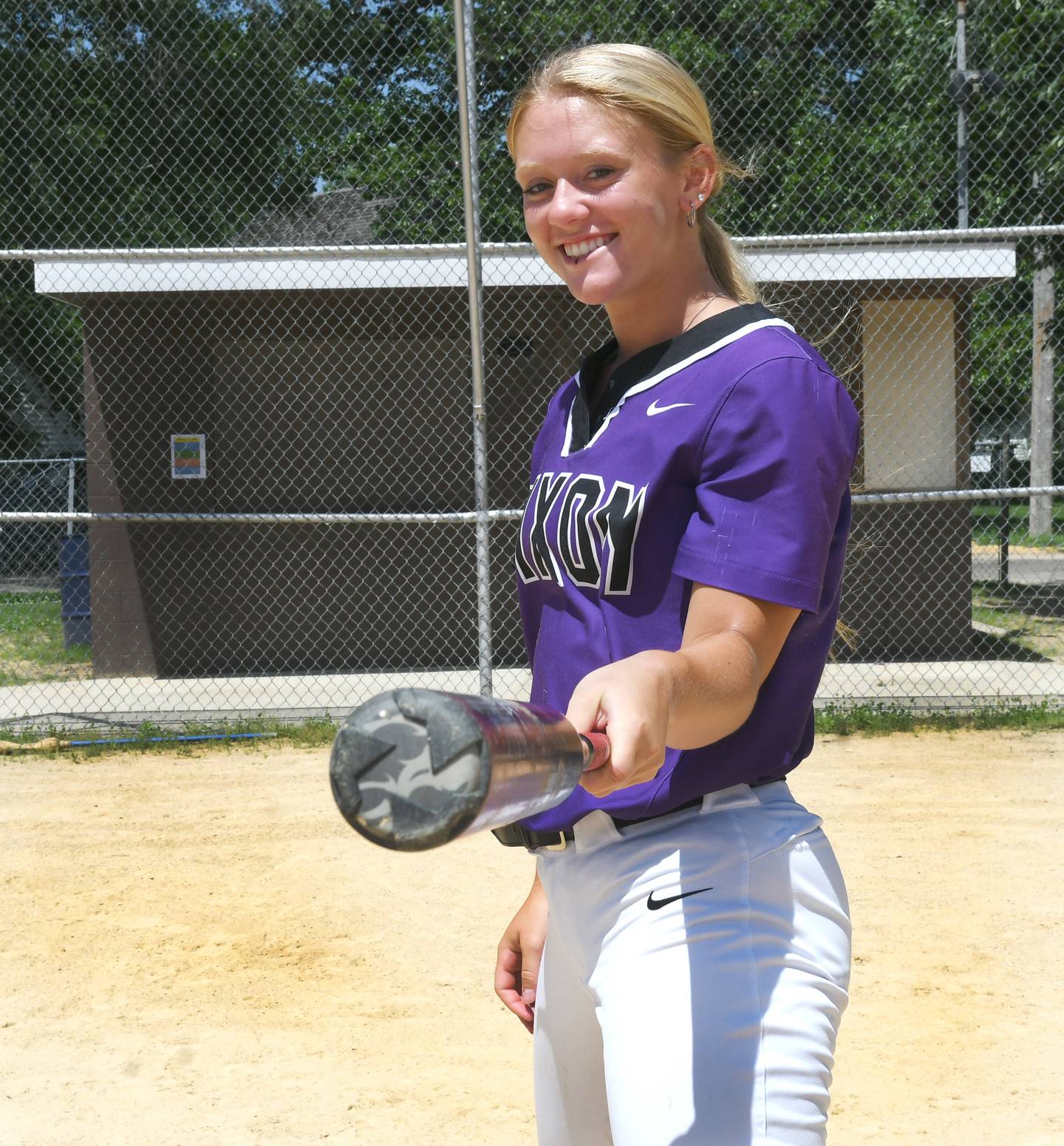 The biggest motivating factor was to put their team up on the Dixon softball records board inside Lancaster Gym. Each sport has a board where conference, regional, sectional and state titles are listed by year, and the one for softball sits empty.
Tourtillott and classmates Elle Jarrett, Arianne Smith, Izzi McCommons, Holli Miller and Morgan Leslie were single-minded in their desire to change that, and their coach credits that common goal as the reason why things seemed to run so smoothly from Day 1.
"As a group, from the beginning of the season, they all had the same goal and wanted the same thing – and they all put in the work to get there," Rogers said. "Not only that, they had such great team chemistry, they understood each other and respected each other. They all understood their role, and they understood their teammates' roles as well.
"The way they meshed together, I've never had a team come together and be that tight-knit before. They got along, had great chemistry, and worked together the way that they did, and really enjoyed each other while doing it."
Dixon won its first six games, including a pair of tough BNC road contests at Stillman Valley and Oregon, and was 8-2 when the Hawks visited Reynolds Park on April 26.
That was an instant classic, with both offenses putting the pressure on, both pitchers getting out of some jams, and both defenses coming up with web gems to save runs and keep their team in it.
With two outs and the winning run on third in both the seventh and ninth innings, Oregon coach Nate Rogers showed Tourtillott the ultimate sign of respect by intentionally walking her twice; the Hawks won 3-2 in 11 innings.
That loss was tough to swallow, but it seemed to light a fire under the Dixon offense for the final month of the season.
"After that game, I think we realized that we didn't want to lose any more of those close games," Tourtillott said. "We'd had some games that went deep into the late innings, and we didn't want to lose any more of those. So we wanted to do everything we could to get ahead before we got to that point, and put ourselves in position to win those games."
It also showed how close the Duchesses were to the top teams in the BNC, and was proof to themselves and the rest of the league that their veteran team wasn't about to quit when things got tough.
"Some of the games were added pressure, like those big conference games where it felt like we had to win them or lose the conference. But I think the pressure just pushed us to work harder and pushed us more as a team," Tourtillott said. "This team wanted it really bad, so that helped us a lot."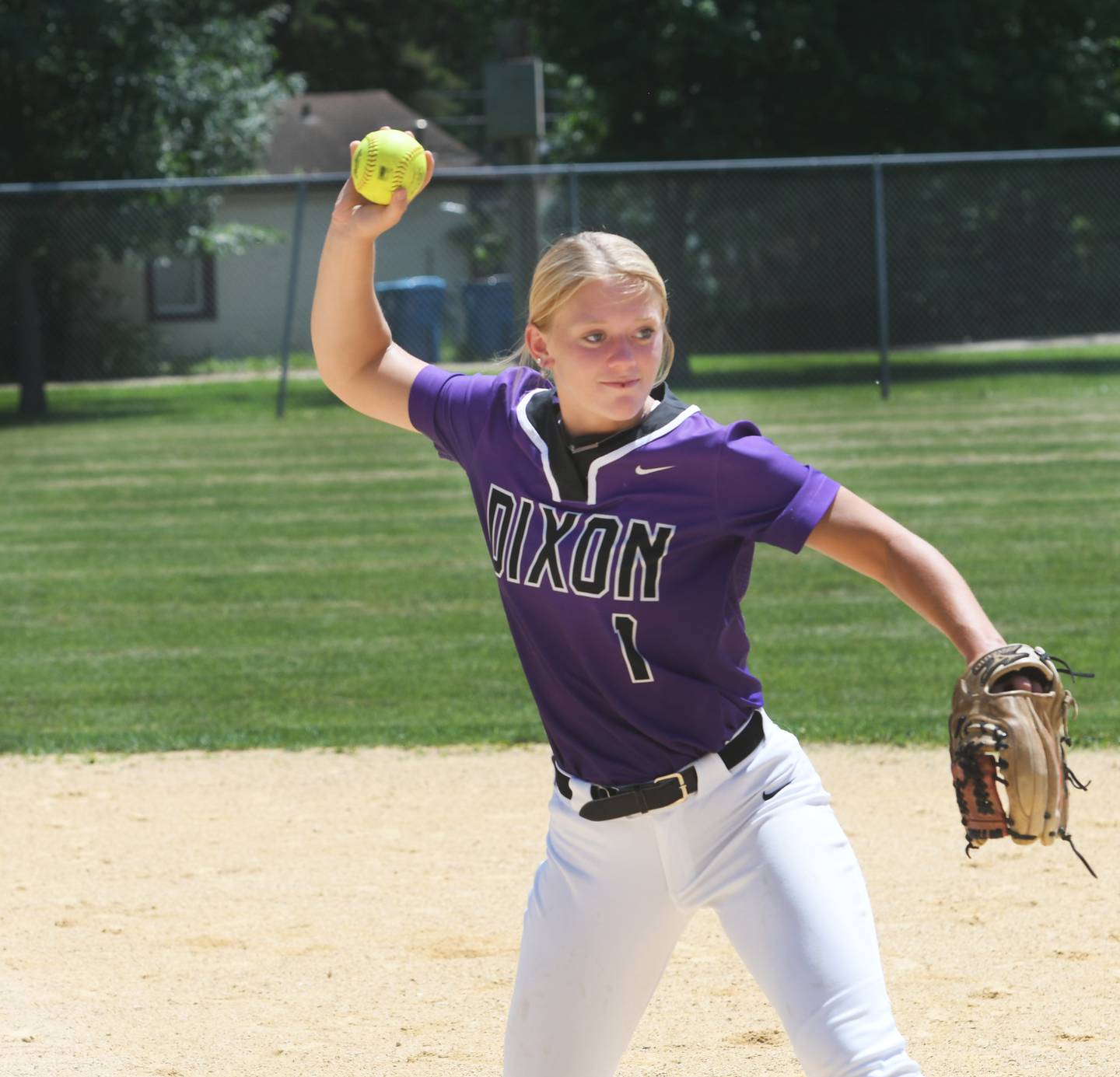 Dixon proved that two weeks later in a BNC rematch with rival Rock Falls. The Rockets handed the Duchesses their first loss in their April 12 game in Dixon, and Tourtillott and her teammates had revenge on their minds when they met in Rock Falls on May 10.
The Duchesses took a 3-0 lead in the first 2 1/2 innings, with Tourtillott scoring two of those runs. Rock Falls rallied with single runs in the third, fourth and sixth to tie it, and the game went into extra innings.
With Jarrett mowing down the Rockets 1-2-3 in the eighth and ninth, Tourtilott came through in the 10th with a go-ahead two-run home run to send Dixon to a 5-3 victory – and right back into the BNC title chase.
"The whole season, we kind of thought that we were still in it, still where we wanted to be," Tourtillott said. "Even with our first conference losses, we were still close to the top. And even if we lost conference, we were still working toward postseason to be able to try to win that regional."
That dream came up one game short, but the first regional final in Dixon softball history was the perfect example of that will to win.
Trailing 6-0 through two innings against rival Sterling on its home diamond, things looked bleak on the scoreboard. But these Duchesses were a different breed, and rallied to tie the score with a five-run fifth inning. Tourtillott was right in the thick of things again – she went 6-for-8 in the two regional games against Rochelle and Sterling – and Bailey Tegeler and Phillips both had RBI singles before McCommons lined her first career home run over the fence in left-center to tie the game 6-6.
And though the Duchesses lost 7-6 when Sterling senior standout Elizabeth Palumbo singled in the winning run with two outs in the bottom of the seventh inning, Tourtillott was proud of her team for battling to the bitter end.
"I think the Dixon softball reputation was to just give up when you're losing. But this team was going to fight back, no matter what," Tourtillott said. "Even when it was 6-0, I didn't think we were going to lose. I thought we were going to fight back, because I know the fight and the want this team had. We just fought hard for it, and we didn't win, but we were so close."
•••
With her high school career now over, Tourtillott is ready to set her sights on the next level. She is taking her considerable talent on the softball diamond and basketball court to Rock Valley College. RVC has won the national championship in NJCAA Division III softball for eight straight seasons, and will be making the move up to Division II starting this fall.
She'll be cutting volleyball out of her repertoire, but will play both basketball and softball while studying nursing at RVC. It's a challenge she is embracing and preparing for head-on, just as she has with all of her athletic endeavors throughout her life.
And her work ethic, dedication and determination seem perfectly suited for her to take the next step.
"I've just got to keep working hard like I have been, stay on the right track. I've got to perform there like I've performed here, and I'll be good," Tourtillott said. "I need to learn how to time manage a little better when I get there, but I think it'll be the same as now. I'm doing both [basketball and softball] constantly now, so I think it'll be the same. I just need to keep working hard, get going with my new teammates, and do what I can to help us have success."
Anyone who knows Tourtillott will probably tell you that there's no doubt in their mind she can excel at the next level. Her softball coach, for one, sees a lot of success ahead for her.
"The thing that sticks out most to me is the person she is, just an exceptional young woman. She had her own goals in addition to the team, and she was determined to accomplish them," Rogers said. "She's going to to accomplish big things in the future, too, and I'm so proud to have been a part of her journey."