STERLING – After four innings of Monday's Class 1A Sterling Supersectional, the Forreston softball team found itself in a precarious position, down 4-0 against a good West Central team with the fate of its season hanging in the balance.
But just like the entire postseason, the resilient Cardinals (23-4) never quit, chipping away at the deficit in the fifth, sixth and seventh innings until they won 6-5 on an Ella Ingram solo home run.
It was the third game in a row with a walk-off hit for Forreston.
"Ella's walk-off home run was amazing. I didn't take anything off in the dugout because we knew something like this was gonna happen, especially after the past two games," Forreston senior pitcher Kara Erdmann said. "We definitely give a lot of credit right now to Ella for going yard.
"Moving on to state feels amazing, especially being the first softball team in Forreston history to go down. At this point right now, being first to state, not too bad, so we're definitely excited to keep playing on."
[ Photos from Forreston vs. West Central in 1A softball supersectional ]
The Heat (28-8) took a 5-3 lead in the top of the seventh after Brynna Seitz led off with a triple and scored on an error on Bailey Ryan's batted ball. But Forreston would not be denied, scoring three runs in the bottom of the inning to punch its ticket to state.
"Our last few games have been just like that, and I knew we could come up from behind, and we did," Forreston's Brooke Boettner said.
Rylee Broshous led off the final frame with a single between short and third, and Boettner followed with two-run homer to tie the game; it was her second game-tying home run in the bottom of the seventh in the last three games.
The next two at-bats resulted in groundouts, but with the game tied at 5-5 and two outs in the inning, Ingram blasted a walk-off home run to left.
"I was just thinking. 'I'm gonna hit this ball, and we're going to state,'" Ingram said. "I honestly didn't even know [it was a home run] until I got to third and saw everyone at home plate."
"That was so awesome," Boettner added. "We've never gone this far. I just couldn't believe it."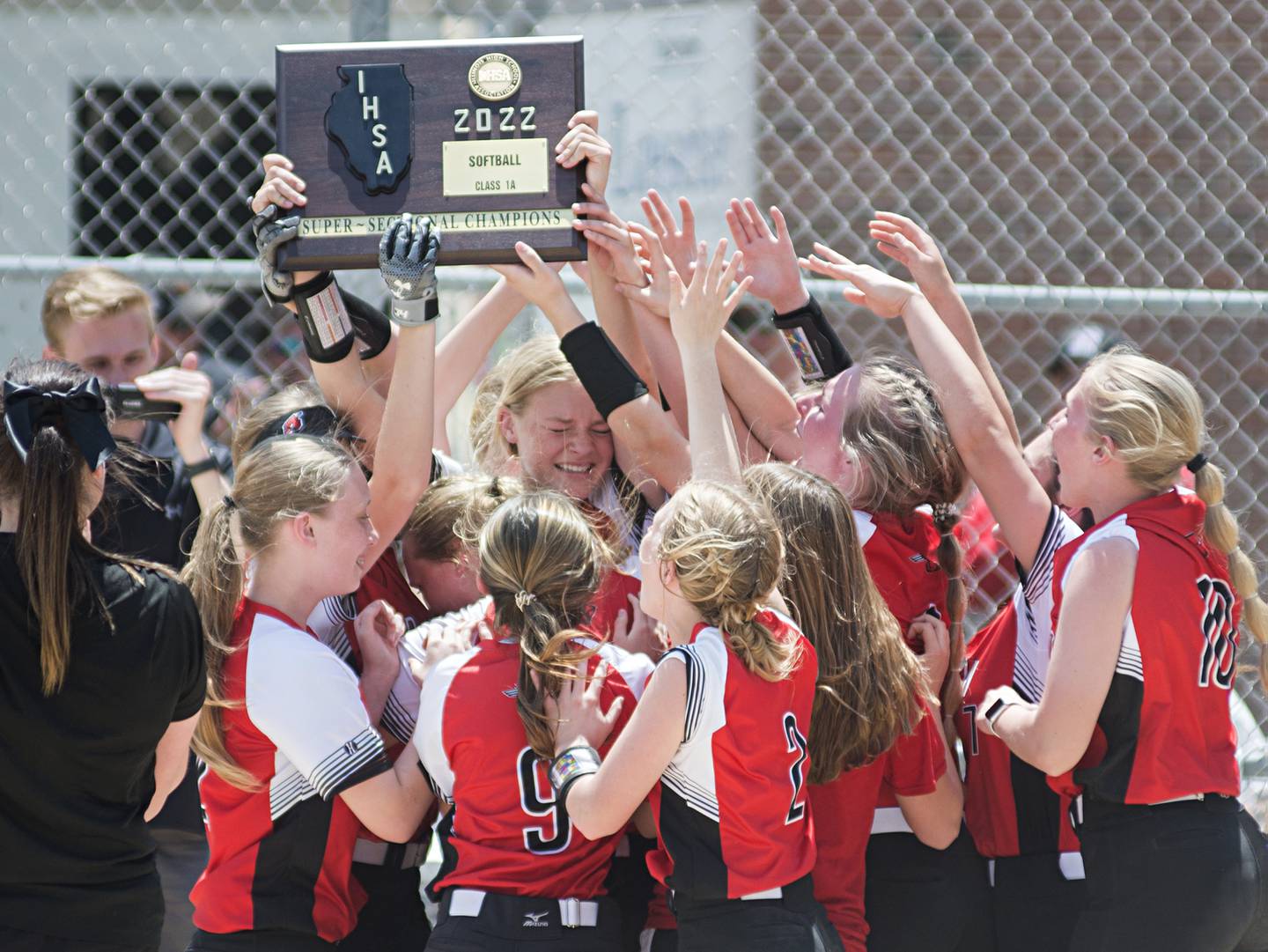 West Central was in control early, grabbing a 1-0 lead in the top of the second on a Shelby Bowman RBI double to right field. In the top of the third, the Heat stretched their lead to four runs, getting back-to-back solo home runs from Addie Seitz and Mackenzy Ludington, as well as a Ryan single and a Bowman RBI triple.
"We knew we had to fight back," Erdmann said. "It was going to be a tough one, but I knew after the past two games we definitely needed to add more runs."
Forreston finally got a rally going in the bottom of the fifth, cutting its deficit to 4-2. Alaina Miller started it off by bunting a single, then Erdmann doubled off the center-field fence and Hailey Greenfield hit a two-out, two-run single to center to bring in Miller and Erdmann.
"It was pretty awesome," Boettner said of Greenfield's two-run single. "We were all pretty excited, and we knew we could do it from there."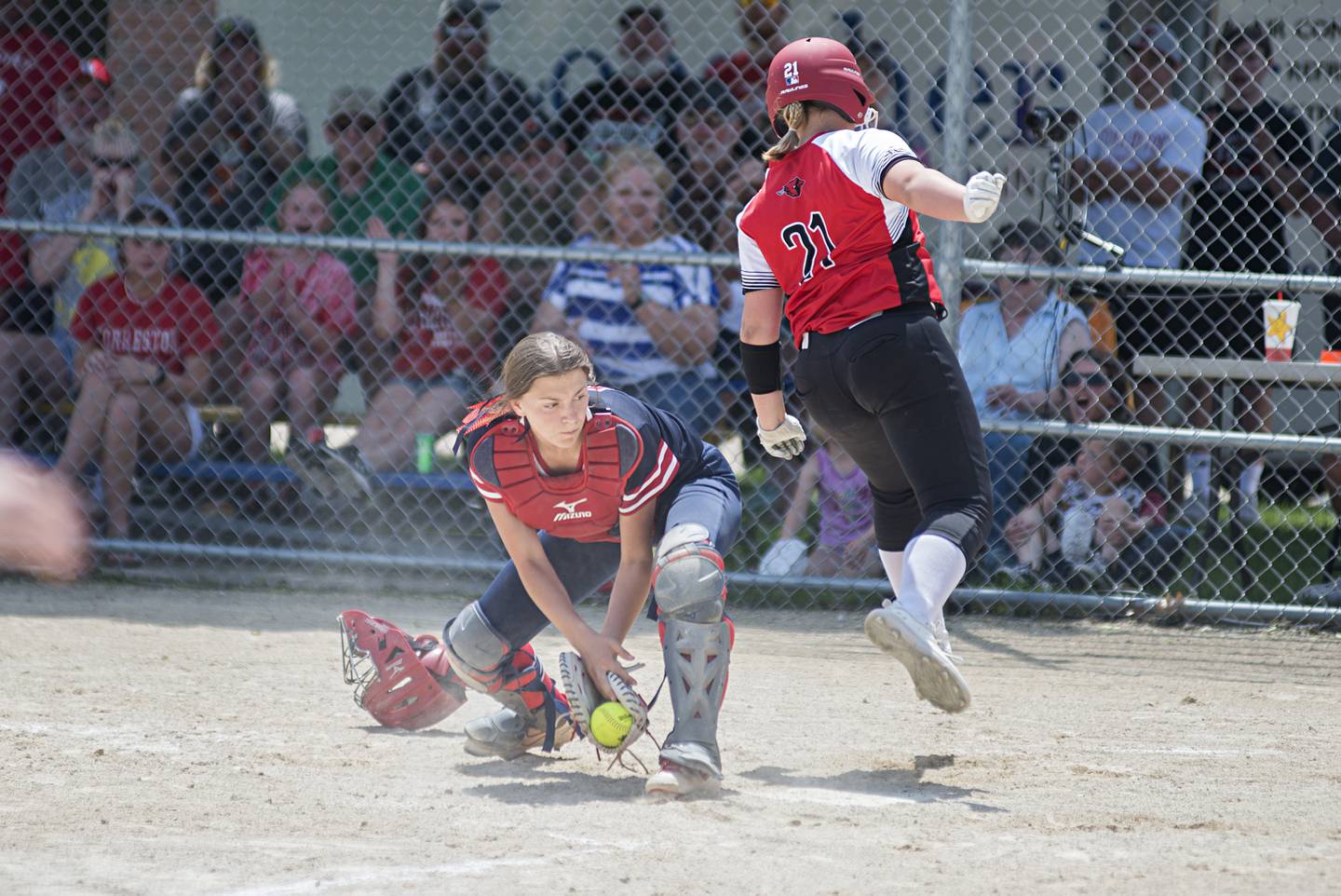 Erdmann conceded a single to the first batter in the top of the sixth, but struck out two of the next three and got a flyout to keep the margin at two runs.
In the bottom of the sixth, the Cardinals added one more run, pulling within 4-3. Aubrey Sanders was hit by a pitch to initiate the rally, then Breanna Kloster grounded out, and Sanders came home when Miller's infield single was mishandled.
In the top of the seventh, Forreston gave up one run, but answered with three of its own in the bottom of the inning, clinching its first state tournament appearance in program history.
Broshous was 3 for 4 to lead the Cardinals, while Ingram, Erdmann and Hailey Greenfield were all 2 for 4. Miller was 2 for 3 with an RBI.
Erdmann threw a complete game for the win, allowing five runs on nine hits, and striking out seven with no walks.
Bowman, Ryan and Brynna Seitz each went 2 for 4 to lead West Central at the plate, and Bowman had two RBIs.
Addie Seitz took the loss, pitching a complete game. She allowed six runs on 12 hits, walked zero and struck out five.