STERLING – A beautiful spring day, two rivals battling on the softball diamond, and a pair of games that came down to the wire. Who could ask for anything better?
Sterling hosted Rock Falls on Saturday, and came away with a hard-earned doubleheader sweep, winning 8-5 in Game 1 and 4-3 in 11 innings in Game 2.
"It's always intense playing Sterling, and there's always just great energy on the field from both teams," Rock Falls' Brooke Howard said. "I think it's a fun time when we can play these games."
[ Photos from Sterling vs. Rock Falls softball ]
The opener saw the Golden Warriors (13-6) jump out to a 4-0 lead after the first inning, then stretch it to 8-0 through the fourth. But the Rockets (20-11) scored three runs in the sixth and two in the seventh, and left the bases loaded in both innings as their comeback came up short.
The second game was vintage Sterling-Rock Falls. The Warriors led 1-0 after one inning, then answered the Rockets' run in the top of the second with two in the bottom of the frame for a 3-1 lead. Rock Falls scored one in the fifth and another in the seventh to tie it, then the two pitchers threw up zero after zero until a Sterling scored on a dropped fly ball in the bottom of the 11th to win it.
"We just never give up, honestly," Sterling's Ellie Leigh said. "We all trust each other with hitting, so every single time we got up to bat, we all trusted each other. We know everybody can hit the ball, and that's kind of what happened in the last inning."
"It was fun, it was just a lot to just keep going with," Rock Falls pitcher Abby Whiles said. "We wouldn't get a run and we'd have to go back out to the field, then they wouldn't get a run and we'd come back up to bat. It just kept going back and forth, and it just felt really long – it was 11 innings, I guess – but it was worth it even though we didn't win."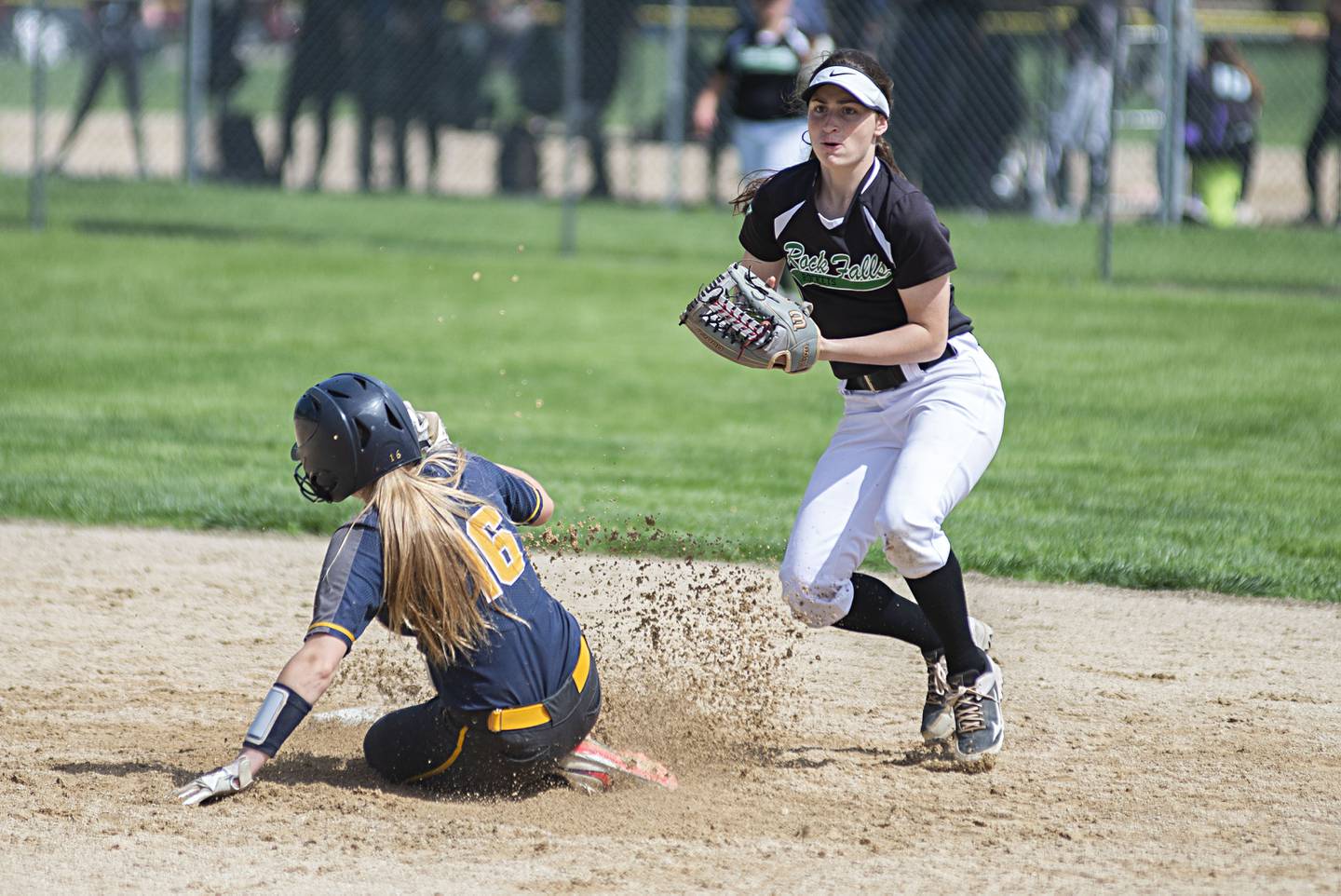 Howard and Sterling's Elizabeth Palumbo both put on a show at the plate. Howard struck out her first two at-bats in the opener, but had two hits in her final three at-bats in Game 1, then went 5-for-5 in Game 2 and scored twice.
Palumbo was 4-for-4 in Game 1 and started Game 2 3-for-3, before flying out in her fourth at-bat; she reached base in her final two plate appearances, and scored the winning run from second when Marley Sechrest's fly ball to center was misplayed. She finished the day reaching base nine times, and drove in a pair of runs on doubles in the opener.
The Warriors finished with 26 hits on the day – 14 in the opener and 12 in the second game – and had seven different batters record hits in each game.
"I think right now, we know that whoever's up can get the job done," Palumbo said. "I have confidence in literally everyone on this team, no matter if someone is starting or pinch-hitting or baserunning; I think we can all do it, and I think all that practice we've been doing is paying off."
Sterling grabbed a quick 4-0 lead in Game 1, as Palumbo drove in Lauren Jacobs with a double, then Leigh drove in courtesy runner Katie Taylor with a two-out double. Katie Dittmar kept the inning alive with an infield single, then Carley Sullivan drove in Leigh and Dittmar with a two-out single.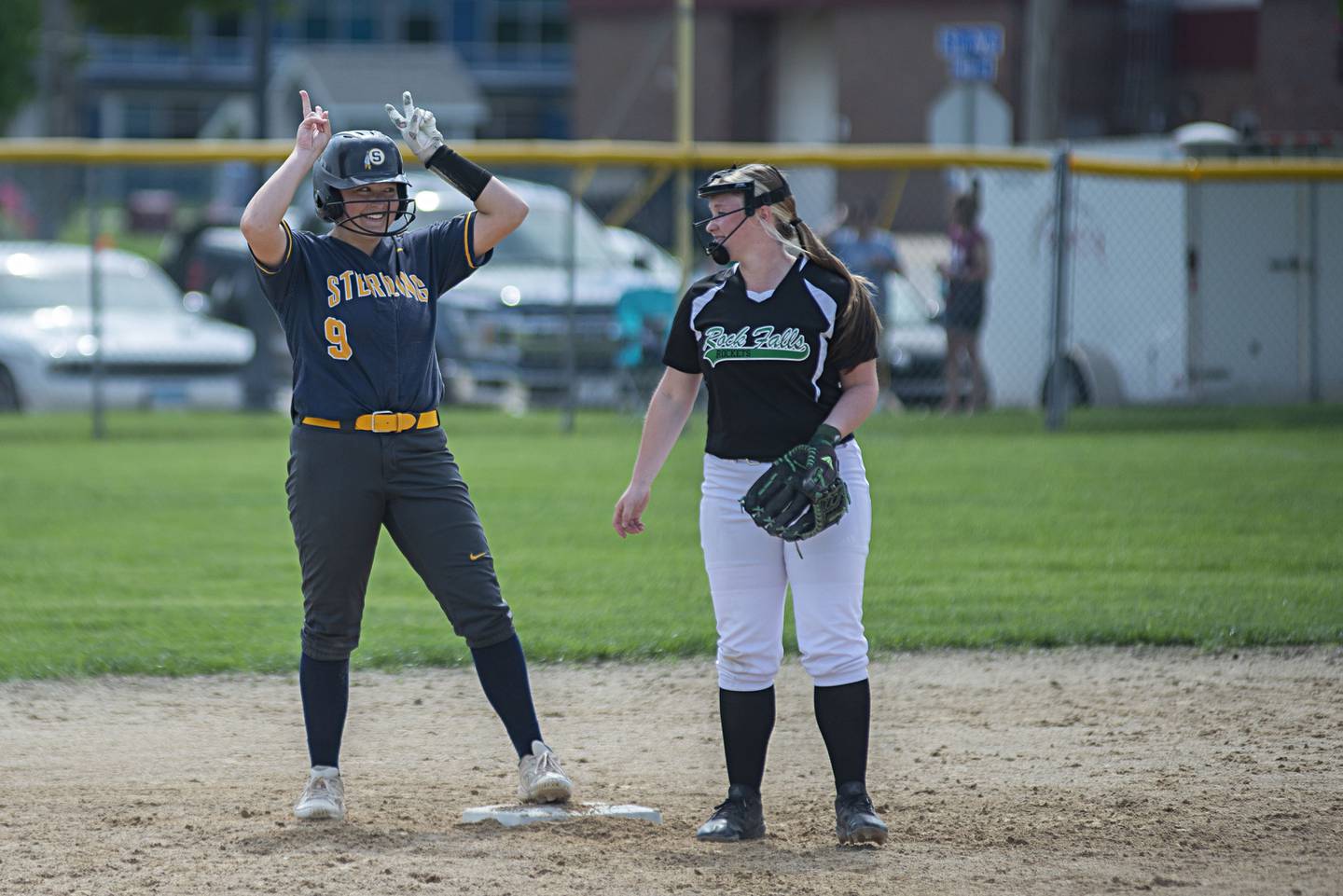 Leigh then smacked another two-out double in the second inning to drive in Sechrest and Taylor for a 4-0 lead. In the fourth, Palumbo added an RBI double, and Sienna Stingley followed with an RBI single for an 8-0 margin.
"I think we knew coming that there were good pitchers for Rock Falls, and I think we were prepared. We got here early, and we were ready to take our infield and get going," Palumbo said of the hot start. "I think it was just preparation for us. We all had good attitudes. Even if we don't start where we want to at the beginning of the games, we cheer each other on and we're there for each other and want each other to do well. I think that's what's helping us right now."
Rock Falls wasn't about to go down easily. Zoe Morgan and Whiles hit back-to-back one-out singles in the top of the sixth, then Patty Teague reached on an error to load the bases. Savanna Fritz drove in Morgan with an infield single, then the throw got away and Whiles scored on the error. Howard came through with a two-out RBI single to cut the deficit to 8-3.
Things got even tighter in the seventh. After singles by Katie Thatcher and Whiles, and fielder's choices by Morgan and Teague, the Rockets had runners on first and second and were down to their last out. But Fritz blooped a single to right to load the bases, then Jersey Thomas and Olivia Osborne drew bases-loaded walks to make it 8-5.
It looked like it would get even closer when Howard slapped a check-swing looper over the third baseman, but instead of a two-run hit, Sterling shortstop Jacobs made a nifty running catch for the final out.
"When somebody starts hitting, it makes the rest of team hit better," Howard said. "I think it gives our team confidence. We never give up – and these are the games that we need to have going into postseason. It's really important to keep playing until the final out, because starting next week, if we lose, we're done. We just have to keep fighting."
Palumbo got the win in the opener, allowing three earned runs and nine hits, with 10 strikeouts and five walks. Thatcher took the loss, giving up four earned runs and 14 hits, striking out six and a hitting a batter; she did not walk anyone.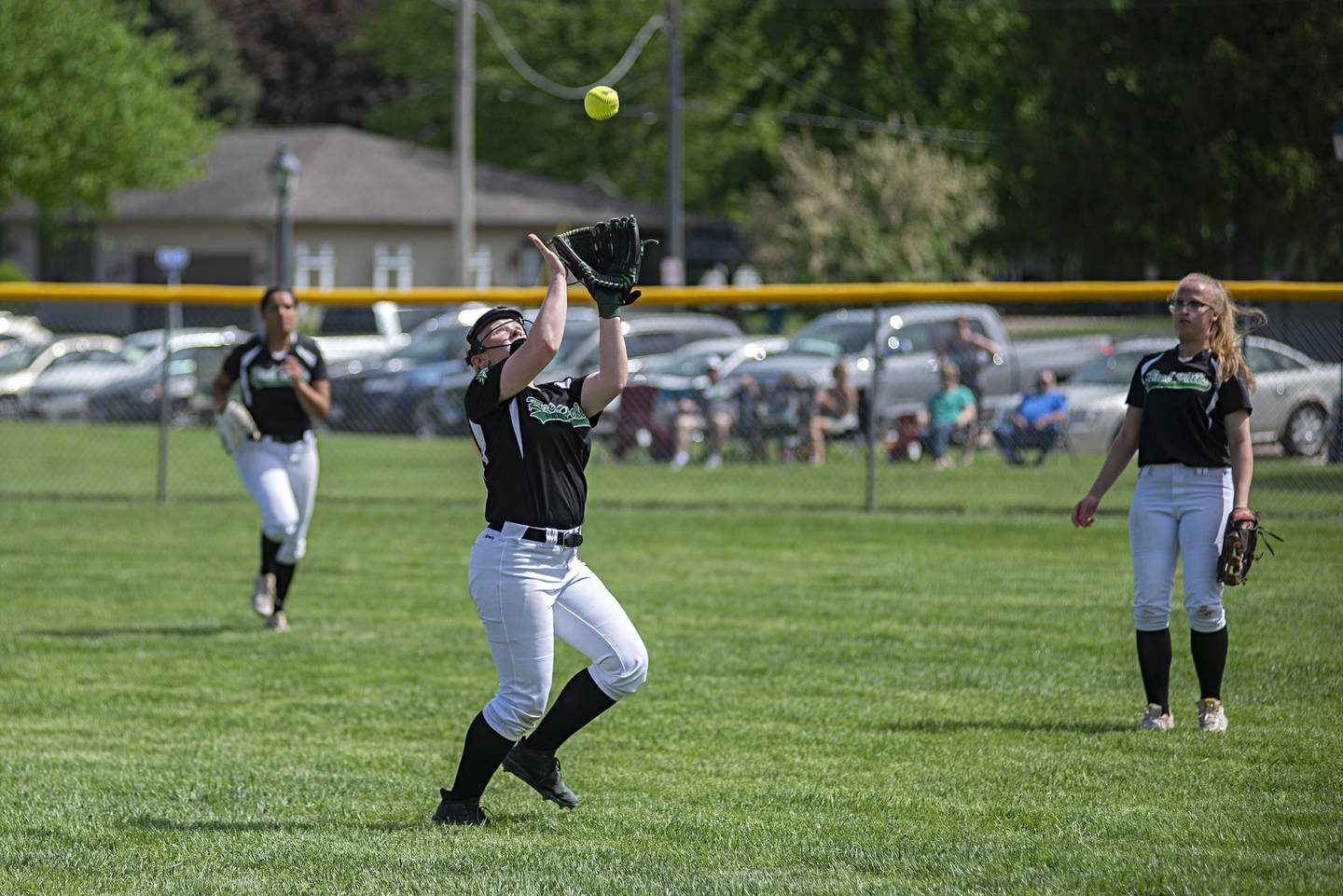 Sterling again scored first in Game 2, as Palumbo and Jacobs opened the bottom of the first with singles, but Whiles limited the damage with a strikeout and a pair of groundouts; Leigh's grounder to third drove in Palumbo for a 1-0 lead.
Whiles led off the second with a single, went to second when Taylor Reyna drew a walk, and scored on a two-out error. Howard came up with runners on first and second and two outs, and slapped a grounder between third and short; the ball glanced off the third baseman's glove and away from the shortstop. Reyna rounded third and tried to score, but left fielder Dittmar was backing up the play and threw out Reyna at home in a bang-bang play to end the inning.
Stingley then hit the first pitch she saw in the bottom of the second for a one-out solo home run to left-center, and Neveah Frey reached on a fielder's choice after she bunted, went to second on Palumbo's single to right, and scored on a two-out error for a 3-1 Sterling lead.
"They pretty much threw a first-pitch strike every time, so we really wanted to jump on it quick so they didn't have a chance to throw anything else," said Leigh about the Warriors' aggressive approach at the plate.
But again, Rock Falls fought back. Howard slapped another single to start the fifth, then went to second on a two-out error and scored on Whiles' double.
Trailing 3-2 going into the seventh, Howard again slapped an infield single, then went to second when the late throw went past first base. Morgan came through with a two-out single up the middle to drive in Howard with the tying run.
Sterling got the leadoff hitter on base each of the next three innings, and had a one-out baserunner in the 10th. But Whiles induced pop flies or lazy fly balls, and her defense had her back.
In the eighth, Sterling had the winning run at third base, but Howard snagged a line drive at short and doubled off the runner at third for an inning-ending double play.
The Warriors turned the tables the next half-inning, as Howard led off with a bloop single to left, but a one-out line drive to second base turned into a double play to end the ninth.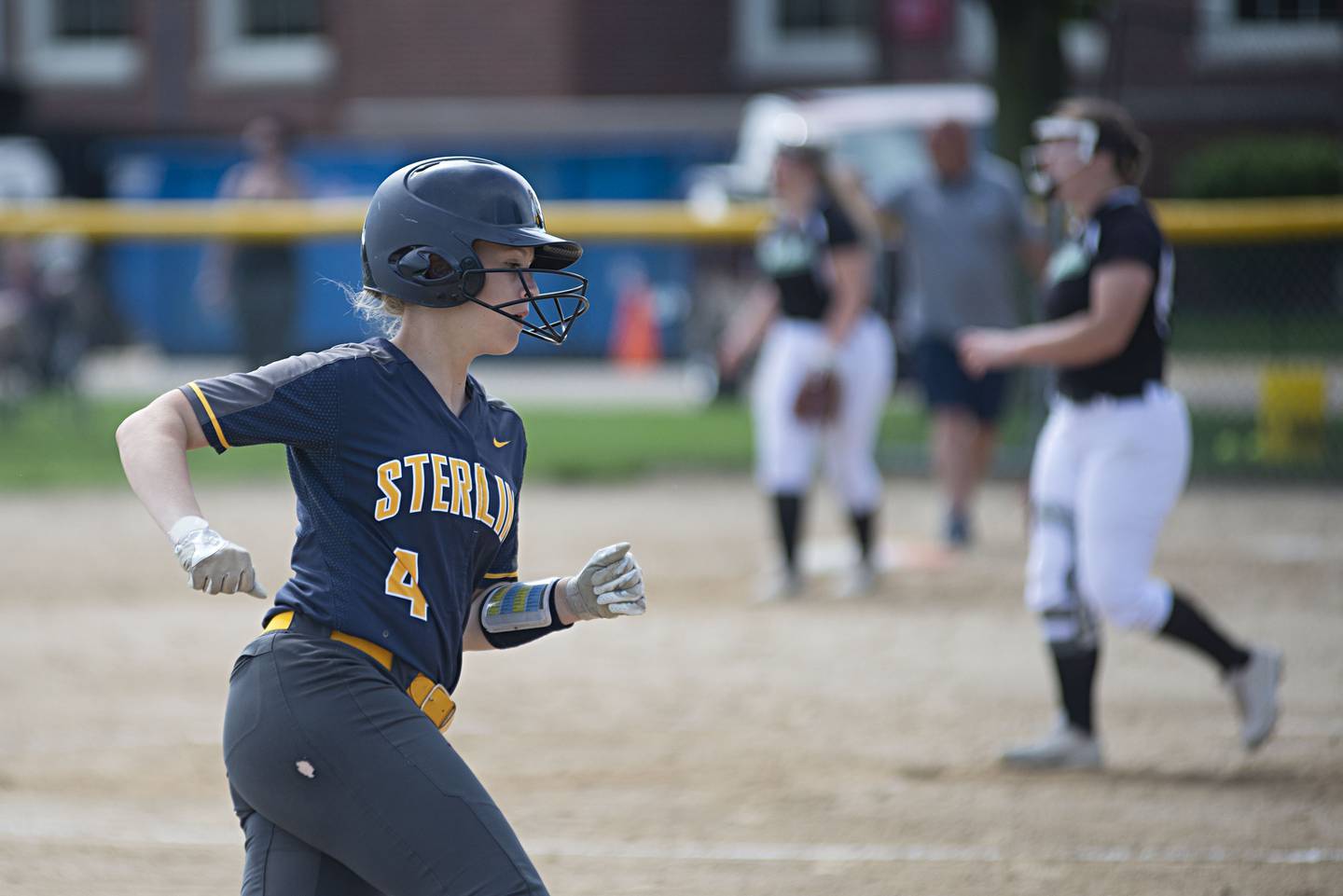 After Stingley and Whiles got through the 10th inning with a combined 11 pitches – six in the top half and five in the bottom – Thomas reached second on dropped fly ball with one out in the top of the 11th. After a Stingley strikeout – her 16th of the game – the Warriors intentionally walked Howard, and got out of the inning when second baseman Sullivan tracked down a pop foul behind first base.
Palumbo drew a walk to lead off the bottom of the 11th, then went to second on Jacobs' bunt single. Sechrest lofted a 1-0 pitch to deep left-center field, but the ball popped out of the center fielder's glove and Palumbo scored from second. The throw to the plate arrived just before Palumbo, but the ball popped out of the catcher's mitt on a swipe tag attempt.
"It was definitely hard to fight off their momentum in both games, but I'm proud of us for pulling out these wins," Palumbo said. "Before the second game, we all had a talk and we just said that we needed to keep sticking together, keep doing what we're doing. I think we want wins more than anything – I know I do – and I think we're doing great playing together and just clicking right now."
Stingley allowed three runs (one earned) and nine hits in a complete-game win, striking out 16 and walking two; one was intentional. Whiles gave up four runs (two earned) and 12 hits in 10+ innings, striking out five, walking three and hitting a batter.
Despite the losses, the games left the Rockets feeling good about themselves as they head into their own Class 2A regional next week.
"It feels really nice to rally in these games, since postseason is coming up next week," Whiles said. "We know we can start hot, but we also know that we can come back like we did today. Even though we didn't come back all the way today, we know that we're always in the game. If we figure out what we're doing wrong early in the game, we can fix it and come back and just keep going with the momentum."