Jess Johns is the very definition of soft-spoken. She doesn't talk a lot, and when she does, it's not very loud at all.
But when she gets on the volleyball court, her ability and actions speak volumes.
The Newman junior lets her play do the talking, and in that regard, she made a lot of noise this past season. She finished third in the area with 335 kills, ninth with 261 digs and 12th with 41 blocks, and was a key cog that led the Comets to the Class 1A state tournament for the first time in program history.
And it was her even-keel demeanor and laser focus on the task at hand that helped her step up during Newman's postseason run to Normal – and earn 2022 Sauk Valley Media Player of the Year honors.
Johns never rides the roller coaster of emotions that can be so prevalent in a volleyball match. She never screams at the top of her lungs after a kill or a block, rarely shows any more reaction to it than a smile and nod in the team huddle. But she also never gets down when things aren't going the Comets' way, and that's what makes her so valuable to coach Debbi Kelly and her Newman teammates.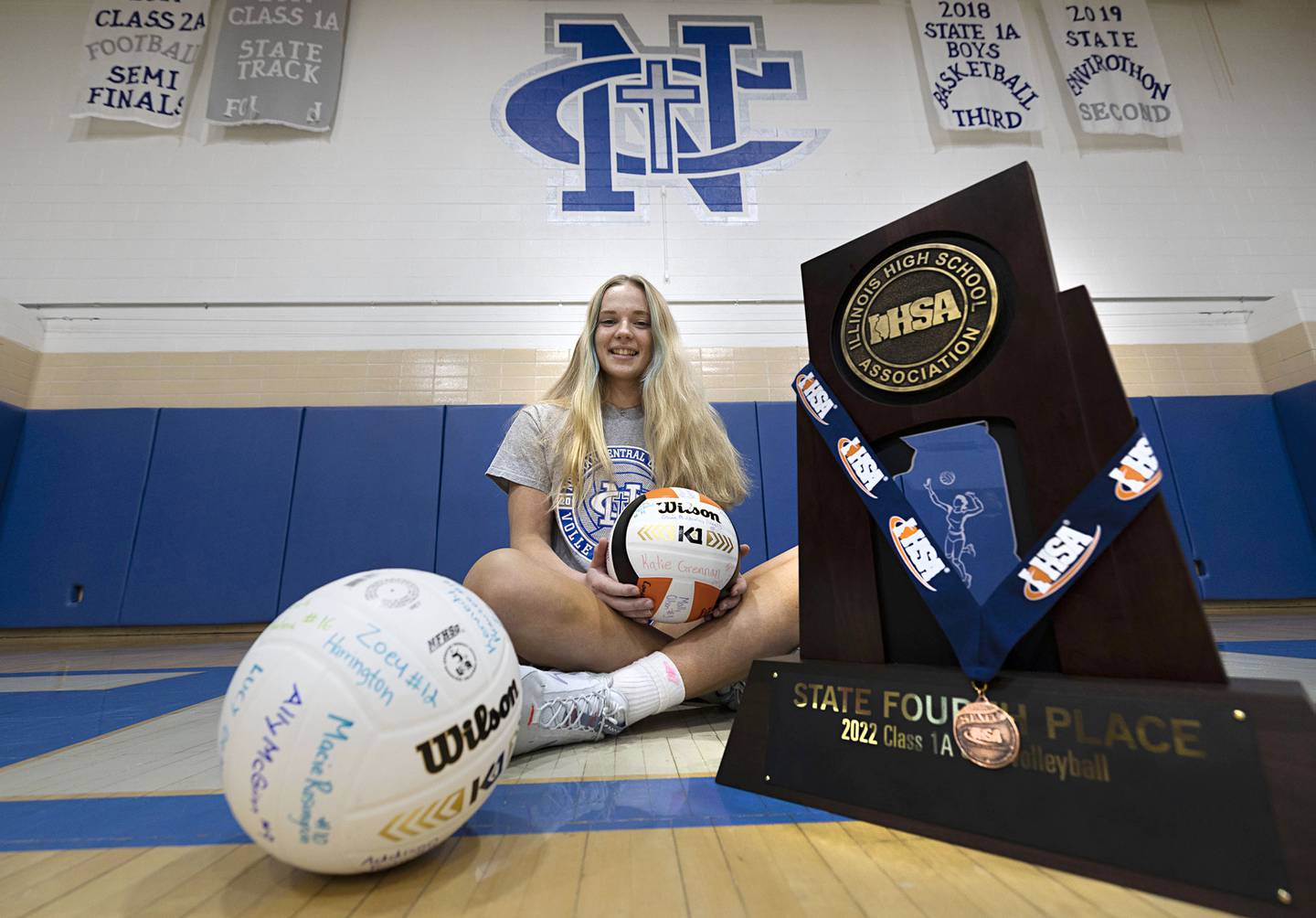 Coming into the season, she was determined to use her personality to her team's advantage. Entering her third season on varsity, she knew it was her turn to step up and be one of the leaders for the Comets.
She also knew that the best way to lead wasn't by being the rah-rah cheerleader on the court, but a calm presence during both practices and matches.
"We do have a lot of emotional players – and that's not necessarily a bad thing, because it works sometimes in volleyball. When you get up, you're up and it's all amazing – but if you're down, it can really be an anchor and pull everybody else down," Johns said. "So my main idea this year was just take it as it comes. If something happens, it happens; if it's good, get excited, but you don't want to get super excited and then lose your head and lose focus. My thought process behind it is if you get too excited and you start getting distracted and caught up in all the celebration, you kind of forget what you're doing."
A six-rotation player for the Comets, Johns' calming influence was felt in both the front row and the back row. She led the team in kills and digs, and was second in blocks and fourth in aces (25) as Newman went 29-9-1 and finished fourth in Class 1A.
"Jess is a very calm player; she doesn't show a lot of emotion out there, she's just on to the next point. If she hits a ball out of bounds, she's still going to come hard the next point," Kelly said. "She just doesn't get flustered by it, and I think that's the really nice thing and why she does such a nice job and keeps going at it hard. She just lets that last point go and thinks, 'We're on to the next one, and what am I going to do different to get the next point.'
"I think it showed when we got down at different times that she and Katie Grennan, especially, were still calm out there, and just working one point at a time. They weren't the ones starting to freak out."
That came in handy in the postseason, when the Comets trailed against Eastland in the regional semifinal and were behind midway through the second set against Fulton in the regional final after losing the first set.
But she and middle Kennedy Rowzee got hot down the stretch in that match to secure the regional title, then the Comets carried that momentum through the next week in a pair of sectional wins and a super-sectional title.
Johns said it was the sectional final where she started to feel like this team might have the chance to make it all the way to state. She said it took that long for her to entertain that possibility because of a crushing loss to Eastland in the regional championship match the year before.
"I think for me, maybe the second sectional game was when I knew it could happen. Last year, personally, I thought we should've won our regional, but Eastland got hot; at that point it was really not what I was expecting. So there was a little bit of uneasiness, at least for me, the whole time; you never know what team was going to show up for us, and what the other team was going to pull out, and if there's going to be an upset again," Johns said. "So I could never get too comfortable – but I think that's also what we thrived off of, just not getting too comfortable and thinking that we were so much above all the other teams around us. I think winning that sectional championship made me think, 'You know, we really could do this.'"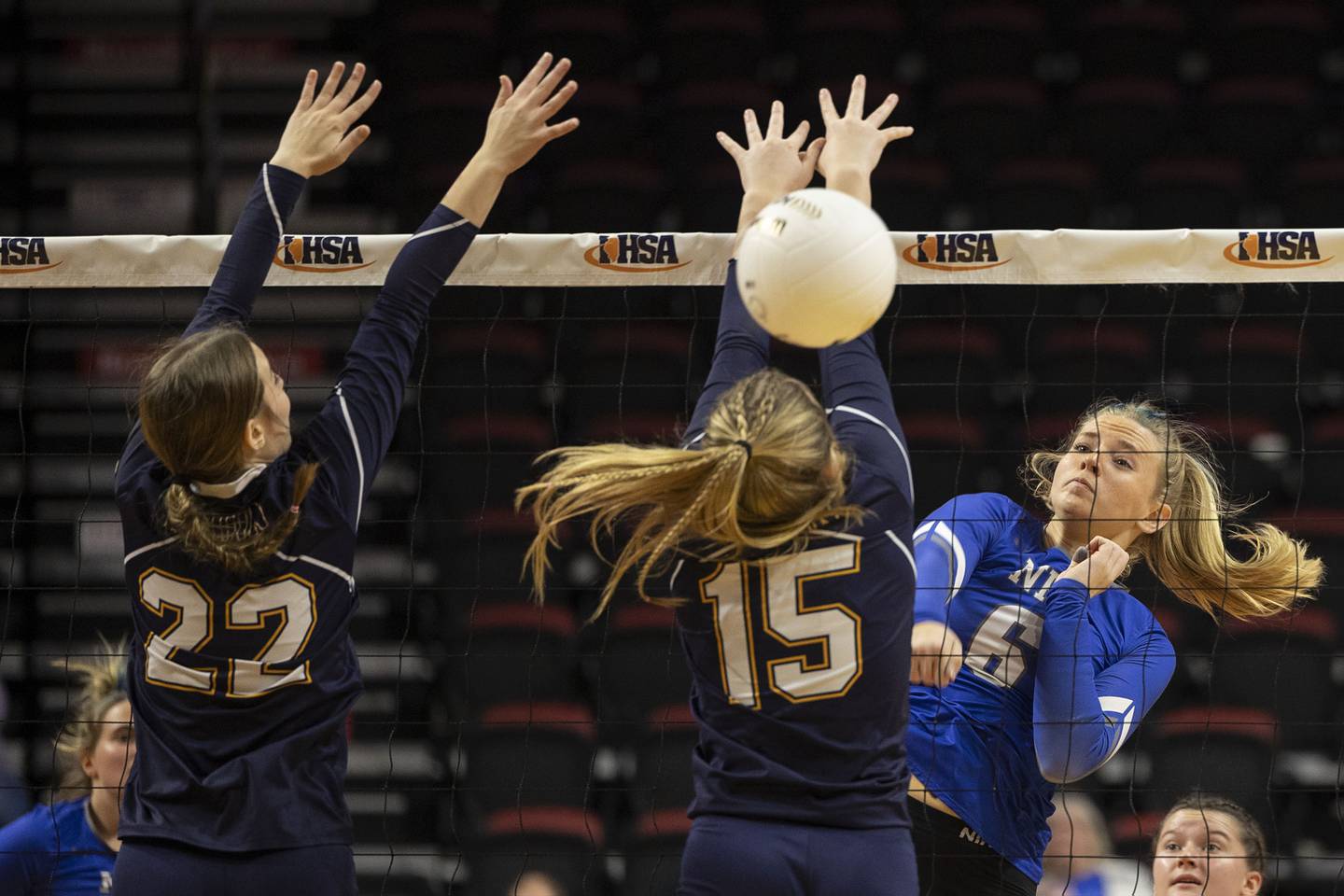 Always a team-first player, Johns is quick to deflect credit – or at least share it – with her teammates. From fellow hitters like Rowzee and Sophia Ely to versatile setters like Grennan and Olson to back-row passers like Sam Ackman and Addison Foster, Johns had plenty of help in leading the Comets to Normal.
"Absolutely, my teammates made me better. You can't get a good hit without a good set, and you can't get a good set without a good serve receive or pass, and I think our whole team complements each other really well," Johns said. "I wouldn't have had the season I had, and our team wouldn't have had the season we had, if we didn't have all-around talent and a well-rounded team. I think we all work with each other well."
Versatility is one of the key components of that. Johns was one of three six-rotation players for Newman, and not surprisingly turned into the go-to player anytime the Comets needed a big kill in the postseason.
As the season went on, Johns became much more comfortable as an attacker from the back row, and during Newman's run to the state finals, she became a consistent and dangerous threat to slam a kill no matter where she was on the court for that point.
"Especially during the regionals and sectionals and super-sectional, she's so versatile since she's in the front row and back row, and I think she really came on in those games in that back row, which led into her front-row play," Kelly said. "I think she just got more comfortable back there, and there were times we were playing against some really good competition and we needed a ball down, and the setters knew where to go with that, and they made some good choices."
Sometimes, Johns helped her setters make those choices. While yelling isn't her strong suit, she admitted to having more subtle ways to call for the ball when she felt like her teammates needed her to pick them up.
"There's definitely been a few times where I'll motion to her, or get her attention quietly and say, 'Hey Katie, come my way, you know where to put it,'" Johns said with a smile. "Once you get one kill, two kills, even if you get a tip or an odd ball in your favor, you just start to feel it, and it just kind of adds to the momentum."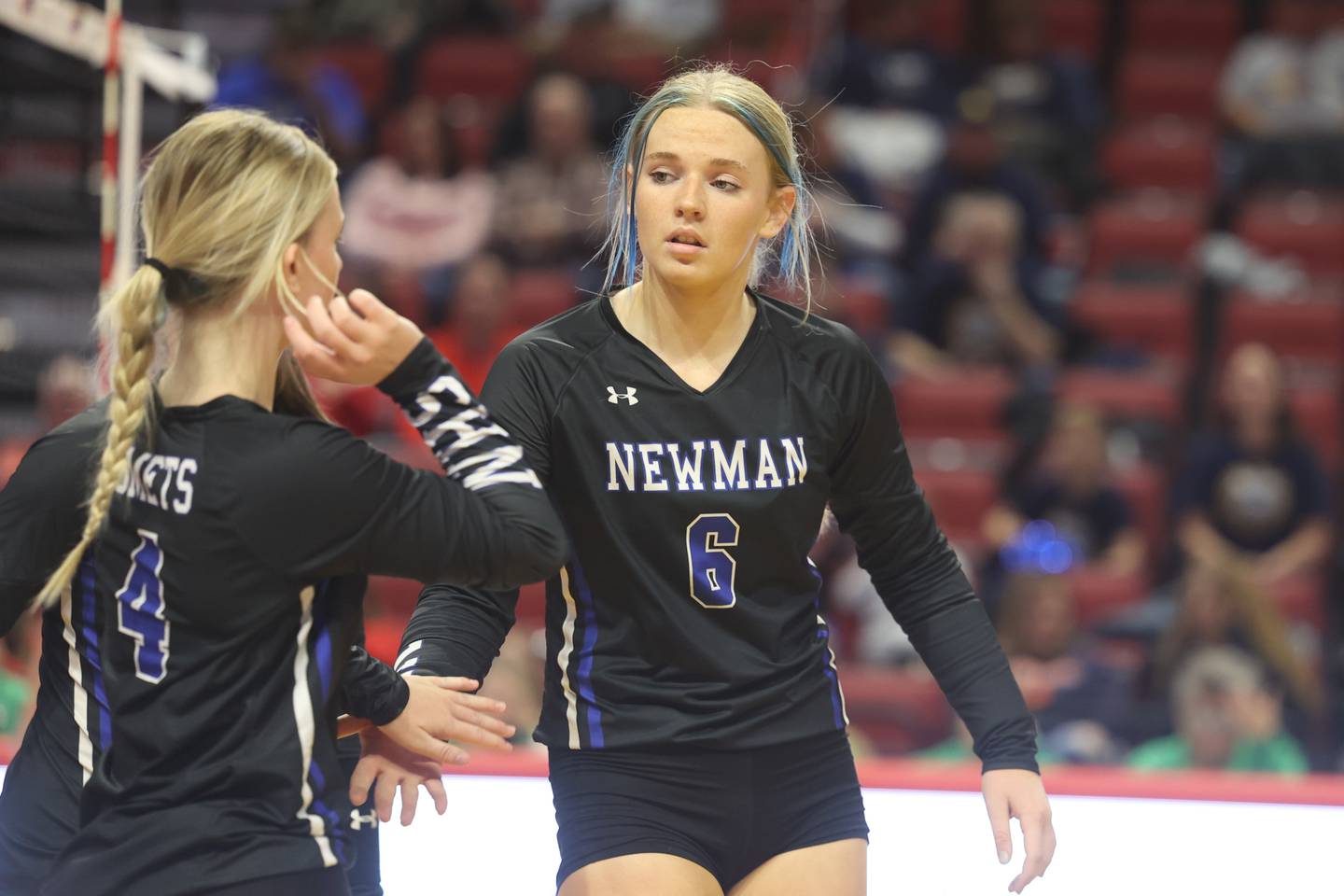 The wave of momentum the Comets rode through the postseason was a welcome sight after a tough ending to the regular season.
After beating Princeton in straight sets to finish the Three Rivers East season 12-0 for the second straight season – and fourth time in the last five years – Newman lost its final two matches of the Linda Ludwig Tournament in Lanark two days later. Then, after a TRAC crossover win against Erie-Prophetstown, the Comets played poorly in a loss at Oregon to end the regular season, leaving them with a week to come up with the solution before regional play began.
"I think that was a huge reality-check, and everybody was thinking, 'Well, we're here in the postseason now, it's time to go up or we're done,'" Johns said. "I think everyone saw exactly what can't happen, so we all just individually figured out our own issues and just worked it out."
That was due in part to the experience factor shared by Johns, Grennan and Rowzee. All of them had been key players on the team the year before, and being on the court with senior leaders like Ally Clevenger, Paige Grennan and Shae McNeill paid dividends when it was their turn to bring the team together and shake off the rough ending to the regular season and reset the focus heading into regionals.
"We had one big leader at each position, so any questions you had, there was a specific person you could talk to," Johns said about the 2021 team. "Everybody really trusted each other and respected each other's skills."
Those lessons learned by Johns and Rowzee as sophomores were invaluable to their growth as players and leaders throughout this season.
"Kennedy and I had a lot more time to get settled into being on varsity and become major hitters on varsity, and kind of dealing with learning how to balance the pressure with that," Johns said. "Also, I think the first two years of us being on varsity was our settling in, and now our junior and senior years are going to be more of the leadership side of it. I think having those first two years is really, really beneficial."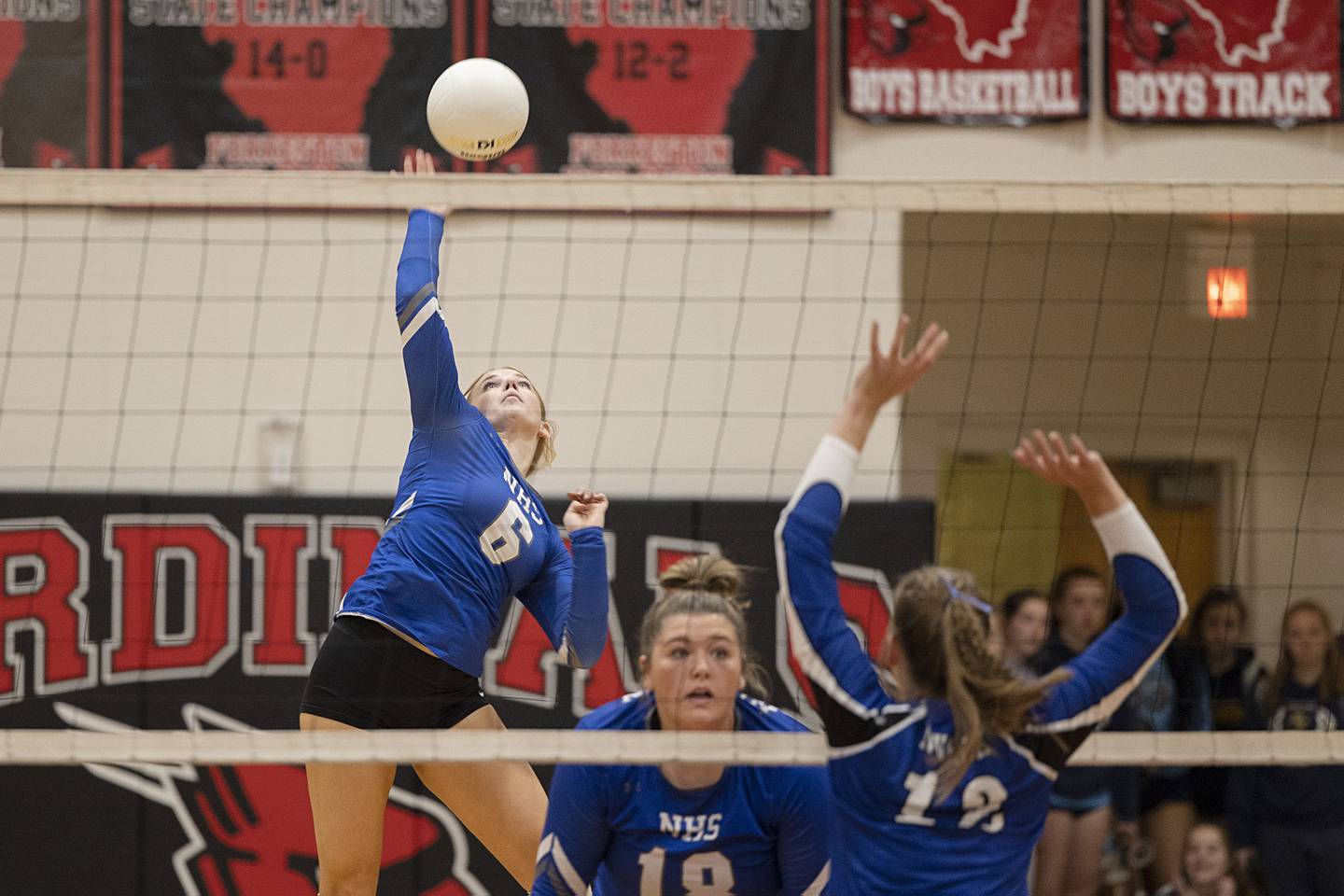 Now, with all but one player on this year's roster returning next fall, Newman will have lots of players in the same boat next season as Johns and Rowzee were this year.
The loss of Grennan's versatility and leadership will certainly affect the Comets, who will be playing with a target on their back – not that it's a change for the program that has won conference crowns the last seven seasons – but this time it will be as a favorite to return to the state finals.
But with a roster full of players who have now experienced a trip to the heights of high school volleyball, there will be a lot of leadership next fall. And for a program that had never won a sectional title before this season, it will be a big leap in expectations – both inside and outside the team – going into 2023.
"It's not going to be everybody's first year again, and not only will they have varsity experience, but the whole trip to state and getting used to that atmosphere and settling in down there will be very beneficial for us," Johns said. "Having a heavily experienced roster is a very big advantage for us next year. As a whole, looking ahead, I think statistically talking, we should have very high expectations."
And Johns is determined to make sure the Comets keep their focus. One of the key motivations for her is the heartbreaking regional final loss in 2021, and she wants to make sure her teammates remember how it felt to go home earlier than expected.
After so many great experiences this fall, that season-ending experience from 2021 is one Johns does not want to go through again.
"For me personally, I always feel like you don't want to be the team that gets upset by another team, so it's definitely something that's very much on my brain, at least," Johns said. "We've been through it, so you can't say, 'Oh, that never happens, that only happens to other teams.' It's happened to us once, and we definitely do not want that to happen again, especially our senior year. It will definitely help us stay focused, like it kind of did for us this year."