STERLING – One volleyball skid had to end Thursday: Sterling's six-match losing streak on the Homer Musgrove Fieldhouse court, or United Township's rough run of 10 consecutive losses.
Both the Golden Warriors and Panthers put together large runs to take the lead on the scoreboard, but Sterling had the final surge in a 25-22, 25-12 win.
[ Photos from Sterling vs. United Township volleyball ]
Sterling (9-14-2, 3-8 WB6) trailed 21-19 at one point in the first set, but came back to establish its first lead at 22-21 on its way to winning the first set, before cruising throughout the second. That comeback run fueled the Golden Warriors to play one of their best sets of the year in Set No. 2.
Earlier in the week, the Golden Warriors took Rock Island to three sets on the road, then ended the week with the win over the Panthers.
"We've played well this week," Sterling coach Dale Dykeman said. "Rock Island's a really good team that's going to finish second in the conference, and we took them into extras in the third set. We feel like we're playing the best volleyball we're playing all season so far, and as a team, we feel like we're trending in the right direction going into the next two weeks. We're going to continue to grind and fix some things that we think we can fix, but we feel like we're heading in the right direction at the right time."
United Township (2-14, 1-10) got out to opening-set leads of 5-0, 16-12, and 20-14 before the Golden Warriors found their stride. Kathryn Rowzee set down a tip-kill to make it 20-15 before the Panthers' Emily Stevens responded with a kill of her own. Katie Dittmar then put down her first kill of the match to make it 21-16, and she had plenty of more slams from the left pin throughout the remainder of the set. A Panthers lift violation closed the gap to 21-17 before Dittmar's spikes and Rowzee's serves went ace, kill, ace, kill to tie the set at 21.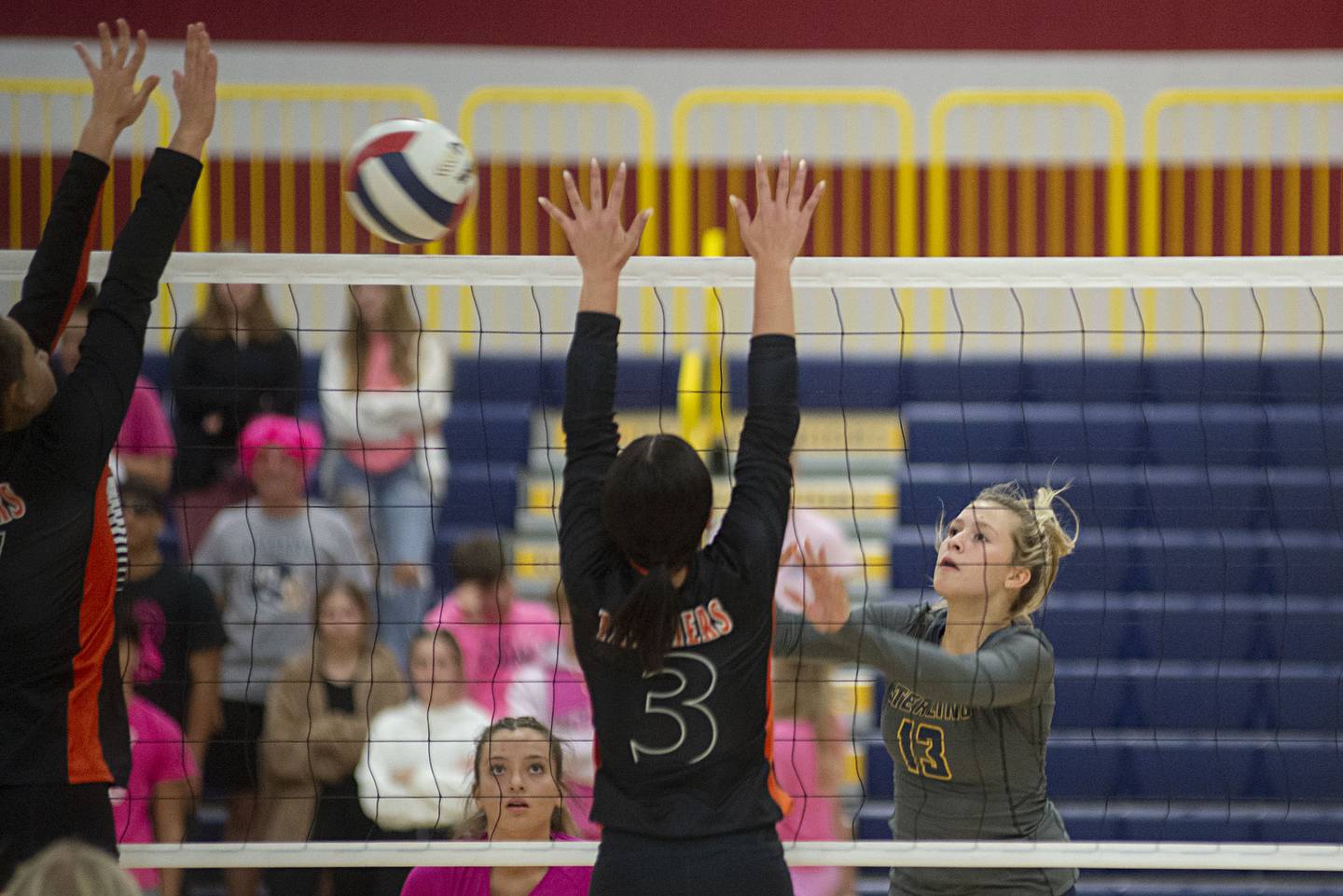 Kirra Gibson gave the Golden Warriors their first lead at 22-21 with a tip-kill from the middle of the front row before the Panthers' Teegan Rice responded with a kill from the right pin to tie it at 22. Dittmar once more became Sterling's go-to at the left corner, and she successfully hit back-to-back kills from that spot to set up set point, which resulted in the Panthers' failing to set up the serve receive.
Dittmar's five first-set kills came in a 10-serve run.
"It really took a lot of believing in each other and trusting each other," Dittmar said. "We know that when we're really down like that, we just have to play together. We started getting it together, and that's what helped us get back in and win.
"We've really, really wanted to win a home game. This was a big deal. We were really, really excited tonight."
Sterling led wire-to-wire in the second set, scoring the first three points and eight out of the first 10. The Golden Warrior lead reached double figures at 17-7 after Maggie Rowzee's fourth kill of the night. The Panthers only recorded two kills in the second set after only five in a tough-luck opening set, with Rice (four) having more than half of them.
Dittmar finished with six kills, Kathryn Rowzee also added four kills, three aces and a block, and Mallory Osborn added three more kills as the Golden Warriors played much better as the match went on.
"It was a rough first 10 points with a lot of third-contact errors and a couple of first-contact errors," Dykeman said. "We didn't really force them to play defense, and when they did, it was something soft or run a quick offense back at us. After those first 10 points, we started serving more aggressive and put the ball in play with consistency and force. The change came with being a little bit smarter in transitions and being a little bit in our footwork and technique that allowed us to play clean, fast offense to put them on their heels a little bit."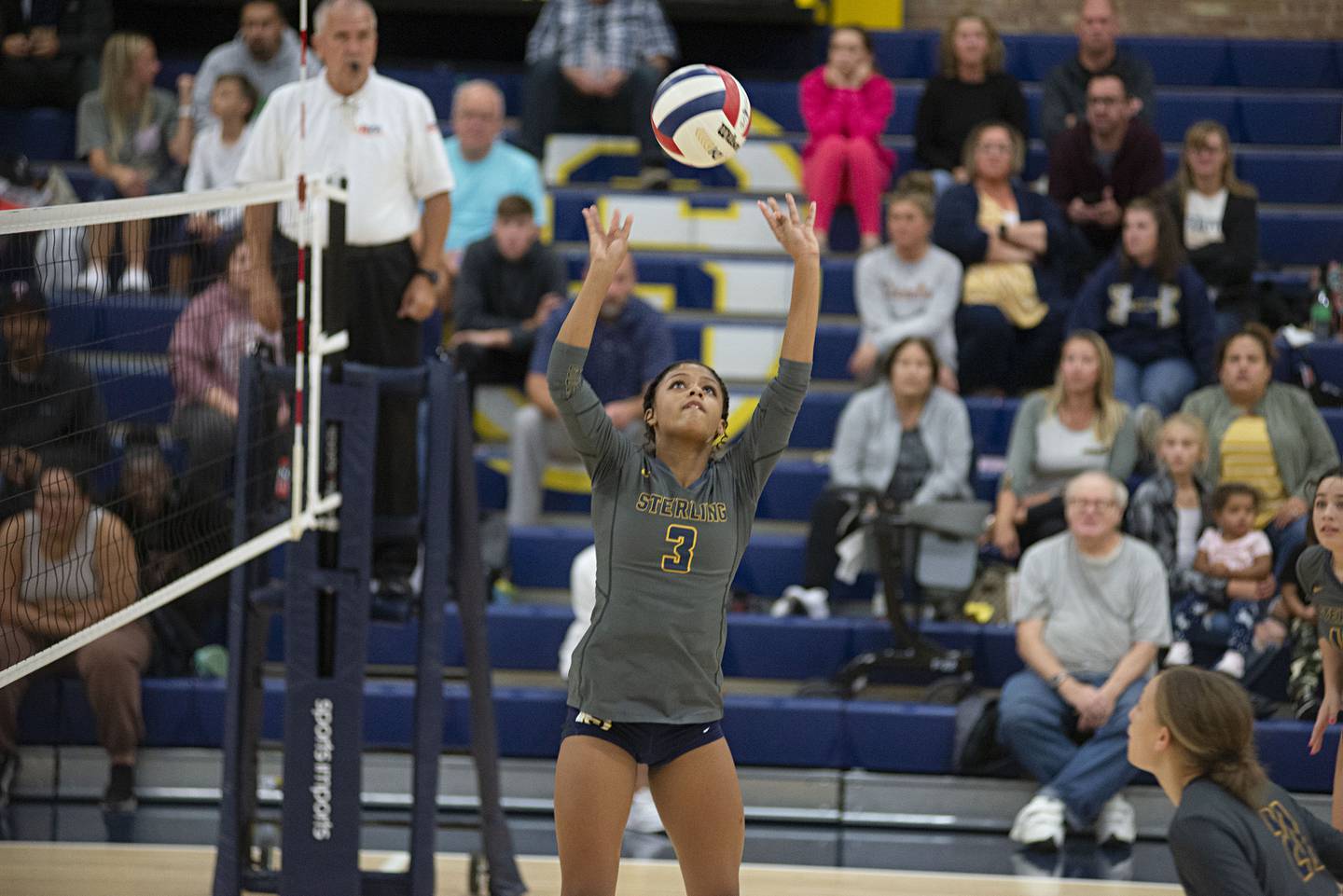 United Township hasn't won since Sept. 1, when it beat Alleman. Within the Panthers' skid was Sterling's first win over them in identical 25-22 sets on Sept. 13 in East Moline.
The Golden Warriors play conference games at Galesburg on Tuesday and back home against Alleman on Thursday, before they play at a two-day tournament at Plainfield Central next weekend.
Dittmar is glad to finally have a win on their home court, and hopes to use this as momentum for a better run two weeks before the Class 3A postseason starts.
"Right now, I feel like we're on our way back up," Dittmar said. "I feel like that hit us real, real hard, and we've finally started to figure out each other as a team, bond a lot more as a team, and just play together."